UK could have four municipal desalination plants by 2050, says IChemE
Although the UK currently only has one major desalination plant in operation in London, the country could have at least four major municipal plants by 2050 and up to 800 smaller units...
Sep 11th, 2013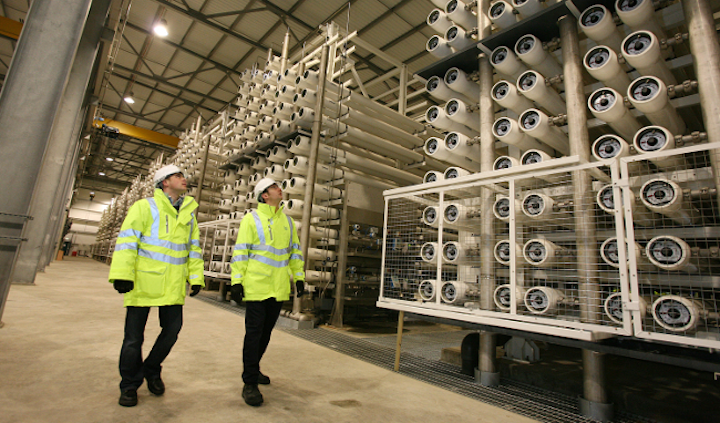 The Beckton desalination plant provides water for 400,000 households by reverse osmosis membrane filtration
Although the UK currently only has one major desalination plant in operation in London, the country could have at least four major municipal plants by 2050 and up to 800 smaller units.
The Institution of Chemical Engineers (IChemE) has predicted that desalination plants could become more common on UK coastlines and estuaries by 2050 as population growth and the effects of climate change places increasing pressure on water supplies.
Worldwide, there are around 13,000 desalination plants in operation or under construction in 150 countries.
In June 2010, the UK opened its first municipal desalination plant in Beckton, East London, which is operated by utility Thames Water and capable of supplying 150,000 m3/day of water per day – enough to supply around 400,000 households (see WWi story).
Although Thames Water's Beckton site is considered the first major municipal desalination plant in the UK, the Scilly Isle's 227 m3/day facility has been operating since the early 1990s.
This particular facility has been replaced with new reverse osmosis (RO) technology through a £1.5 million Defra grant and is being tested (see Desalinate video news).
By 2050, it is predicted that the number of desalination plants across the world will more than double with a further 18,500 desalination plants becoming operational. In the UK, at least four municipal desalination plants and up to 800 smaller units could be providing water to UK households and industry, according to the institute.
However, changes in technology, combined with major population growth and unpredictable weather patterns caused by climate change are likely to make desalination more viable in the UK, said IChemE.
The Institution is expected to publish a white paper in 2014 which will assess all the options for a secure and safe water supply in the UK and internationally.
Martin Currie, a member of IChemE's Water Special Interest Group and independent water quality and treatment consultant with Aqueum, said: "While improvements are continuously being made to reverse osmosis membranes making desalination more chemical and energy efficient, some of the most exciting developments in desalination are with breakthrough technologies. Researchers are currently working to scale-up biomimetic membrane processes (see WWi article) employing aquaporin proteins – found in our kidneys – that let water through much more efficiently than conventional membranes."
Andy Furlong, IChemE's director of policy and communication, added: "Some estimates suggest that the UK's population will increase by nearly a quarter (24%) to 77 million by 2050 making it the most populous country in Europe. In addition, the UK Environment Agency has already indicated that we need to plan for more extreme weather conditions in the future as our climate changes. Droughts are likely to become a more regular occurrence and have a major impact on industry, agriculture and the general population. In 2012 more than 20 million people were affected by the unusual weather patterns in the UK."
###
Read more
Thames Water Titan Keeps London Flowing Supplying water services to 25% of the UK's population, you could say Thames Water CEO Martin Baggs is under a lot of pressure. With the Olympic Games attracting thousands of visitors to London following drought conditions, can the water network cope?
London's first desalination plant fired up to ease drought With rainfall well below average in the "seriously water stressed" south of England, major utility Thames Water is preparing its unused desalination plant to help alleviate dwindling supplies…