NC state, British Virgin Islands to receive vital water infrastructure projects
Biwater will provide a reverse osmosis system for a North Carolina WTP, as well as water infrastructure for one of the British Virgin Islands.
Jan 3rd, 2014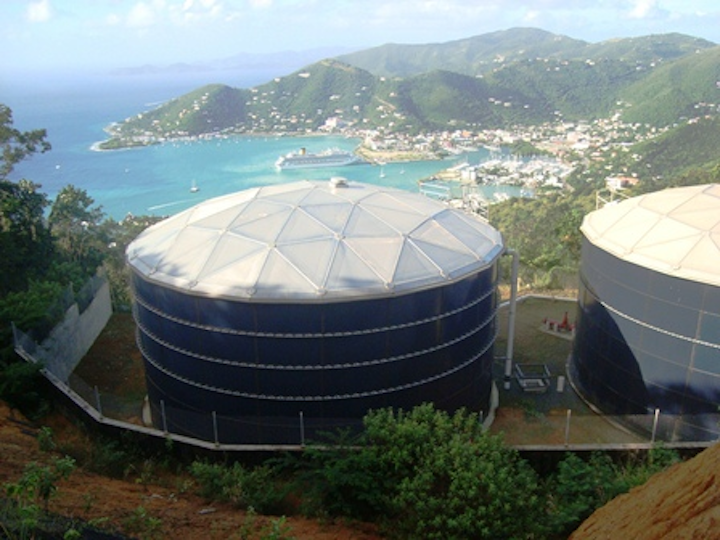 Jan. 3, 2014 -- Biwater, the UK-based engineering, water and wastewater business, will provide a reverse osmosis (RO) system for a North Carolina water treatment plant, as well as construction of a seawater desalination plant, water storage and wastewater facilities for one of the British Virgin Islands.
North Carolina
T.A. Loving Company has awarded Biwater a contract to support improvements for the Dixon Water Treatment Plant that will be carried out by Onslow Water and Sewer Authority (ONWASA) in the city of Jacksonville, N.C. Biwater's RO system will increase the facility's potable water production capacity and comply with new Environmental Protection Agency (EPA) standards, removing silica and organics from the influent.
Through the design, manufacture, supervise, and commission contract, Biwater aims to deliver three one-million-gallons-per-day (MGD (US)) RO trains, as well as provide appropriate chemical dosing systems, pre-treatment cartridge filtration, plant instrumentation, PLC, supervisory control and data acquisition (SCADA), and Remote IO stations.
British Virgin Islands
A dual-tranche $43 million project from Barclays was awarded to Biwater to fund the construction of a seawater desalination plant, water storage and wastewater facilities on Tortola -- the largest and most populated island of the British Virgin Islands. The project aims to greatly benefit the local community by ensuring an adequate and reliable supply of drinking water all-year-round, as well as a better-protected marine environment with the improved sewage treatment facilities.
Barclays acted as the Sole Advisor, Arranger, Lender and Facility Agent. The successful financial close of the complex transaction relied upon substantial collaboration between specialist units across Barclays Corporate and Investment Banking, including CAPEX Financing Solutions, Infrastructure & Project Finance and the Manufacturing, Transport & Logistics team.
In addition, the project was fully supported by the UK government export credit agency UKEF and required close collaboration between both UKEF and the British Virgin Islands Government. This structured UKEF project finance demonstrates Barclays ability to deliver integrated solutions in support of UK industry.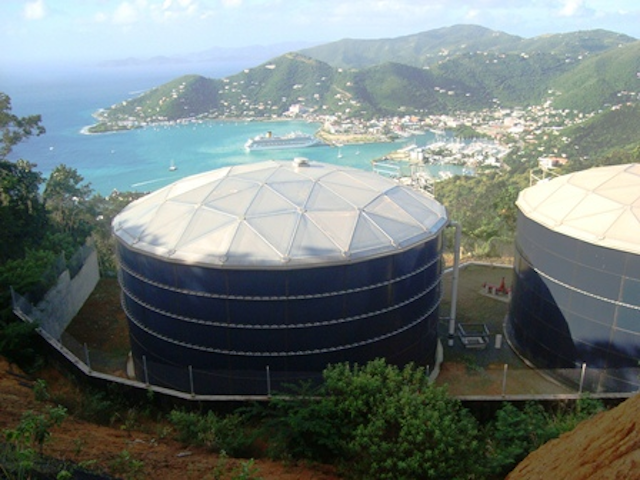 View looking down over the new Sabbath Hill Tank Reservoir in Tortola (Photo credit: Barclays)

About Barclays
Barclays is a major global financial services provider engaged in retail banking, credit cards, corporate and investment banking and wealth management with an extensive international presence in Europe, the Americas, Africa and Asia. With over 300 years of history and expertise in banking, Barclays operates in over 50 countries and employs approximately 140,000 people. Barclays moves, lends, invests and protects money for customers and clients worldwide. For further information, visit Barclays.com.
About Biwater
Biwater provides large-scale water and wastewater solutions for clients across the world. Since its inception in 1968, Biwater has gained recognition for its innovative approaches aimed at overcoming the world¹s most pressing water-related challenges. Throughout its history, the company has grown to meet the demands of many water-stressed countries and their burgeoning populations. It has a successful record of accomplishment, having completed over 25,000 projects in over 90 countries ­ financing, consulting, process engineering, designing, constructing, operating, maintaining and owning water facilities ­ in both rural and urban environments.
###