Ceramic membrane drinking water trial underway in UK
An 18-month trial is underway in southern England that could change the perception that ceramic membranes are a higher investment cost compared to polymeric membranes for drinking water treatment...
Apr 8th, 2013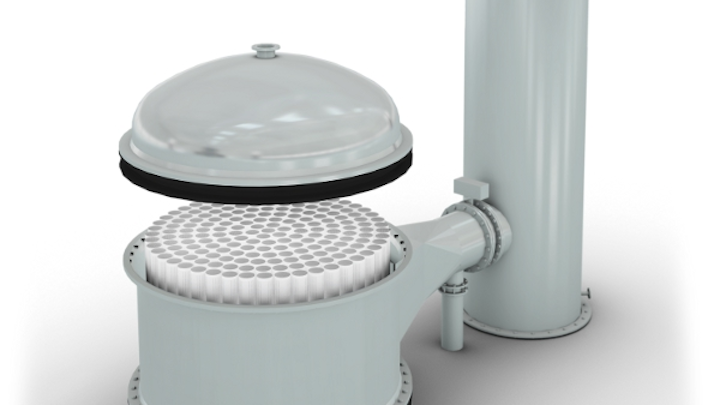 An 18-month trial is underway in southern England to test the feasibility of using ion exchange and ceramic membranes for the treatment of surface water.
Utility South West Water, which owns and operates 29 water treatment works to serve 1.6 million residents, is treating 140 m3/day using PWN Technologies' Suspended Ion Exchange (SIX) as a pre-treatment to ceramic membranes (CeraMac).
This follows the technology combination being tested by Singapore's national water agency PUB's Choa Chu Kang waterworks (see WWi video). The 1200 m3/day plant used ceramic membranes supplied by Japanese company, Metawater.
South West Water's test objectives include determining the sustainable operating parameters (i.e., flux, backwash interval, cleaning interval) that can be achieved by ceramic membranes when filtering water that has been pre-treated with suspended ion exchange.
Chris Rockey, science and water quality manager at South West Water told Water & Wastewater International (WWi) magazine: "There is a need to maintain existing assets and as they were built in the 1950s, the maintenance costs are rising so we're looking at an investment over the longer term to keep bills down."
Ceramic membranes for use in drinking water filtration have not been widespread to date. Despite boasting benefits such as increased strength and fouling resistance properties, a higher capex cost compared to polymeric membranes has prevented common use for drinking water processing.
PWN Technologies hopes to bring down the investment costs by bundling 192 membrane units together in one vessel. This, they claimed, means the membrane set up will require less stainless steel in construction and a smaller footprint, thereby reducing costs.
Also, the company claimed ceramic membranes could have a life expectancy of 20 years, compared to five to eight years of polymeric membranes.
"These membranes can't really break," PWN Technologies' chief of business and application developments Jonathan Clement told WWi magazine. "With polymeric membranes you have a cost to replace the entire lot of the membranes every five to eight years. With ceramic membranes you don't have a replacement cost – they last indefinitely."
Speaking to WWi, Dr Graeme K Pearce, principal at Membrane Consultancy Associates, said: "The Netherlands has been looking at using membranes for drinking water treatment since the 1980s and have done lots of tests and demonstrations, so PWN comes from a strong background. I think it's potentially a big development. It would be strong to say a game-changer but who knows, it could be of great significance."
The Dutch company is set to open its Andijk III plant in the Netherlands later this year. Costing 60 million euros, it will have a capacity of 120,000 m3/day and use the ion exchange and ceramic membrane combination.
- A full version of the article looking at the South West Water technology trial will be published in the April-May edition of WWi magazine. To sign up for a free copy, please click here.
###
Related stories
PWN Technologies, PUB parternship to strengthen Singapore, Dutch water treatment relations