Large scale ceramic membrane plant set for SW England
UK utility South West Water will soon start using ion exchange and ceramic microfiltration technology to treat 90,000 m3/day of drinking water...
Sep 29th, 2014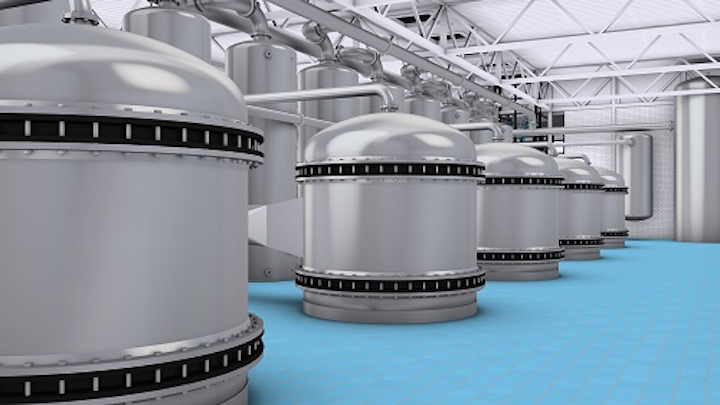 UK utility South West Water has commissioned Dutch company PWN Technologies to design its new water treatment works in Plymouth, using ion exchange and ceramic microfiltration technology.
The proposed 90,000 m3/day plant will replace the existing Crownhill Water Treatment Works and will treat reservoir and river water, which has a high content of humic substances.
A combination of Ion eXchange (SIX®) and ceramic microfiltration (CeraMac®) technology will form the core of the new treatment train, which will also consist of granular activated carbon and ultraviolet treatment technology. Produced water will be integrated into the existing drinking water infrastructure.
In April 2013 the utility started a trial using the technology to treat 140 m3/day of surface water to confirm feasibility and to establish operating and design criteria (see WWi article).
Although this was first trial of its kind in the UK and Europe, elsewhere in Singapore the technology has been demonstrated before.
The S$5million (US$3.9 million) ceramic membrane demonstration plant was built at Singapore's national water agency PUB's Choa Chu Kang waterworks. The 1200 m3/day plant is using ceramic membranes supplied by Japanese company, Metawater.
Prior to this, the first pilot trial of the ceramic membrane technology in Singapore was conducted at the Bedok NEWater Factor from 2007 to 2009.
The finalization of the advanced design for the South West Water project is targeted for mid-December 2014.
Earlier this year PWN Technologies demonstrated its 120,000 m3/day Andijk III drinking water plant in the Netherlands (see WWi article).
Chris Rockey, South West Water's science and water quality manager, said: "The processes required to produce high-quality drinking water have traditionally been both energy and chemical-intensive and produce a lot of waste. Advances in drinking water technology and new approaches to the management of raw water supplies are beginning to offer more cost-effective and sustainable alternatives to how drinking water is produced."
###
Read more
VIDEO INTERVIEW:A discussion on the operation of Andijk II – PWN Technologies' large scale ceramic membranes and ion exchange drinking water…
UK ceramic membrane trial to disprove high capex concerns High investment costs have prevented widespread use of ceramic membranes for drinking water treatment. An 18-month trial recently started in the South West of England aims to change this. As Tom Freyberg finds out, results from the project could be a game-changer for the industry and traditional polymeric membranes...
Large scale ceramic membrane drinking water plant demonstrated in the Netherlands Dutch water company PWN Technologies has demonstrated its 120,000 m3/day Andijk III drinking water plant using suspended ion exchange and ceramic membrane filtration technology…