Water equipment production line factory inaugurated in Spain city
Juan Vicente Herrera, president of Castilla and Léon, Spain, inaugurated a new Toro Equipment/Indemat production line factory in Villavaquerín.
Feb 5th, 2014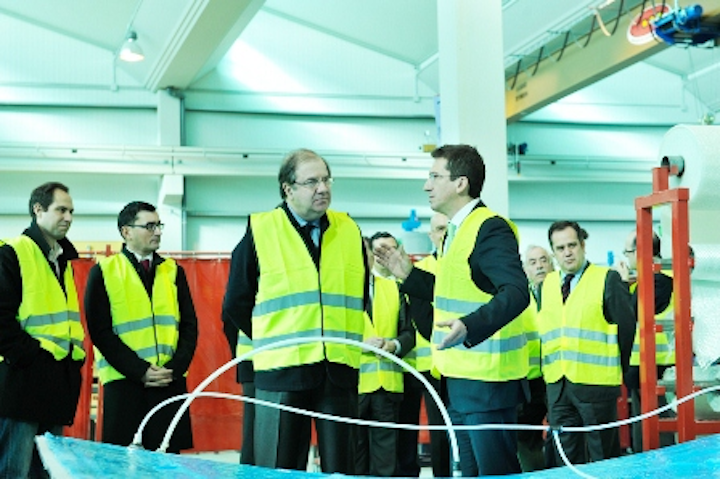 Feb. 5, 2014 -- On Friday, Jan. 17, Juan Vicente Herrera, the president of Castilla and Léon -- an autonomous community in North-Western Spain -- inaugurated a new production line factory for Toro Equipment and Indemat in the municipality of Villavaquerín.

The factory, with an area of 7000m2, houses production lines of dissolved air flotation (DAF) units and compact plants/containers from Toro, a designer and manufacturer of equipment for industrial and urban wastewater treatment, water process, water reuse, and sludge treatment. Likewise, the building also features fabrication of composite material from Indemat, a company specializing in materials research and technological development.
Indemat has been producing tanks made from fiberglass for Toro's flotation units since the beginning of the line in 2009, leading to a dynamic laboratory which creates new products, materials and ideas for a wide variety of water and wastewater applications. "Our idea is to develop a 'Valley of Water' in the area around Villavaquerín, where technology and knowledge about water treatment, the environment and new materials are transformed into products which fit through the door of a container, which is logistically and industrially speaking, 'the door of the world,'" according to a Toro Equipment press release.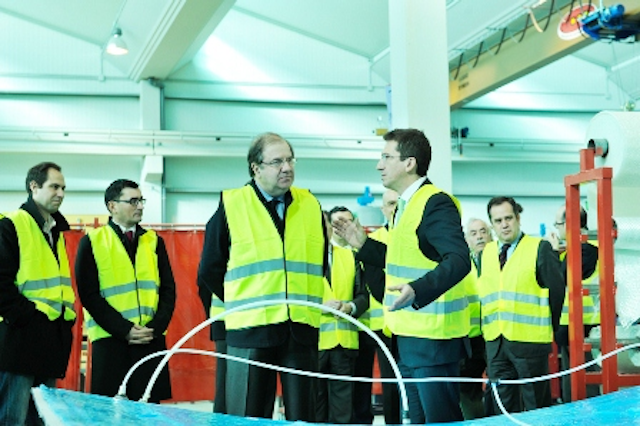 Toro Equipment and Indemat inaugurated a new factory in Villavaqurín (Photo credit: Toro Equipment)

So far, 30 jobs have been created in Villavaquerín. A residential establishment is planned to host the students and trainees who will assist installations from different universities around the world. In the strategic plan for 2018, it's estimated that at least 300 people will be employed, with an increase of the invoice volume of the entire group from €12 million (US $16.2 million) to €30 million (US $40.6 million).

The Councilor of Economy Tomás Villanueva, Councilor for the Environment Antonio Silván, Mayor of Villavaquerín, and Santiago Salcedo, CEO of the two companies, have all voiced their support for the project. Other plans to incorporate new office buildings, a testing laboratory to test equipment on a semi-industrial scale, and a production line factory for industrial rotary screens, filter presses, and water and sludge treatment elements are also underway.
See also: "Toro Equipment introduces new line of DAF equipment".

About Toro Equipment
Toro Equipment is a leading European company specialized in the design and manufacture of equipment for industrial and urban wastewater treatment, water processing, water reuse and sludge treatment. We offer our customers the best water treatment solutions, based on more than 20 years' experience in the design and manufacture of equipment, as well as commissioning. We offer custom solutions for both the private and public sectors, and have supplied equipment to more than 25 countries worldwide, with international markets accounting for more than 35% of our sales. For more information, visit www.toroequipment.com.
###