Desalination capacity to be reduced across Israel
Desalination plants in Israel will only run at 70% this year following two wet winters, with the recently opened Sorek SWRO facility set to operate 30 million cubic metres per year below capacity...
Feb 11th, 2014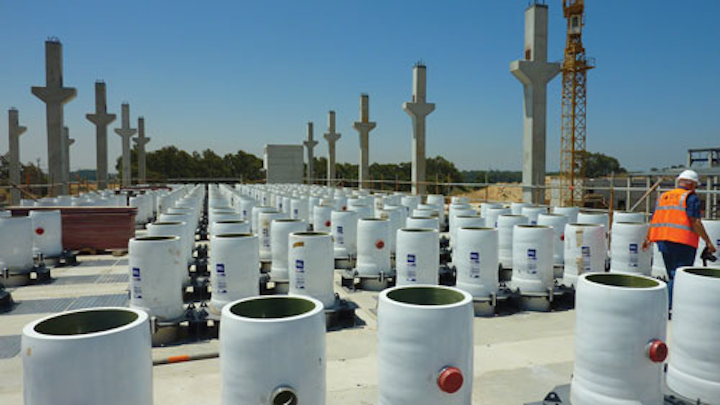 Desalination plants in Israel will only run at 70% capacity this year following two wet winters, according to the Jerusalem post.
The country's total capacity of 510 million cubic metres per year will be reduced by 150 million cubic metres.
Israeli desalination company – IDE Technologies – confirmed to WWi that the country would be reducing its desalination capacity.
The decision follows weeks of negotiations between the Water Authority, Finance Ministry and desalination plant operating companies.
Uri Schor, a spokesperson for the Water Authority, reportedly said that while seven drought years have plagued Israel, sufficient rains have occurred over the last two years.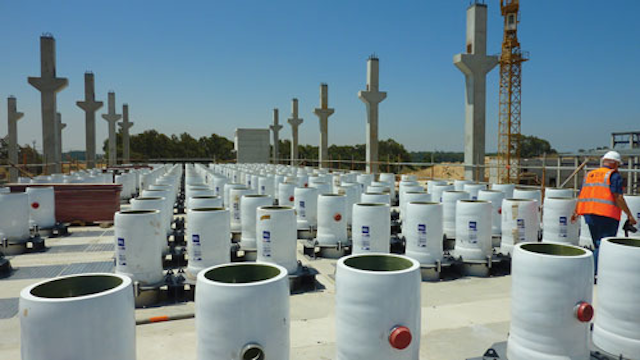 In October last year IDE began testing at the Sorek site (pictured above) – claimed to be the world's "largest SWRO desalination plant" - with a capacity of 624,000 m3/day (see WWi article) using vertical membranes.
The Jerusalem Post reported however that the Sorek facility would be producing 120 million m3/year instead of 150 million.
Other reductions will include Ashkelon (80 million m3/year instead of 118 million), Palmahim (65,000 million m3/year instead of 90 million) and Hadera (85 million cubic metres/year instead of 127 million).
Read more
Sorek Stands Tall: SWRO Membranes Go Vertical in Israel After passing its performance testing, Israel's new Sorek large-scale desalination plant is now operational. For the first time globally, the plant features 16" SWRO membranes in a vertical arrangement. The article looks at claims that "going vertical" can reduce a plant footprint and CAPEX costs…
Leading Israel's Global Desalination Company From its Ashkelon project in Israel, IDE Technologies has come a long way to win the Carlsbad desalination technology supply contract in California. Tom Freyberg catches up with the man behind the company's quite phenomenal growth – CEO and president Avshalom Felber – to find out what the secret is…
VIDEO: Meeting the Rainmaker Ehud Danoch, CEO of EMS Mekorot Projects explains how Israel makes it rain for additional water supplies and success in wastewater reuse...