PRODUCTS & SERVICES—LAB SAMPLING
The Coagulant Charge Analyzer (CCA 3100), available from Chemtrac, determines the optimum coagulant dose in five minutes or less.
Jan 1st, 2005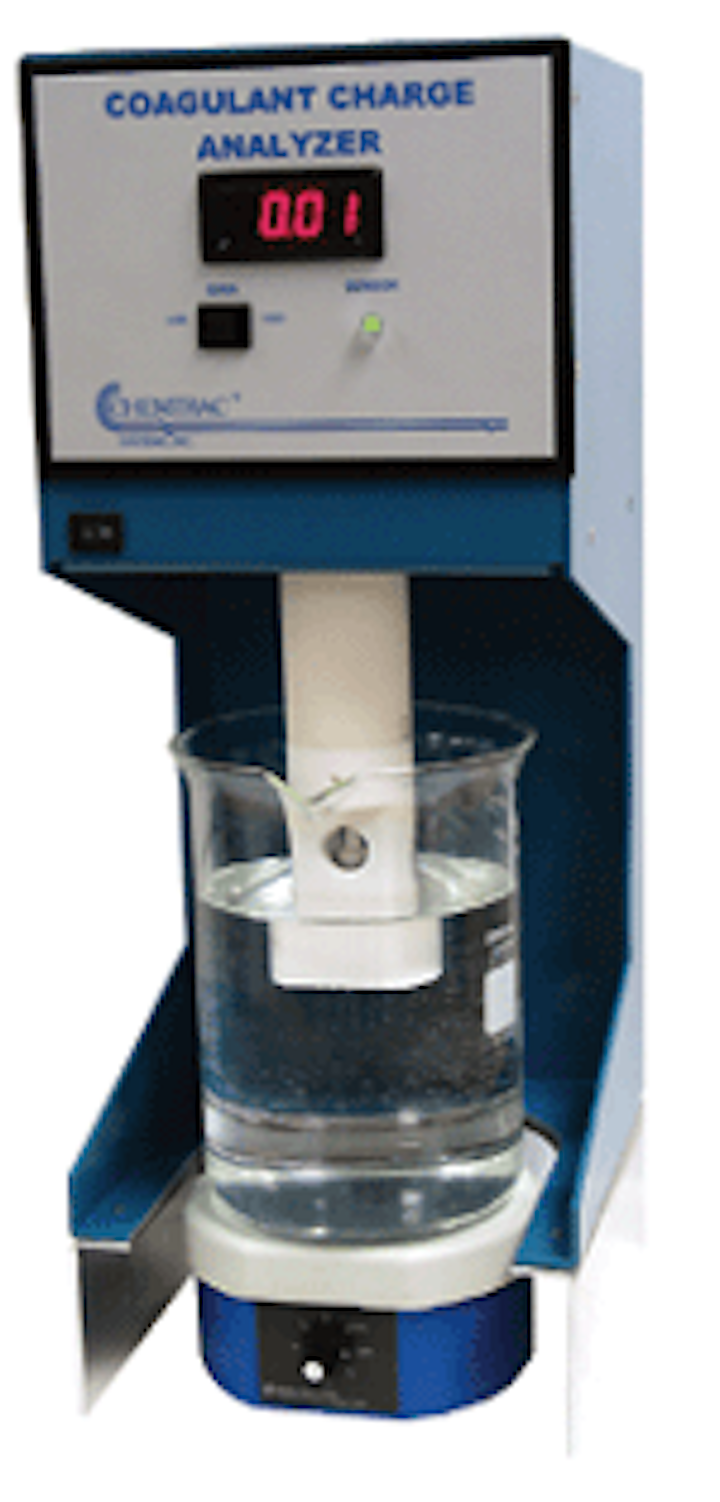 Coagulant charge analyzer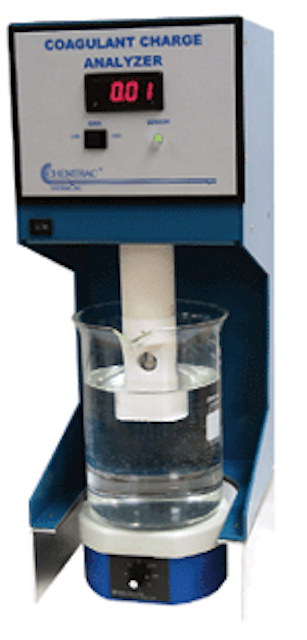 Click here to enlarge image
The Coagulant Charge Analyzer (CCA 3100), available from Chemtrac, determines the optimum coagulant dose in five minutes or less. Operators can adapt quicker to sudden quality changes in raw water than with conventional jar test. The analyzer also enables operators to compare, verify strengths, and "Q.C." incoming shipments of coagulants. The analyzer is simple to use and ensures reproducible results.
Chemtrac Systems, Inc.
Norcross, GA
Tel: 800-442-8722
Web: www.chemtrac.com
Arsenic measurement
TraceDetect has released SafeGuard(tm), an automated trace metals analyzer that simplifies the measurement of arsenic and other metals in water. The new analyzer will measure total arsenic down to 2 ppb, without requiring a chemist to operate the instrument and interpret results. The system is the first automated analyzer with the accuracy required to meet the 2006 EPA arsenic limit for drinking water. It can display test results on site in 20 minutes.
TraceDetect, Inc.
Seattle, WA
Tel: 206-523-2009
Web: www.tracedetect.com
Photometer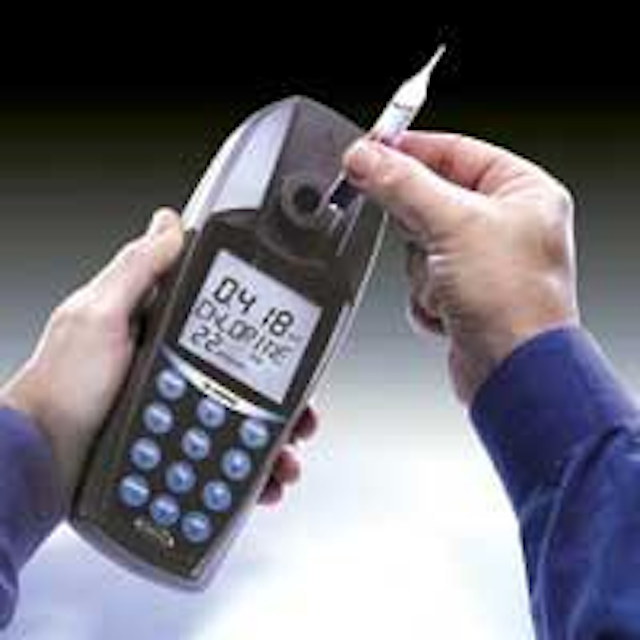 Click here to enlarge image
CHEMetrics has released its new V-2000 Multi-Analyte Photometer. Lightweight and field portable, this microprocessor-based LED photometer features preprogrammed methods to measure 13 mm, 16 mm, or 1 in. cells in either concentration, transmittance, or absorbance modes. With RS-232 output, it can log 100 data points and download them to a printer or computer. Using the company's self-filling premeasured Vacu-vial(r) reagent ampoules, the photometer provides water quality tests for 30 important analytes including ammonia, chlorine, nitrate, phosphate, phenols, and COD.
CHEMetrics Inc.
Calverton, VA
Tel: 540-788-9026
Web: www.chemetrics.com
Flow sampling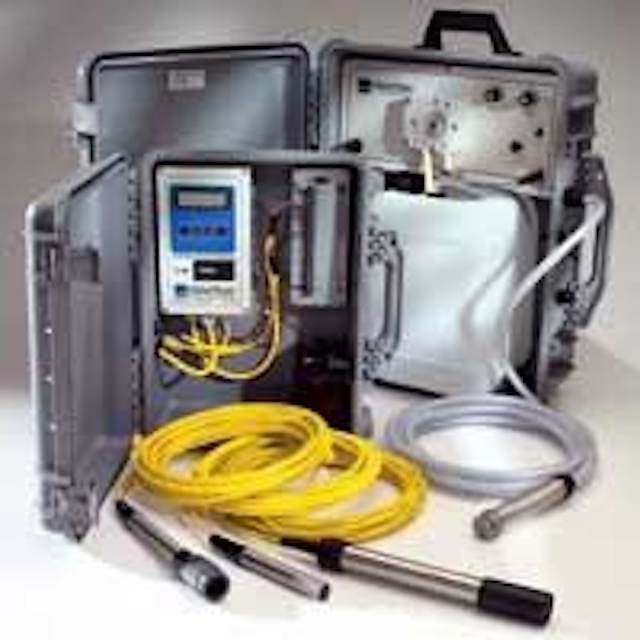 Click here to enlarge image
Global Water's Flow Sampling System is a water monitoring package that includes a lightweight composite water sampler, an open channel flow monitor with dual displays and outputs, and a data recorder that is both Windows and Palm Pilot compatible. The compact package is portable for field installation and customizable to meet specific monitoring needs. The flow-proportional water sampler is enclosed in a rainproof, lockable carrying container.
Global Water Instrumentation Inc.
Gold River, CA
Tel: 800-876-1172
Web: www.globalw.com
DO stick meter
Extech Instruments has released the ExStik(r) II Model DO600 Dissolved Oxygen stick meter. Designed for both lab and field applications, including wastewater and environmental monitoring, the meter features replaceable, single-piece bonded membrane caps. It is waterproof to IEC 60529 IP67 standards and is buoyant in water.
Extech Instruments
Waltham, MA
Tel: 781-890-7440
Web: www.extech.com
Analyzer
Astoria-Pacific International and Fisher Scientific have signed an exclusive agreement to distribute the new Astoria(r)2 Analyzer in the United States. The analyzer can be used to monitor nutrients and other analytes like nitrate, ammonia, cyanide, phenol, orthophosphate, etc. in the water/wastewater industry.
Fisher Scientific
Tel: 800-766-7000
Web: www.fishersci.com
Astoria-Pacific International
Tel: 800-536-3111
Web: www.astoria-pacific.com
Data quality assurance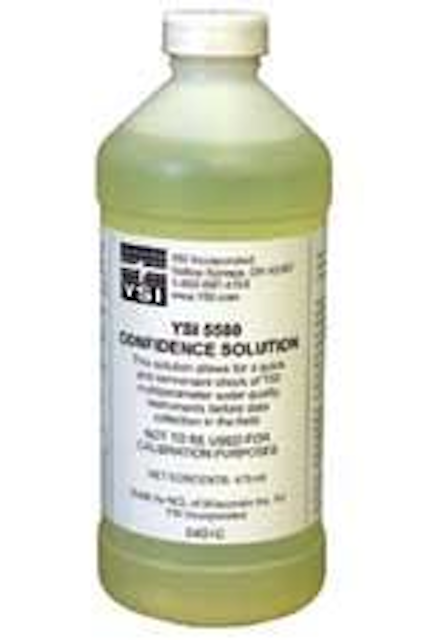 Click here to enlarge image
YSI Inc. has released the YSI 5580 Confidence Solution, a single solution allowing users to ensure sensor performance with the company's multiparameter water quality instruments before and during field data collection. Typical use includes confidence checks of conductivity, ORP, and pH probes. User immerses the probes in a solution and check the temperature reading.
YSI Inc.
Yellow Springs, OH
Tel: 937-767-7241
Web: www.YSI.com
Flowmeter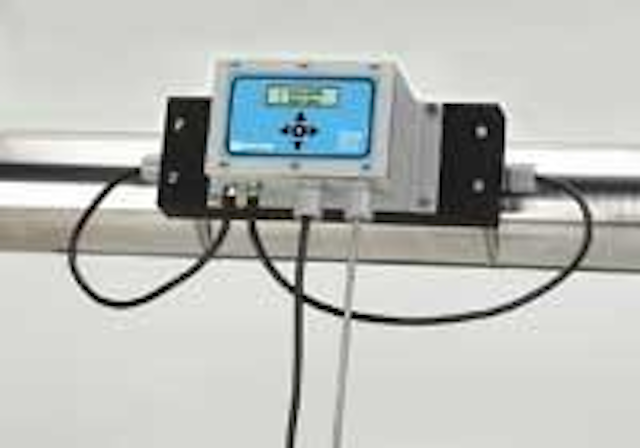 Click here to enlarge image
Controlotron now offers clamp-on flow-measurement at a much lower cost. The design minimizes maintenance expense while achieving flow rate accuracy of
Controlotron Corp.
Hauppauge, NY
Tel: 800-275-8479
Web: www.controlotron.com
Temperature probes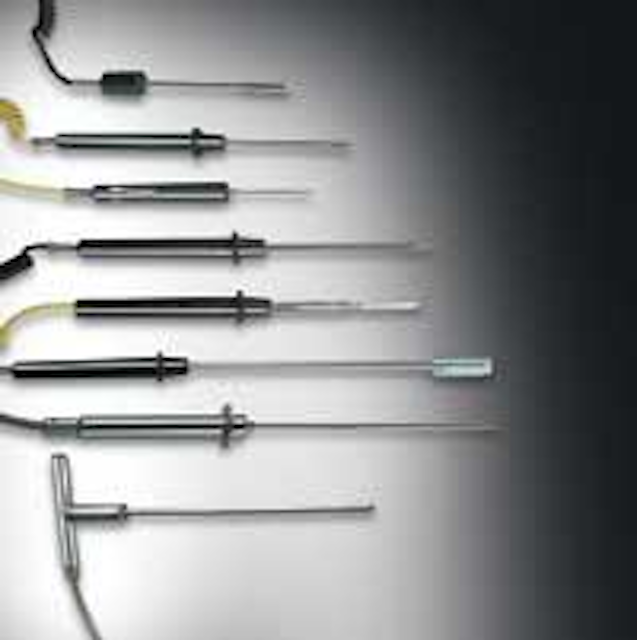 Click here to enlarge image
Cole-Parmer has introduced the new Digi-Sense custom temperature probe program. In addition to the company's offering of over 500 different stocked temperature probes, it is now able to provide almost any temperature probe needed for virtually any wastewater treatment application. Customers can select from RTD, thermocouple, or thermistor probes in a virtually limitless variety of configurations.
Cole-Parmer Instrument Co.
Vernon Hills, IL
Tel: 800-323-4340
Turbidity, suspended solids sensors
Click here to enlarge image
Hach has introduced the Solitax(tm) sc Turbidity and Suspended Solids Sensors and sc100 Controller. Sensors apply an industry-unique, color-independent measurement technique that eliminates repetitive calibration. The system's performance and full data communication capability improve process control and reduce treatment costs associated with polymer use, digester volume, and sludge handling. With sensors available in various body construction, measurement range, and mounting styles, the system streamlines monitoring throughout water and wastewater treatment, sludge management, and industrial water treatment processes.
Hach Company
Loveland, CO
Tel: 800-227-4224
Web: www.hach.com
Process controllers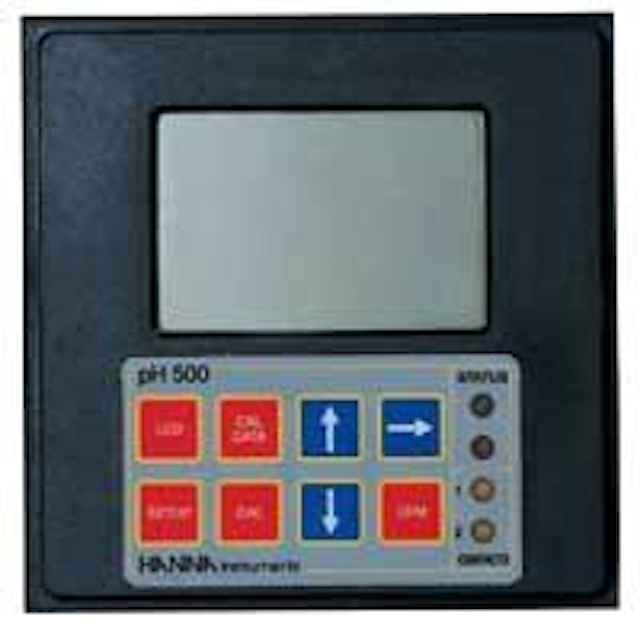 Click here to enlarge image
Hanna Instruments produces the pH 500, mV 600 and HI 700 series pH, ORP & EC/TDS process controllers engineered for simple installation and operation in systems of all sizes. These industrial controllers offer increased safety and efficiency for plant operations. Many new features are available to prevent overdosing and system failures. Plant and process identification simplifies organization of data from multiple locations. Parameters include pH, ORP, EC and TDS.
Hanna Instr., Laboratory & Ind. Division
Woonsocket, RI
Tel: 800-504-2662
Web: www.hannainst.com
Chlorine test strip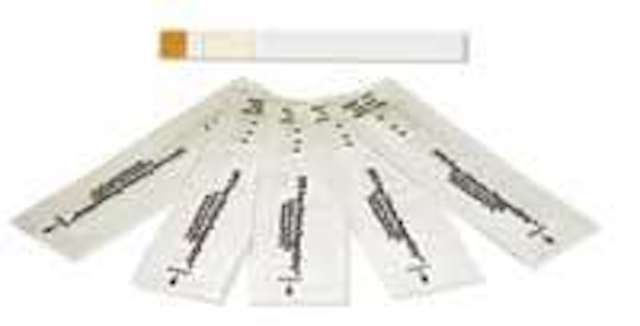 Click here to enlarge image
The DPD-1 ReagentStrip for Free Chlorine, available from Industrial Test Systems, offers users a more convenient delivery system for DPD. All required reagents come measured and impregnated on a test strip pad. The user need simply dip the strip into a 10 ml water sample for 20 seconds with a back and forth motion, remove, discard the strip, and immediately read in their chlorine meter.
Industrial Test Systems, Inc.
Rock Hill, SC
Tel: 800-861-9712
Web: www.sensafe.com
Sampling station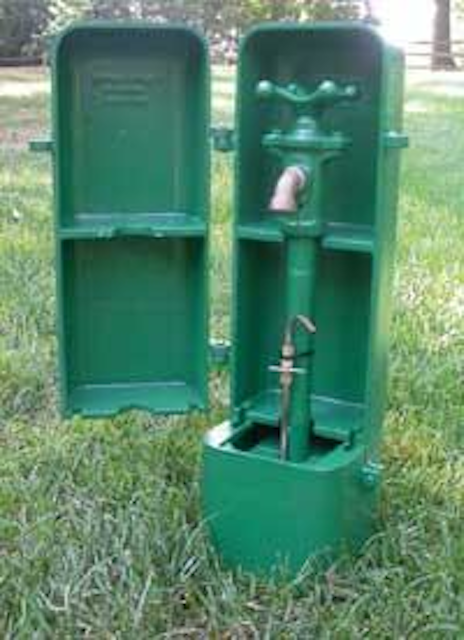 Click here to enlarge image
Kupferle Foundry offers the Eclipse #88 Sampling Station. Dedicated sampling sites have proven to deliver a secure place available 24 hours a day, a reduction in false-positives, and large man-hour savings. The standard unit offers an all-brass waterway and cast aluminum enclosure. Any depth of bury is available to accomplish freeze protection.
Kupferle Foundry Co.
St. Louis, MO
Tel: 800-231-3990
Web: www.hydrants.com
Refrigerated autosamplers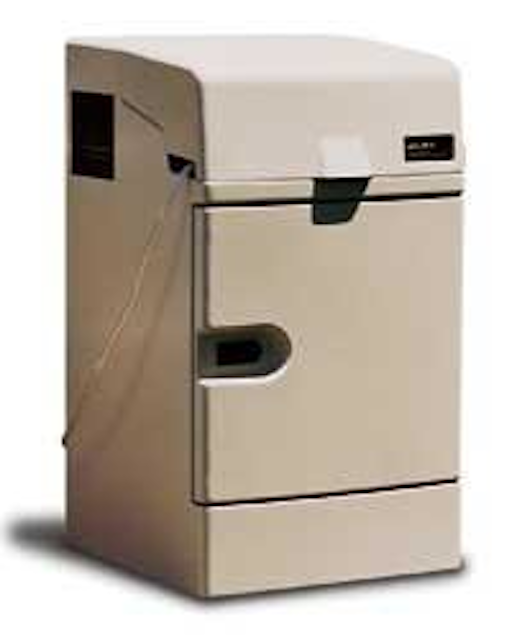 Click here to enlarge image
Sigma All Weather Refrigerated Autosamplers now can be ordered from the Hach Company web site. These automated samplers assure dependable collection regardless of operator workload, schedules, or weather conditions. A patented design locates the sampler compressor at the top of the unit to minimize corrosion and keep heat away from the refrigeration unit.
Hach Company
Loveland, CO
Tel: 800-227-4224
Web: www.hach.com
TOC analyzers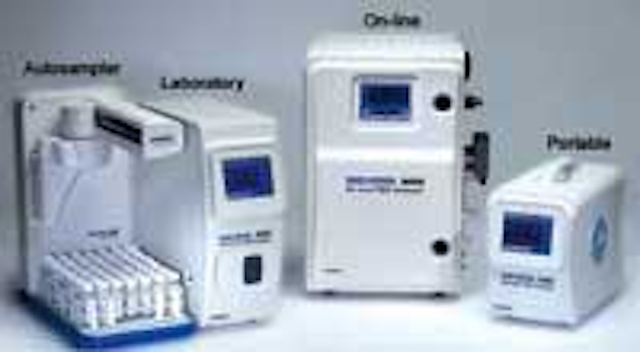 Click here to enlarge image
Ionics Instruments had introduced the Sievers(r) 900 Series TOC Analyzers. Based on the company's Model 800 technology, the three-model 900 Series is easier to use and offers better analytical performance. It comes with new productivity features which simplify TOC monitoring compliance and process optimization.
Ionics Instruments
Boulder, CO
Tel: 800-255-6964
Web: www.ionicsinstruments.com
Chlorine meter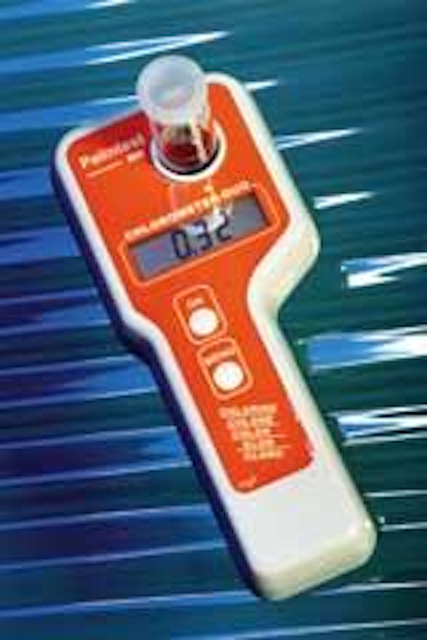 Click here to enlarge image
The Palintest Chlorometer Duo is a hand-held chlorine meter with a broad measurement range. The single instrument lets water engineers and contractors measure the high chlorine levels used for pipework sterilization as well as the low residual disinfectant levels in treated drinking water. The meter is calibrated to monitor residual chlorine using the internationally recognized DPD standard method.
Palintest USA
Erlanger, KY
Tel: 800-835-9629
Web: www.palintestusa.com
Discrete analyzer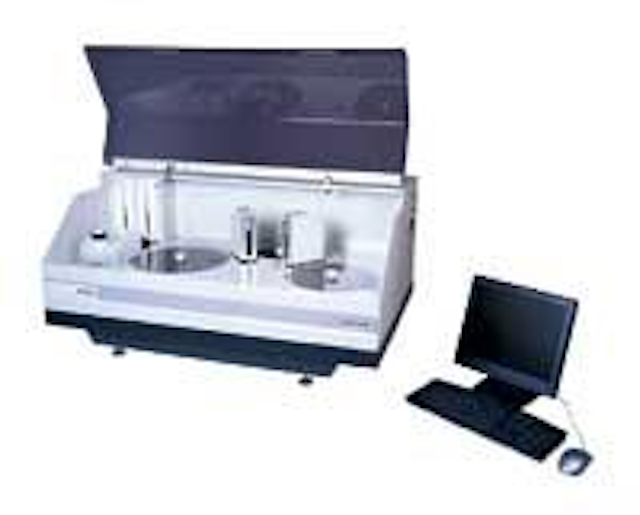 Click here to enlarge image
Lachat Instruments, a provider of automated ion analysis, has introduced a new discrete analyzer, the AP300. For laboratories requiring high throughput in their environmental analysis, discrete technology offers simplified analysis with reliable results. The analyzer features extremely low reagent consumption and reduced daily start-up times, which translates into cost savings. It features 30 reagent positions and two pipettes to reduce cross-contamination.
Lachat Instruments, a Hach Company Brand
Loveland, CO
Tel: 800-247-7613
Web: www.lachatinstruments.com
Coliform testing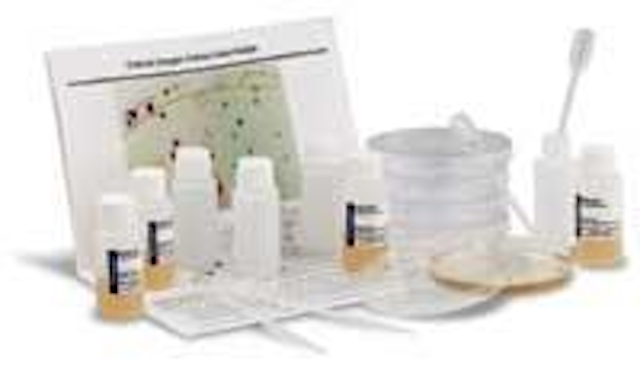 Click here to enlarge image
Patented Easygel agar replacement simplifies testing for coliforms and E. coli in environmental samples, drinking water or treated wastewater. Available from Forestry Suppliers, Easygel is a pectin-gel testing method sold as a sterile 2-part test unit consisting of a patented liquid medium and a pretreated petri dish. When the liquid medium is poured into the petri dish, ions diffuse from the pretreated layer into the liquid causing it to gel in about 40 minutes.
Forestry Suppliers Inc.
Jackson, MS
Tel: 601-354-3565
Web: www.forestry-suppliers.com