New Products
Collection of new products for the municipal drinking water and wastewater markets.
May 1st, 2013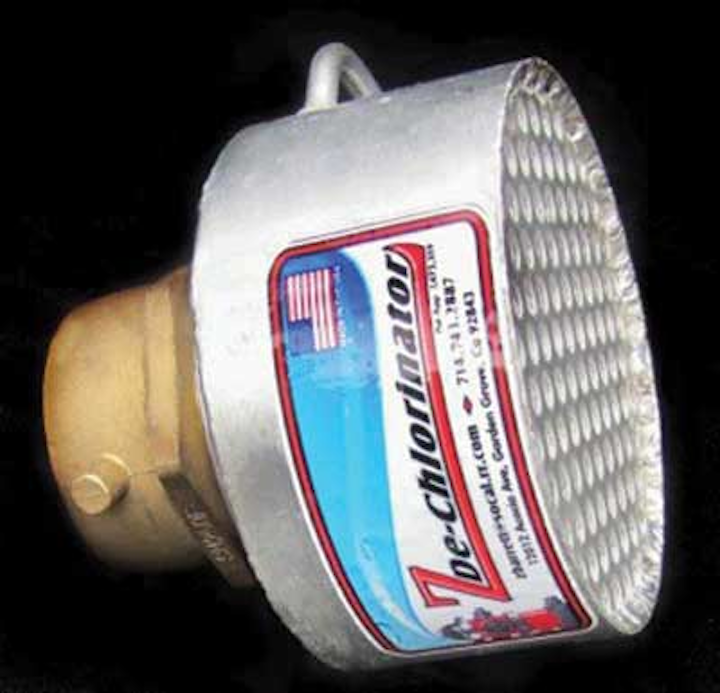 Flushing dechlorinator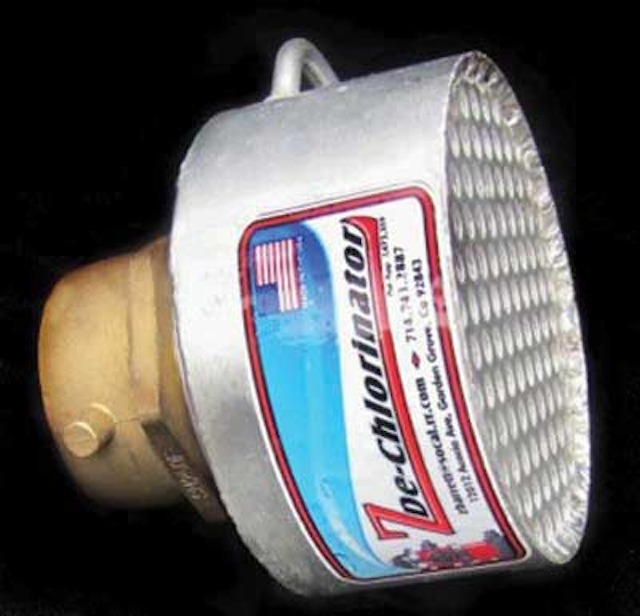 The Z De-chlorinator is a simple tablet dechlorinator for fire hydrant flushing programs and other water quality tasks. It is compact and lightweight. This unit is smaller than a toolbox, made of 6061-T6 high strength aluminum and is lightweight with aircraft precision welds. It holds up to 4 Vita-D-Chlor Tablets and can dechlorinate the average 30-minute flush of a hydrant. It is available with a permanent diffuser (NEMA - 200) or a removable flushing elbow (NEMA - 100).
ZDe-Chlorinator
www.zde-chlorinator.com
---
Hydrant flushing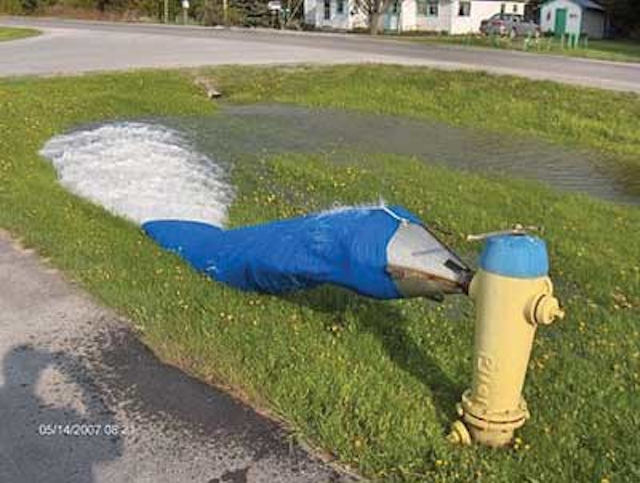 The Hydrant Sock allows water operators to do high velocity flushing without using fire hoses, which reduces the C factor when used on fire hydrants. The sock works with the diffusers already in service to protect private and public property. It takes the water and the force remaining from the diffuser and calms the water so that it flows from the sock like a stream over the surface of the ground. It also can be used to divert the flow of water over or around obstacles that could be damaged.
Lakeshore Hydrant Services Inc.
www.lakeshorehydrantservices.ca
---
Infrastructure security
"Critical Infrastructure Protection - Water" is a handbook in two volumes designed to help water utility and resource managers and operators as well as emergency management and other relevant officials develop, enhance and implement security programs. The handbook covers water treatment facilities and wastewater systems as well as dam, reservoir, and watershed management. Based on Government Training Inc.'s Integrated Physical Security five-step process, the handbook relays how to conduct detailed vulnerability assessments in order to develop security and emergency response plans to cover all eventualities.
Government Training Inc.
www.governmenttraininginc.com
---
Chlorine measurement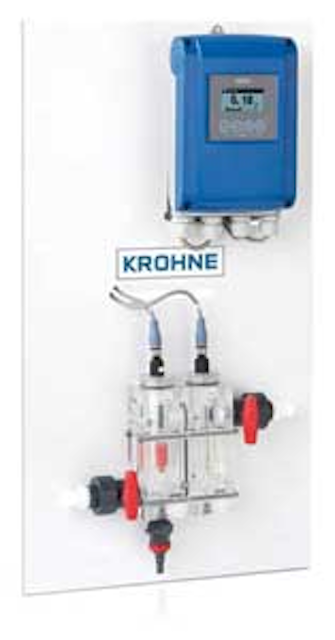 Krohne offers the Optisys CL 1100, a complete pre-wired and tested chlorine measuring system including all the necessary components for measurement and compensation. The combination of a membrane-free sensor and an automatic cleaning system means extremely low maintenance. Integrated temperature compensation and flow control maintains the integrity of the chlorine signals under all ambient and process conditions. The chlorine measuring system can also manage pH compensation and will handle the complete chlorine measuring range, even at higher pH values.
Krohne Inc.
http://us.krohne.com
---
Mag meter
Mueller Systems has earned Factory Mutual (FM) Approval (Fire Service Meters Approvals Class 1044) for the HbMAG meter, its electromagnetic flow meter in 3" to 12" sizes. FM Approval is a result of the meter's ability to withstand all flow, pressure and reliability requirements necessary for installation in applications that demand a high degree of measurement accuracy across a broad range of flows. Such applications include establishing district metering areas, which can help utilities reduce non-revenue water and charging commercial fire suppression systems, even in the event of an emergency flow requirement.
Mueller Systems
www.muellersystems.com
---
Water quality monitoring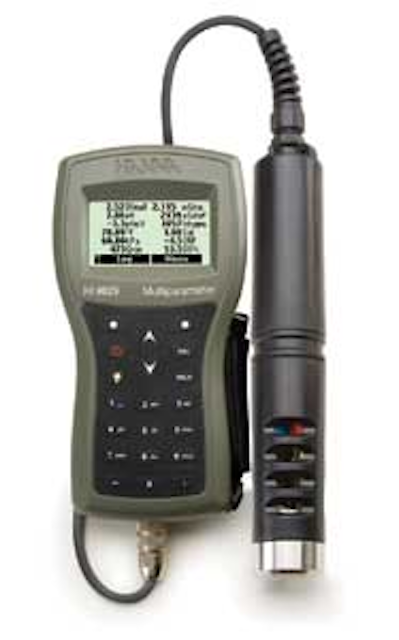 The Hanna HI 9829 meter is designed for water quality professionals who measure stormwater, groundwater, wastewater, or surface water. A single meter can measure critical parameters in wastewater such as pH/ORP, DO, ammonia, conductivity, and nitrates as well as pH/ORP/EC, TDS, turbidity, and chloride in freshwater. The meter can seamlessly log and record results from a variety of locations and correlate the results to those locations. It comes complete with sensors, turbidity standards, 5 ID Tags, a cable, quick calibration solution, and a protective carrying case. The meter also has an optional GPS receiver that calculates its position to track locations.
Hanna Instruments
www.hannainst.com/usa
---
Oil in water monitoring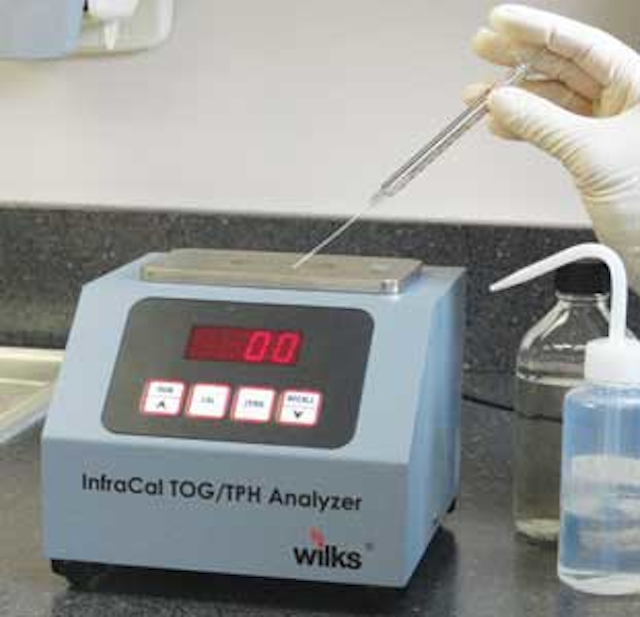 The InfraCal TOG/TPH Analyzers from Wilks Enterprise provide on-site oil-in-water measurement capability in a matter of minutes, eliminating the wait for off-site laboratory results. The portable infrared analyzers can be used to determine if oil-in-water levels are in compliance with discharge permits and give treatment operators needed information on how their system is performing. Measurement data correlates with EPA Methods 1664, 413.2, 418.1 and ASTM Methods D7066 and D3921.
Wilks Enterprise Inc.
www.wilksir.com/oilgrease-analyzers
---
Biotrickling filter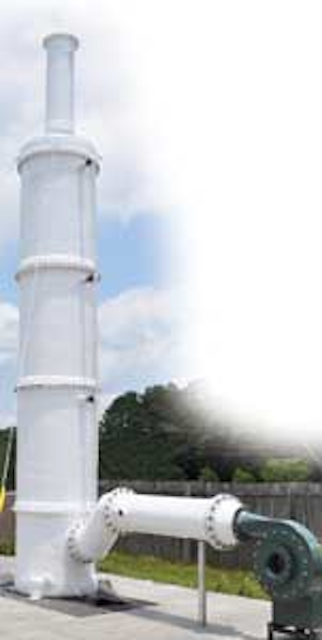 Purafil is a single-source manufacturer of filters, systems and instrumentation for preventing odors, protecting critical electronics from corrosion and eliminating the risk of toxic gas releases. Its new Biological Air Treater features biotrickling filter technology through an exclusive license with Honeywell Process Solutions. This technology has been proven in various odor control applications over the past 15 years, providing odor abatement by removing hydrogen sulfide and VOCs.
Purafil
www.purafil.com
---
Water chemistry automation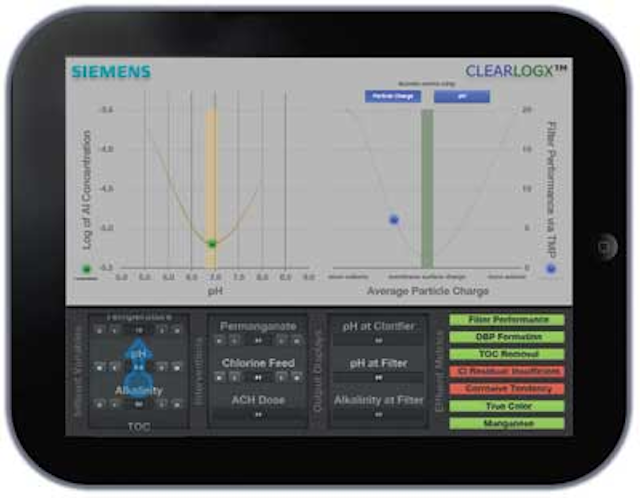 The Clearlogx™ Process Optimization System from Siemens is an automated chemical feed system that optimizes soluble organic removal, reduces chemical costs and enhances municipal water treatment plant performance. Using a proprietary controls approach, the system optimizes a water treatment plant's water chemistry, reducing the formation of disinfection byproducts and decreasing the possibility of membrane fouling. The system is able to maximize the removal of total organic carbon (TOC) up to 50%, even after implementation of enhanced coagulation, thus enabling plants to meet the strict requirements of the Disinfection Byproducts (DBP) Rule.
Siemens Industry, Inc.
www.siemens.com/water
---
Transmitter/controller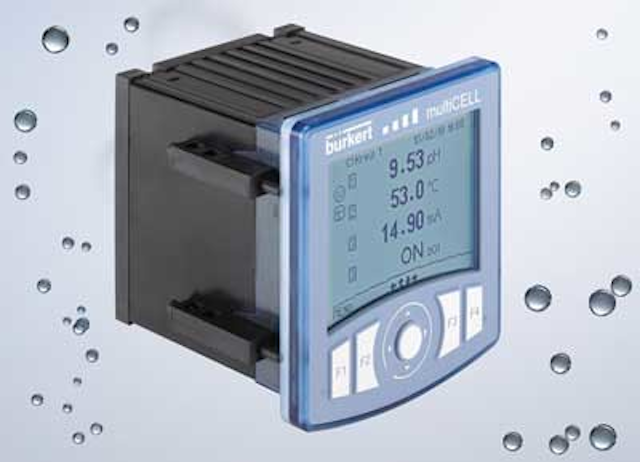 Burkert Fluid Control Systems has developed the MultiCELL Type 8619 multi-channel controller for water treatment, food and pharmaceutical applications. In reverse osmosis systems, the controller can be used for monitoring functions as a flow indicator to measure the ORP value or percentage retention value. The controller can also be used for control tasks, such as regulation of the pH value and the dosing of chemicals and ratio control. The modular controller is adapted at the factory to the particular application and customer specifications. The standard version includes the user interface, the main board and AC adapter, two analog and digital outputs, and two digital inputs.
Burkert Fluid Control Systems
www.burkert-usa.com
---
Information management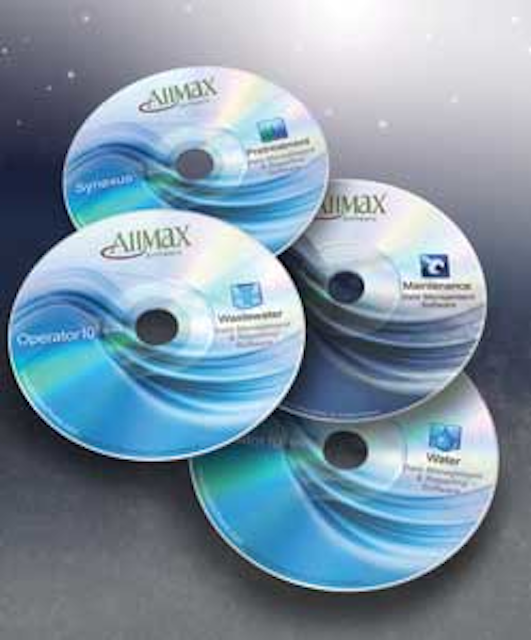 AllMax Software has released the new Operator10 v10 suite of operations information management software. Operator10 has been reengineered to give users more control of their data with reliable data management solutions that will help maximize plant performance, ensure knowledge-based decisions, and industry and environmental compliance. The new software provides more functionality and a more visually-appealing style. Ribbon-type toolbars have been added for displaying menu options and program features, and movement through the process setup section has been improved to assist users in setting up and modifying process control.
AllMax Software Inc.
www.allmaxsoftware.com
---
Water level meter
The Model 101 P7 Water Level Meter from Solinst features durable PVDF flat tape with laser markings every 1/100 ft. (or each mm) certified traceable to National Standards. The tape has increased tensile strength, abrasion resistance and electrical efficiency. The P7 Probe is submersible to 1,000 ft. (300 m). The standard Model 101 P2 Water Level Meter with heat embossed tape is also available.
Solinst Canada Ltd.
www.solinst.com
---
Level alarm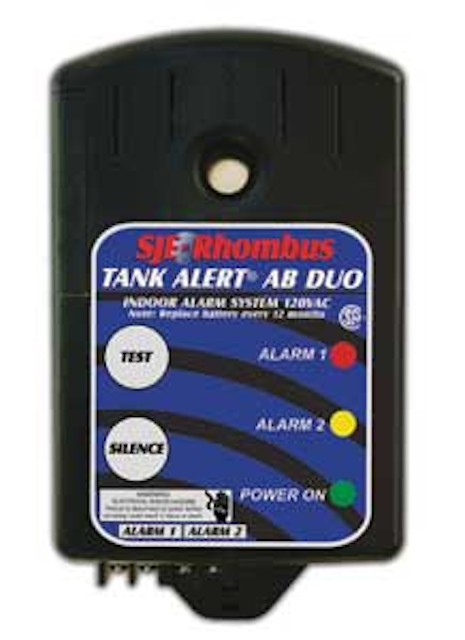 SJE-Rhombus® has introduced the Tank Alert® AB DUO alarm system designed to monitor two liquid level conditions. The system features two alarm inputs to monitor two level conditions in lift pump chambers, sump pump basins, holding tanks, sewage, agricultural filters, and other waste applications. The alarm features a user-friendly touch pad with colored LED indicators for visual detection. The alarm horn and red LED indicator activate for a high water alarm condition. The alarm horn and yellow LED activate for alarm two. The green LED indicates 120v primary power to the alarm. Once the condition is cleared, the alarm automatically resets.
SJE-Rhombus
www.sjerhombus.com
More WaterWorld Issue Articles
WaterWorld Articles Archives