2013 Legislative and Regulatory Outlook
Without a doubt, 2013 is shaping up to be a very busy year for water and wastewater in the U.S.
Jan 1st, 2013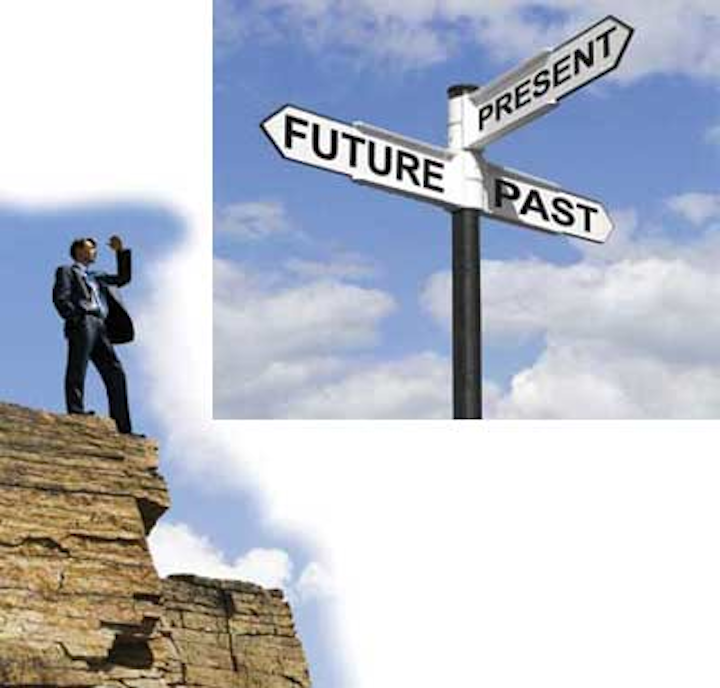 What's Ahead for Water and Wastewater?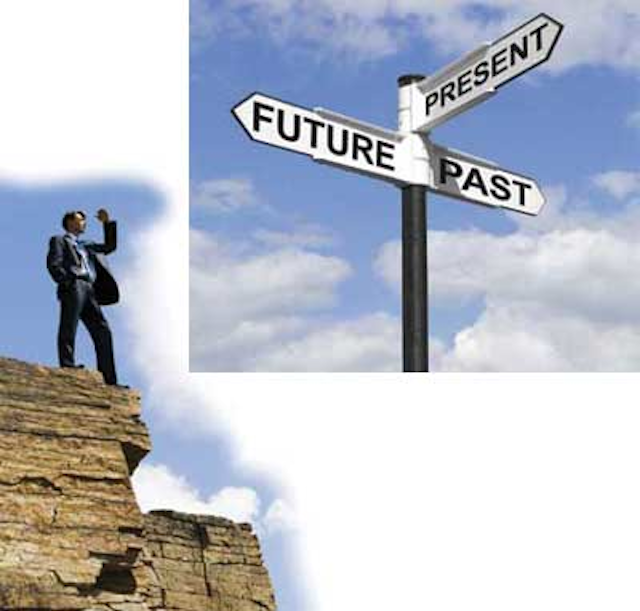 Without a doubt, 2013 is shaping up to be a very busy year for water and wastewater in the U.S. Although it would be impossible - especially in this political climate - to predict with 100% accuracy how things might play out this year, experts in the water and wastewater industry are paying close attention to certain initiatives and, with decades of experience under their belts, have some very informed opinions of what may lie ahead. Here are a few key issues percolating in the near term.
Legislative Horizon
The 112th Congress was nothing if not gridlocked. Of 12,146 bills and resolutions introduced, only 207 were enacted into law. And only a very small handful of those had anything whatsoever to do with water or wastewater. What can we expect to change in the next session?
"Very little," said Dawn Kristof Champney, president of the Water and Wastewater Equipment Manufacturers Association (WWEMA). "Only because there was no significant change as a result of the elections."
That said, the one thing that may be able to break through the logjam is the dire need for water and wastewater infrastructure funding relief.
"The 112th Congress is the first Congress in recent memory where NO legislation passed that provided new funding for water infrastructure," pointed out Tim Williams, Managing Director of Government Affairs for the Water Environment Federation (WEF).
But his organization - along with WWEMA, the American Water Works Association (AWWA), the National Association of Clean Water Agencies (NACWA), and many others - has worked hard to raise awareness in Congress of the desperate need to invest in our nation's drinking water and wastewater infrastructure.
Best Bets
There were a number of different funding mechanisms proposed in the 112th Congress but the two that seem best poised for action in 2013 are WIFIA and removing the volume cap on private activity bonds (PABs).
"The challenge in this budget climate is how to pay for water infrastructure," said Tommy Holmes, AWWA's Legislative Director. "Because not only is the federal government strapped for cash but the state and local communities are facing equally hard times with their budgets."
With that in mind, Holmes said, Congress will be looking for ways to finance water infrastructure at a very low cost. "This is where I think our proposal of WIFIA has a real strong appeal to it, in that it's a loan program, for one thing. All money is paid back," he explained, "and it requires a very small initial outlay for the amount of loan you can provide."
Modeled after a similar, successful mechanism in the transportation sector, WIFIA utilizes the Federal Credit Reform Act to basically lower the cost of capital for water utilities while having little or no effect on the federal budget deficit. Part of its draw is that it doesn't cost a lot: it only requires appropriation of the funds to cover the risk of default, which in the case of water and wastewater utilities is 0.04%.
"It utilizes a small investment by the federal government to make a whole lot of loans," said Holmes.
Late in the 112th Congress, just after the November election, Oregon Senator Jeff Merkley introduced WIFIA legislation in S. 3626, the Water Infrastructure Finance and Innovation Act of 2012. In all reality, it didn't have much chance of passing before the end of the session but its introduction was nonetheless important for continuing the momentum around water infrastructure funding.
WIFIA language was also included in Senator Barbara Boxer's draft bill to reauthorize the Water Resources Development Act (WRDA). "Title 10 of her draft bill would create a WIFIA pilot program," explained Holmes. But more importantly, it lends credibility to the WIFIA concept. Senator Boxer is Chair of the U.S. Senate Committee on Environment & Public Works. "To have her interested in WIFIA is very meaningful," he said.
The Sustainable Water Infrastructure Investment Act of 2011 is the other top-contender for legislative action in 2013. The bill would exempt water and wastewater projects from state volume caps on public-purpose private activity bonds. This has the potential to free up $5 billion annually in private sector funding to invest in water and wastewater infrastructure and generate $412 million annually in state and local tax revenue - at the bargain price of $354 million over 10 years in lost tax revenue to the U.S. Treasury.
"I think PAB legislation, of all, has the greatest chance of passage in the next Congress," said Champney. This is evidenced, at least in part, by its ability to attract 100 sponsors in the House of Representatives. Granted, the legislation will have to be reintroduced in the 113th Congress, "but if you can hit a 100-sponsor mark in the House, it resonates and garners the interest of leadership," she added.
No matter the mechanism, it's strongly agreed that infrastructure funding will be a dominant priority in the water and wastewater sector. And AWWA's Holmes is hopeful. "Traditionally in infrastructure issues, Congress eventually comes to a bipartisan agreement. So I'm cautiously optimistic that we will move forward in the 113th congress."
Regulatory Front
WWEMA's Champney summed it up perfectly: "It's going to be a busy year."
The Obama Administration has until 2016 to accomplish its goals. "And that's the 'window of opportunity,' if you will, for EPA to fulfill its objectives and issue the regulations it's been working on very aggressively over the last four years," she added.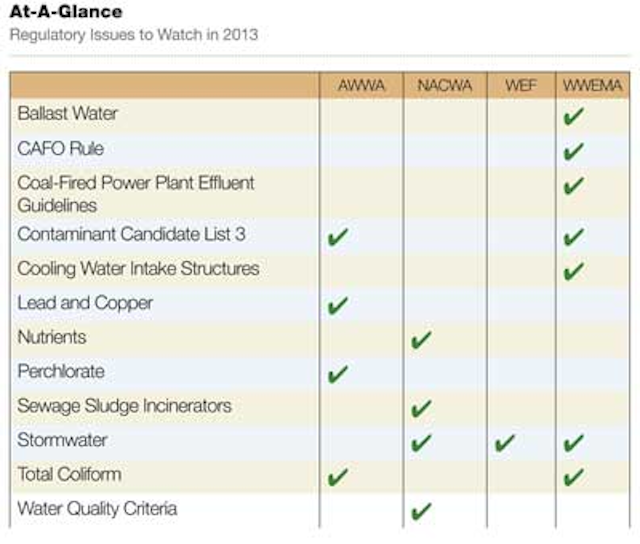 A number of them are at the gate getting ready to be released.
Final Revised Total Coliform Rule
EPA proposed its Revised Total Coliform Rule in July 2010. At the time of this article, the rule has emerged from the Office of Management and Budget and is in the process of obtaining final signatures at EPA. It's on track to be published in the Federal Register in January 2013.
According to the EPA, the revisions "offer a meaningful opportunity for greater public health protection beyond the current Total Coliform Rule."
"It's a pretty big rule for us because it impacts everybody," said Alan Roberson, AWWA's Director of Security and Regulatory Affairs. "It doesn't matter if you're surface water, groundwater, large or small, everybody has to work with it."
Essentially the revision focuses on what you do when you think you might have a problem, Roberson explained. "Now, you're going to go through a find-and-fix kind of tiered assessment program as opposed to going and pulling a notification."
States will have two years to adopt the rule and systems will have three years before it becomes effective. "But we're going to be doing a lot of training in the meantime to let people know how their resultant actions are going to have to change," Roberson said.
Proposed Perchlorate Regulation
EPA announced in February 2011 that it intends to develop a national drinking water regulation for perchlorate in drinking water. The Agency's Science Advisory Board has held a number of meetings to discuss the Maximum Contaminant Level Goal (MCLG). The proposed rule is expected to be published in the Federal Register in March 2013.
"This could be very significant," said Champney. "There are not a lot of communities that have a problem with perchlorate [roughly 4% of systems] but those that do will have to invest in treatment as a result."
Proposed Revisions to Lead and Copper Rule (LCR)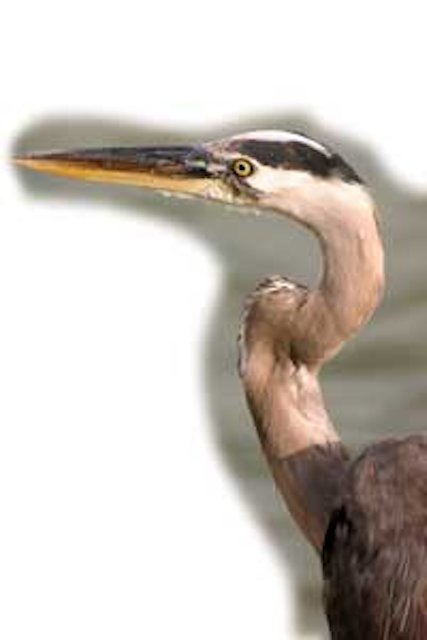 EPA intended to release proposed revisions to the LCR in October 2012 but that deadline was pushed back to early 2013. According to EPA, potential changes to the rule include:
Sample site collection criteria and sampling procedures for lead and copper tap monitoring
Corrosion control treatment and water quality parameter monitoring requirements
Lead service line replacement requirements
Schools and day care facilities
Consecutive system requirements
Potentially outdated requirements, rule relevancy and simplicity for systems
It's worth noting that this regulation will incorporate the new lead-free definition that takes effect in January 2014. (For more, see 'Plan Ahead for No Lead,' p.22.)
Contaminant Candidate List 3 – Proposed Regulatory Determinations
EPA finalized its CCL 3 in October 2009. In early 2013, EPA is expected to make a decision on which contaminants to regulate. These could include nitrosamines and chlorates.
"If it's determined that EPA needs to issue regulations for any of these contaminants, it's going to be 24 months before a proposed rule," explained Champney.
Unregulated Contaminant Monitoring Rule (UCMR) 3
EPA finalized its third Unregulated Contaminant Monitoring Rule (UCMR 3) in April 2012. Beginning in 2013, UCMR 3 will require monitoring for 30 contaminants, including seven volatile organic compounds, seven hormones, six metals, and two viruses.
The monitoring, which is done by 6,000 water systems across the country, will help establish occurrence data for the targeted contaminants so that EPA can decide which, if any, should be regulated. But it's no small task.
"Most of it requires pretty specialized analytical techniques so they usually have to send it off to a lab and pay for the analytical costs," said Roberson.
For smaller systems, ones serving 10,000 or fewer people, EPA will pick up the tab for sample analysis but the bigger guys are on their own.
"It's significant because, nationally, utilities spend about $30-$40 million to do the monitoring," he pointed out.
Still, Roberson agreed it's a worthwhile program. "EPA has a need, our guys do the monitoring, and you end up with good solid data that helps inform the regulatory decision making process." (For more, see 'Meeting the Requirements of EPA's Unregulated Contaminant Monitoring Rule 3,' p. 26.)
Stormwater
This is a biggie and it's one our friends on the wastewater side of the business are watching very closely.
"The regulatory issue that we are most interested in - and will have the most far reaching impact on the Clean Water Act - is EPA's stormwater rule for new development and redevelopment," said Williams.
EPA has been working on this rule since it reached a settlement with Chesapeake Bay Foundation in May 2010, under which the Agency agreed to issue draft post-construction stormwater regulations.
The Agency has missed its deadline six times. The current target is June 2013.
The rule is expected to set numeric limits for pollution related to new development and redevelopment ("post construction"), such as subdivisions, roadways, industrial facilities and commercial buildings or shopping centers.
"A big issue to watch is what may be required for new development," said Williams. "It's also expected that the area that will be covered by the requirement for a stormwater permit will be expanded from what was specified in the regulations 20 years ago."
"EPA has not been too secretive about what they are considering in that rule in terms of potentially expanding the scope of the MS4 realm," said Chris Hornback, Senior Director of Regulatory Affairs, NACWA, "and looking at post-construction retention standards for construction sites."
There's some speculation about possible retrofit requirements and how this rule might address them, if at all.
"I don't think at this point EPA is considering retrofit requirements," said Williams, "but where there are redevelopments taking place in existing urban areas, there may be opportunities for incentives or encouragement to adopt other types of stormwater controls - green infrastructure and things like that."
"A retrofit requirement, if you can imagine, would probably be the most expensive of any of the provisions in that rule," said Hornback. "I think that as they work through the cost estimate, we may likely see some tweaking in terms of what this actually includes when it's proposed.
"They've got to get this thing through OMB and they've got to make sure the cost-benefit figures work. We'll be watching that."
Nutrients
The saga regarding nutrients - primarily phosphorus and nitrogen - will continue in 2013. At the crux of the issue is setting numeric nutrient limits (as opposed to narrative ones)...or more accurately, WHO sets the limits: EPA or the states.
Hornback said NACWA will be following this very closely. "It's a top issue in terms of EPA's efforts to get the states to develop criteria, how the states are doing that, and efforts by EPA to push the envelope in terms of getting more nutrient limits into permits," he said.
In late November, EPA approved Florida Department of Environmental Protection's numeric nutrient limits, which specifically target springs, lakes, streams and some estuaries. This, after a very long and drawn out negotiation prompted by a settlement between EPA and environmental groups in 2009 (see "EPA Approves Florida's Rules on Nutrinet Pollution," p. 30).
At that time, it was determined that EPA was not enforcing the Clean Water Act in the state of Florida and that the agency needed to devise numeric water quality criteria. In late 2010, EPA released a set of numeric nutrient rules - but Florida said, not so fast. They wanted to develop their own set of guidelines (a project they'd already been working on for about a decade). EPA agreed to let them.
"What we saw on November 30 was a stamp of approval on what Florida is doing in proposing criteria from a state perspective," said Hornback. "What we've been getting from EPA consistently on Florida are very strong signals that they would very much like the state to take over this responsibility," he added.
Perhaps, though, even more significant than the rules themselves is the structure of what Florida proposed. "It's not only numeric criteria for nitrogen and phosphorus," Hornback explained, "but also a biological component where you don't assume an impairment unless you have also verified based on biological information - the health of the water, invertebrate populations, that sort of thing - so that you actually know that you're having a negative impact from the nutrient level."
The underlying approach that Florida used - and EPA's approval of that approach - is a very positive outcome for other states looking at doing something similar.
The feds aren't quite finished in Florida, however. FDEP's rules don't cover certain waters so EPA is still working on two proposed rules: one setting numeric limits on the amount of nutrient pollution allowed in Florida's estuaries and coastal waters, and South Florida streams; the other pertaining to inland waters.
"So we still have a very heavy federal presence in Florida," said Hornback. "But the overall message is that EPA wants to do everything it can to get the state rule to a point where they can back off and let the state standards protect state's waters."