Aeration System Helps NYC's Largest WWTP Meet EPA Mandate
Biological treatment systems require oxygen to function properly. The Actual Oxygen Requirement is used to identify the oxygen demand for a system.
Oct 1st, 2006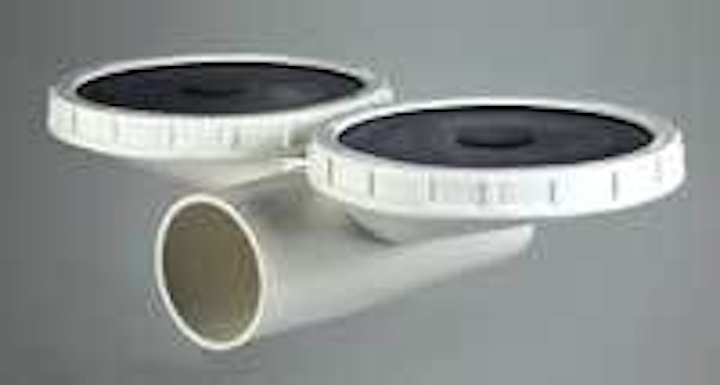 Biological treatment systems require oxygen to function properly. The Actual Oxygen Requirement is used to identify the oxygen demand for a system. Each plant is site-specific, but usual important parameters include temperature, dissolved oxygen level, plant elevation, and the design submergence depth of the diffusers. On the discharge side, the Environmental Protection Agency (EPA) mandates and monitors effluent parameters for all plants. Total Kjeldahl Nitrogen (TKN) is just one of the monitored effluent parameters.
While the presence of nitrogen is essential for the growth of the microorganisms that treat the waste stream, the presence of nitrogen compounds in the effluent stream can exert an oxygen demand and lower the dissolved oxygen content of the receiving water. It can also promote detrimental plant growth such as algae. Further, strict nitrate levels have been established in drinking waters because of the serious, and occasionally fatal, health concerns (especially in infants) at elevated concentrations. The Kjeldahl method is one means of determining the amount of organic nitrogen in plant effluent.
In the early 1970s, the EPA mandated that New York City's Newtown Creek Water Pollution Control Plant (WPCP) and several other facilities lower their TKN levels in discharged effluent. Elevated nitrogen levels were contributing to the Long Island Sound's hypoxia problems, while decaying plant matter was raising odor complaints in nearby neighborhoods.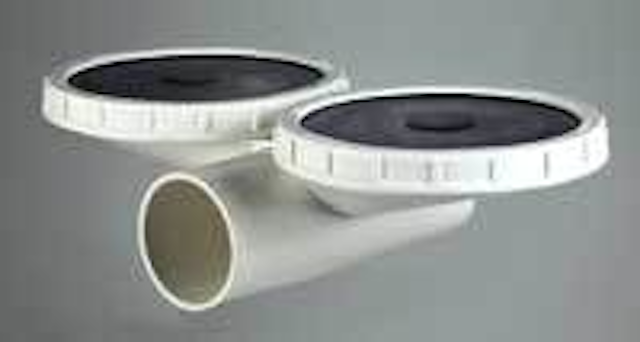 A Dual-Air system diffuser.
Click here to enlarge image
In 2003, work began to upgrade the 310 mgd Newtown Creek facility. As part of the more than $3 billion secondary treatment upgrade, the plant added systems to reduce TKN and other biological pollutants and to generally improve municipal water quality.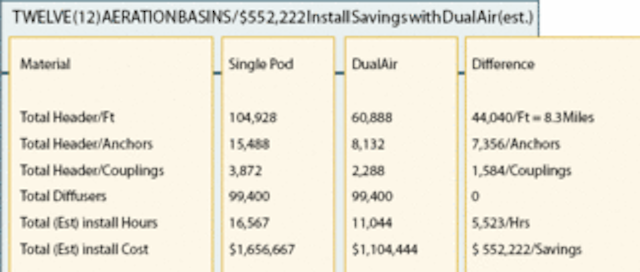 Click here to enlarge image
Newtown Creek, which is New York City's largest municipal wastewater plant, was also having difficulty complying with basic carbonaceous removal standards, along with nitrification and denitrification. With flows at times exceeding the plant's capacity, the facility was seriously stressed to meet even minimum standards during either dry weather or wet weather events.
The expanded plant's secondary treatment lineup includes grit chambers, aerators, final sedimentation tanks, a biosolids dewatering complex and a disinfection facility. The WPCP shaved an estimated $1 billion off the upgrade cost by increasing its aeration volume without adding primary tanks.
Siemens Water Technologies and its local representatives, G.P. Jaeger and Associates, worked closely with the New York Department of Environmental Protection and its engineer (Malcolm-Pirnie Inc.) for nearly two years, proving the viability of the patented DualAir® aeration system for use in the city's operating plants. After conducting pilot studies, the city agreed that the Siemens product would meet its needs.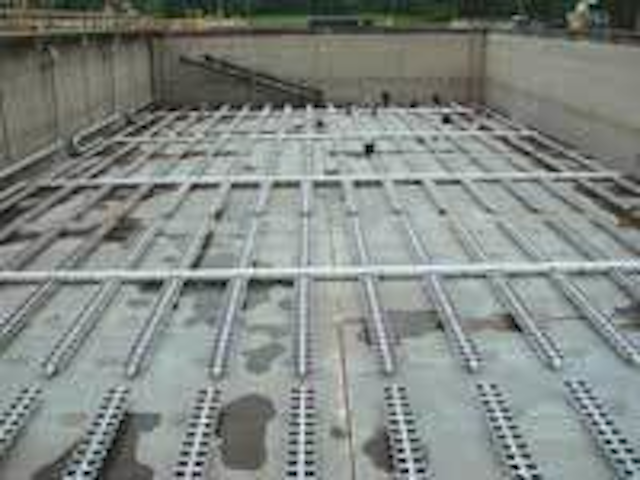 A Dual-Air system using cooling loops (loops are on left side of tank).
Click here to enlarge image
The Siemens team worked closely with Newtown Creek's engineers, plant operators and project contractors to find a solution that would meet EPA requirements and, specifically, its nitrogen trading/reduction standards. Based on the company's recommendation, Newtown Creek purchased DualAir systems for six of its tanks, with more to follow. The total treatment solution includes Envirex DualAir fine bubble diffuser systems as well as an Envirex® headwater grit collection and removal system.
The DualAir system's dual aeration points allows for fewer headers with wider spacing between each and, in turn, permits easier and less costly installation and maintenance.
Once all upgrades are in place in early 2008, the aeration system will help bring the plant into compliance with the EPA's TKN standards. The systems will also make the plant more efficient and increase its capacity by 50 percent. This expanded capacity has made Newtown Creek one of the largest wastewater treatment facilities in the country.
The 250 mgd Wards Island Wastewater Treatment Plant, the second largest such facility in New York City, also recently selected a DualAir system for its aeration needs. The system will be shipped to the site in the fourth quarter of 2006.
About the Authors
Walter Sandford is the diffused aeration product manager for Siemens Water Technologies' Envirex product line. Based in Waukesha, Wis., he can be reached at 262-521-8389 or at walter.sandford@siemens.com. Rockne Elgin, P.E., is a member of Siemens Water Technologies' diffused aeration product team. He is a registered Professional Engineer in the State of Wisconsin. Rockne can be reached at 262-521-8558 or rockne.elgin@siemens.com.