Improving Onsite Detention
Unique molded pulp formers allow one of the world's most sustainable campuses to take a simple step forward in onsite detention
Apr 1st, 2016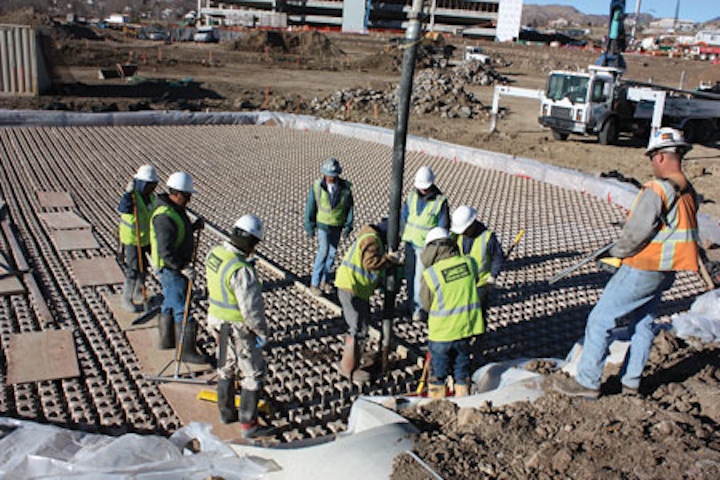 By Sean O'Keefe
Perched on a hillside just west of Denver, where Colorado's foothills begin to rise toward the Rocky Mountains, sits a unique government complex whose focus is to seek creative answers to today's energy challenges. Commonly known as NREL, the National Renewable Energy Laboratory takes as its mission the research and development of clean energy and energy efficiency technologies and related sciences. The NREL campus itself is a collection of facilities where researchers are working to understand and deploy technology-neutral analysis on everything from bioenergy, hydrogen and geothermal systems to water, wind, and solar power. In essence, NREL is something of a living environmental laboratory whose work products have significant impact on the future of built infrastructure.
While it's not hard to imagine that such a place would have the most innovative sustainable energy technology in the world, the simplicity of at least some of the systems in place may come as a surprise. To test improvements to the detention pond structures on campus, NREL incorporated a unique pervious concrete system developed by a leader in the specialty and decorative concrete industry.
"My career in concrete really parallels many of the advancements that have been made in imprinted and decorative concrete over the last 40 years," said John Buteyn, vice president and technical manager at Denver-based Colorado Hardscapes. A family-owned business whose roots stretch back to 1947, Colorado Hardscapes began as a one-man operation and has since grown to one of Colorado's leading providers of concrete flatwork.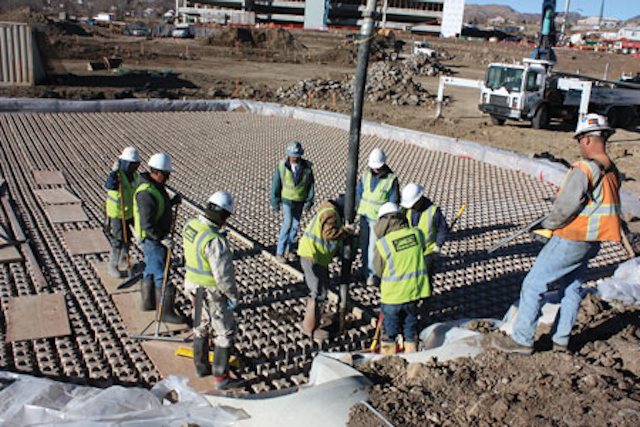 The Grasscrete system is a pervious concrete structure allowing water runoff to be detained in man-made wetlands that can be cleaned out periodically without causing lasting damage to planted vegetation.
"Colorado Hardscapes became a Bomanite licensee in 1982," continued Buteyn. Bomanite is a name that has been synonymous with innovations in concrete flatwork - including developing the pervious Grasscrete system at NREL - for more than 50 years. Their products and services are implemented across the United States and around the world by an association of licensed contractors like Colorado Hardscapes. This distribution chain combines a widely-respected concrete product and highly-skilled licensed concrete craftsman providing national expertise through local resources.
NREL's Grasscrete system is a pervious concrete structure allowing water runoff to be detained in man-made wetlands that can be cleaned out periodically without causing lasting damage to planted vegetation. By incorporating concrete's substantial structural capacity without impeding drainage, Colorado Hardscapes created a surface that allows planted vegetation to grow naturally yet can be driven on by the heavy equipment required to remove the layer of sediment that accumulates over time.
"As a research laboratory, NREL has been a testing ground for a wide range of pervious pavement systems" said Buteyn. "Improving something as simple as a detention pond on this campus could have long-lasting implications for the way we manage detention for generations to come."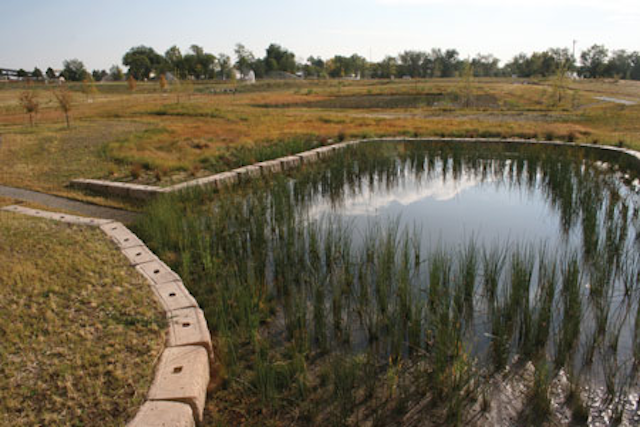 The NREL detention pond, planted with wetlands-type vegetation to enhance its appearance.
Detention ponds are an integrated site development strategy allowing water to be detained so heavy rains don't over burden the stormwater system. Because these ponds are frequently integrated into campus settings, there are some aesthetic considerations in not wanting a muddy pit in public view. Frequently, the ponds at large sites are planted with wetlands-type vegetation to enhance their appearance. Over time, a layer of sediment begins to build up on the pond's surface, which becomes increasingly thicker with each heavy rain, gradually making the drainage system less effective. Once accumulation reaches a certain level the pond must be scraped. This process often involves heavy bulldozers and in many situations destroys all existing vegetation, meaning the pond then needs to be replanted in entirety.
"Grasscrete allows vegetation to be planted into the voids so the root systems form below the surface of the concrete," continued Buteyn. "When the heavy equipment is brought in to remove the sediment build up, they can scrape it down to the concrete surface and the plants' root structures remain intact. This allows the pond to quickly regenerate without the need for new plantings."
Beyond the benefits of being able to quickly regenerate the planted vegetation after the sediment has been removed, Buteyn pointed to Grasscrete's long-term durability when asked what differentiates Bomanite's product from others. The key to that durability is the molded pulp former system, a third generation patented product that allows cast-in-place concrete to be monolithically placed and continuously reinforced with #4 rebar. This results in a compressive strength that is identical to other flatwork concrete, which can range from 4,500 psi to 12,000 psi, depending on the specific mix used. An important part of concrete's strength is in the thickness of the slab. Grasscrete formers are designed for a 5 1/2-inch thick concrete pan.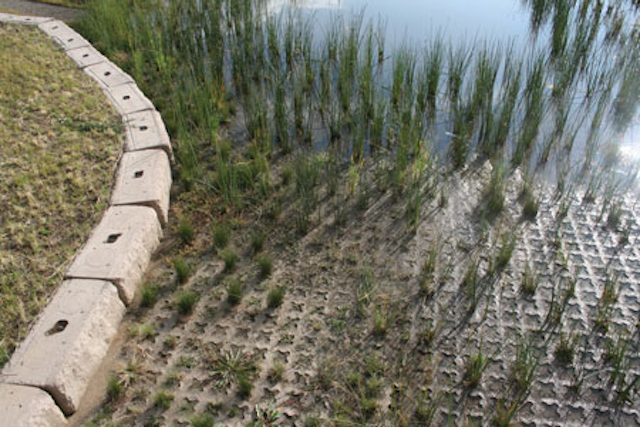 Grasscrete allows vegetation to be planted into voids, enabling the root systems to form below the surface of the concrete.
One of the most unique features of Bomanite's formers are that they are made of recycled paper pulp and are 100 percent biodegradable. Rather than being removed after the concrete is cured, the pulp formers slowly begin to dissolve as soon as the pour starts. Despite being a durable pavement, the Grasscrete system results in 37.5 percent surface and effective void, meaning almost a third of the entire surface is open and can be planted. This allows the vegetation to truly blanket the concrete. In the case of the NREL project, Colorado Hardscapes added an integral color to the concrete mix, making the structure largely disappear altogether.
Due to Grasscrete's long-term durability, high compressive strength, and pleasing aesthetic possibilities, Colorado Hardscapes and other licensed Bomanite contractors across the country are pouring it on a wide range of projects. Because it produces a hard, drivable surface capable of supporting the weight of a 114,000-pound fire apparatus, Grasscrete is often used where emergency vehicle access is a code requirement but the owner desires a planted lawn. Overflow and industrial parking lots where surface drainage can be beneficial, as well as roadway shoulders and embankments are all opportunities for engineers to consider this application.
"Colorado Hardscapes is proud to be a 34-year Bomanite licensed contractor," said Buteyn. "They bring very high brand standards, training and technical expertise that increase our opportunities to provide clients like NREL with unique, innovative construction solutions. We're able to add to that hands-on craftsmanship, collaborative relationships with local architects and general contractors, and an established quality mix that we source from a single ready-mix supplier." Together, Bomanite and licensed contractors are working with clients, designers, and builders to tackle flatwork challenges and opportunities of all kinds from complex to simple, decorative and practical.
---
About the Author: Sean O'Keefe has more than 15 years of experience writing about the design and construction industry. He provides integrated communications services to architects, engineers, and contractors ranging from public relations to marketing strategy. He can be reached at sean@sokpr.com.
More WaterWorld Current Issue Articles
More WaterWorld Archives Issue Articles