Using GIS to Set Stormwater Buffer Zones in New Jersey
In 2004, the New Jersey Department of Environmental Protection (NJDEP) implemented the New Jersey Pollutant Discharge Elimination System (NJPDES) ...
Nov 1st, 2004
By Robert S. Berardo
In 2004, the New Jersey Department of Environmental Protection (NJDEP) implemented the New Jersey Pollutant Discharge Elimination System (NJPDES) stormwater management rules to help the state comply with the federally mandated Environmental Protection Agency (EPA) Clean Water Act - National Pollutant Discharge Elimination System (NPDES) permit program.
One aspect of the new rules that specifically affects companies and individuals in New Jersey is NJDEP's requirement of a 300-foot buffer between new development and all state Category One water bodies. New Jersey is the only State in the country that requires such a mandatory buffer as a supplement to respective compliance with EPA's new stormwater regulations.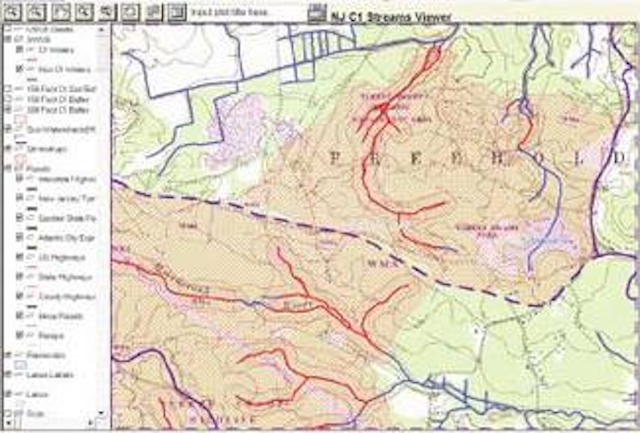 Click here to enlarge image
According to NJDEP, the use of these buffers will help to protect the water quality in New Jersey and maintain the integrity of the state's drinking water.
The NJDEP states: "Category One waters are waters that receive special protection under the Surface Water Quality Standards because of their clarity, color, scenic setting, or other characteristics of aesthetic value, exceptional ecological significance, exceptional recreational significance, exceptional water supply significance, or exceptional fisheries resource(s)."
To help its clients identify current and future projects that may be affected by the stream buffer requirement, Schoor DePalma, a regional engineering and consulting firm, has developed an interactive mapping tool that identifies the Category One water bodies, the 300-foot buffer, and HUC-14 watershed boundaries throughout the State of New Jersey.
The tool, which uses Geographic Information Systems (GIS) technology, is currently being used on many of Schoor DePalma's public and private sector projects to save time and effort by identifying where new development is and is not possible.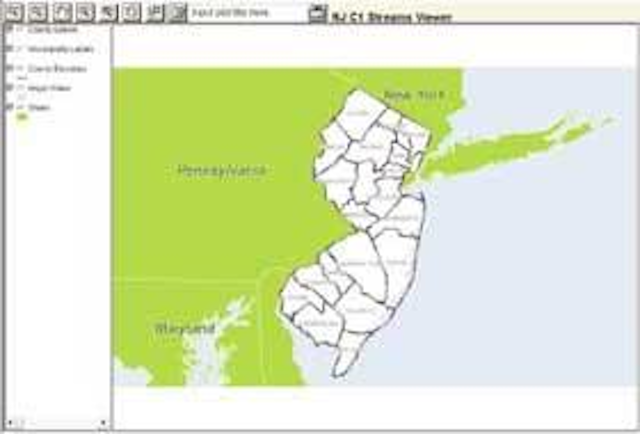 Click here to enlarge image
As a service to its members, the New Jersey Chapter of NAIOP (NJ-NAIOP) is now offering Schoor DePalma's C1 Streams Web-based solution from its website to help members identify how these new environmental regulations will affect their current and future projects. NAIOP is a national association with more than 11,000 members who are developers and owners of industrial, office and related commercial real estate throughout North America. This new technology will be rolled out to all of NJ-NAIOP's members in October 2004.
Schoor DePalma's development of this tool for its clients, including NJ-NAIOP, is considered the first public/private partnership website in the State of New Jersey to use this type of web service. The website uses a variety of digital information, regulatory data, and web services from various state and private companies.
"This is a great tool for all of our New Jersey members as it gives them an initial research tool during the period when they are considering whether or not to acquire a property," said Michael McGuiness, Executive Director of NJ-NAIOP. "Our members do not have to waste their time with an initial site visit because through use of this tool, they can see right away if the new stormwater regulations will affect their property."
Schoor DePalma initially developed this technology for internal use by its Ecological and Regulatory Departments to help its experts determine how these new regulations would affect clients. When NJ-NAIOP approached the company about such a tool specifically for their members, the company's team of GIS experts worked to transfer the technology to a Web-based external solution through the use of software offerings from ESRI.
Members of NJ-NAIOP will be allowed to use this tool through a password-protected link on the organization's website. Once on the site, users can search for affected properties by specific address, municipality, or county. After they identify their target property, users can then zoom into a particular area of the map and are shown the different features dealing with the site including: roads, municipal boundaries, and streams existing nearby. Users can further zoom in to turn on additional data layers to view such features as Category-One streams, HUC-14 drainage areas, 300-foot buffers and storm water impact areas.
This data, provided by the NJDEP, allows the tool to represent specific buffer areas along Category-One streams and specific HUC-14 watershed areas that are regulated by these classifications. Category-One streams are buffered based on the new regulations, giving the user a quick view of potential regulatory constraints on their property. Also shown are HUC-14 drainage areas that are impacted by the regulations because surface water flow from these areas flow into a Category-One streams.
Contributing data members to the new website include Schoor DePalma, the State of New Jersey Office of GIS, and ESRI. The State of New Jersey web services support a major part of the environmental data on the site, and therefore, the data on this site will be updated on a regular basis. ESRI's web service allows the users to easily search for their property by geo-coding (address matching) to a database of addresses for the State of New Jersey. Schoor DePalma created and supplied the regulation-based buffers and other related information on the site.
Individuals and corporations throughout the country and the State of New Jersey are just starting to see how the EPA's National Pollutant Discharge Elimination System (NPDES) permit program will affect their business pursuits. This new GIS tool will enable members of NJ-NAIOP to do just that, giving them easily accessible information to help them identify how these new regulations will affect their development projects in the future.
About the Author:
Robert Berardo is the Geographical Information System Department Manager at Schoor DePalma Inc. For further information, please contact Berardo by phone at: 732-577-9000 or by email at: rberardo@schoordepalma. com. Schoor DePalma, founded in 1968, has offices in New Jersey, Pennsylvania, and New York.