Plant Optimizes Processes with New Automation System
Nestled in Tennessee's Smoky Mountains, Pigeon Forge is home to a variety of special events and entertainment venues, including Dollywood.
Dec 1st, 2004
Nestled in Tennessee's Smoky Mountains, Pigeon Forge is home to a variety of special events and entertainment venues, including Dollywood. During its nine-month tourism season, the town's population of 5,500 swells on weekends to upwards of 70,000. While weekend tourism contributes to local business receipts, it can also stretch the town's infrastructure beyond its limits, particularly its water treatment plant.
From daily showers to commercial water rides, water consumption by tourists challenged the output capacity of Pigeon Forge's 4 mgd water treatment plant. On especially high-demand weekends, city officials requested residents adopt special conservation measures. The problem was not a supply issue; the city has an abundant water supply, but rather the ability of its current plant to produce enough drinking water. In 2000, the city took action and agreed to triple the existing water plant's capacity to meet its skyrocketing demands.
In addition to boosting output, city officials sought to streamline the plant workflow. During an average shift, workers were responsible for maintaining, inspecting and operating the raw water intakes, storage tanks and filter plant. With the expansion plan, the current staff would be overwhelmed and unable to perform all of the required operations.
The water plant needed to incorporate data management technology to comply with new Environmental Protection Agency (EPA) requirements. The EPA mandated that all water production facilities retain a continuous data log of plant processes and continually create backup data files. The district also needed to improve security for its remote pump house, in response to the U.S. Department of Homeland Security vulnerability assessments.
Pigeon Forge Water Plant managers partnered with consulting engineers and system integrator Smith Seckman Reid, Inc. (SSR) and Rockwell Automation to meet the city's goals of tripling water plant capacity, streamlining workflow, meeting documentation requirements and increasing security. The upgrade solution includes a range of Rockwell Automation products including programmable controllers, software, drives and motor control centers. Combined with service and technical expertise from Rockwell Automation Global Manufacturing Solutions(tm), water plant managers were able to minimize risk and maximize design speed and efficiency.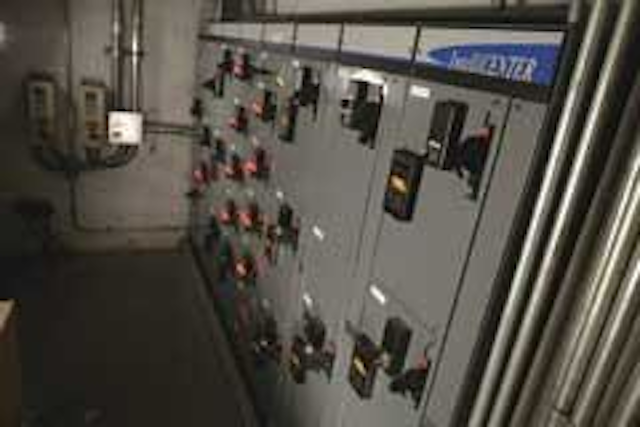 Intelligent motor control centers and advanced monitoring software provid easy access to diagnostic data and help simplify data reporting requirements.
Click here to enlarge image
To meet reporting requirements, immediate access to information at multiple points in the process is crucial. SSR recommended upgrading the existing relay panels to intelligent motor control centers (MCCs) and computer monitoring system. This system would give operators a view of the entire process, including access to predictive-failure information, EPA-compliance reports, and monitoring information.
Automation Solution
Allen-Bradley® IntelliCENTER™ MCCs are critical to the enhanced information collecting capabilities. IntelliCENTER offers an array of operational and electrical information, including predictive failure alerts. The alerts notify operators of system problems prior to system failures. Motor currents that approach a pre-determined excessive value trigger a blinking message on the human-machine interface (HMI). This alert gives operators time to determine the nature and location of problems and correct them before an overload occurs. In some cases, the programmable controller will automatically shut down the system to protect plant assets.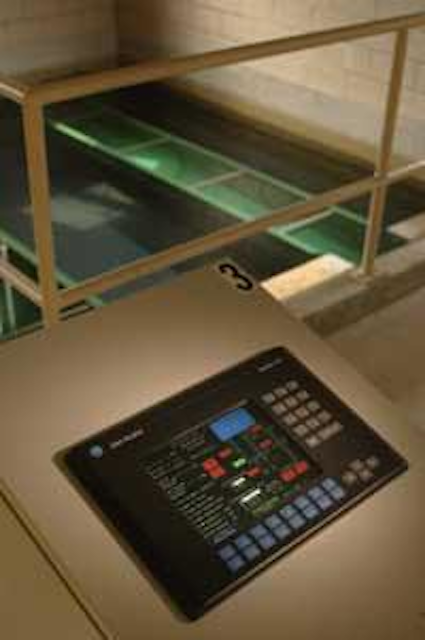 Click here to enlarge image
For central processing and remote terminal unit control, Pigeon Forge selected Allen-Bradley ControlLogix® and MicroLogix™ controllers. Installing controls at each blending basin allows plant workers to choose which pump to turn on and gives them the ability to adjust the blending speed as needed. A combination of drives and motor starters located inside networked intelligent MCCs regulate pump and blending speed.
Throughout the facility, Rockwell Software RSView®32™ HMI software with RSView Active Display™ System allows operators to monitor all aspects of the process. Operators can view basin levels, filter operations, chemical application, flow rates, water turbidity and chlorine content. Plant workers can run many operations remotely through the RSView Active Display System, including controlling the remote water pumps at Douglas Lake, based on the basin levels at the plant.
As capacity increases, remote monitoring and control eliminated the need for extra personnel at Pigeon Forge. For example, filter operations at the basin, including scraping floc from basins into the trough and transferring it to the wastewater plant, can now be monitored on site at the filter station via four Allen-Bradley PanelView™ HMIs or remotely via RSView. Personnel can even remotely add the flash mix.
"RSView clearly displays the entire treatment process," said Joel Skelley, electrical engineer, SSR. "RSView libraries and pre-built parts help us create intuitive screens that follow the flow of the system. This allows plant personnel to move smoothly from one screen to the next and see water flow rates for more efficient system monitoring and control."
With RSView continuously presenting data, record keeping has become much easier. Data files are sent directly to the plant's server, where they are archived for a year. After the year has passed, the data files are then saved to CDs and stored offline. The stored data can be used for faster troubleshooting and maintenance. When an alert flashes on the screen, plant engineers can quickly reference the stored data to determine when the problem started and how it should be resolved. As EPA data collection requirements evolve, the water plant will be able to comply by modifying its collection parameters.
Saving valuable construction time is always a high priority for any municipal project. Rockwell Automation engineers assembled and factory-tested the Motor Control Center before shipping it to the site - a step that reduced installation time by 10 percent. The factory production assembly and test made on-site wiring and start-up much easier and eliminated many of the common factory-to-field installation problems typically associated with this type of installation. Overall, the time to engineer the system was reduced by 15 percent, and the installation and startup time was reduced by 25 percent. SSR's engineering liability was reduced by 20 percent, creating more engineering time to focus on process improvements. Once the system was installed, SSR provided start-up and on-site operator training.
"Training on the new system was easy," said Lynn Light, chief water plant operator, Pigeon Forge. "The graphics walk our personnel through the process, improving comprehension and reducing training time."
In addition to the controls at the Douglas Lake pump house, the city also integrated a contact-switch-based security system to alert the district of unauthorized entry. By integrating the intrusion detection system into the remote SCADA system, the district is better prepared to minimize site security vulnerability at these remote sites.
If the city of Pigeon Forge had expanded its production capacity using the same systems, it would have needed more than double the personnel it was using at the time. With the automated system in place, the City of Pigeon Forge Water Plant has successfully tripled its capacity to 12 mgd, without adding plant personnel - saving an estimated $200,000 per year. With higher capacity, the city now meets projected city water demands, which continue to grow 10 percent annually. The added production capabilities also generate revenue for the city. Able to triple its capacity, Pigeon Forge can sell water to neighboring towns.