NEW PRODUCTS
Krohne offers the IFS 4000 KC magnetic flowmeter for municipal water and wastewater treatment applications. The meter offers simple, low cost installation and commissioning.
Dec 1st, 2004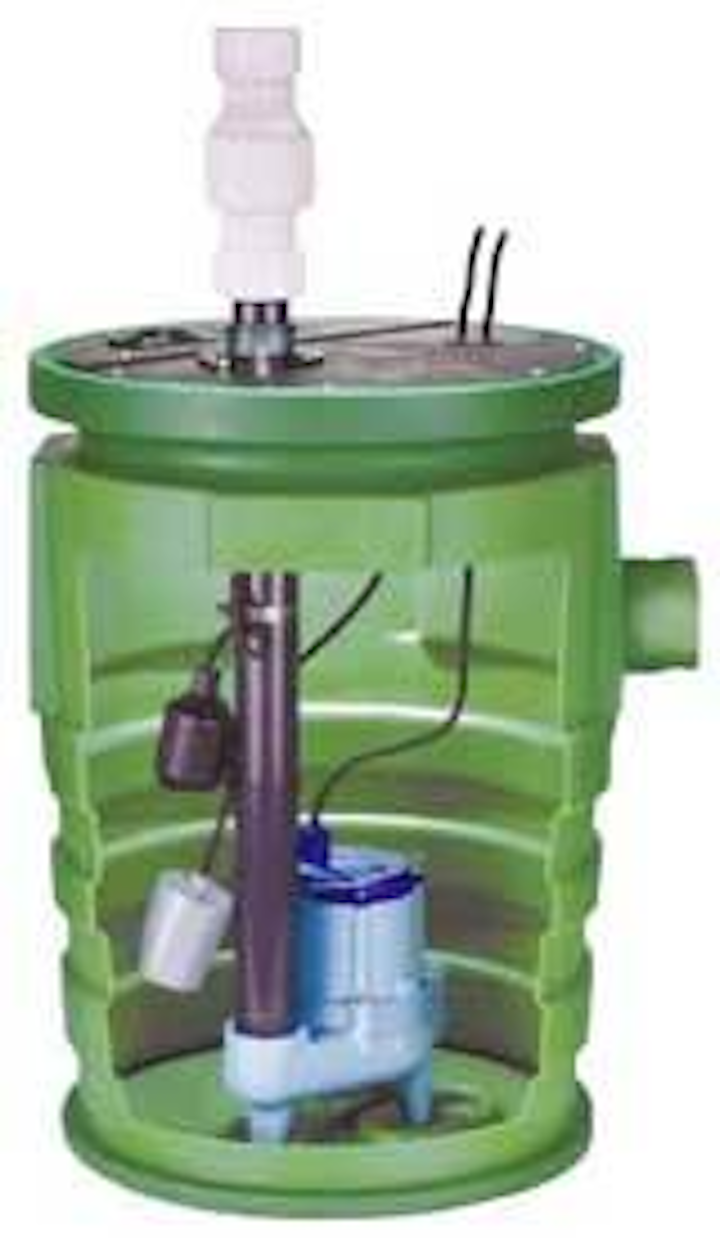 Sewage system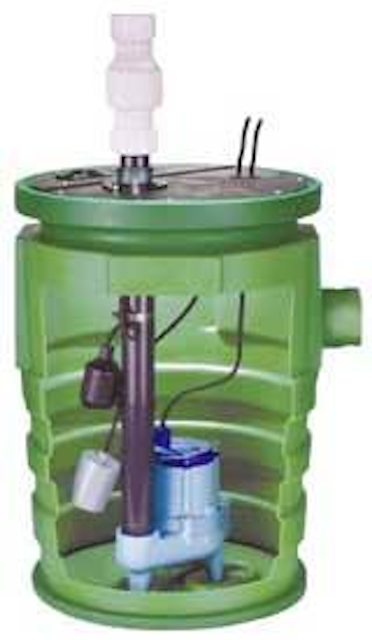 Click here to enlarge image
Little Giant® Pump Company has introduced new versions of its Pit Plus(tm) sewage systems. The IAPMO approved sewage removal systems are pre-assembled with the company's 9S and 10S series sewage pumps. The systems are equipped with a 16-bolt steel cover, a 2" schedule 80 PVC discharge pipe and check valve. In addition, nine new pre-packaged and pre-assembled models of the Pit Plus are now available with a corrosion-resistant, bolt-on flange, two-piece structural foam cover.
Little Giant® Pump Co.
Oklahoma City, OK
Tel: 800-701-7894
Web: www.littlegiantpump.com
Meter data management
Itron has launched its Enterprise Edition Meter Data Management software. The software's open architecture enables utilities to deploy a single meter data management tool to support all types of metering-based data - interval, register, and event data - collected from residential, as well as commercial and industrial customer segments.
Itron Inc.
Spokane, WA
Tel: 800-635-5461
Web: www.itron.com
FOG management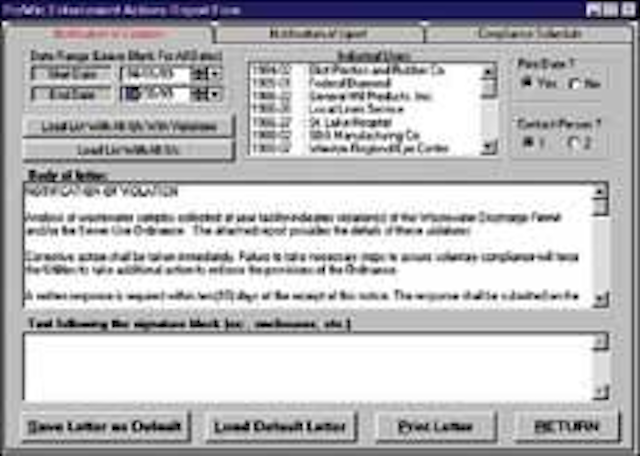 Click here to enlarge image
Sabre Systems has extended the PreWin Family of Environmental Solutions and now delivers the FOGWin, to support program management of facilities which discharge Fat/Oil/Grease wastewater. FOGWin runs as a standalone software program on Windows (single or multi user), or optionally may be bundled with the PreWin Industrial Pretreatment Program for complete management of wastewater programs.
Sabre Systems Inc.
Warminster, PA
Tel: 215-957-5222
Web: www.prewin.com
Diesel pumps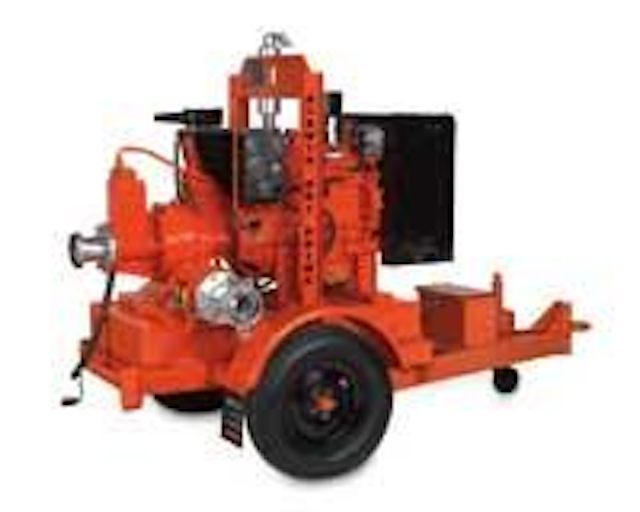 Click here to enlarge image
Dri-Prime automatic self-priming pumps, available in sizes from 2" to 16", achieve maximum flows to 10,000 gpm, heads to 600' and solids handling to 5" in diameter. Used in sewer bypass pumping and other water/wastewater applications, the units are available in high volume, high head and jetting models; with diesel engine or electric drive; and with sound attenuated enclosures.
Godwin Pumps
Bridgeport, NJ
Tel: 856-467-3636
Web: www.godwinpumps.com
Fluoride test kit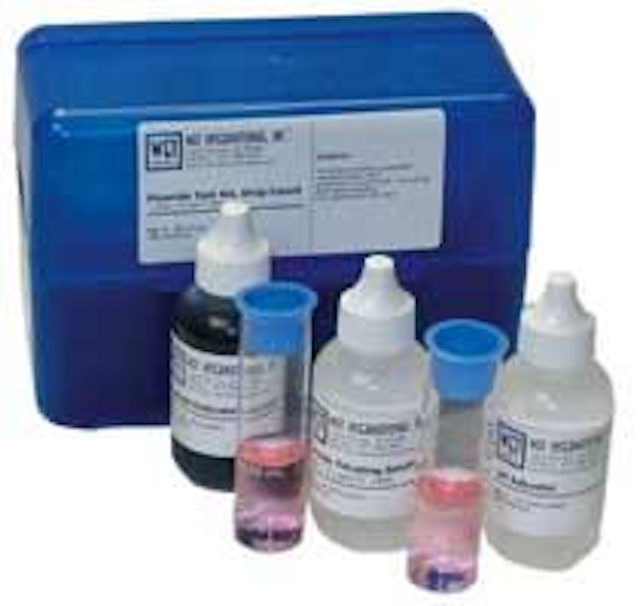 Click here to enlarge image
WET International has introduced a new fluoride test kit that is quicker and less costly (about $0.15/test) than the colorimetric, electrometric, ICP, and other extensive laboratory methods currently used. The new test can detect fluoride down to 0.2 ppm, suitable for testing fluoridated drinking waters. All reagents are non-hazardous as classified by EPA and DOT.
WET International Inc.
Carol Stream, IL
Tel: 877-938-4621
Web: www.wet-international.com
Odor control
The Duall AroBIOS(tm) Bioscrubber System, a biological air pollution control technology, removes odors and gaseous contaminants such as ammonia, hydrogen sulfide, and other reduced sulfur compounds without the use of expensive chemicals or incineration methods. The system provides lower gas retention times; an easy access, low profile design and non-degradeable AroPAC(tm) biomedia. The systems are factory pre-assembled with mixed flow exhauster and have environmentally safe by-products.
Duall Division, Met Pro Corp.
Owosso, MI
Tel: 989-725-8184
Web: www.dualldiv.com
Direct drive compressor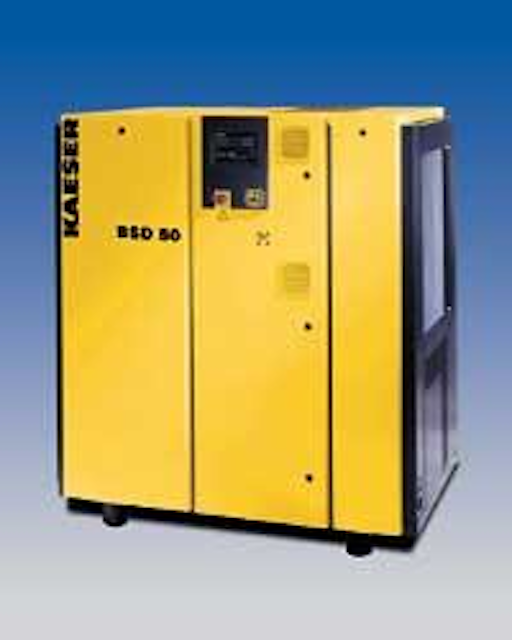 Click here to enlarge image
Kaeser Compressors announces an addition to its BSD series of direct drive rotary screw compressors. The new BSD 60 delivers 297 cfm at 125 psig and is available in pressures from 80 to 217 psig. It is designed for energy efficiency, minimal maintenance and reliability. The units are true direct drive compressors. Kaeser combines its optimized Sigma Profile airends with high efficiency, TEFC motors via maintenance-free couplings for "zero-loss" transmission efficiency.
Kaeser Compressors Inc.
Fredericksburg, VA
Tel: 800-777-7873
Web: www.kaeser.com
Hardline communication system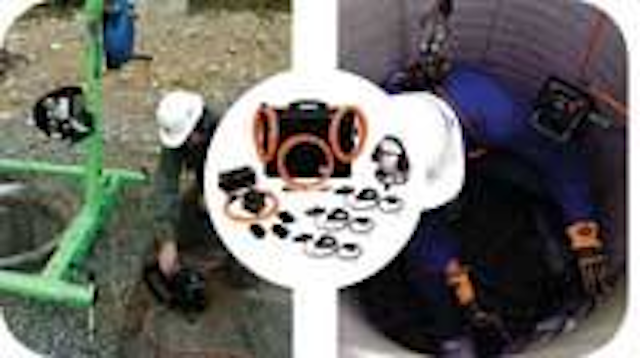 Click here to enlarge image
The Con-Space Hardline is a full duplex intercom system that allows hands-free, private communication between workers (i.e. safety attendants and entrants) for 100% of the time and also provides the continuous human contact desired by workers who enter very harsh, and unfriendly environments such as confined spaces.
Con-Space Communications
Richmond, BC
Tel: 800-546-3405
Web: www.con-space.com
Automation software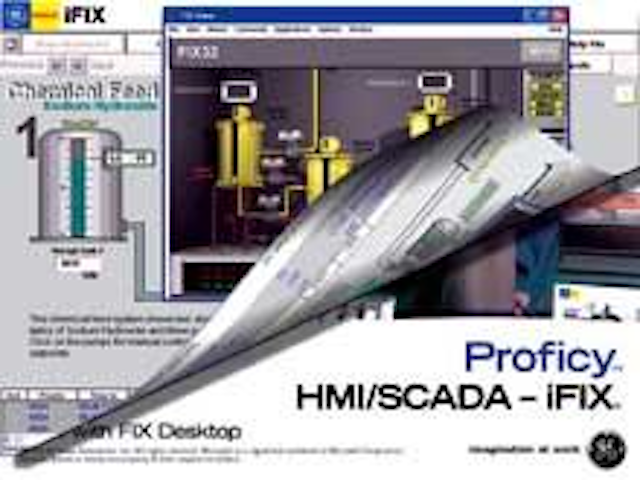 Click here to enlarge image
GE Fanuc Automation, a unit of GE Infrastructure, has introduced the new Proficy(tm) HMI/SCADA iFIX(r) with FIX(r) Desktop software - which enables users of FIX software to take advantage of the advanced database and connectivity features of Proficy iFIX, while continuing to view and control their plant-wide processes in their existing graphics environment. This simple add-on is transparent to an existing software infrastructure, allowing users to enhance their current HMI/SCADA investments without having to re-configure their system.
GE Fanuc Automation Americas Inc.
Charlottesville, VA
Tel: 800-433-2682
Web: www.gefanuc.com
DO monitoring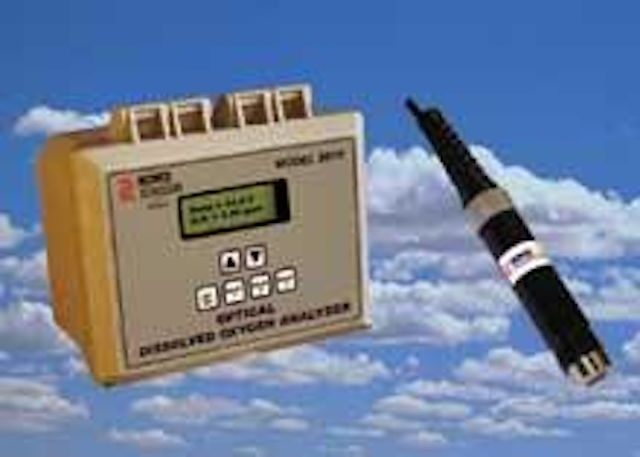 Click here to enlarge image
The Royce Model 9810/98 Optical Dissolved Oxygen (DO) monitoring and control system is designed for use in wastewater treatment, aquaculture, environmental and industrial markets. The key to this new technology is the patented Model 98 DO sensor. It is a fluorescent emitting sensor that monitors the optical phased shift of the luminescent quenching of a fluorophore during its contact with oxygen.
Royce Technologies
New Orleans, LATel: 800-347-3505
Paperless recorder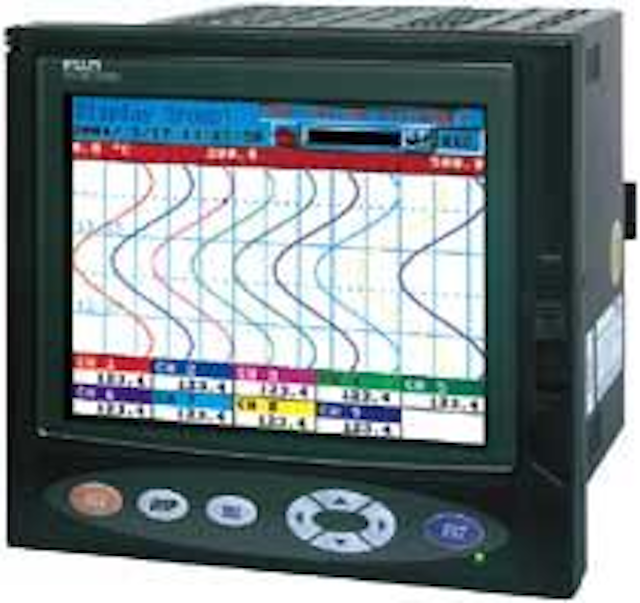 Click here to enlarge image
Fuji Electric Instruments has released the new PHL Paperless Recorder through its exclusive North American distributor Total Temperature Instrumentation Inc. ("TTI"). TTI sells and supports Fuji Electric Controllers, Recorders, and Flow Meters.
Total Temperature Instrumentation Inc.
Williston, VT
Tel: 800-235-8367
Web: www.ttiglobal.com