Small Flow System Benefits from Membrane Filtration
The United States Environmental Protection Agency (EPA) continues to promulgate and tighten standards of the Surface Water Treatment Rule, so one would never expect to...
May 1st, 2004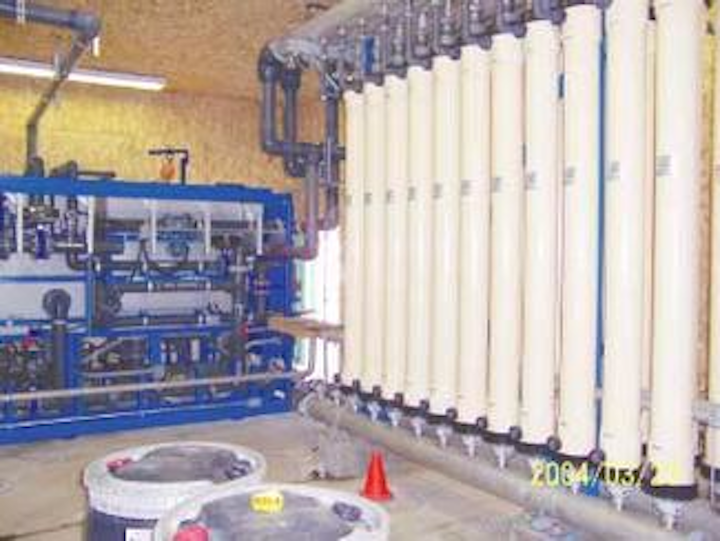 The United States Environmental Protection Agency (EPA) continues to promulgate and tighten standards of the Surface Water Treatment Rule, so one would never expect to find a water district in the US switching from groundwater to surface water as a source for drinking. But that's exactly what California Water Services Company (Cal Water) did for the Kernville, California Water District.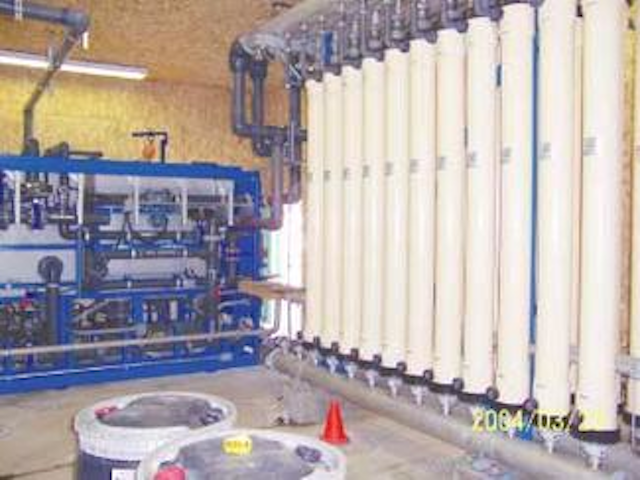 The Kernville, CA, Surface Water Treatment Building.
Click here to enlarge image
Cal Water's Kernville plant serves about 580 connections in the city of Kernville 36 Miles Northeast of Bakersfield, situated just outside a southern entrance to Sequoia National Forest. Groundwater had been used as the primary source of drinking water there for many years.
Over time groundwater contamination by iron, manganese, arsenic and nitrates has increased. The deterioration in water quality placed an undesirable operational burden on the operators at the plant, which used conventional greensand pressure filters to remove manganese. The system required major upgrade.
Kernville is situated along the Kern River, which is fed by runoff from the Sequoia national forest to the North. Cal Water decided to investigate the river as an alternative water source. The results of the investigation determined that using membrane technology to treat water from the Kern River offered an absolute barrier to Giardia and Cryptosporidium, two key contaminants of concern in the use of surface water for drinking.
The sub-micron absolute rating of the hollow fiber microfiltration (MF) membranes also maintained effluent turbidity in the range of 0.02-0.03 NTU without any finicky chemical addition or other pretreatment, which would have been a critical and definite requirement in any treatment scheme for the groundwater, or conventional surface water treatment.
An Aria MF System was sized from data generated during pilot testing performed by Pall Corporation and Cal Water for a 20 mgd plant that is being constructed downstream to supply Bakersfield with drinking water from downriver.
The modular nature of the pressure-driven Aria system allows scaling from pilot data to full-scale system without correction factors. The pressure driven system also assures continuous operation, even during periods of increased differential pressure, which are caused by spikes in turbidity typically observed in river water.
The testing was performed after testing of systems from other membrane manufacturers, and the Pall system was selected as the lowest total cost solution.
The Aria Small Flow System from Pall Water processing was installed at the Kernville plant in July 2001. Since then it has been treating water at 150-250 gpm with no chemical pretreatment.
The system automatically checks for membrane integrity every day, and maintains water throughput using an air scrub procedure. A semi-automated flux maintenance procedure using sodium hypochlorite has been performed every 14 days to prevent organic fouling. A complete Clean-in-Place (CIP) procedure with sodium hydroxide, sodium hypochlorite and food grade citric acid has been performed approximately once per year as preventative maintenance for the MF modules.
The chemical resistance of the PVDF hollow fibers in the Pall Aria MF system, ensures that the membrane modules can resist fouling from organics, metals, and other contaminants.