Mumbai sewerage master plan integrates slum sanitation
Mumbai improved its sewerage system using World Bank funds for 30 years to keep up with its growing population.
Aug 1st, 2002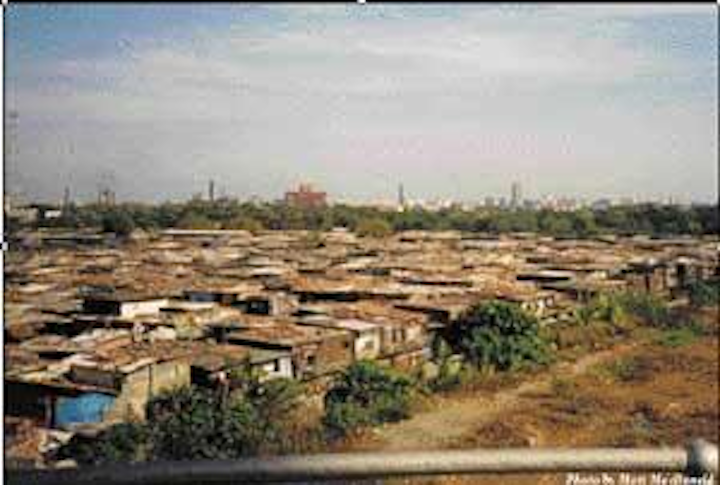 By John Atkins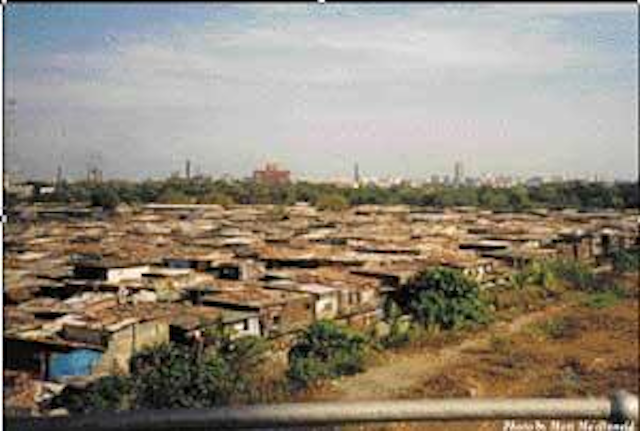 Slums are located adjacent to the Lovegrove wastewater treatment plant.
Click here to enlarge image
A team of consultants comprising Mott MacDonald of the UK, RV Anderson Associates of Canada and PHE and MACE of India completed the master plan studies for the city of Mumbai sewerage system in June 2002. The studies included financial and economic modeling, phasing of capital investments and environmental impact statement. Completed engineering studies included flow surveys, modeling of the existing sewer network, conceptual designs and preliminary engineering designs for the main strategic options.
Seven million of Mumbai's total population of 12 million live in homes with no connection to the city's sewerage system. The urgent call for a master plan and new facilities was the driving force behind the Bombay (Mumbai) Sewage Disposal Project (BSDP). The project, funded with assistance from the World Bank, is expected to strengthen the capacity of the Water Supply and Sewerage Department of the Municipal Corporation of Brihan Mumbai (Greater Bombay) (MCBM) to manage and deliver sewerage services. It aims to improve the health and environmental condition in Greater Mumbai for all residents, and restore the quality of surrounding coastal waters and creeks.
The sewerage programme of the last 30 years connected developed city areas to the existing sewerage system. Population in these areas mushroomed since independence in 1947.
Migration from small villages to the city increased the slum population. Although some four million slum dwellers access public toilet blocks, the majority of slum properties remain unconnected to the system and many people have no access to sanitation facilities. A recent programme of toilet block building has improved availability, but some residents will still have no access to sanitation facilities. Unfortunately, the high growth of the slum population and density of hutments has reduced the amount of land available to install new sewers - a frustrating development because most slum areas are not far from existing sewers.
Mumbai has separate foul and surface water systems, although cross connections between the two systems cause frequent overloads in the foul sewerage system during the monsoon season. MCBM intends to separate the two systems by removing the cross connections. The flow survey of all trunk sewers and many tributary sewers was carried out in the dry season, and had to be scheduled around the monsoon season.
The study found few point sources of solely non-domestic flow. The city is densely populated with residential, commercial and cottage-type industry properties -all intermixed. Old textile industries are leaving the city and vacated land is now changing to commercial/residential property.
While the flow survey was being carried out, consultants used HYDRO WORKS software to build mathematical models of seven existing sewerage zones. The models include all sewers of 400 mm and above, plus some smaller diameter sewer lines. After carrying out initial checks, the models were verified against dry weather flows obtained from the flow survey during 2000. The verified models were then used to simulate projected sewerage needs in the year 2025 to determine any sewer upsizing and to form the basis for design of sewerage in new areas.
Sewage disposal needs were based on forecasts of how consent standards might be improved over the next 25 years. The west coast of Mumbai borders the Arabian Sea and its east coast borders the large, but enclosed, Thane Creek, so differing standards of disposal are likely to be imposed. The Maharashtra Pollution Control Board and other stakeholders (i.e. MCBM departments and World Bank) conducted discussions and workshops to reach a consensus on likely future standards. The National Environmental Research Institute in Mumbai is evaluating the proposed standards, together with the flows and loads expected over the study period using a water quality model of Mumbai coastal waters.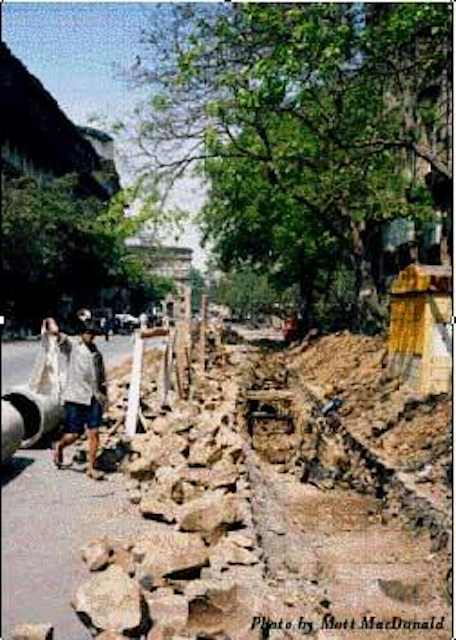 New sewers are being constructed in the Fort area of Mumbai.
Click here to enlarge image
The likely future standards will not be achieved by the existing treatment work, which are generally only preliminary treatment (screening and grit removal); two works have single-stage lagoon and one works features three-stage lagoons. The project consultants studied many sewage treatment and disposal options; however the proposals depend on land available in the city and suburbs, and their effect on adjacent mangrove areas. The activated sludge process and the upward anaerobic sludge blanket processes are proposed for highly developed city areas, whilst aerated lagoons are most appropriate for works located in the suburbs. Odour control will be necessary because land is being developed immediately adjacent to property required for sewage and sludge treatment. No buffer zones in Mumbai exist between public works, such as treatment facilities and residential and commercial property.
Project consultants completed a multi-crit-rion evaluation of more than 30 treatment and disposal options. The options included transfer of sewage from the Thane Creek catchment area to the Arabian Sea where a lower effluent standard would be required. The evaluation showed the preferred solution to be based on the seven existing zone disposal locations with two of the larger zones each requiring an additional treatment works. In one case no site was available without significant environmental impact, and in the other, transfer distances and pumping would be reduced. The total treatment capacity planned in 2025 is for an average dry weather flow of 2,600 Ml/d (megalitres per day).
Proposed works
Preliminary engineering proposals, including the production of drawings and technical specifications, were prepared based on the concepts outlined earlier in the project. The works proposed include: slum sanitation improvements; development of collection systems; upsizing of existing sewers and construction of new trunk sewers; sewage transfer tunnels; upgrading of existing and new pumping stations; sewage treatment plants and disposal through long sea outfalls.
A comprehensive programme of slum improvement is needed in addition to sewerage investment. Legislation stipulates that residents in slums established prior to 1995 now have property rights. A survey of all slums, carried out under the BSDP, identified that more than 60% of slum dwellers live in properties built of permanent materials. A full household survey of one ward indicated most residents want to improve their property. The Mumbai municipal government is considering an integrated programme of water supply, sewerage, drainage and access improvement, together with an accompanying social programme of information, education and communication. This programme would be carried out through community-based organisations that are being, or have already been, set up for the ongoing sanitation improvement programme.
A slum sanitation programme would require cross-subsidisation from middle-income householders. The government must balance the need to improve conditions for seven million slum dwellers by connecting them to the system, and safeguarding the environment by improving treatment and disposal facilities. Both objectives will be achieved in the long term; however short- and medium-term funding and implementation constraints mean that choices must be made. The projects' feasibility studies determined priorities for implementation, based on technical, economic, financial, institutional and environmental aspects.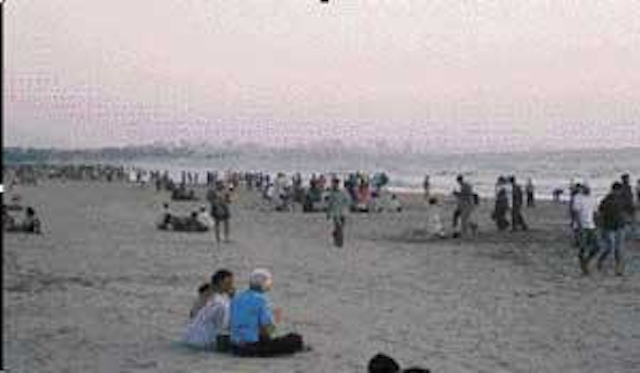 Juhu Beach, Mumbai, India
Click here to enlarge image
Regular workshops attended by municipal leaders and other stakeholders were held to inform all involved parties and gain support of the proposals, which must be affordable and implemented within the framework of the Municipality's overall plans for Greater Mumbai.
Funding was a major concern. The World Bank, which has been the major funding source for Mumbai sewerage for the past 30 years, now requires all World Bank-assisted projects to be orientated strongly towards poverty alleviation and implemented with future privatisation in mind. The planned integrated slum improvement programme meets the poverty alleviation requirements and is moving ahead. Similarly the World Bank is likely to support priority improvements to the sewerage system, but the development of proposals for future privatisation requires further investigation.
Author's note
John Atkins, a team leader for Mott MacDonald Ltd., is based in Cambridge, England.