Interactive Tool Targets City Stormwater Challenges
Keeping pace with the improvements necessary to manage stormwater through large infrastructure additions can be a significant economic hardship for cities...
Jul 1st, 2008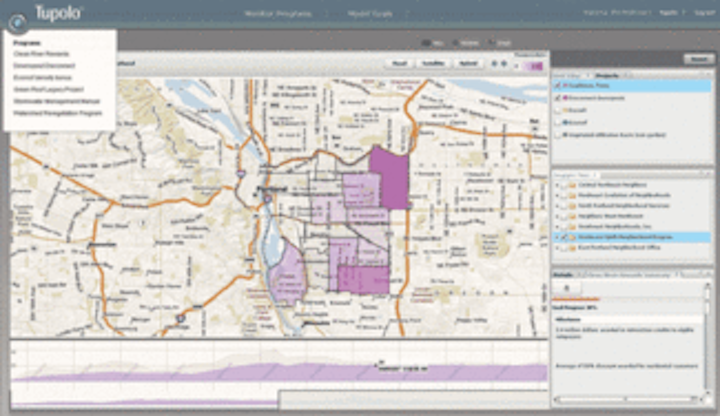 by Lisa Epstein
Keeping pace with the improvements necessary to manage stormwater through large infrastructure additions can be a significant economic hardship for cities, not to mention invasive and inconvenient. Big pipe projects are increasingly at odds with mounting public awareness of environmental issues and pressure on public officials to constrain the skyrocketing costs of grey building projects and embrace green management strategies.
Cities are therefore exploring solutions that depend less on resource-intensive, large-scale projects and more on green, cost-efficient and community-based improvements aimed at addressing stormwater at its source. To this end, Portland, OR, recently launched a $50 million, five-year "grey to green" initiative to fund the protection and restoration of the city's watersheds through green infrastructure. This approach, which includes planting trees, removing culverts, implementing ecoroofs and removing invasive plant species, requires community action and participation in stormwater programs.
For policymakers and water authority managers, promoting and applying such holistic solutions at a consumer level is less a question of the information at their disposal than how to abstract, model and apply that information as usable knowledge: While most urban areas boast reams of data and models for soils, river flows and runoffs at both macro and neighborhood levels, many struggle to take this information out of the bureaucratic silos in which it often resides and put it in context to work on their growing stormwater problems.
To help cities overcome this, Portland-based software provider Thetus Corporation created Tupolo Storm, a web-based solution that employs sophisticated semantic knowledge modeling technologies to power an interactive toolset for managing stormwater mitigation programs, with citizen participation as a key component. Tupolo combines the disparate information resident in city data stores and applies modeling tools, workflows and visualizations to empower cities to design, implement and manage stormwater mitigation programs based on citizen action. Built for policymakers, water authority managers and analysts, the Tupolo platform provides a comprehensive dashboard (see Fig. 1) for managing mitigation programs and analyzing results. Moreover, with Tupolo, cities are able to offer residents an online portal through which to participate in programs at the individual level, using the same modeling technology as policymakers employ.
City residents gain access to an online dashboard (see Fig. 2) that, through the integration of geospatial data, offers the ability to access a specific address. The application leverages and models data such as lot line, house layout, soil type, existing slope, watershed and sewer basin data, and presents the user with a visual representation that acts as a basis for water exploration. The user can manipulate this representation and dynamically view the impact that various changes would make in water runoff. Basic actions include disconnecting downspouts, as well as adding trees, planters, grass and shrubbery to property. More involved actions might include installing a green roof, planting a rain garden, implementing a water barrel and cistern system, and the installation of permeable pavements in place of impervious surfaces such as concrete driveways.
In configuring their lots, residents can compare their water impact with that of their neighbors and, with improvements aimed at mitigating stormwater, find vendors who offer selected products and services. Couponing and other incentives, such as special offers for nurseries, gutter maintenance and home stores that serve to "close the loop," can be employed to track consumer actions. On the back end, as users make lot configuration changes, the system uses known coefficients relating to the pervious/imperviousness of individual surfaces to make calculations regarding runoff impact that are dynamically reflected in the user's lot view.
From the policymakers' perspective, the Tupolo Storm platform offers relevant knowledge to financial modelers, sustainability professionals, community outreach leaders, engineering staff and political officials (see Fig. 3). Each of these groups has a different set of information they need to see and understand to do their respective jobs. All of these policymakers need to see a current view of the situation in order to be able to assess where marketing campaigns are working and what their impacts will be.
As urban communities and water authorities address the increasing challenge of stormwater — and the health, environmental and regulatory issues it entails — policymakers are obliged to apply their considerable arsenals of information to develop strategic plans that produce effective citizen action and support sustainability. Toward this goal, knowledge modeling technologies, such as Tupolo Storm, can convert the troves of stormwater and geographic information into actionable knowledge to drive comprehensive mitigation programs. These programs, employing online management tools for both policymakers and city residents, promote public education and outreach and provide intelligence about public behavior in response to marketing campaigns to inform future planning and programs targeting this critical city issue.
About the Author:
Lisa Epstein is the marketing communications manager for Thetus Corporation. She has worked in the high-tech industry for the last 20 years in a variety of marketing, technical writing, and product and program management capacities. She can be contacted at (503) 595-5838, or via e-mail at lmepstein@thetus.com.