New Products
Radiometer Analytical, a Hach Company brand, has introduced its SAC850 and SAC950 Sample Changers capable of handling multiple combinations of titrations, direct pH, ion and conductivity measurements fast and efficiently.
Sep 1st, 2008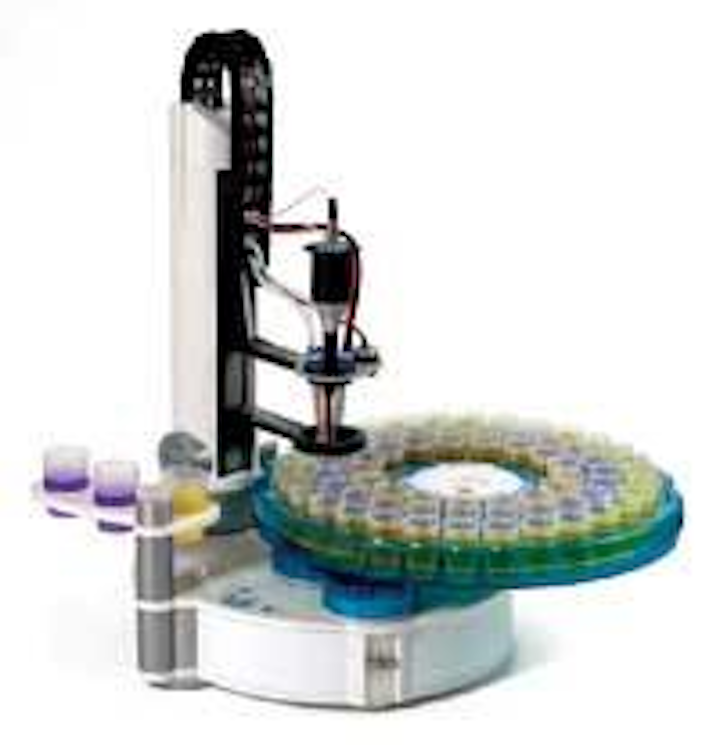 Sample changer solutions
Radiometer Analytical, a Hach Company brand, has introduced its SAC850 and SAC950 Sample Changers capable of handling multiple combinations of titrations, direct pH, ion and conductivity measurements fast and efficiently. These changers can be connected to a TitraLab® titration workstation or a direct measurement meter with or without PC software for complete and effortless automation. The SAC850 and SAC950 are compatible with a selection of removable sample trays, and wireless RFID tags eliminate the need to program the sample changer each time a new type of sample tray is used. User-defined sample preparation sequences offer all the benefits of full automation
Hach Company
Loveland, CO
www.hach.com
Circle #127
Curved bill check valve
The Curved Bill Tideflex® TF-1 Check Valve is designed to enhance sealing, especially in low-lying areas with little backpressure. The valve is constructed entirely of rubber, making it virtually immune to rust, corrosion and weathering. The curved bill of the TF-1 seals without backpressure, allowing for a tighter seal that eliminates gapping issues. The flexible bill also seals around entrapped debris. The headloss of the valve remains exceptionally low. The TF-1 also has a strong spring steel spine, enabling it to handle long-term water weight. The spine is at a greater vertical angle, making the TF-1 able to withstand the cantilever effect when water is flowing through the valve. Applications include highway runoff, flood control CSO/SSO systems, site drainage, stormwater discharge, sewer systems, coastal discharges, odor control or any application requiring backflow prevention.
Tideflex Technologies, a division of Red Valve Company Inc
Carnegie, PA
www.tideflex.com
Circle #128
Pre-cast concrete wet well
Romtec Utilities Inc. has introduced a 10-foot-diameter pre-cast concrete wet well, expanding the capacity of its complete lift station systems. The new 10-foot-diameter pre-cast concrete wet wells offer greater capacity for stormwater, wastewater and industrial applications. The new well size accommodates both duplex and triplex pump systems for maximum design flexibility. The larger well size and three-pump configuration offer wastewater and stormwater managers a cost-efficient way to handle their current needs, while planning for future events at the same time. The new size also makes it easier to locate a well in places where deep excavation is impractical, since it can offer the same capacity as a deeper 8-foot-diameter well, but in a shallower design
Romtec Utilities
Roseburg, OR
www.romtecutilities.com
Circle #129
Rainwater harvesting carport
The Aguaport is a complete steel carport and rainwater harvesting system utilizing the vast area previously wasted on the lot. With a slight modification to a basic residential rain gutter, precious rainwater can be channeled to a cistern, barrel or underground tank
USA Eagle Carports
Fort Worth, TX
www.usaeaglecarports.com
Circle #130
Energy dissipater
The Hydro Vortex Drop™ Shaft is a compact, single-shaft system used to dissipate the energy of falling water in order to protect infrastructure from noise, vibration and damage when conveying water to a deep tunnel or deep storage system. Major components of the system include an inlet structure, a vertical shaft, an energy dissipater and air separation chamber. The inlet structure provides a smooth transition from the inlet to the vertical shaft while the shaft transports the water to the lower elevation. The energy dissipater located at the base of the structure eliminates the energy inherent in the falling water as it removes entrained air, and conveys the water to the storage facility
Hydro International
Portland, ME
www.hydro-international.biz
Circle #131
Stormwater monitoring guidance
As part of an EPA grant, the Center for Watershed Protection and the University of Alabama have prepared six monitoring study designs, outlined in the project's final manual, Monitoring to Demonstrate Environmental Results: Guidance to Develop Local Stormwater Monitoring Studies Using 6 Example Study Designs. This guidance is designed to navigate the stormwater manager through the complexities of implementing a monitoring program so they can be confident in their results and get the most out of their limited stormwater dollars. Each study design covers such essential elements as scoping, budgeting, and staffing needs as well as equipment and sampling requirements. This manual is available for free download at www.cwp.org
Center for Watershed Protection
Ellicott City, MD
www.cwp.org
Circle #132
Membrane bioreactor
Bio-Microbics Inc. offers the BioBarrier® Membrane Bioreactor (MBR) to help meet the increasingly stringent needs of environmentally sensitive areas. The membranes and processes used in the BioBarrier® system act as an impenetrable physical barrier for nearly all common pollutants found in wastewater. Designed specifically for the unique needs of the onsite and decentralized wastewater industry, the system's high-quality effluent can be discharged into most environments including surface irrigation and other re-use methods
Bio-Microbics Inc.
Shawnee, KS
www.biomicrobics.com
Circle #133
Infiltration chamber
StormChamber is an open bottom, HDPE infiltration chamber which functions in both permeable and non-permeable soils for subsurface retention, detention, recharge and reuse of stormwater. It provides a higher level of nutrient and pollutant removal by taking advantage of the natural biological and physical properties of the soil. StormChamber systems mimic pre-development conditions by putting post-construction runoff back into the ground approximately where it used to go, maintaining base flow to streams, wetlands, lakes, ponds and countering salt-water intrusion in coastal areas. The SedimenTrap component of the StormChamber system eliminates the need for pre-treatment devices
StormChamber
Occoquan, VA
www.stormchambers.com
Circle #134
Nutrient separating baffle box
Designed to treat the entire stormwater flow, the Nutrient Separating Baffle Box meets or exceeds NPDES requirements for capturing a wide variety of pollutants including TSS, sediment, debris, organic material, hydrocarbons, and trash. Because water flow is not ducted off-line for treatment, head loss is minimal and comparable to a large square catch basin. Existing watersheds can be easily retrofit with a Nutrient Separating Baffle Box without compromising the original design specifications of the current stormwater system
Suntree Technologies Inc.
Cocoa, FL
www.suntreetech.com
Circle #135
Chamber with internal manifold
CULTEC Inc. has added an internal manifold feature to the company's Recharger 180 and 280 models. This feature introduces design flexibility to the stormwater management system and decreases the required installation footprint. Two side portals located on the chamber allow manifolding to take place at any point within the system, eliminating the need to build external manifolds, thereby condensing the system. High Volume Low Velocity (HVLV) FC-24 Feed Connectors, open on both endwalls, are inserted into the side portals to construct the manifold. The cross-feed capabilities enabled by the manifold's side portals offer greater flow than that available with 18" diameter pipe
CULTEC Inc.
Brookfield, CT
www.cultec.com
Circle #136
Turnkey lift stations
Romtec Utilities Inc. manufactures complete lift stations for wastewater, stormwater and industrial pumping. Romtec supplies a turnkey solution, including design and engineering services, with licensed engineers in all 50 states. All structural, mechanical, electrical and communications components are integrated into complete pre-engineered systems. The wastewater pumping system shown includes (from left): Cummins generator; prefabricated steel shelter with automatic transfer switch for generator and station control panel with SCADA; pre-assembled valve vault; pre-cast concrete wet well with duplex ITT Flygt submersible pumps, liquid level sensors and pump disconnect panel; odor control system
Romtec Utilities Inc.
Roseburg, OR
www.romtecutilities.com
Circle #137
Water quality testing
Ideal for testing water at source points or in the lab, Ultrameter II from Myron L quickly, accurately, and precisely measures 6 water quality parameters: conductivity, resistivity, TDS, ORP, pH, and temperature. Ultrameter II is lightweight, portable, waterproof, easy to calibrate, and easy to use. Simply sample water and press a parameter button to display results. Ultrameter II stores up to 100 date-time-stamped readings in memory. Stored readings can be transferred to a computer with the optional uDock™ accessory package.
Myron L Company
Carlsbad, CA
www.myronl.com
Circle #138
Level transducers
ressure Systems now offers its waterMONITOR datalogging level transducer with an optional ETFE (ethylene tetrafluororethylene) jacketed cable for increased durability and corrosion resistance in liquid level monitoring applications. The excellent tensile strength and chemical resistance of ETFE enables the waterMONITOR to excel in liquid level applications by eliminating concerns of cross-contamination or cable damage. This includes a wide variety of other liquid level applications, such as portable ground and surface water, open channel level measurement, down hole, well, lake, stream and reservoir level monitoring and watershed management.
Pressure Systems
Hampton, VA
www.pressuresystems.com
Circle #139
Identification tags, labels
Available in 10 colors, these easy-to-use, durable, color-coded tags and labels can be used for marking storage containers and drums, transport containers, hand pumps, filter carts, transfer carts, dispensing equipment and tools, machinery, lubrication points and more. Use a felt tip marker, crayon, or Spectrum customized label to mark the tag with your information. Then simply seal the information beneath the laminate sheet to keep it clean and legible. The Spectrum labeling system allows you to create customized labels using various colors, text and optional barcoding for your specific requirements. Tags are weather and chemical resistant to withstand the most demanding indoor and outdoor use.
Trico Corporation
Pewaukee, WI
www.tricocorp.com
Circle #140