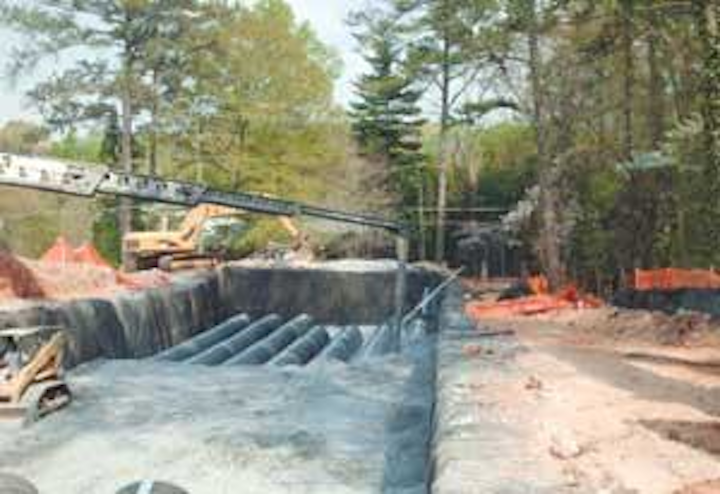 Florida restoration projects get funding
STUART, FL – The South Florida Water Management District (SFWMD) Governing Board approved $7 million in fiscal year '08 funding for 12 projects benefiting the St. Lucie Estuary and Indian River Lagoon. The projects range from stormwater retrofits and baffle box installations to educational exhibits and tributary monitoring.
The St. Lucie River Issues Team comprises representatives of 17 different agencies and organizations. The members work together to prioritize issues, procure federal and state funding and implement projects that will have quantifiable benefits to the St. Lucie Estuary and the Indian River Lagoon.
Funding comes from the Florida Legislature and
federal sources, with a 50% match from each project's local sponsor.
"Every project recommended by the St. Lucie River Issues Team is an important one, and I am pleased we can support these critical local initiatives," said SFWMD Governing Board member Melissa Meeker. "Each of the projects directly benefits the health and well-being of two of South Florida's most important water bodies – the Indian River Lagoon and the St. Lucie Estuary."
Interactive stormwater pollution prevention training
NOVI, MI – Mastery Technologies Inc. has announced the release of a new computer-based safety course, Storm Warnings: Stormwater Pollution Prevention, CBT.
The course is appropriate for anyone working in an industry handling chemicals, petroleum products, wastes, herbicides, pesticides or other industrial-type materials. This includes workers that are covered under a General or Multi-Sector General Permit for stormwater discharges, as well as workers at municipal facilities covered under an MS4 Permit.
The interactive training, with video produced by Excal Visual, is available on the Web, Intranet or CD. Fifty-two learner interactions, focusing primarily on the most common BMPs, actively involve the learner in the training. The course presents interactive instruction covering topics such as legal issues; materials management; preventive maintenance; waste management; and dust emission.
Watershed restoration manuals available for free download
ELLICOTT CITY, MD – The Center for Watershed Protection is making the first two manuals of its Urban Subwatershed Restoration Manual Series available permanently for free download.
The first manual, An Integrated Framework to Restore Small Urban Watersheds, examines the basic concepts and techniques of urban watershed restoration, and sets forth the overall framework used to evaluate subwatershed restoration potential.
The second manual, Methods to Develop Restoration Plans for Small Urban Watersheds, outlines a practical, step-by-step approach to develop, adopt and implement a subwatershed plan in your community.
Manuals 1 and 2, released in 2005, accompany the latest manual of the series released this summer, Urban Stormwater Retrofit Practices. This 400+ page guidance is also available as a free download on the Center website. To download, see the Urban Subwatershed Restoration Manual Series website: http://www.cwp.org/PublicationStore/USRM.htm
Cadmus wins contract with National Watershed Protection Program
CAMBRIDGE, MA – Cadmus Group Inc. has been awarded a five-year contract, worth up to $75 million, with the National Watershed Protection Program of the U.S. Environmental Protection Agency (EPA) Office of Wetlands, Oceans,
and Watersheds.
Under the contract, Cadmus will support EPA in the development of Total Maximum Daily Loads (TMDLs) and will also support EPA's efforts to monitor water quality, manage and display water quality information, assess and report on water quality conditions, and advance the protection and restoration of watersheds and waterbodies.
CDM awarded Calif. stream restoration project
PASADENA, CA – Consulting firm CDM will lead the design and construction of a landmark restoration project for the Central Arroyo Seco Stream on behalf of the Arroyo Seco Foundation and the city of Pasadena. The project will include enhancements to recreate the stream's natural habitat, water pollution prevention, and stormwater runoff treatment.
The reintroduction of the Arroyo chub, a native fish of the Arroyo Seco Stream, is an integral part of the stream restoration. Backwater pools and riffles will be built to help recreate the chub's natural habitat. In addition, native plants will be returned to the stream and non-native invasive plant species will be removed. Full-capture trash inserts will be placed in the city's storm drains to help prevent stream pollution.
The nearby Rose Bowl Parking Lot I will also be improved. Rock swales with attractive native plants will be placed in the lot to capture oil and grease, while giving the lot a park-like feel. Boulders from other construction in the area will be put back in the Arroyo Stream to create riffle pools while using all natural, in-stream materials for the restoration.
Hydro expands stormwater control portfolio
PORTLAND, ME – Hydro International plans to expand its service portfolio to offer maintenance contracts for its stormwater control implementations. The company has reached a deal to subcontract its stormwater maintenance support services to Drainage Protection Systems (Murietta, CA). This is the first formal arrangement Hydro has entered into to offer maintenance of its stormwater products.
"This maintenance contract demonstrates our commitment to the sustainability of our products. If they are going to be sustainable, long-term solutions, they need maintenance," said David Mongeau, General Manager of Hydro's U.S. Stormwater Division.
Underground stormwater system meets tough green space requirements
BROOKFIELD, CT – As a result of the enormous growth expected in the state over the next twenty years, Georgia has implemented a Greenspace Program to offset the damaging effects of this dramatic growth. Because of the stringent Greenspace requirements, engineers planning a residential development in the Buckhead area of Atlanta had to find an alternative to their original plan to include a deep pond with retaining walls to contain stormwater runoff.
With the help of CULTEC experts, engineers from Travis Pruitt Associates Inc. designed a three-tiered underground stormwater detention system that would capture, treat, and temporarily store runoff.
"Any aboveground option, such as a detention pond, was not feasible due to the amount of land it would occupy," said Ted McCarter, Southeast Regional Sales Manager of CULTEC Inc. "By placing the system underground, the site can effectively and efficiently manage stormwater, while the land above can serve as a play area or garden and fulfill the state's green space needs."
Eleven states, Puerto Rico receive grants to protect coastal wetlands
ARLINGTON, VA – National Coastal Wetlands Conservation grants will fund twenty-nine conservation projects with $20.5 million, according to Department of the Interior Secretary Dirk Kempthorne.
States receiving funds include California, Hawaii, Oregon, Washington, Texas, Illinois, Michigan, Wisconsin, Maine, Maryland, and Massachusetts, along with the Commonwealth of Puerto Rico. These federal grants will be matched by nearly $46 million in partner contributions from state and local governments, private landowners and conservation groups.
The grants will be used to acquire, restore or enhance coastal wetlands to provide long-term conservation benefits to fish, wildlife and habitat.
The program is administered by the U.S. Fish and Wildlife Service and funded under provisions of the 1990 Coastal Wetlands Planning, Protection and Restoration Act, drawing from Sport Fish Restoration Act revenue – money generated from an excise tax on fishing equipment and motorboat and small engine fuels.
Gasoline additive present in NH groundwater
RESTON, VA – The U.S. Geological Survey released a report finding that the now-banned gasoline additive methyl tert-butyl ether (MTBE) is present in New Hampshire's groundwater. Groundwater in four counties – Rockingham, Strafford, Hillsborough and Merrimack – had the most significant concentrations.
For this study, conducted in cooperation with the NH Department of Environmental Services, scientists sampled more than 800 wells throughout New Hampshire in 2005 and 2006. Despite the prevalence of MTBE in water samples, however, most concentrations measured were less than 1 ppb. About two percent of the public and one percent of the private wells sampled had levels that were greater than the state of New Hampshire health-based limit of 13 ppb.
In January 2007, New Hampshire banned MTBE use in gasoline.