New Products
Feb 1st, 2008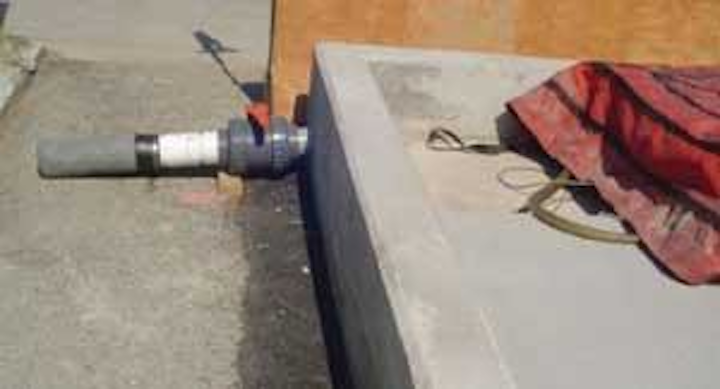 Hydrocarbon Discharge Filters
CI Agent Hydrocarbon Discharge Filters bring facilities into compliance with EPA regulation 40 CFR-112 (Oil Pollution Prevention). In addition, CI Agent Hydrocarbon Discharge Filters are applicable for meeting EPA Phase II stormwater requirements. Applications include: storm drains, catch basins, automatic drainage of containment areas, and manholes/vaults. The filters contain a non-toxic, non-hazardous, environmentally friendly blend of cross-linking polymers that encapsulate hydrocarbon through rapid transformation into a cohesive, rubber-like mass upon contact. Stormwater passes through the filter while hydrocarbons, debris, and sediment are trapped. In the event of a large hydrocarbon spill, the CI Agent Hydrocarbon Discharge Filters completely solidify and become an impervious plug.
Bethea Tool & Equipment Co. Inc.
770-436-6386
www.spccproducts.com
Oil, Sediment Capture
Stormceptor® LCS (Large Capacity Separator) offers another solution to address stormwater quality treatment for oil and sediment capture for large-scale industrial and residential drainage areas. The Stormceptor LCS expands upon the Stormceptor technology platform to provide water quality treatment for up to 150 acres or over 15,000 gallons of spill protection. The LCS is tailored to meet your specific site's needs, and is modular and/or expandable, depending on the site's size and potential stormwater volume. The Stormceptor LCS design will account for capture of fine sediment particles while preventing scour during large storm events.
Imbrium Systems
Rockville, MD
800-279-8826
www.imbriumsystems.com
Pipeline Inspection
CUES introduces the new K2 Series portable CCTV pipeline inspection system. K2 can be mounted in a wide range of vehicles, trailers, or used as a stand-alone system and includes an ergonomic hand-held control that operates all CUES transporters and pan & tilt/zoom cameras. The K2 Base Station features built-in diagnostics for the entire system, including the video cable. The portable K2 video cable reel features automatic payout to minimize cable drag on the self-propelled transporter/camera to maximize pull distance. Increased video cable reel capacity (1,200 ft.) maximizes distance for inspection runs. The K2 Base Station can be mounted on the built-in docking port of the K2 reel or staged independently. It includes a built-in video overlay unit with programmable observation codes, alphanumeric titling, and on-screen footage display. K2 options include Granite XP software, DVD/digital recorders, and a collapsible heavy-duty reel handle to facilitate portability.
CUES
Orlando, FL
800-327-7791
www.cuesinc.com
Area-Velocity Flow Meter
Monitor flow through open channels, partially full sewer pipes and surcharged pipes without a flume or weir. Designed for municipal stormwater, combined effluent, raw sewage and irrigation water, the new Greyline AVFM-II flowmeter uses a submerged ultrasonic sensor to continuously measure both velocity and level in the channel. The sensor is resistant to fouling and corrosion. The AVFM-II can be configured with the standard submerged Velocity/Level sensor, or with submerged velocity and a separate non-contacting ultrasonic level sensor. It includes flow rate display, totalizer, three 4-20 mA outputs and two control relays. Intrinsically safe sensors and built-in data logger are optional.
Greyline Instruments Inc.
Massena, NY
888-473-9546
www.greyline.com
Stormwater Lift Stations
Romtec Utilities supplies complete pre-engineered stormwater lift stations for use in a wide variety of applications. In a typical site remediation application, surface water is collected from the industrial site and drained to the lift station's precast concrete wet well. Submersible pumps, manufactured by ITT Flygt, lift the contaminated water from the wet well through a series of check and plug valves into a tank used to separate and remove contaminants from the water. Romtec Utilities engineers and manufactures lift stations for use in stormwater, wastewater and industrial process water pumping applications. All structural, mechanical, electrical and communications components are integrated into complete pre-engineered systems.
Romtec Utilities
Roseburg, OR
541-496-9678
www.romtecutilities.com
MBR Packaged Plants
The Xpress™ membrane biological reactor (MBR) packaged plant from Siemens Water Technologies is a robust wastewater treatment process with inherent features designed to reduce maintenance and provide reliable and efficient wastewater treatment for small-scale municipal and industrial applications from 25,000 gpd to 100,000 gpd. This fully pre-engineered, skid-mounted system produces effluent quality with TSS <1 and turbidity <0.2 NTU, which is suitable for most reuse applications. Examples include land development, golf course and park irrigation, salt intrusion barriers in coastal communities, aquifer storage and recovery and indirect potable reuse.
Siemens Water Technologies
Waukesha, WI
262-547-0141
www.usfilter.com
Stormwater Flowmeter
The advanced Marsh Multi-Mag™ Flow Meter from McCrometer provides a reliable, scalable and economical solution to measuring and monitoring highly variable flows of stormwater runoff. The Multi-Mag Flow Meter is a multipoint measurement solution that provides unprecedented accuracy in the most difficult flow conditions — such as low flows, wide flow ranges, and flows containing sand and grit. It measures liquid volumetric flow rates in pipes sized from 4" to 120" with a streamlined multipoint technology that creates only negligible pressure loss. The Multi-Mag features a 4-20 mA analog output that is galvanically isolated and fully programmable for zero and full scale. Dual alarms (2 separate outputs) are provided and fully programmable for high/low flow rates, percent of range, empty pipe, forward/reverse, polarity (normally opened/closed) and more.
McCrometer
800-220-2279
www.mccrometer.com
Plantable Concrete Pavement
Drivable Grass® from Soil Retention is a permeable, flexible and plantable concrete pavement system. It is manufactured from grid-reinforced concrete and is designed to "flex" and conform to irregular ground surfaces. Drivable Grass® promotes water storage and infiltration, thus improving stormwater quality. Example applications include bio-swales, fire lanes, utility access easements, parking areas, and golf cart paths.
Soil Retention
Carlsbad, CA
www.soilretention.com
Stormwater Monitoring
Solinst has developed the Levelogger Gold Series of data loggers, which can be supported by the new STS Telemetry Systems or integrated into a SCADA network for instant access to water level data. The Levelogger Gold is an accurate and reliable water level data logger ideal for long-term monitoring. It features a 10-year battery, non-­volatile memory, power surge protection, lifetime calibration, and corrosion resistant coating. Users can easily monitor water level fluctuations in various stormwater management structures; flow rates in conveyance channels can also be determined. The Levelogger Junior is an inexpensive alternative for water level measurements in larger scale projects.
Solinst Canada Ltd.
Georgetown, ON, Canada
905-873-2255
www.solinst.com
Reusable Sediment Control Wattles
Gator Guard reusable sediment control wattles are lightweight, easy to install, extremely effective in capturing sediment, and durable enough to survive bulldozers, trucks, wind, water and sun on a variety of projects. Made from UV-resistant geotextile and stuffed with recycled foam, a 6" x 25" wattle weighs only 8 pounds, including the installation pins provided. The apron, covered with 1" of dirt, minimizes underflow washouts and blowouts.
Gator Guard Environmental Products Inc.
Boise, ID
1-800-GATORME
www.gatorguard.com
Catch Basin Inserts
Two-stage, drop-in Storm-PURE Catch Basin Inserts from Stormwater Systems are an economical and efficient solution to the problem of oil and trash that wash down storm drains. The first stage of the Storm-PURE Catch Basin Insert consists of a fine mesh polypropylene cloth over a stainless steel filter basket, which removes TSS while allowing water and microscopic pollutants to pass through. The second stage Mycelx filter efficiently removes petroleum pollutants from stormwater at rates that exceed the Environmental Protection Agency's criteria for BMP designation. The filter is hydrophobic so it will bind hydrocarbons and any pollutants, including heavy metals, attached to them without restricting water flow, and will not release the captured hydrocarbons even when completely saturated. The sturdy catch basin insert can be used with or without the Mycelx filter and can be adapted for horizontal culverts and other specialty applications.
Stormwater Systems
706-348-8286
www.stormwatersystems.com
Integrated Water Monitoring Systems
YSI offers a variety of monitoring instrumentation solutions that fit together into a data collection system to measure the impacts of pollutants, floods, and storms on water bodies. Comprehensive, accurate data provided by YSI instruments help inform Basin Management Plans and manage stormwater. Systems include: YSI 6-Series Sondes, multiparameter instruments for unattended, in situ monitoring of water quality; SonTek/YSI flow instruments, such as acoustic doppler meters for unattended monitoring of stage and water velocity in large to shallow water bodies; and EcoNet® Data Management, a web-enabled data acquisition system that transmits water quality, hydrology, and meteorological data to any remote site via cellular, radio, modem, or satellite.
YSI Incorporated
Yellow Springs, OH
800-897-4151
www.ysi.com