ecoLogs
ARNHEM, Netherlands – ARCADIS, the international consultancy, design, engineering and management services company, has signed a merger agreement to acquire 100% of the shares of Malcolm Pirnie, a White Plains, New York-based company predominantly active in water and environmental consulting and engineering.
Jul 1st, 2009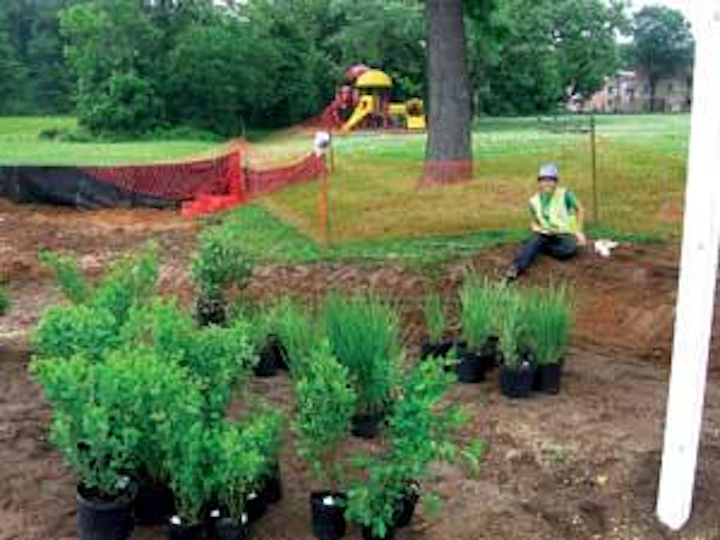 ARCADIS to merge with Malcolm Pirnie
ARNHEM, Netherlands – ARCADIS, the international consultancy, design, engineering and management services company, has signed a merger agreement to acquire 100% of the shares of Malcolm Pirnie, a White Plains, New York-based company predominantly active in water and environmental consulting and engineering.
The merger is contingent on Malcolm Pirnie shareholder approval and related closing requirements. It is anticipated that the merger will be completed in July 2009.
The combination of both companies is expected to generate significant business and operational synergies.
---

EPA launches online DMR reporting tool
WASHINGTON, DC – According to a recent announcement in the Federal Register, EPA regions and select states, tribes, and territories have a new tool available to assist their regulated National Pollutant Discharge Elimination System (NPDES) facilities in reporting Clean Water Act Discharge Monitoring Reports (DMRs). NetDMR provides an Internet-based reporting tool for NPDES facilities to electronically sign and submit DMRs, allowing participants to discontinue mailing in hard copy forms under 40 CFR 122.41 and 403.12.
For more information on NetDMR, visit www.epa.gov/netdmr.
---

Hawaii DOT ordered to protect coastal waters, comply with stormwater requirements
HONOLULU, HI – The U.S. EPA recently ordered the Hawaii Department of Transportation's Harbors Division to comply with federal Clean Water Act stormwater regulations at the Honolulu and Kalaeloa-Barbers Point Harbors on Oahu.
Fuel, oil and debris carried by stormwater from the Harbor Division and tenant facilities, discharge directly into harbor waters and through municipal storm drains running to harbor waters.
"We've identified many stormwater permit violations and compliance issues to be resolved to protect Oahu's coastal waters," said Alexis Strauss, Water Division director in the EPA's Pacific Southwest region. "We'll oversee HDOT as they take these actions under this order and ensure we have stronger public health and environmental protections in place."
The order requires the HDOT Harbors Division to revise its stormwater management plans for both harbors by December 2009 and submit the revised plans by the end of January 2010.
---

Washington state modifies municipal stormwater permit
OLYMPIA, WA – A move by the Washington Department of Ecology to modify municipal stormwater requirements will help cash-strapped local governments comply with the permits without compromising environmental protections.
The modifications provide requirements for low-impact development for all Phase 1 municipalities, and for Phase 2 municipalities in Western Washington, in keeping with two state Pollution Board rulings.
In addition, Ecology modified the Phase 1 permit, and the Western Washington Phase 2 permit, to allow a gradual ramping up of inspection requirements over several years.
Phase 2 municipalities in Western Washington are provided a six-month extension in their due date to complete their ordinances, from August 2009 to February 2010.
Eastern Washington Phase 2 communities are provided an extension of an additional year, until February 2011, to put their codes into effect and to upgrade their maintenance and operations plans.
"We modified these permits because of dramatic budget cutbacks we've seen in local governments that undermine the success of these permits," said Ecology Director Jay Manning. "These modifications strike a balance by providing flexibility and reducing costs for municipalities. The modifications do not reduce our focus on clean water and water quality standards."
---

UM students create bioretention system to help protect Anacostia watershed
COLLEGE PARK, MD – Recently, 24 students from the University of Maryland partnered with local agencies to develop a natural system that could alleviate the flooding problems and decrease the amounts of pollutants flowing into the Anacostia River Watershed by building a bioretention system at Tanglewood Park.
The bioretention system was designed to naturally filter and treat runoff water from the park's community center, parking lot and surrounding roadways.
Almost 100 feet of pipe connects the bioretention site to a nearby stream that feeds the Anacostia -- providing a drainage system for the large amount of water collected from the nearby hard surfaces, helping to alleviate the flooding issue.
"For us, the significance of the student's project is that it models environmental responsibility for other areas," said Edmonston Mayor Adam Ortiz. "If every development, farm, town and city followed their example, we would nearly eliminate flooding and in time we would save the Chesapeake Bay."
The five-month project was completed at the beginning of June.
---

Facilities throughout Southeast ordered to comply with Clean Water Act, pay penalties
ATLANTA, GA – The U.S. EPA has issued Consent Agreements and Final Orders against 10 entities throughout the Southeast since the beginning of the fiscal year, Oct. 1, 2008, for violations of the Clean Water Act. As part of the settlements, the responsible parties in Florida, Georgia, Kentucky, North Carolina and South Carolina agreed to come into compliance and pay a combined total of $92,249 in civil penalties.
Six entities were cited for alleged stormwater-related violations of the CWA.
A settlement was also reached with Easley Combined Utilities, which agreed to pay a civil penalty of $12,600, for exceeding the Whole Effluent Toxicity (WET) requirements of its NPDES permit at the wastewater treatment plant in Easley, NC.
Another settlement was reached with an individual property owner for discharging dredged and/or fill material into a canal connecting to the Atlantic Ocean behind his Key Largo, FL, property.
"By taking these enforcement actions, we are sending a strong message about the importance of protecting rivers, lakes and streams across the Southeast," said Stan Meiburg, EPA Region 4 Acting Regional Administrator.
---

Connecticut wastewater utility to adopt MWH Soft's wastewater/stormwater modeling software
BROOMFIELD, CO – The Metropolitan District of Connecticut (MDC) will adopt MWH Soft's InfoSWMM Executive Suite software for its advanced wastewater and stormwater modeling.
Since 1929, MDC has managed the Hartford, CT, region's water and sewer systems, which were developed in the 1850s. Over the years, investments in the system have increased sewer capacity and wastewater treatment capabilities. MDC has now embarked on the $1 billion Clean Water Project, which aims to reduce CSOs with the Hartford central sewer system; eliminate SSOs in the sanitary sewers of five adjacent towns; and reduce nitrogen levels.
"The ability to accurately model our sewer systems and provide accurate design and analysis simulations of their hydraulic and hydrologic responses is critical to making informed, cost-effective decisions and optimizing capital planning," said Constantin Banciulescu, Principal Engineer at MDC.
---

Green infrastructure projects promise environmental results in Ipswich River Watershed
BOSTON, MA – A series of green infrastructure projects are demonstrating techniques that show promise of improving water quality and stream flow in the Ipswich River Watershed, which encompasses 21 communities in Massachusetts.
A $1 million EPA Targeted Watershed Grant has funded nine demonstration projects to implement water conservation projects within watershed.
Examples of the LID and green infrastructure projects include a green roof atop a refurbished apartment building; a subdivision designed with narrower roads, rain gardens, and specially designed grass swales; and a neighborhood that incorporated rain gardens and installed special permeable paving stones with underlying infiltration beds along the road edge in the public right-of-way.
"Common-sense solutions don't have to break the budget, and can provide us with major environmental benefits," said Ira Leighton, acting regional administrator of EPA's New England office.
---

ADS announces several growth initiatives
HILLIARD, OH – Advanced Drainage Systems Inc. (ADS), producer of corrugated high-density polyethylene (HDPE) pipe, recently announced several new growth initiatives. The company has entered into a joint venture agreement with Tigre S. A., manufacturer of PVC pipe and fittings in Latin America, creating a new company called Tuberias Tigre-ADS Limitada, which will combine ADS corrugated pipe and Tigre's mining, solid wall pipe to expand sales of both products in South America.
In addition, the company will open two new state-of-the-art manufacturing facilities located in Canada, one in Ontario and one in Quebec.
And finally, ADS will acquire the assets of Century Plastics Inc. of Hayfield, MN. Century manufactures corrugated HDPE plastic pipe used mainly for agricultural drainage systems.
---

Critical next stage of green building industry will focus on water efficiency
NEW YORK, NY – According to a recent report from McGraw-Hill Construction, water efficiency and conservation will become critical factors in green design, construction and product selection over the next five years.
The report, Water Use in Buildings, reveals that water efficiency is rapidly becoming a higher priority than other aspects of green building, such as energy efficiency and waste reduction.
"This study sheds light on the shift in what will define a green building," said Harvey Bernstein, vice president of Industry Analytics, Alliances & Strategic Initiatives, McGraw-Hill Construction. "The results are especially telling – the increasing importance of water issues, the business benefits from water-efficient products and processes, and building owner buy-in all point to how critical it will be for the industry to address responsible water practices in the future."
---

XP Software to update WSPG hydraulic design engine for LADPW
PORTLAND, OR – The Los Angeles County Department of Public Works (LADPW) has contracted with XP Software to update its Water Surface Pressure Gradient (WSPG) hydraulic modeling engine and embed it in XP's xpswmm graphical user interface.
WSPG is a hydraulic analysis model that computes and plots uniform and non-uniform steady flow water surface profiles and pressure gradients in open channels or closed conduits with irregular or regular sections.
Once development is completed, users will have the ability to graphically lay out their graphic system, enter the relevant data, run the analysis and view graphical results.
---

New online TMDL module from Water Quality Standards Academy
WASHINGTON, DC – The Water Quality Standards Academy Online (WQSA Online) has posted its second Basic Course Supplemental Topics Module, Listing Impaired Waters and Developing TMDLs. The new online module addresses the identification and prioritization of impaired or threatened waters by states and tribes, and the development of pollutant loading analyses with a focus on meeting the state's/tribe's water quality standards.
Similar to the Key Concepts modules, the Supplemental Topics Modules present text-based information across a sequence of pages that include links to further information and resources, and then a brief quiz at the end. Because these modules are supplemental, they are not associated with the Certificate of Completion earned by completing the Key Concepts modules.
Visit www.epa.gov for more information.
---

IBM, SFPUC team up to reduce water pollution
SAN FRANCISCO, CA – The San Francisco Public Utilities Commission (SFPUC) is using IBM's Maximo Asset Management software to help reduce pollution in the San Francisco Bay and the Pacific Ocean.
The SFPUC, which treats an average of 80 to 90 million gallons of wastewater per day during dry weather and up to 370 million gallons of combined wastewater and storm runoff per day during the rainy season, is using the IBM software to develop smarter management of the city's 1,000 miles of sewer system and three treatment facilities.
Already, in the last year, the program has improved the organization's ratio of preventive to corrective maintenance by approximately 11%.
The software gives the SFPUC greater visibility into their maintenance operations and physical infrastructure, with near real-time status of equipment and maintenance history. The software also integrates with the city's 311 and 28-CLEAN Customer Service systems.
---

Upper Mississippi River floodplains designated 'Wetland of International Importance'
WASHINGTON, DC – Secretary of the Interior Ken Salazar recently announced approval of portions of the Upper Mississippi River, including the Midwest's largest national wildlife refuge, as a Wetland of International Importance.
The designation includes just over 300,000 acres of federal and state lands and waters of the Upper Mississippi River floodplain from near Wabasha, MN, to north of Rock Island, IL. The designation includes all of the 240,000-acre Upper Mississippi River National Wildlife and Fish Refuge headquartered in Winona, MN, and the adjacent 6,226-acre Trempealeau National Wildlife Refuge in Wisconsin.
Other designated sites in the U.S. include Okefenokee National Wildlife Refuge in Georgia and Florida, Everglades National Park in Florida, and Horicon Marsh in Wisconsin.
Secretary Salazar said, "The ecological, social, and economic values of the Upper Mississippi River make it one of the crown jewels of this nation's wetlands."
With Fish and Wildlife Service approval, the designation package now goes to the Ramsar Secretariat located in Gland, Switzerland, for technical review and formal addition to the international list of wetlands, which now numbers more than 1,600 sites. Formal designation is expected early in 2010.
---

Idaho developer fined for failing to control runoff
COEUR D'ALENE, ID – G.F. Barnes Construction Inc. will pay $12,900 for allegedly mismanaging runoff from its Granite Peaks condominium construction site near Sandpoint, ID. Federal and state inspectors observed the alleged violations beginning in April 2005.
The settlement with the U.S. EPA resolves the developer's alleged Clean Water Act violations, which included discharging sediment from the construction site into a tributary of Schweitzer Creek and failing to obtain the proper NPDES permit, which requires operators of construction sites to conduct regular inspections and implement stormwater controls.
According to EPA officials, Barnes Construction failed to plan and implement the necessary stormwater controls.