Alaska, EPA agreement to close contaminated wells, protect groundwater
Fifty five motor vehicle waste disposal wells across the state of Alaska will be shut down due to threats toward groundwater resources.
Nov 22nd, 2013

SEATTLE, WA, Nov. 22, 2013 -- A number of motor vehicle waste disposal wells across the state of Alaska are located in state-designated groundwater protection areas and pose a risk to groundwater resources that communities use for drinking water. As a result, the Alaska Department of Transportation and Public Facilities (ADOT&PF) and the Environmental Protection Agency (EPA) have reached an agreement to close 55 of these wells at state vehicle repair and maintenance facilities.

ADOT&PF used the wells to dispose of stormwater, snowmelt and water used to wash vehicles. This wastewater may have contained antifreeze, brake fluid, waste petroleum, and other vehicular wastes that have known harmful impacts to human health. During vehicle repair and maintenance, these fluids can drip on the floor and enter drains or sinks in service areas. If the drains or sinks are connected to a septic system, dry well or any underground disposal system, chemicals and metals may be entering soil or drinking water supplies.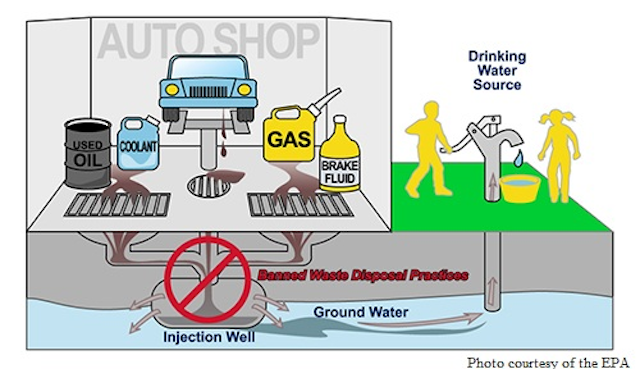 ADOT&PF has agreed to sample the 55 wells, remove contamination and permanently shut down the wells or convert them to alternate uses by 2018. ADOT&PF is working with the Alaska Department of Environmental Conservation and the EPA to close the wells. Six of the wells have already been closed and the closure process has been initiated for other wells. The result will be better protection for groundwater resources across Alaska.
The
Safe Drinking Water Act
requires the EPA to regulate underground injection wells. The regulations banned motor vehicle waste disposal injection wells in 2000 and required closure of all existing wells due to their high potential to endanger underground sources of drinking water.
EPA is working to close approximately 330 banned motor vehicle waste disposal wells in Alaska. Owners and operators of facilities with these wells should contact EPA to learn how to improve their waste management practices to protect drinking water resources. As facilities close existing wells or install new wastewater systems, EPA and the Alaska Department of Environmental Conservation can provide advice on alternative, environmentally-friendly methods to handle wastewater.
###