Fertilizer reused from sewage with UK's first nutrient-recovery technology
A new system that creates phosphorus-­based fertilizer from sewage was recently announced as a first-of-its-kind technology in Europe.
Nov 6th, 2013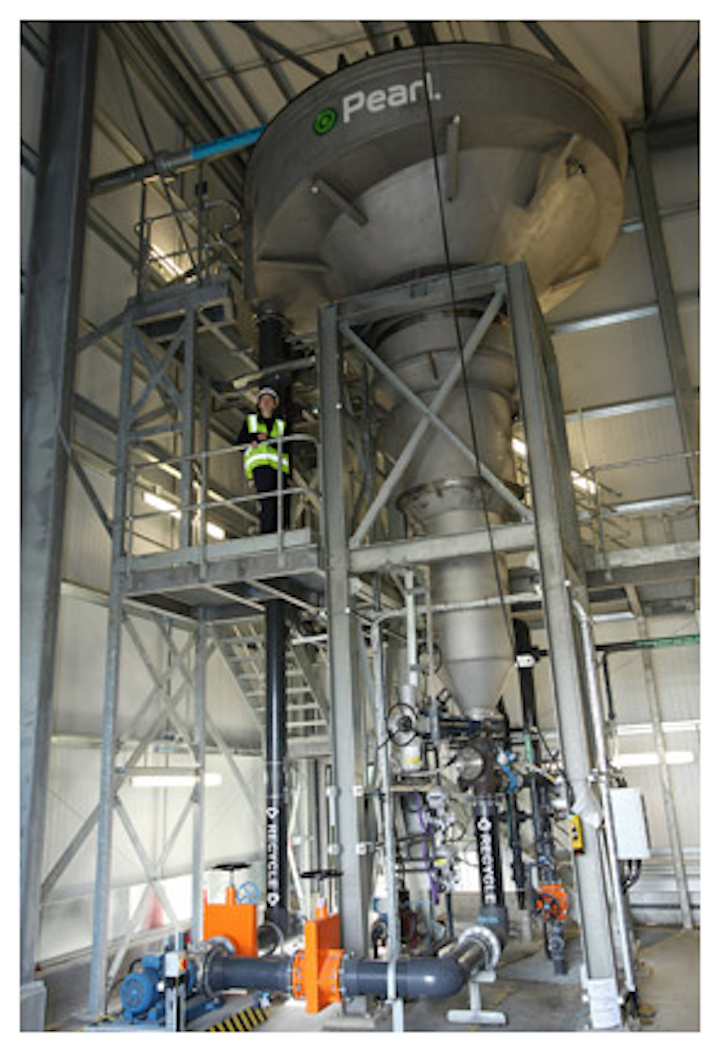 Nov. 6, 2013 -- A new system that creates phosphorus-­based fertilizer from sewage was recently announced as a first-of-its-kind technology in Europe.
The £2 million ($3.2 million) nutrient-recovery reactor is producing high-purity sanitized fertilizer from the unique vintage of wastewater dispersed from Slough in Berkshire. This sustainable source of phosphorus -- the key ingredient in fertilizer, whose price has increased by 500 percent since 2007 -- is a welcome alternative to mining phosphate rock from dwindling, non-renewable reserves.
Dealing with ammonia? Try these resources:
Accordingly, the UK uses 138,000 tons per year of the phosphate fertilizer, and all of it is imported from abroad. This adds to the costs, not to mention the reliance on external sources for such a vital resource, which is used to produce all food consumed by human beings.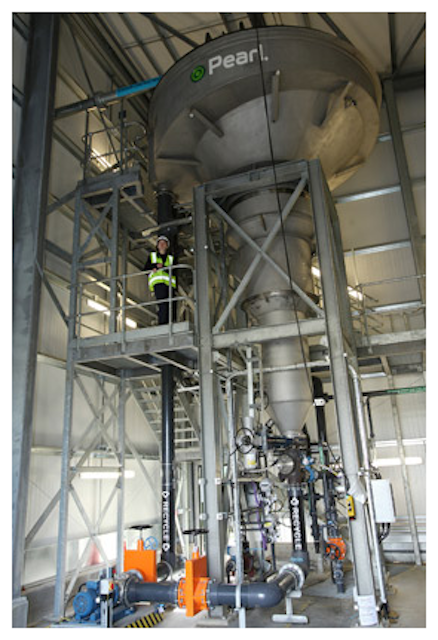 Europe's first nutrient-recovery reactor (Photo credit: Thames Water)
Mineable reserves of phosphorus in countries like Morocco, the U.S. and China are set to be completely depleted in 100 years, according to some experts, while others say 'peak phosphorus'* will occur as early as the mid-­2030s, after which it is expected to become increasingly scarce and expensive.

"With the world's affordable mineable reserves of phosphorus set to start running out in the next 20 to 30 years, this new technology could offer a solution to securing global food supplies over the coming decades," said Peter Melchett, policy director at the Soil Association. "Without fertilization from phosphorus, wheat crop yields will fall by more than half. Meanwhile, as the planet's population is predicted to hit nine billion by 2050, demand for food will increase. Sustainable alternative sources of phosphorus, like this reactor at Slough sewage works, are vital if we are to keep pace with this demand."
Nutrient-recovery facilities like the new one at Slough sewage works are ideally suited to sewage works in industrialized areas. High-strength organic waste from businesses on the Slough Trading Estate means wastewater entering the works is rich in the nutrients ammonia and phosphorus, which can cause struvite. If left unchecked, struvite settles as a rock-like scale on pipes at the sewage works until it clogs them completely. However, Slough's new reactor, built by Ostara Nutrient Recovery, makes phosphorus settle in the form of struvite in a controlled setting, turning it into crystalline fertilizer pellets, which the company markets under the brand name Crystal Green.
Crystal Green fertilizer pellets (Photo credit: Thames River)
While the source for the fertilizer produced by the new facility may be dirty, the product itself -- Crystal Green -- is extremely clean. Likewise, heavy metals content, in particular, is very low by an order of magnitude in the product.
With the new facility up and running, Thames Water expects to save up to £200,000 ($321,000) per year, which it has until now spent on chemical dosing to clear pipes of struvite at Slough. All such operational savings put a downward pressure on customers' bills.

The new reactor will also improve the quality of treated effluent leaving the sewage works, reducing nutrient levels and in turn reducing algae growth in rivers and streams, which can suck oxygen out of watercourses, leaving little for fish and other wildlife. The reactor is expected to sustainably produce 150 tons per year (a half a ton per day) of top-grade fertilizer for sale to crop-growers, golf green-keepers and gardeners.

All of the UK's imported fertilizer is "water-soluble" and so is less crop-efficient and poses a higher environmental risk due to it leaching into waterways, causing surges in algal growth. The Crystal Green fertilizer being produced at Slough avoids these problems: as well as coming from a sustainable source, it is slow-­released and much more efficient for plants and kinder to the environment.
*Peak phosphorus (Source: Soil Association):
Worldwide, 158 million tons of phosphate rock is mined every year, but the supply is finite. Recent analysis suggests that we may hit 'peak' phosphate as early as 2033, after which supplies will become increasingly scarce and more expensive. This critical issue is missing from the global policy agenda. Without fertilization from phosphorus, it has been estimated that wheat yields could more than halve in coming decades, falling from nine tons.
###