Portable, Above-Ground Water Impoundments Provide Storage for Hydraulic Fracturing Operations
Above-ground water impoundments have long been a viable water control technology for construction, flood control ...
May 1st, 2011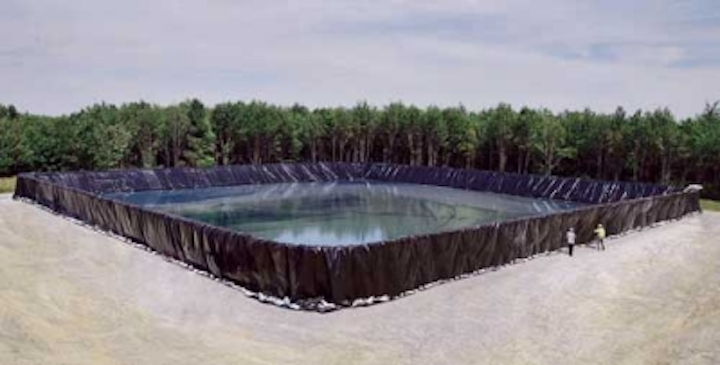 By Bob Gatta
Above-ground water impoundments have long been a viable water control technology for construction, flood control, irrigation, containment and shoreline stabilization. More recently, their use as holding basins in natural gas exploration projects has been recognized.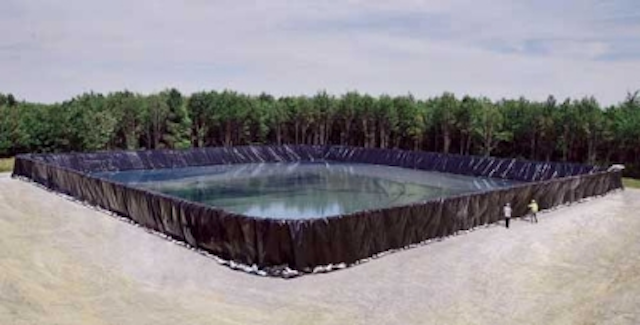 A typical above-ground water impoundment system.
The environmental and economic qualities of above-ground water impoundments make them a feasible alternative to in-ground water impoundments and use of tank trucks in rocky and mountainous natural gas-rich regions, such as the Marcellus Shale field throughout parts of Pennsylvania.
A significant portion of the Marcellus Shale field lies within a protected state forest region that is subject to stringent regulations by the state Department of Conservation and Natural Resources (DCNR), the Department of Environmental Protection and the Environmental Protection Agency. As such, blasting is prohibited by the Pennsylvania DCNR and excavation and impoundment placement is difficult. Above-ground impoundments don't require blasting.
In-ground impoundments also can subject the environment to acid mining drainage (AMD) conditions because excavation in the region exposes large amounts of sulfur, which results in acidic groundwater runoff that pollutes the waterways.
"Above-ground water basins have become an important solution to the needs of the gas industry in the Marcellus Shale," said Charlie Campbell, of Glenn O. Hawbaker.
The firm is the parent company of Hawbaker Engineering, which has recently turned to the New Jersey company Portadam, Inc., to supply it with portable dam structures, or above-ground water impoundment systems, that are used to retain millions of gallons of water during the hydraulic fracturing process.
The Portadam system consists of two main components: a welded tubular steel framework support and a flexible waterproof membrane, permitting easy assembly, breakdown and re-assembly when used on either central or multiple fracking sites.
Regulations state that in-ground impoundments must be two feet above the groundwater table, which limits the depth available and causes an increase in the overall disturbance of earth. The Portadam system takes the form of an above-ground storage basin up to 10 feet deep.
While a work site that uses 7.1 million gallons of water requires an estimated 350 tank trucks to operate successfully, the use of a Portadam impoundment requires only six trucks to transport materials and carry out the above-ground impoundment. Housing the frack tank trucks would require approximately 5.7 acres of land as opposed to 3.4 acres needed for the above-ground storage system.
In addition, it's necessary for frack tanks to be piped together to provide sufficient supply as compared to one central piping system used with Portadam. The water system permits installation in almost any configuration, with provision for under-floor piping to accommodate inflow/outflow requirements.
In a report published by the U.S. Army Corps of Engineers in 2004, field and laboratory testers found the portable impoundment system was easy to assemble and take down, had a low seepage rate, required no fill and had a "high degree" of reusability. Also, the report noted the system's "limited right-of-way requirements" – in other words, the space required by workers and machinery to construct the impoundment, as well as the footprint created when it is fully set up.
"It went up very quickly. It came down very quickly," said Dr. Donald Ward, a research hydraulic engineer who led the U.S. Army Corps of Engineers' laboratory test of the systems.
The purpose of the Corps' two-week operation – which included tests in standing water, waves, overtopping and debris impact situations – was to determine Portadam's efficiency as a replacement for sandbags during flood situations. However, Ward said, "It's commendable that (the system) can be used both ways," in flood control and fracturing operations.
Hawbaker has been using the above-ground impoundment system for about one year in the Marcellus Shale region.
"They lend themselves to our projects because of their flexibility of deployment and their speed of deployment as an alternative solution to in-ground impoundments," Campbell said. "They allow us to get water where we need it, when we need it, cost-effectively."
About the Author: Bob Gatta is President of Portadam. He has worked extensively throughout the U.S. and Europe in creating diversion solutions in engineering, construction and in countless water management challenges.
More Industrial WaterWorld Articles
Past IWW Issues