Obama Finds Coal Ash Rule Rollback Not So Easy
A federal judge affirmed a Bush Administration midnight rule making it easier for companies involved in mountaintop coal mining to dump debris near streams.
Oct 1st, 2009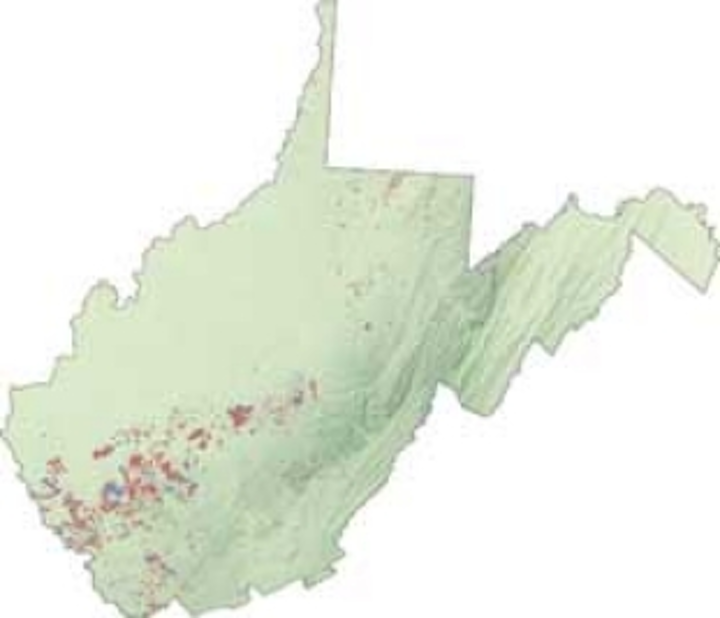 By Patrick Crow
A federal judge affirmed a Bush Administration midnight rule making it easier for companies involved in mountaintop coal mining to dump debris near streams.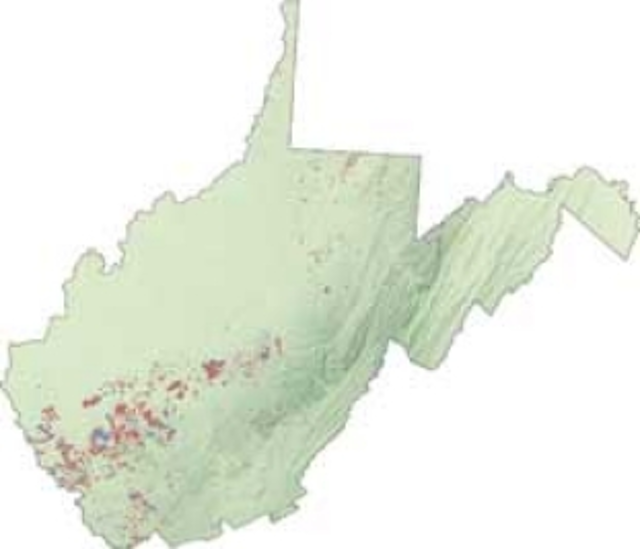 The rolling, stream-creased mountains of the central and southern Appalachian Mountains are blanketed by forests with some of the highest biodiversity outside the tropics. Hundreds of thousands of acres here have been lost or degraded by mountaintop removal mining. The red area pictured is mined; the blue is permitted for it.
In January, the National Parks Conservation Association sued Interior Secretary Ken Salazar seeking to overturn the rule and return to a 1983 regulation that kept coal debris 100 feet from streams unless companies could prove mining wouldn't harm water quality or quantity (see "Coal Slurry Spill Prompts Scrutiny," May-June issue). The Obama Administration asked the court to void the rule until it could be revised. But Judge Henry Kennedy Jr., of the District of Columbia U.S. District Court, said such an action would effectively change a federal regulation without obtaining public input.
The Sierra Club called the court decision "unfortunate." It said mining companies have buried nearly 2,000 miles of Appalachian streams beneath piles of debris. In mountaintop mining, companies remove "overburden" to expose coal. Much of the debris is used to fill nearby valleys.
The Sierra Club said, "We praise the Department of Interior's efforts to address this most destructive form of coal mining by focusing on stream impacts, but only a comprehensive effort by the Obama Administration will bring true relief to Appalachian communities. And with the administration now considering over 80 permit applications for new mountaintop removal coal mining, it will take policy changes at the Army Corps of Engineers, Department of Interior and EPA, along with tough enforcement, to end the destruction completely and protect Appalachian communities."
Earlier, the Sierra Club complained about a Clean Water Act permit issues by the Army Corps of Engineers for Consol Energy's Peg Fork mountaintop removal coal mine in Mingo County, WV. It said that was the first time in the Obama Administration that the Corps approved a mine permit the EPA opposed. It said earlier this year that the EPA reviewed 48 pending applications for Corps permits to fill streams and asked it not to issue permits for the Peg Fork project and five other mines.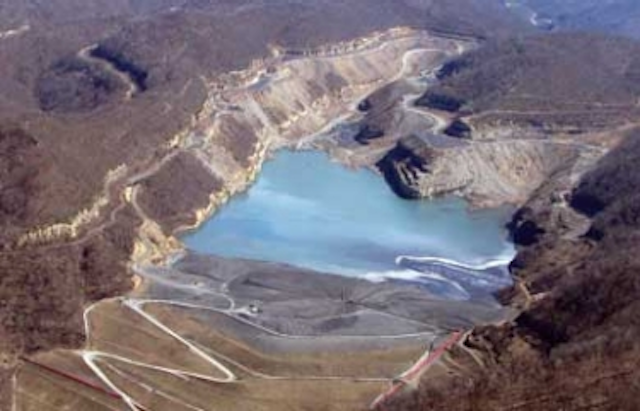 Coal prep plant waste from mountaintop mining at Brushy Fork Coal Sludge Impoundment in March 2009
The Sierra Club said Consol Energy's revised permit would allow two valley fills with potential for six more if downstream water quality is acceptable. It said, "Even with these alterations, the Peg Fork mine would still have unacceptable adverse impacts on local waterways and therefore violates the Clean Water Act."
In early September, the EPA said an electric utility survey it conducted revealed there were 584 sites in 35 states where coal ash surface impoundments existed, with 34 spills over the last decade – although none as serious as the TVA spill near Kingston, TN, in December. The agency requested the information to assess structural integrity of surface impoundments after the Tennessee spill.
The EPA also identified 79 proposed surface coal mining in Appalachian states for further review and asked the Corps to "suspend, revoke or modify" the permit for the largest mountaintop removal operation in West Virginia, the 2,278-acre Spruce Fork coal mine approved in 2007. Debris from the operation would fill six valleys and 43,000 linear feet of streams. The Corps asked a federal judge for a 30-day stay to review the Spruce Fork permit, potentially setting up another legal confrontation between the two federal agencies responsible for oversight of stream water quality.
---
About the Author: Patrick Crow covered the U.S. Congress and federal agencies for 21 years as a reporter for industry magazines. He has reported on water issues for more than 10 years. Crow is now a Houston, TX-based freelance writer.
More Industrial WaterWorld Issue Articles