Suspended solids, density meter
Easily measure the concentration of sludges or slurries without the reading being affected by color using the Markland Model 502 Suspended Solids Meter.
Jul 1st, 2008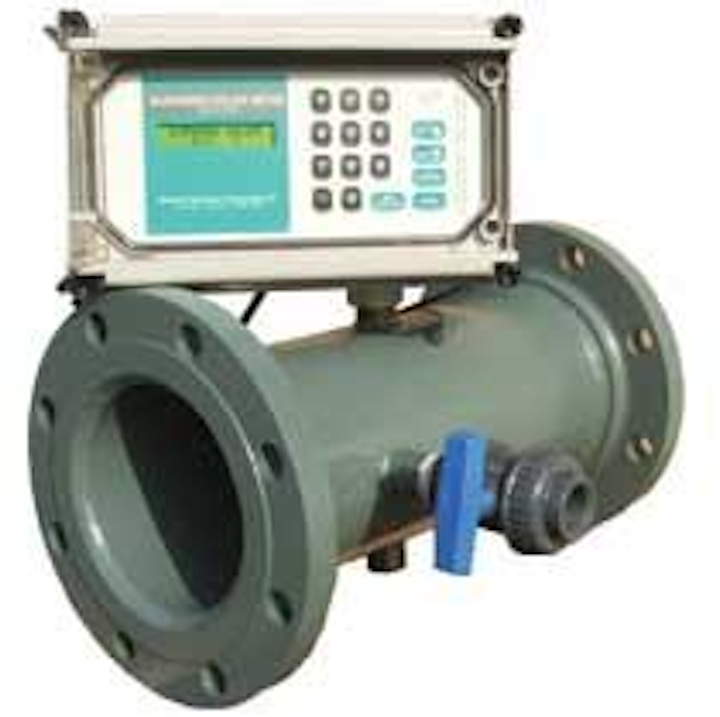 Suspended solids, density meter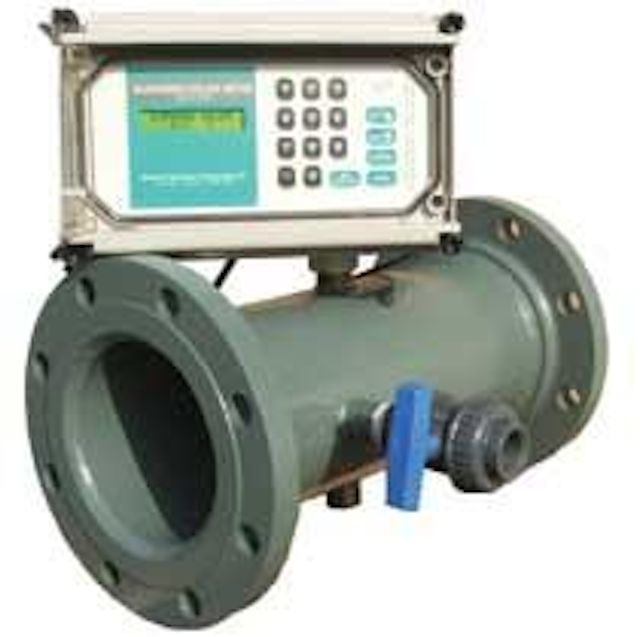 Click here to enlarge image
Easily measure the concentration of sludges or slurries without the reading being affected by color using the Markland Model 502 Suspended Solids Meter. Using ultrasound the meter can be used in open top tanks or pipelines. It measures slurries too thick for optical methods. Safe ultrasound requires no permits to operate. Markland offers free testing of your samples. Markland Specialty Engineering, Toronto, Canada, 416-244-4980, www.sludgecontrols.com
Grease interceptor testing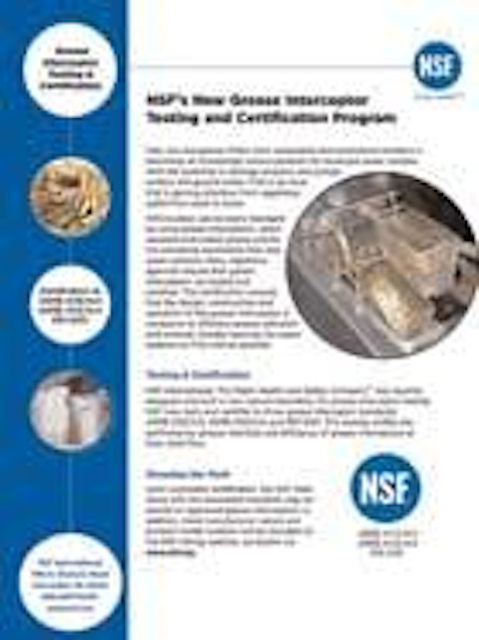 Click here to enlarge image
A year after announcing development of a new protocol that addresses the health impact and environmental protection of septic tank and grease trap (solid and liquid) separating technology, NSF International has made a brochure on its Grease Interceptor Testing & Certification Program available online. Labrie Environmental Group was the first manufacturer to certify its pumping and liquid-solid separating system to "NSF Protocol P340: Septic Tank or Grease Trap Solid and Liquid Separating Devices," developed for equipment that separate septic waste solids from liquids in septic tanks or grease and solids from liquids in grease traps. NSF International, Ann Arbor, MI, 800-673-6275, www.nsf.org
Chinese, German websites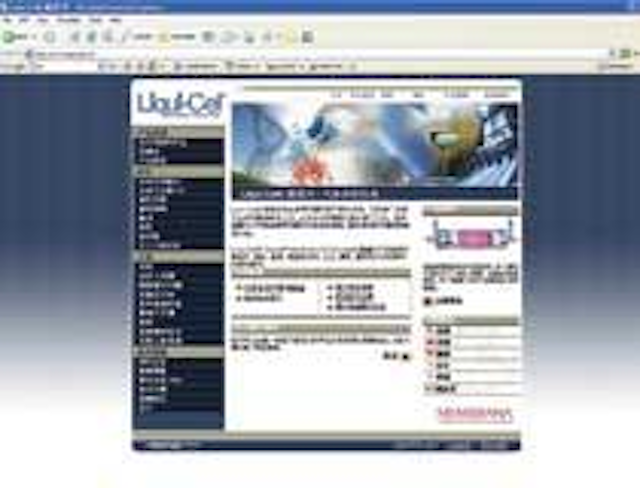 Click here to enlarge image
Membrana has expanded the Liqui-Cel® Business unit's website by launching fully-functional portals in Chinese and German at www.liqui-cel.cn and www.liqui-cel.de. These portals along with the Japanese portal launched in April support the global reach of the Liqui-Cel Degassing Products. The new websites are written and organized for Chinese and German speakers so they can obtain all product information in their native language. The site incorporates new navigation that organizes information by primary applications and industries where Liqui-Cel Membrane Contactors are used. Membrana, A Polypore International Unit, Charlotte, NC, 704-587-8596, www.liqui-cel.com
Sludge heat exchangers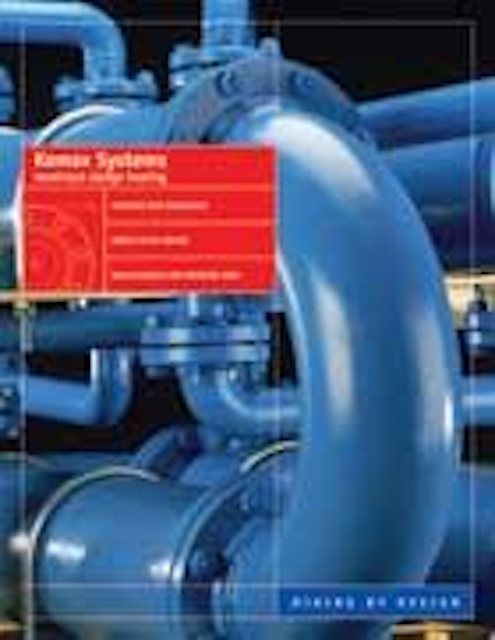 Click here to enlarge image
Komax Systems has released a non-clogging high efficiency sludge heat exchanger based on its proven Hi-Pass™ non-clogging static mixer designed specifically for sludge and heavy slurry applications. Klean-Flow heat exchangers are designed with contoured elements to maximize heat transfer while eliminating corners that can trap solid or fibrous materials. This highly turbulent flow creates a scavenging environment, continually cleaning the walls of the pipe for maximum heat transfer. The Klean-Wall design will readily pass individual solid items with a nominal diameter up to half that of the tube diameters. Komax Systems Inc., Wilmington, CA, 800-826-0760, www.komax.com/det-digester.htm
Railing, toe boards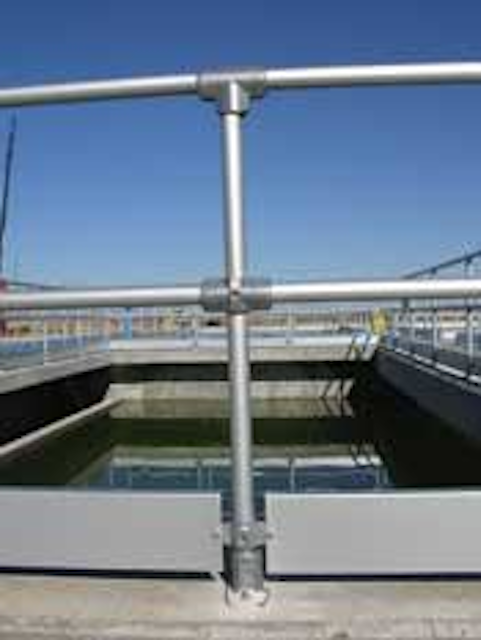 Click here to enlarge image
Kee Safety has installed a safety railing system at a water and wastewater treatment facility in Navarra, Spain, utilizing Kee Lite® components. Constructed of high-grade aluminum silicon magnesium alloy for strength and corrosion resistance, the lightweight railing system also features toe boards to bolster fall protection and workplace safety. Installed at up to half the cost of welded railings, it's a pipe-fitted system connected by a variety of Kee Lite safety components, including models L25 Three-Socket Tee, L26 Two-Socket Cross, L62 Standard Railing Flange, LM51 Male Double-Swivel Socket Member, L20 Side Outlet Tee, L21 Side Outlet Elbow, and L15 90-Degree Elbow. Kee Safety Inc., Buffalo, NY, 800-851-5181, www.keesafety.com.
Vacuum dehydrator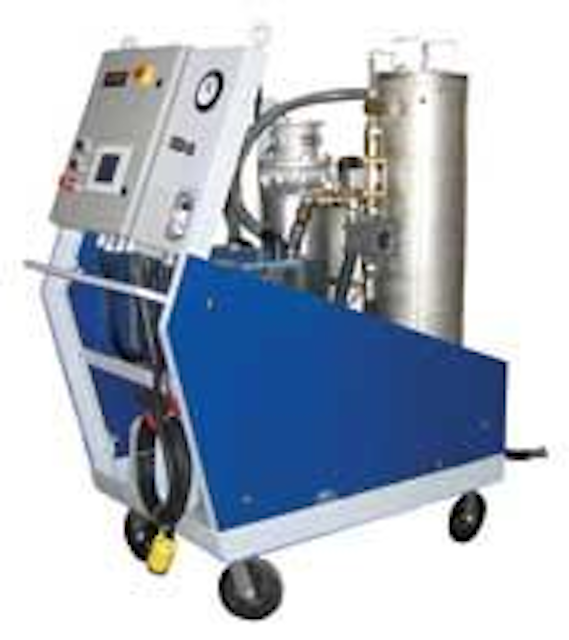 Click here to enlarge image
Schroeder Industries' new SVD vacuum dehydrator provides simultaneous removal of water, gases and solid contaminants from hydraulic fluids. Designed for high volume applications in industries that include power generation, pulp & paper, steel, and plastics, it features standard saturation and temperature sensors and comes equipped with a fully automated Siemens touch screen that can also be operated manually. Schroeder Industries, Leetsdale, PA, 724-318-1100, www.schroederindustries.com
Oil & grease monitoring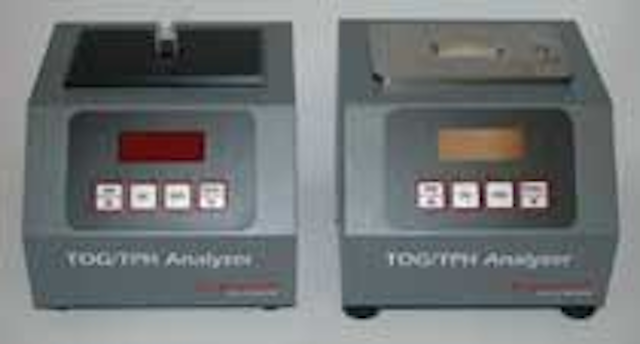 Click here to enlarge image
The EPA set limit guidelines for "oily wastes" discharges from facilities using any type of oil and grease in manufacturing, and fined several U.S. biodiesel plants recently for illegal discharges of vegetable-based oil and grease pollution in nearby streams. With the portable, easy-to-use InfraCal™ TOG/TPH Analyzer, Model HATR-T2 or the Model CVH – depending on solvent selected for the extraction process – onsite determinations of the total oil and grease concentration in discharges can be easily and accurately determined in 10-15 minutes. Wilks Enterprise Inc., South Norwalk, CT, 203-855-9136, www.wilksir.com
Level loggers

Click here to enlarge image
Keller's DCX-ECO utilizes accumulator cell technology to provide the only rechargeable autonomous liquid level logger available, an environmental solution to disposable data loggers. The power cell is charged via USB connection during data retrieval. The unit also features a small, 18mm diameter stainless steel housing, making it ideal for an array of long and short term liquid level monitoring applications. And it's the only low cost level logger available in absolute, sealed and vented versions that can be ranged to your specific level requirement. Like other Keller loggers, it stores up to 57,000 user-specified data points. Keller America Inc., Newport News, VA, 877-253-5537, www.kelleramerica.com
Cooling water biocide
BASF announced Aseptrol® CW technology, a new delivery form of the BASF Cooling Water Biocide. Once registered with the EPA this summer, the technology will be a reliable, easy-to-use delivery system that regulates precise feed of chlorine dioxide into small-to-medium size cooling water systems, managing all microbial species and preventing biofilm formation. The system consists of a low-maintenance feeder and pre-packaged tablets that deliver ClO2 when and where you need it. BASF Corp., Florham Park, NJ, 973-245-6425, www.basf.com/usa