Water Briefs
Baswood Corp., a provider of wastewater treatment systems, has announced the start of full-scale operations of its BioViper™ biological pretreatment system at the Dr Pepper Snapple (DPS) Group Houston, TX, bottling plant.
Mar 1st, 2013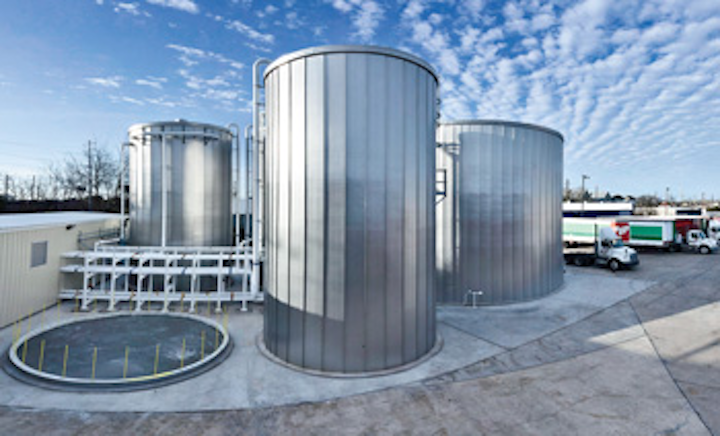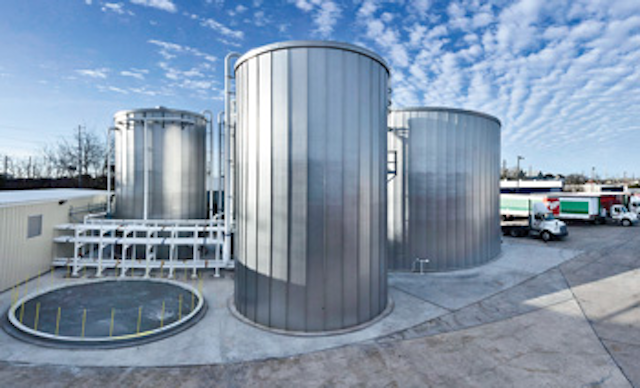 The BioViper™ biological pretreatment system will help Dr Pepper Snapple reduce effluent BOD at its Houston, TX, bottling facility.
Wastewater Pretreatment System Begins Operations at Bottling Plant
Baswood Corp., a provider of wastewater treatment systems, has announced the start of full-scale operations of its BioViper™ biological pretreatment system at the Dr Pepper Snapple (DPS) Group Houston, TX, bottling plant. The new system delivers an energy-efficient pretreatment solution that significantly lowers the biochemical oxygen demand (BOD) in the bottling plant's effluent while supporting environmental sustainability goals.
With digestion rates of 75 to 90 percent, the Baswood system provides a reduction in the plant's organic loading, which allows DPS to minimize its burden on the City of Houston wastewater treatment operations and increases the city's capacity to treat wastewater from other industrial customers.
The proprietary BioViper system requires 40 percent less energy to operate than traditional digestion systems and 25 percent less energy than other emerging technologies. In addition to a smaller carbon footprint, it occupies a small physical footprint, which enabled the pretreatment facility to be built within the existing DPS property boundaries. The modular and scalable system can expand if additional capacity is required for the plant's bottling operations.
The pretreatment system is based on the patented Aerobic/Anaerobic Integrated Media System (AIMS), which maximizes biological treatment efficiency using Baswood's Dry Cycle Aerobic/Anaerobic Digestion (DCAD) technology. As wastewater passes through distinct treatment zones within the system, sequential treatment results in accelerated digestion of organic wastes, virtually odor free. The system achieves treatment goals with a reduced hydraulic retention and increased solids retention, resulting in lower horsepower demands; is internally self-buffering, reducing the need for costly chemicals; and uses a proprietary control system, requiring minimal operator oversight.
For more information on Baswood and its systems, visit www.baswood.com.
---
Companies Settle In CWA Cases
Hovnanian Enterprises and PulteGroup have agreed to pay civil penalties of $130,000 and $56,000 respectively in separate settlements with EPA resolving alleged Clean Water Act violations at construction sites in Maryland and Virginia.
EPA alleged that the companies failed to take actions to prevent discharging sediment to nearby surface waters as required by law. Installing proper control measures is important since sediment-laden runoff from construction sites can pollute local waterways.
EPA, along with state and county representatives, inspected Hovnanian's Shipley Farm and Palisades at Oak Creek construction sites in Prince George's County, Md., in August 2011. These inspections revealed that Hovnanian failed to install and/or maintain required best management practices to prevent the discharge of sediment to surface waters at both sites.
The settlement requires Hovnanian to take actions to bring these two sites into compliance with permit requirements and develop a plan for preventing the recurrence of violations at its construction sites in Maryland, Delaware, Virginia, West Virginia and the District of Columbia within 45 days of the effective date of the settlement.
In a separate complaint, EPA alleged that PulteGroup failed to implement and maintain control measures to minimize pollutants such as sediments flowing into the Accotink and Piscataway Creeks in Virginia and Maryland respectively. The creeks are tributaries of the Potomac River, as well as the Chesapeake Bay. Virginia and Maryland have identified the Accotink and the Piscataway waterways as impaired for aquatic life.
EPA, along with state and county representatives inspected the Pulte construction sites in August 2011 as a follow-up to a 2008 Clean Water Act settlement between EPA and Pulte resolving the company's alleged delays or failures to obtain stormwater permits for numerous construction sites across the country. EPA issued a Clean Water Act Administrative Order to Pulte on Sept. 27, 2012, which required the company to correct the violations discovered by EPA during its inspection of the sites.
Hovnanian and Pulte neither admitted nor denied liability for the alleged violations.
---
Center to Certify Performance Standards for Shale Gas Producers
A group of environmental organizations, philanthropic foundations, and energy companies have collaborated to form a unique center to provide producers with certification of performance standards for shale development. The Center for Sustainable Shale Development (CSSD) has established 15 initial performance standards designed to ensure safe and environmentally responsible development of the Appalachian Basin's shale gas resources. These standards will form the foundation of the CSSD's independent, third-party certification process.
"CSSD is the result of an unprecedented effort that brought together a group of stakeholders with diverse perspectives, working to create responsible performance standards and a rigorous, third-party evaluation process for shale gas operations," said Robert Vagt, president of The Heinz Endowments. "This process has demonstrated for us that industry and environmental organizations, working together, can identify shared values and find common ground on standards that are environmentally protective."
Technical support has been provided by Lawrence Livermore National Laboratory, ICF International, and the law firm of Eckert Seamans Cherin & Mellott.
While full details on the standards are available at www.sustainableshale.org, the major areas addressed by the initial performance standards include:
Surface and Ground Water Protection, including:
Maximizing Water Recycling
Development of Groundwater Protection Plans
Closed Loop Drilling
Well Casing Design
Groundwater Monitoring
Wastewater Disposal
Impoundment Integrity
Reduced Toxicity Fracturing Fluid
Air and Climate protection, including:
Limitations on Flaring
Use of Green Completions/Reduced Emissions
Reduced Engine Emissions
Emissions Controls on Storage Tanks
CSSD also plans to collaboratively develop and share best practices.
It is anticipated that these performance standards will expand and evolve over time as new information is developed. These standards will form the foundation of CSSD's independent, third-party certification process.
Gas producers can begin seeking certification in these areas later in 2013.
---
Company Awarded Permit to Operate Treatment Facility for Shale Gas Producers
Aquatech has been granted a permit to operate a central treatment facility in Tioga County, PA. The facility, designed using the company's MoSuite™ set of technologies, will deliver a menu of wastewater treatment and recycle services to the regional shale gas producers and is accepting customer orders.
MoSuite is a combination of MoTreat® and MoVap® process units, a pretreatment and distillation evaporator specifically designed to treat drill fluids, frac flowback, production brine and other wastewaters from exploration and production of conventional and unconventional oil and gas. The suite of processing units delivers a tiered menu of services including filtration, disinfection, solids handling, pretreatment and evaporation concentration.
For more information on the company and its systems, visit www.aquatech.com.
---
Gold Mine Operation Selects MBBR Technology
Headworks BIO™ has been awarded a contract by Claude Resources to deploy the company's Moving Bed Biofilm Reactor (MBBR) technology to treat underground mine water at the Seabee Gold Mine in Northern Saskatchewan, Canada.
Claude Resources, a fully integrated Canadian gold exploration and mining company, who owns the Seabee Mine, needed a wastewater treatment process to lower the ammonia content of its mine effluent. Headworks will deploy its proprietary high-surface area ActiveCell® 920 media and supply the aeration grids, retention screens and two blowers to the mine.
The influent water will receive pretreatment to remove Total Suspended Solids. The water will then be heated to 10°C and the effluent will be discharged safely into a large pond.
The Seabee Mine is situated in a remote location in northern Canada and equipment and heavy supplies have to be trucked to the site via a 60 km winter ice road. This road is only available for use from January through March when the ice is thick enough to sustain the heavy traffic, so on-time delivery and logistics are extremely critical.
"We are pleased to be awarded this project. It is affirmation of our expertise and the ability of our MBBR process to operate under some of the most challenging conditions," said Michele LaNoue, President and CEO of Headworks. "It also demonstrates the flexibility of our technology to be used for such a diverse and not so obvious application. We are confident that we will work within the time constraints and deliver this project on schedule with the ultimate goal of a successfully operating treatment system accomplished."
MBBR is a fixed film wastewater treatment process that employs thousands of polyethylene biofilm carriers to support the growth of biofilm. The carriers move freely in the reactor oxidizing ammonia nitrogen in the wastewater. Oxygen is delivered to the carriers through course bubble aeration, which also keeps the carriers mixed and in suspension. Media is retained in each reactor via stainless steel retention screens.
---
Companies Partner to Explore Wastewater Treatment Opportunities in the Mining Industry
Ecosphere Exploration and Mining Services has signed a Letter of Intent (LOI) with Dominion Water of Sedalia, CO. Per the agreement, Ecosphere will deploy its patented Ozonix® technology to mine sites in Colorado for both companies to explore mining applications of the technology in the State of Colorado.
"This Letter of Intent with Dominion represents a significant new growth opportunity in a very important vertical market for Ecosphere as we expand outside of the oil and gas industry," said John Brewster, Chairman and CEO of Ecosphere Technologies. "The mining industry is facing an era of increased regulation and water scarcity which is driving up the value of clean water. Mining companies must address these challenges to stay competitive while continuing to protect the environment."
"Colorado has historic water quality issues and is desperately in need of 21st century solutions," said Tom Wiens, President of Dominion Water. "The Ozonix technology is a proven non-chemical water treatment technology and is being used every day in the oil and gas industry to help exploration and production companies recycle the waters used during hydraulic fracturing operations. The Ozonix Dominion approach is all about protecting the environment and preserving vital water resources. We are excited to begin our work together."
---
Manufacturers Forum to Focus on Water Industry Issues
The Water and Wastewater Equipment Manufacturers Association (WWEMA) 40th Washington Forum, April 23-25 in Washington, DC, will explore the current landscape of the water and wastewater industry and offer manufacturers and their representatives the information and tools they need to remain competitive in today's environment.
This year's event poses the question, "Is this the New Norm?" and includes insights into the legislative and regulatory issues impacting the water industry as well as the market challenges surrounding that query.
Topics of discussion include:
Private Activity Bond Legislation. Keynote speaker Congressman Bill Pascrell Jr. (D-NJ) has been a leading advocate for this legislation, which could result in billions of dollars in water infrastructure investments.
Water Market Outlook. A panel of utility directors and consulting engineers will share their perspectives on today's "New Norm" and how manufacturers and their reps can help resolve their "pain points."
Construction. Ken Simonson, chief economist for the Associated General Contractors of America, will examine the economic indicators for construction in general and water projects in particular.
DoD Procurement. David Asiello, head of the Department of Defense environmental technology programs, will discuss the current challenges facing the DoD and its procurement process.
Hydraulic Fracturing. Marianne Horinko, president of The Horinko Group, will offer insight into the current political and legal climate surrounding this new energy resource.
EPA Priorities and Initiatives. Directors Randy Hill (Office of Wastewater Management), Peter Grevatt (Office of Ground Water and Drinking Water), and Elizabeth Southerland (Office of Science and Technology) will share their departments' priorities for 2013 and beyond.
In addition to the educational program, the conference provides numerous opportunities for networking and informal idea-sharing. Additional details and registration information can be found at www.wwema.org.