Imagine H2O announces new programming and partnerships
Water innovation accelerator highlights digital solutions to global water challenges.
Mar 17th, 2017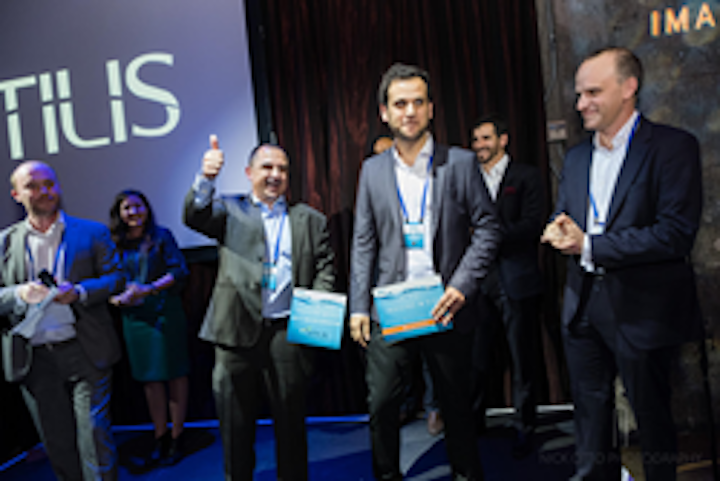 SAN FRANCISCO, CA, MARCH 17, 2017 -- Imagine H2O, the water innovation accelerator, showcased the winners and finalists of its 8th annual innovation program at WaterGala '17, an event this week, featuring over 350 industry executives, investors, utility managers, government officials and sustainability experts. Twelve promising water data startups were selected from a global field of 180 applicants in 30 countries.
Utilis won top honors with its cost-competitive satellite imagery solution to detect leaks in water distribution systems. Over the past 12 months, Utilis has surveyed over 75,000 miles of buried pipe infrastructure and identified over 8,000 suspected leaks. Arable Labs, a crop and weather sensor, and Triple Bottom Line Enterprises, a data solution for designing affordable piped-water systems, were recognized as the runners-up.
"We are honored to be part of Imagine H2O's program this year and be recognized for our work to improve resilience of drinking water infrastructure around the world," said Lauren Guy, Founder & CTO of Utilis. "The resources, insights and network of advisors that Imagine H2O offers will be instrumental in helping us develop and scale the impact of our business this year," added Elly Perets, CEO of Utilis.
These three companies, along with the remaining finalists, advance to Imagine H2O's 2017 Accelerator Program and will benefit from cash awards, mentorship, industry exposure as well as introductions to customers and investors. Imagine H2O's 2016 portfolio companies are on the path to raise over $30 million in financing and secured a host of customer deployments with the organization's Beta Partners, a network of over 50 municipal, agricultural and industrial end-users.
"Data innovation is fundamental to improve how we manage water," said Chris Morrison, Asst. Vice President, Ecolab (Water) Global Technology Partnerships who served on the judging panel. "The twelve companies advancing to Imagine H2O's 2017 accelerator represent the kind of business innovation, visionary talent and technological know-how required to advance resource sustainability."
Imagine H2O also announced a new three-year sponsorship with American Water, enabling the organization to provide customer validation opportunities with the nation's largest investor-owned utility. Partnerships such as these further expand Imagine H2O's capability to support the deployment of innovation to solve water challenges globally.
Imagine H2O's other partners include Wells Fargo (Headline Sponsor), Suez, Tetra Tech, American Water, Morrison Foerster and a network of private family foundations. GE Water & Process Technologies and the Water Environment Federation were primary sponsors of WaterGala '17.
The twelve finalists showcased at WaterGala '17 and selected to participate in Imagine H2O's 2017 accelerator include: Acoustic Sensing Technology; AquaSeca; Arable Labs; EMAGIN; Flo Technologies; FREDsense; Hydromodel Host; Lotic Labs; Pluto AI; Sutro; Triple Bottom Line Enterprises; Utilis.
About Imagine H2O
Imagine H2O is a nonprofit organization that empowers people to develop and deploy water innovation to solve water challenges. Since 2009, Imagine H2O has transformed emerging water startups into scalable, high-impact businesses. The organization's flagship business accelerator program has helped 80 water technology businesses win customers and receive more than 10% of early-stage investment in the water sector.