WaterWorld Weekly Newscast, January 23, 2017
A transcript of the WaterWorld Weekly Newscast for January 23, 2017.
Jan 24th, 2017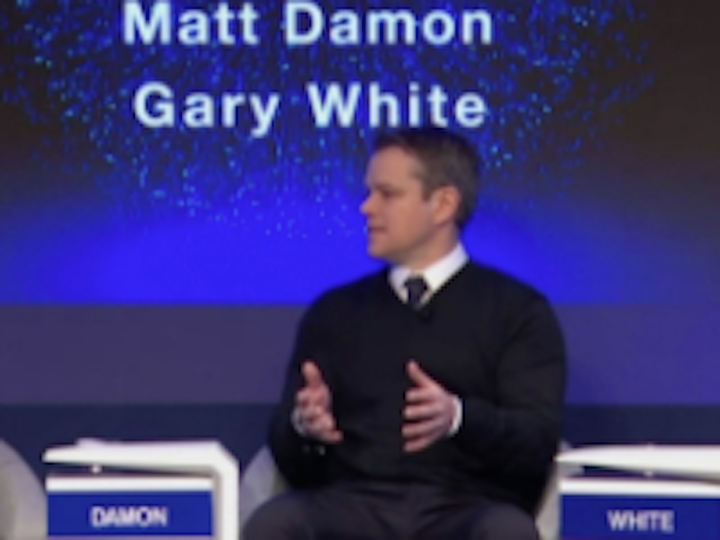 Court upholds EPA water transfer rule:Manual offers guidance for sustainable wastewater projects; New method to extract radioactive elements from water; Calif. water allocation estimate increases after winter storms; Matt Damon talks water at forum
The following is a transcript of the WaterWorld Weekly Newscast for January 23, 2017.
Hi, I'm Angela Godwin for WaterWorld magazine, bringing you water and wastewater news headlines for the week of January 23. Coming up...
Court upholds EPA water transfer rule
Manual offers guidance for making wastewater projects more sustainable
Scientists develop method to extract radioactive elements from water
California water allocation estimate increases after winter storms
Matt Damon talks water at World Economic Forum
Last week, the 2nd Circuit Court of Appeals in New York ruled in favor of the Environmental Protection Agency when it deemed the agency's 2008 'water transfer' rule reasonable -- reversing a previous 2014 decision.
The rule permits government agencies to transfer water between waterbodies without an NPDES permit.
The case centered around the transfer of water from the Schoharie Reservoir in the Catskills to Esopus Creek via an 18-mile-long tunnel that environmentalists maintain deposited dirty water into the popular trout-fishing stream.
Eight other states, as well as several environmental groups, joined New York in opposing the rule.
A dozen states, along with New York City, supported it.
The Water Environment Federation's Envision Task Force has released a tool to help the water sector apply the Envision® sustainability rating system to wastewater infrastructure projects.
The Envision system and planning guide was developed in 2013 by the Institute for Sustainable Infrastructure and the Zofnass Program for Sustainable Infrastructure at Harvard University. It provides metrics that can be used to compare the strengths of design ideas for infrastructure projects by awarding points and credits on 60 criteria in five categories related to sustainability.
WEF's task force assessed the system's relevance to wastewater and in its new manual, "Applying Envision 1.0 to Wastewater Projects," rates the applicability of each of the Envision credits.
The manual also describes each objective, reasons for the relevance rating, potential areas in which to apply credits, as well as additional resources.
To learn more, visit the Sustainability topic in the "Resources" section at wef.org.
Researchers at Rice University and Kazan Federal University in Russia have found a way to extract radioactivity from water and that they say could help treat contaminated water from the Fukushima nuclear plant accident.
Research shows their oxidatively modified carbon (OMC) material is highly efficient at absorbing radioactive metal cations, including cesium and strontium.
According to lead researcher James Tour, the material leverages the porous nature of two specific sources of carbon: an inexpensive, coke-derived powder known as C-seal F, and a naturally occurring, carbon-heavy mineral called shungite found mainly in Russia.
OMC can also trap common radioactive elements found in water floods from oil extraction, such as uranium, thorium and radium.
As a result of recent heavy rain and snow in the west, the California Department of Water Resources (DWR) has increased its estimate of this year's State Water Project (SWP) supply from 45 to 60 percent of most requests.
The state isn't quite out of the woods yet. DWR Acting Director William Croyle said: "Our water supply outlook is definitely brighter, but we still haven't shaken off the effects of our historic drought."
Many in the state still depend on bottled water and some reservoirs remain low.
DWR said that with more rain and snow in the forecast, it hopes to be able to increase the allocation further.
Final allocations will be announced in April.
In international news, last week at the World Economic Forum in Switzerland, Matt Damon highlighted the need for clean water and sanitation in the world's poorest areas.
The actor was joined by Gary White, the co-founder of his non-profit organization Water.org, at a packed Q&A session to discuss why he wants to provide safe water to millions of people worldwide.
"I mean leaving aside the fact that every 90 seconds a kid is dying because they lack access to clean water and sanitation - which is something that's very hard for a westerner to relate to at all - the life outcomes of women and girls who are spending their entire lives scavenging for water, even if they do survive they're doing it at the expense of their own education. The outcome they can expect from their own lives is severely affected by the fact that they lack access to clean water and sanitation. So just the scale and the magnitude of the crisis really shocked me and made me want to learn more."
Damon also explained the concept of WaterCredit, where families or individuals receive a loan in order to finance a water connection to their home.
"If you can front them the money for the connection to the existing infrastructure, they no longer have to leave their job and spend hours waiting in line, they're going to have a tap in their house. And so you're going to buy that time back for them and essentially what that's going to do is allow them to pay this loan off and pay it off relatively quickly. I mean, these loans they are taken out over an 18 month to two year period, but oftentimes people pay them off early and immediately take out a loan to put a toilet in their house, you know?"
The Hollywood star believes that Water.org is making a very real difference across the globe, having brought clean water and sanitation to 5 million people around the world.
In 2015, Water.org teamed up with brewing company Stella Artois to launch the 'Buy a Lady a Drink' campaign.
Through the sale of limited edition chalices as well as direct donations to Water.org, that partnership has helped provide more than 800,000 people in the developing world with access to five years of clean water.
To learn more, visit Water.org.
For WaterWorld magazine, I'm Angela Godwin. Thanks for watching.