Keeping trash and plastic out of Canadian waterways
Enviropod® and Imbrium® Systems' LittaTrap is cleaning up plastics in Canada with low-cost catch basin.
Nov 2nd, 2018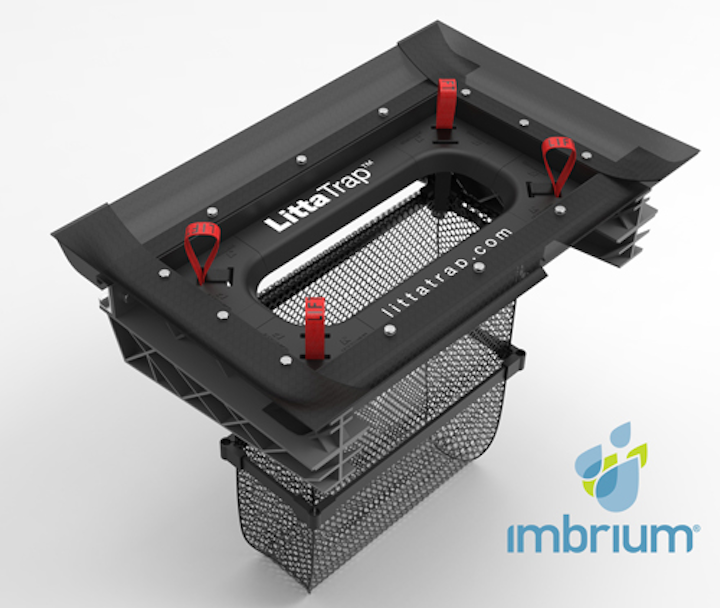 Low-cost catch basin is available nationally through Imbrium Systems distribution. (Photo: Business Wire)
TORONTO, ON, NOV 2, 2018 -- New Zealand-based Enviropod®, in conjunction with leading Canadian Stormwater Management provider Imbrium® Systems, recently introduced the Enviropod® LittaTrap™ to tackle the issue of plastics and trash in Canadian waterways.
LittaTrap is a low-cost catch basin insert that captures and retains plastic and trash that would normally be washed down stormwater drains and into rivers, lakes and oceans. LittaTrap can be easily installed into new or existing drainage infrastructure.
"The amount of plastic reaching the Great Lakes and the waterways of Canada is reaching a tipping point," said Mike Hannah, President of Enviropod. "With our success reducing the amount of plastic reaching the waterways across New Zealand and Australia, offering a low-cost, easily maintained, effective solution to other markets is the next logical step."
Through the new partnership, Imbrium Systems will distribute LittaTrap across Canada. Marc Lelong, Director of Imbrium Systems said, "The addition of the LittaTrap product to the Imbrium portfolio furthers our goal of providing solutions in the interest of water quality and a healthy environment. LittaTrap will serve to supplement Imbrium's other stormwater management products as part of a treatment train approach for better performance and lower maintenance costs."
On working with Imbrium Systems, Hannah said, "To partner with Canada's leading stormwater provider is a fantastic opportunity that enables two quality-focused companies to leverage their independent strengths and work together to reduce stormwater pollution and the increasing impact on Canada's waterways."
About Imbrium® Systems
Imbrium® Systems designs and manufactures engineered stormwater treatment solutions for protection of water resources from harmful pollutants. By developing technologies to address the long-term impact of urban runoff, Imbrium ensures its clients' projects are compliant with government water quality regulations. Imbrium's Stormceptor® and Jellyfish® Filter technologies are sold through a network of value-added licensees, providing the highest level of service at every stage of your project. www.imbriumsystems.com
About Enviropod®
Enviropod® is a global leader of catch basin insert technologies and stormwater management solutions. The company offers innovative approaches to prevent plastics and litter reaching the waterways. www.enviropod.com