Products & Services: Aeration, Sludge & Odor Control
Instrument engineers with wastewater treatment operations will find the Ultra Mag® Wastewater Flow Meter from McCrometer provides improved measurement accuracy in effluent applications.
Sep 1st, 2008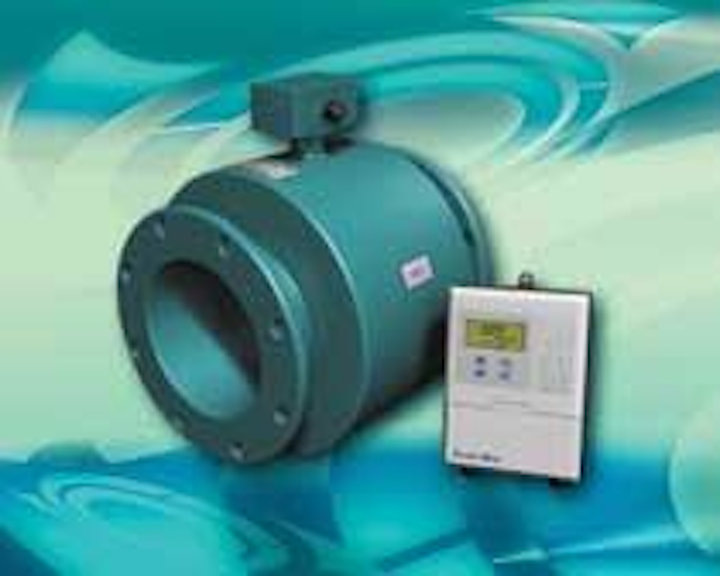 Flow meter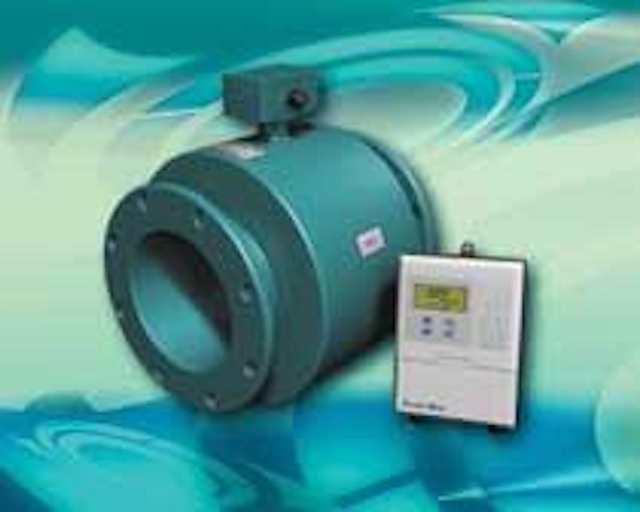 Click here to enlarge image
Instrument engineers with wastewater treatment operations will find the Ultra Mag® Wastewater Flow Meter from McCrometer provides improved measurement accuracy in effluent applications. It operates in treated water or even sludge or slurries, requires minimal maintenance and offers a long-life service at a low life cycle cost. With its non-invasive, no-moving parts flow sensing technology, the inline flow meter delivers flow measurement accuracy of +0.5% in water effluent with repeatability of +0.05. It measures liquid flow in 2 to 36 inch lines from 0.2 to 49 fps at pressures of up to 300 psi, depending on the selected flange configuration. Manufactured with 316 stainless steel, the meter's electrodes feature a unique bullet-shaped design that is self-cleaning. McCrometer, A Unit of Danaher, Hemet, CA, 800-220-2279, www.mccrometer.com
Solids reduction system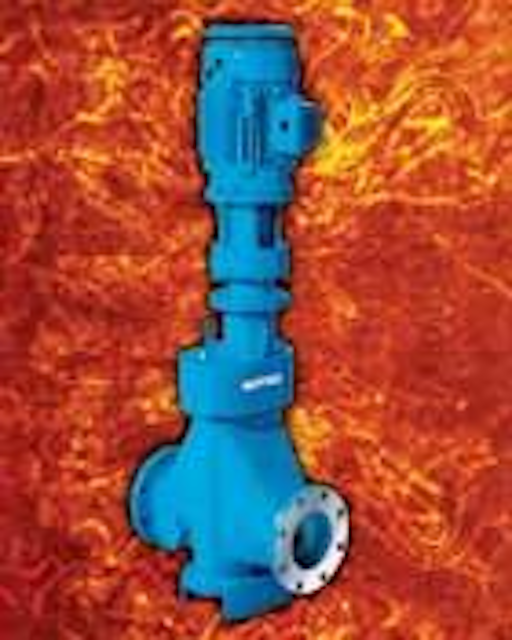 Click here to enlarge image
The Moyno® Annihilator™ is a twin shaft solids reduction unit designed to perform in a variety of industrial and municipal installations including sewage lift stations, head works and sludge processing systems. The system's field-proven, counter-rotating, hexagonal shaft design coupled with its 5-tooth, hardened steel cutters provide the maximum shredding strength necessary to process from 300 to 4,250 gpm of influent. When properly specified, the system prolongs the service life of downstream equipment such as pumps, sensors, monitors and valves. For even greater performance, the Annihilator is fitted with patented, toothed cutting spacers that increase the unit's efficiency, further decrease particle size and reduce the risk of failure from ragging. Moyno Inc., Dayton, OH, 877-486-6966, www.moyno.com
Cover systems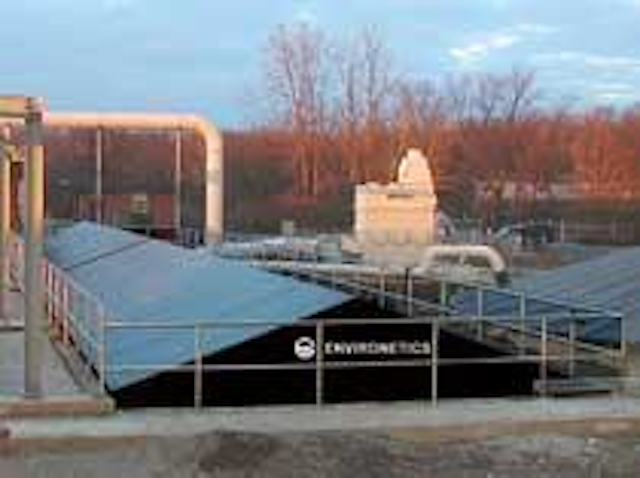 Click here to enlarge image
Environetics Tank Top™ Covers are custom manufactured from industrial grade materials to fit the profile of new or existing wastewater treatment tanks or potable water tanks. The covers are specifically designed to prevent potable water contamination and contain odors escaping from wastewater treatment tanks. The structurally supported membrane tank covers are an alternative to aluminum or fiberglass roofs. Heavy-duty aluminum extrusions and a high strength membrane provide structural integrity for winds up to 110 mph and snow loads up to 35 pounds/sf. Aluminum framed hatches allow easy access to the tank for service, monitoring and testing. Environetics Inc., Lockport, IL, 815-838-8331, www.environeticsinc.com
Polymer makedown system
Click here to enlarge image
Fluid Dynamics has introduced a new explosion-proof polymer makedown system for preparation, activation and injection of liquid polymers in water and wastewater treatment applications. The system can produce dilute solution (0.1% - 2.0%) at capacities from 20 gph to 3,000 gph of total makedown solution. The systems feature all stainless steel construction. They use the patented "Gatlin Mixer" for mechanical mixing and blending of polymer material. The Gatlin is a motorized mixing chamber that segments the polymer into ultra-thin film for maximum activation. There's no need for booster pumps, and materials are mixed and blended without blades to damage fragile polymer chains. The system is unique in that it maintains maximum activation regardless of fluctuating flow rate or water pressure. An interlock prevents polymer feed if water flow is insufficient. Fluid Dynamics Inc.,Lansdale, PA, 888-363-7886, www.dynablend.com
Sludge blanket level probe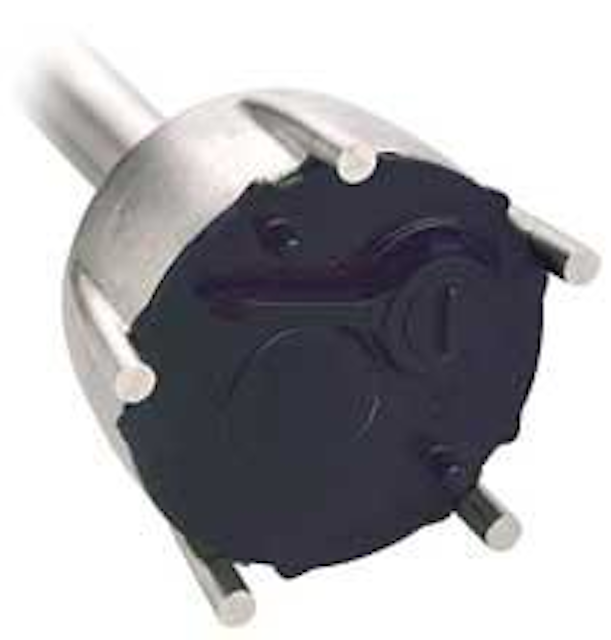 Click here to enlarge image
The Hach SONATAX sc Sludge Blanket Level Probe can be used to optimize sludge extraction, manage recirculation, warn of potential solids washouts, or process upset by continuously measuring the depth from the surface or height from the tank floor. Maintenance is reduced with the probe's innovative wiper design. Automatic frequency adjustment provides superior accuracy. Hach Co., Loveland, CO, 800-227-4224, www.hach.com
Microwave extraction process
CEM Corp., a global company specializing in scientific solutions for critical laboratory applications, has announced that the company's licensed microwave extraction process for organic analytes has been officially recognized by the U.S. Environmental Protection Agency with the publication of Method 3546 in the Federal Register. The recently approved method is for extracting semi-volatile organic compounds, organophosphorus pesticides, organochlorine pesticides, chlorinated herbicides, phenoxyacid herbicides, substituted phenols, PCBs and PCDDs/PCDFs from soils, clays, sediments, sludges, and solid wastes. CEM Corp., Matthews, NC, 704-821-7015; www.cem.com
Aeration systems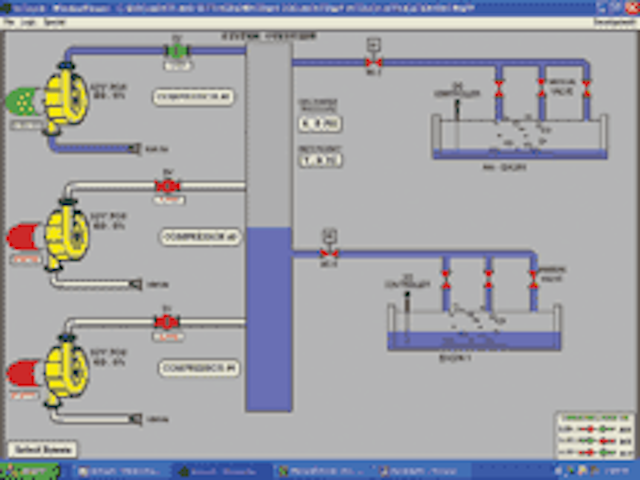 Click here to enlarge image
A complete line of aeration controls and control systems, designed to maximize efficiency of blowers and compressors in wastewater operations, has been introduced by Dresser Roots. The line of controls, the IntelliView™ system, can be purchased as a part of a Roots aeration blower system or integrated into new aeration systems using any manufacturers' blowers to provide improved efficiency and reliability. In addition, owners of existing or older systems can retrofit the control system to optimize their system's performance. IntelliView™ models are available for any type of blower. Positive displacement blowers may be controlled with variable speed drives. Multistage centrifugal blowers may be variable speed or inlet throttled. Single stage centrifugal control options include variable speed, inlet guide vanes, and variable discharge diffuser vanes. Dresser Roots, Houston, TX, 832-590-2408, www.dresser.com.
Aeration, mixing system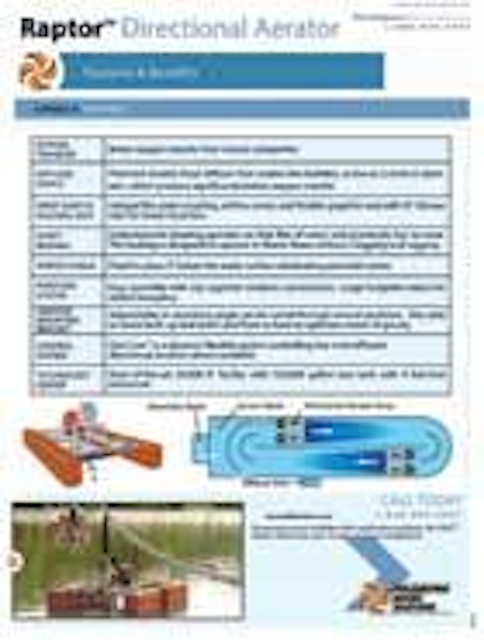 Click here to enlarge image
The Raptor Directional Mixing & Aeration System is now available for applications in the water and wastewater treatment industry. The system can reduce energy and maintenance costs while improving water quality in industrial and municipal lagoons and basins. By simultaneously aerating and mixing wastewater, the directional aerator improves oxygenation by creating a circular flow pattern within the basin or lagoon. This controls deposition and reduces foam development. The aerator's unique propeller design pushes fluid over its diffuser, maximizing power consumption while ensuring uniformity of fluid acceleration. By generating bubbles less than 2.2 mm in size, the filter creates a higher surface area per unit volume, resulting in significantly improved oxygen transfer. Philadelphia Mixing Solutions, Palmyra, PA, 800-956-4937, www.philamixers.com
Metering pumps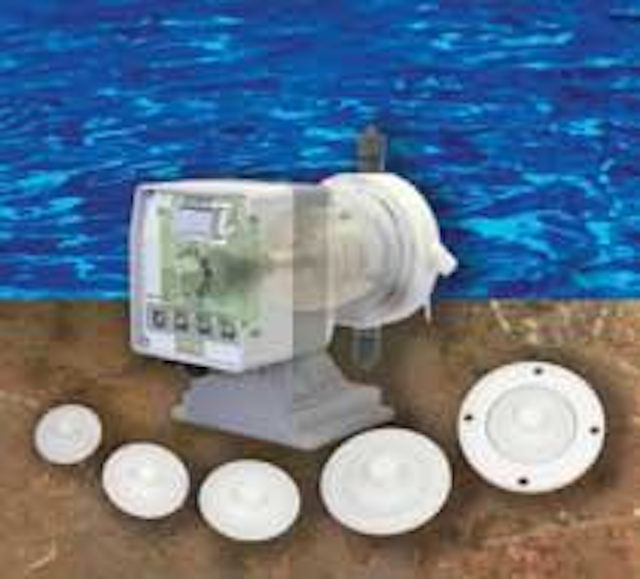 Click here to enlarge image
EMEC Americas Inc. announces a new 5-Year diaphragm warranty on all new manufacture solenoid-actuated metering pumps. Each diaphragm that EMEC manufactures is precision manufactured to exacting tolerances and combined with a proprietary liquid-end design. The result is a diaphragm life span that dramatically reduces maintenance and replacement part costs. The company's MF Series pump is ideal for use in a variety of water treatment applications including boiler & cooling tower feed systems for corrosion and scale inhibitors as well as biocides. They can also be used for polymer injection for the use with settling agents or sludge dewatering. EMEC Americas, Boston, MA, 800-998-3632, www.emecamericas.com
Bonding system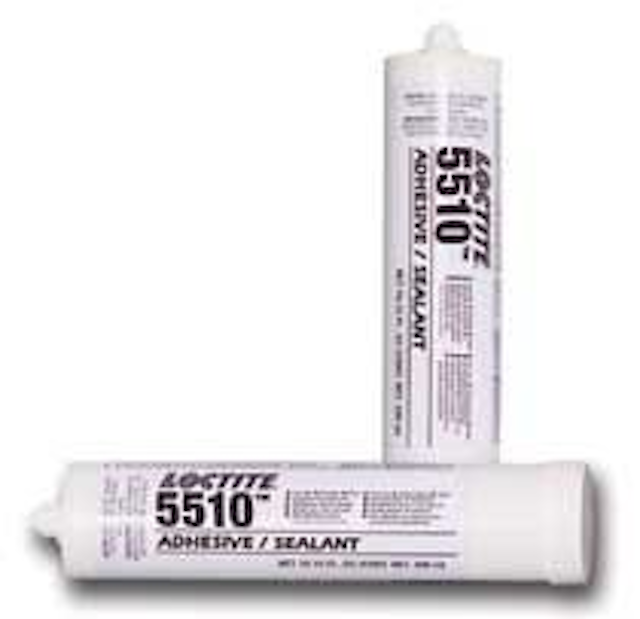 Click here to enlarge image
For flexible bonding applications, Henkel has introduced Loctite® 5510™ Adhesive/Sealant and Loctite® 5570™ Adhesive. Highly resistant to vibration, movement and impact, these permanently elastic, primerless formulations bond and seal a wide variety of dissimilar substrates including metals, glass, nylon, and plastics. Based on Henkel's proprietary FlexTec™ technology, these one-component, odorless adhesives are non-corrosive and free of solvents, isocyanates, silicones and PVC. They cure by reacting with ambient moisture, achieving functional strength in just 24 hours, and are compatible with many paint systems. Henkel Corp.,Rocky Hill, CT, 800-562-8483, www.flexible.loctite.com
Storage tanks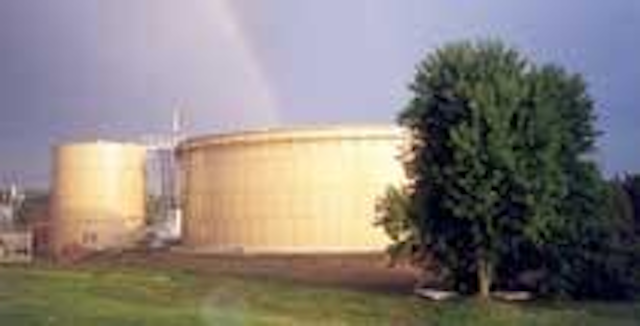 Click here to enlarge image
Columbian TecTank specializes in the turnkey production of bolted and shop-welded tanks, from design, fabrication, to field erection and service. CTT tanks are used for a wide variety of water and wastewater storage applications including equalization, aeration, sludge, clarification, filtration, digestion, surface water treatment and storage, just to name a few. The company manufactures bolted tanks in capacities up to 3 million gallons. Its tanks feature the Trico Bond EP™ coating applied in an ISO 9001 certified facilities to ensure long-lasting corrosion resistance and minimal maintenance requirements. Columbian TecTank has been manufacturing tanks for industrial and municipal storage use since 1893 and its tanks are found in 125 countries worldwide. Columbian Tec Tank, Kansas City, KS, 913-621-3700, www.columbiantectank.com
Suspended solids analyzer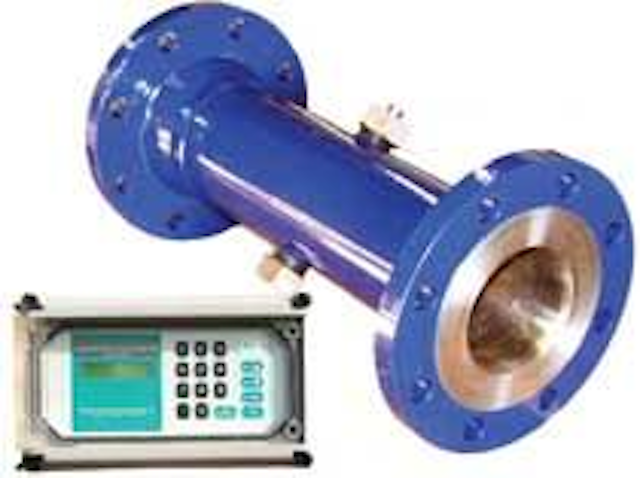 Click here to enlarge image
During the processing of sludge the concentration of the slurries often has to be measured. The Markland Model 502 Suspended Solids Meter can be used to measure slurries that are too thick for optical meters. It can be configured for open top tanks or pipelines. The meter uses safe ultrasound to measure the concentration and features easy setup and simple calibration. Markland offers free testing of your materials. The testing saves you time and money by proving the meter will work before you buy. An animation of the Model 502 in use can be found on the company's website. Markland Controls, Toronto, Ontario, 416-244-4980, www.sludgecontrols.com