PRODUCTS & SERVICES — METERS, AMR
Mars Co. is producing a new line of Automatic Meter Reading (AMR) equipment. The Mars SmartRadiosTM come with a waterproof design. Failure due to moisture is virtually defeated.
Jul 1st, 2005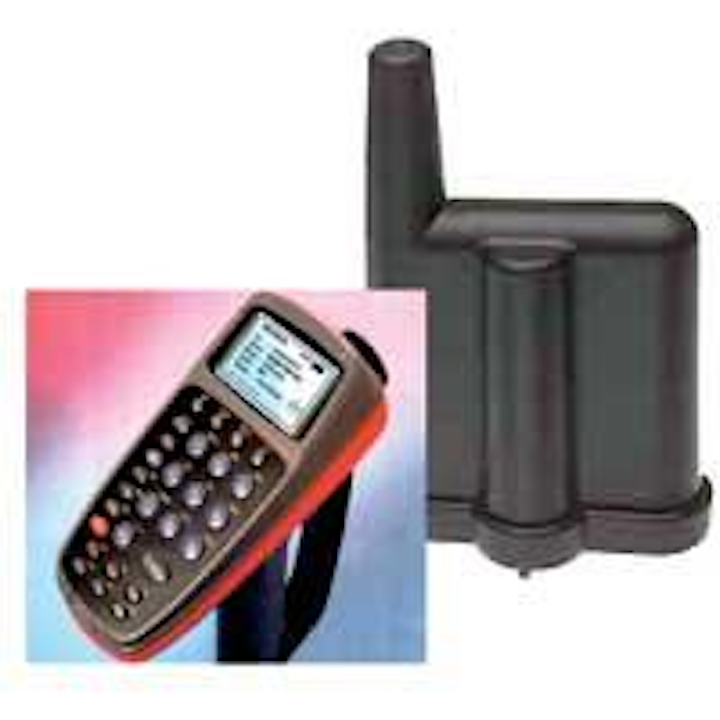 AMR system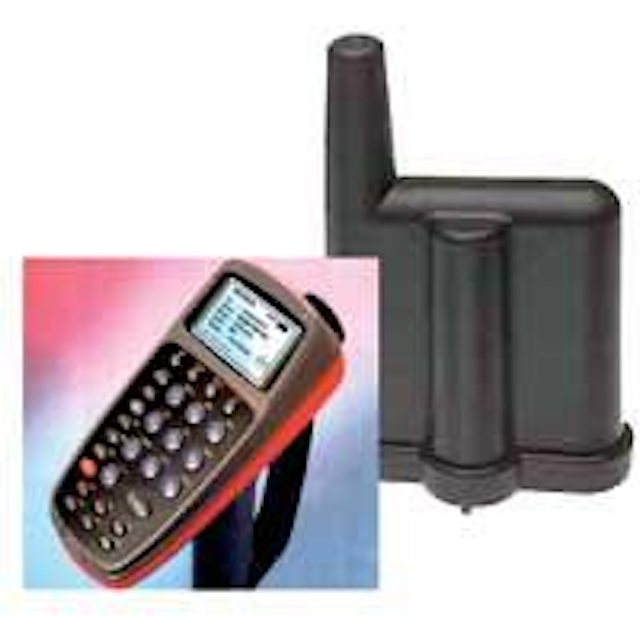 Click here to enlarge image
Mars Co. is producing a new line of Automatic Meter Reading (AMR) equipment. The Mars SmartRadiosTM come with a waterproof design. Failure due to moisture is virtually defeated. Robust batteries, as well as a timer function that enables the radios to "go to sleep" at night and on weekends, extend battery life up to 13 years. The company's AMR products are compatible with all brands of encoded and pulse register meters. A patented feature identifies the meter automatically. The system's radios are compatible with most route and billing systems. The Mars Probe/Receiver eliminates the need for a hand-held computer in the field - since it will store 4,000 readings.
Mars Co.
Ocala, FL
Tel: 800-782-5268
Web: www.marswater.com
AMR management
Neptune's ARB® Utility Management Systems™ provide utilities choices in creating custom data collection systems. Several new products will be featured at Autovation 2005 in Long Beach, including the company's E-Coder™ -- a solid-state absolute encoder that provides leak, backflow, and tamper detection data. Other featured products include its new Equinox™-MR, a scalable, multi-utility meter reading software that accommodates any combination of handheld, mobile, and targeted fixed network data collection methods; the new CE5320X handheld, which allows the meter reader to enter any combination of keyed, probed, or radio frequency readings; and the new MRX920 mobile data collector with new GIS mapping capabilities, which allows visual tracking of the meter reading process.
Neptune Technology Group Inc.
Tallassee, AL
Tel: 800-633-8754
Web: www.neptunetg.com
AMR endpoint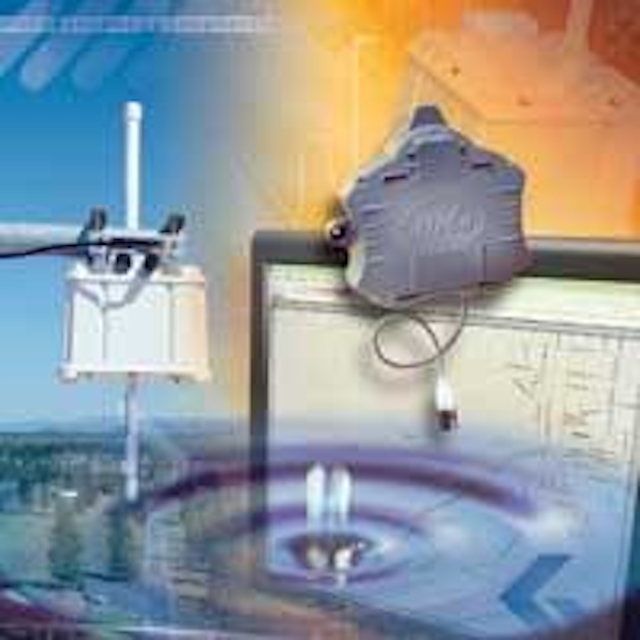 Click here to enlarge image
Itron recently introduced its newest water automatic meter reading (AMR) endpoint, the 200WP, to attendees at the American Water Works Association convention and will begin customer shipments in early October. The 200WP employs two-way 1.4 GHz radio communications, has a 20-year battery life and is designed for pit-set water metering applications under Itron's Water Fixed Network AMR system.
Itron Inc.
Spokane, WA
Tel: 800-635-5461
Web: www.itron.com
Radio-read system
Sensus Metering Systems has released its newest product, TouchCoupler. By matching "plug-and-play" simplicity with patented technology, the device allows field personnel to upgrade to the company's RadioRead System in a matter of seconds. Field personnel do not need access to an end-user's home to upgrade a system. The new product eliminates the need for gel caps or wires, making both installation and reading the meter more accurate.
Sensus Metering Systems
Pittsburgh, PA
Tel: 724-425-7600
Web: www.sensus.com
Meter data profiler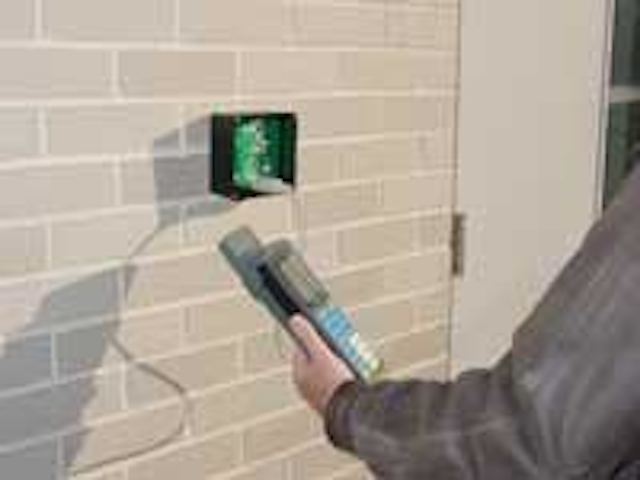 Click here to enlarge image
Badger Meter has introduced the new Orion® Remote Data Profiler (RDP), which allows utilities to record water consumption readings from a specific meter over time and then making those readings available for viewing in the field or uploading to a PC on an as-needed basis. The data profiler is designed for use with any Orion automatic meter reading (AMR) transmitter connected to a water meter.
Badger Meter Inc.
Milwaukee, WI
Tel: 800-876-3837
AMR system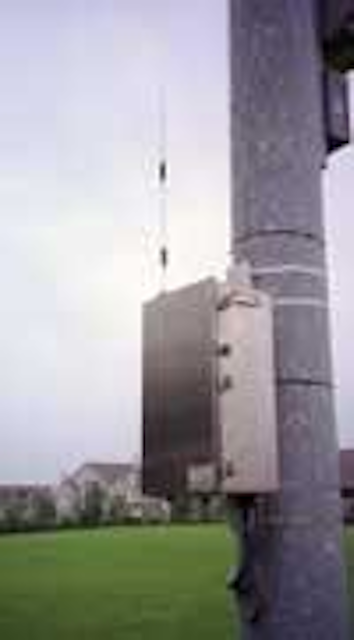 Click here to enlarge image
The Hexagram STAR Fixed Network AMR System provides fully automatic meter reading. The use of licensed radio channels insures reliable performance throughout the life of the system. The system provides two or more readings every day from every meter in a system. By accessing the system software, customer service staff can check meter reads for any day; pull consumption profiles for every meter in the system; and identify water leaks, running hoses, broken pipes, frozen meters, and other problems.
Hexagram Inc.
Cleveland, OH
Tel: 216-896-8544
Web: www.hexagram.com
Metering system
Advanced Metering Data Systems (AMDS) has introduced a new secure water meter solution. Reliability is achieved using a patented, FCC-licensed, long range fixed based wireless network and by overlapping receiver coverage of metering end-points, utilizing data/message redundancy and fail-over backup provisions. Seamless communications with the utility's meter deployment is backed by master agreements with radio spectrum holders and nationwide owners of existing radio towers, eliminating easement and access issues.
Advanced Metering Data Systems
New Orleans, LA
Tel: 800-770-7213
Web: www.amdswireless.com
Automated meter reading
The InfiNet® system is a flexible and scalable for sale model of the Cellnet fixed automated meter reading (AMR) network. For the first time, Cellnet has combined its two direct sequencing and mesh network technologies into a single intelligent solution under the InfiNet system. The Cellnet UtiliNet® two-way frequency hopping mesh technology has been in the field for well over a decade, used mainly as a network for remote telemetry, load control, and distribution automation applications.
Cellnet
Alpharetta, GA
Tel: 678-258-1586
Web: www.cellnet.com
AMR wireless RF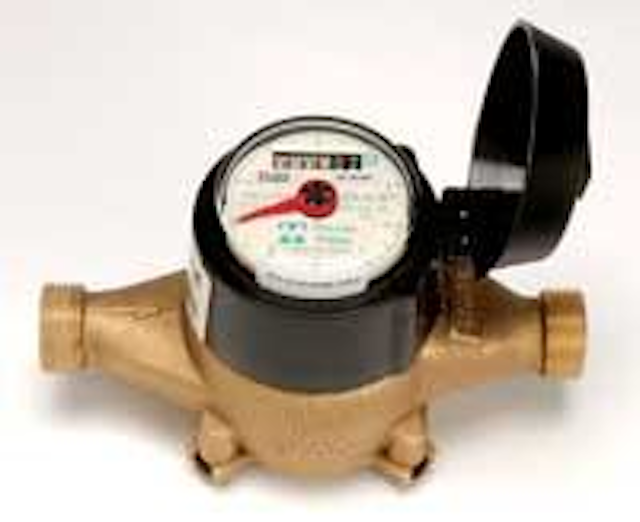 Click here to enlarge image
Master Meter's new Dialog DS Wireless RFTM Extended Drive-By System offers greater signal range. The system features data logging with field-programmable capacity of 7000 reads; leak, tampering and backflow detection; no external wires or antennas; and is self activated with the start of water flow.
Master Meter, Inc.
Mansfield, TX
Tel: 800-765-6518
Single jet meter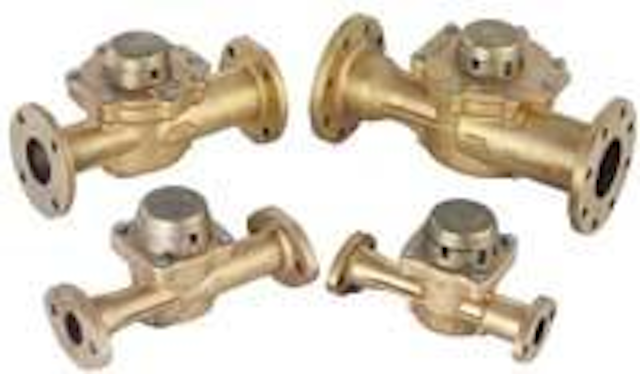 Click here to enlarge image
Actaris Metering Systems has introduced Flostar, a single jet meter designed specifically for the measurement challenges facing North American water utilities. Designed to meet the AWWA C712-02 standard, the meter incorporates the latest developments in single jet metering technology.
Actaris Metering Systems
Greenwood, SC
Tel: 800-833-3357
Web: www.actaris.com
Battery operated flowmeter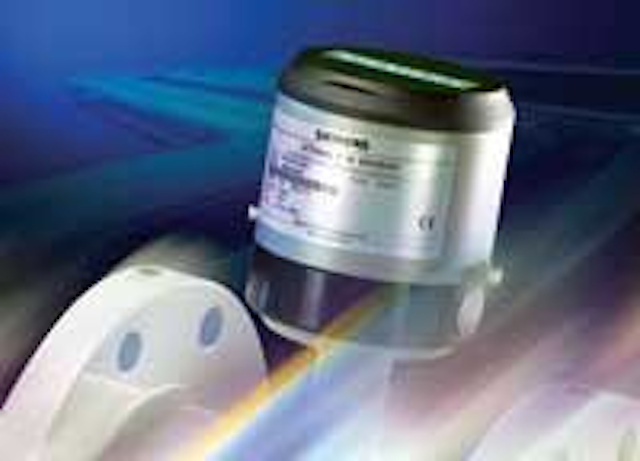 Click here to enlarge image
Siemens Energy & Automation introduces a new battery operated flowmeter for a wide variety of water industry applications, including flow measurement for distribution and zone metering, abstraction, revenue metering, and leak detection. With a typical battery life of six years, the MAG 8000 W is ideal when connecting to a power supply is difficult or expensive. The meter's NEMA 6P rated protection is also suitable in difficult environmental conditions, including underground installations or in flood areas.
Siemens Energy & Automation, Inc.
Spring House, PA
Tel: 215- 646-7400 Web: www.sea.siemens.com/ia
Fire service meter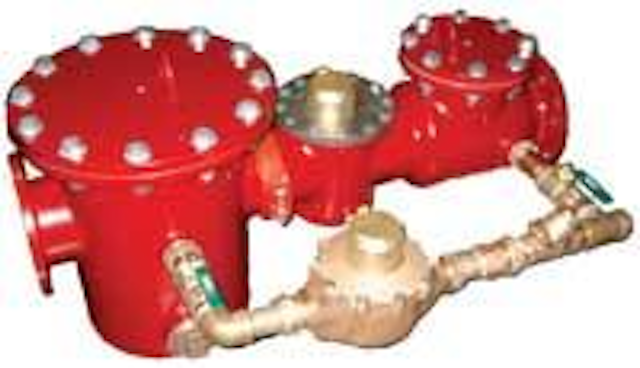 Click here to enlarge image
AMCO Water offers a full product line of water meters that includes positive displacement, turbine and compound meters. The F4000 Fire Service Meter is the latest addition to its portfolio. The F4000 is designed to measure both domestic and fire service flow through a single meter. It incorporates AMCO's T4000 turbine element within an assembly featuring a high performance check valve, a UL/FM approved fire service strainer and a C700 bypass meter. The meters are available with Absolute Encoder and Digital register options to provide water usage output to the entire spectrum of electronic meter reading systems.
AMCO Water Metering Systems Inc.
Ocala, FL Tel: 352-369-6519 Web: www.amcowater.com
Flowmeter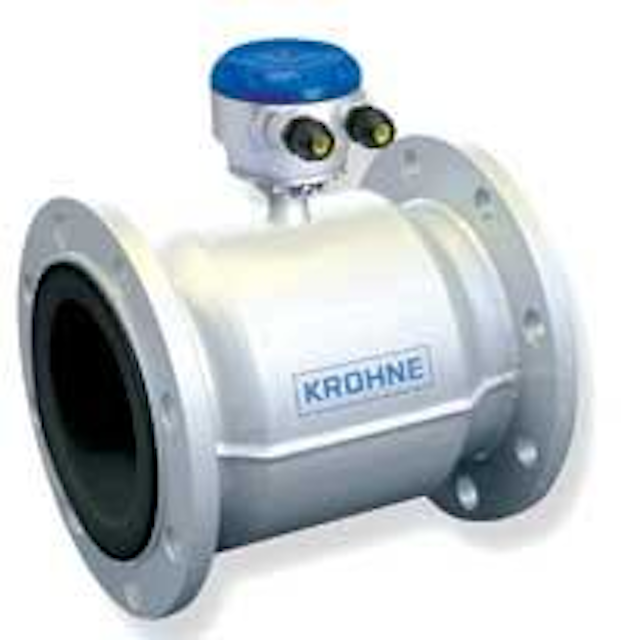 Click here to enlarge image
Krohne has introduced its new Optiflux 2300 flowmeter, consisting of the Optiflux 2000 electromagnetic flow sensor and Optiflux 300 converter, for the water and wastewater industry. The flowmeter family is the culmination of the company's 50 plus years of experience in designing and manufacturing magnetic inductive flow measuring technology.
Krohne, Inc.
Peabody, MA
Tel: 800-356-9464
Web: www.krohne.com
Flowmeter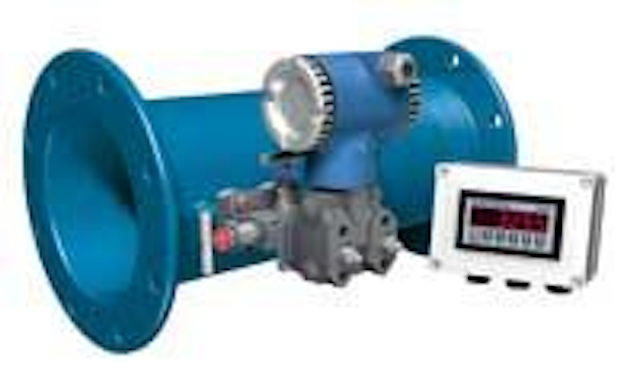 Click here to enlarge image
With an advanced differential pressure flow sensing design, the V2-MunicipalTM flowmeter from McCrometer features built-in flow conditioning for accuracy with minimum upstream/downstream straight-run piping requirements. With a new flow computer added to its built-in flow transmitter, the V2 provides secure password-protected lock-out access. The standard configuration flow computer has front panel access via its membrane-type touchpad display and can be remote-mounted. Dual engineering units capability means rate and total flow functions are independent, allowing for different combinations of flow units.
McCrometer
Hemet, CA
Tel: 800-220-2279
Web: www.mccrometer.com
Meter test bench
Click here to enlarge image
Ford Meter Box has announced the availability of the Automated Measuring System, AMS. The test bench for water meter testing is available for new or any existing Indianapolis Style or Standard Ford test bench. Consisting of modular components, the AMS combines the method of weighing metered water with computer automation to ensure accurate measurements. Weighing metered water eliminates possible problems with optical, mechanical or volumetric measuring devices.
Ford Meter Box Co.
Wabash, IN
Tel: 260-563-3171