Reading Material: AMR System Boosts Utility District's Reading Efficiency, Customer Service
When the Northshore Utility District began searching for a new meter reading solution in 2006, it chose the Badger Meter ORION® CE Mobile AMR system for its dependability and ease of installation. Northshore completed deployment of its new AMR system in July 2012 and immediately realized a 900 percent improvement in reading time.
Jun 1st, 2013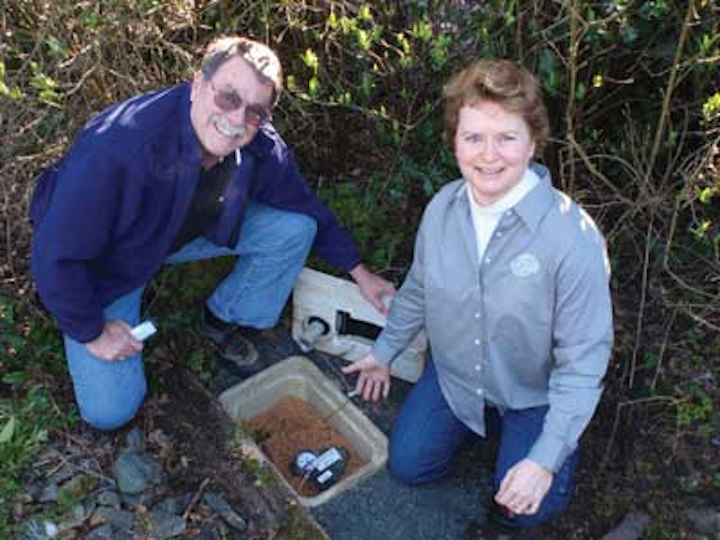 By John Fillinger
When Northshore Utility District began searching for a new meter reading solution in 2006, achieving a strong return on investment was a critical factor in its selection process. After experiencing significant difficulties with deployment of another automatic meter reading (AMR) system it had chosen several years earlier, the district determined it would need to make a change to improve efficiency and accuracy.
Located about 10 miles northeast of Seattle, Wash., Northshore Utility District is a special purpose district for water and sewer, serving nearly 70,000 people with 21,000 water connections. Water is purchased from Seattle Public Utilities and stored in eight water storage facilities with a combined capacity of 29 million gallons. It operates 15 lift stations, 267 miles of water main and three water pump stations. The district is governed by a five-member board of commissioners.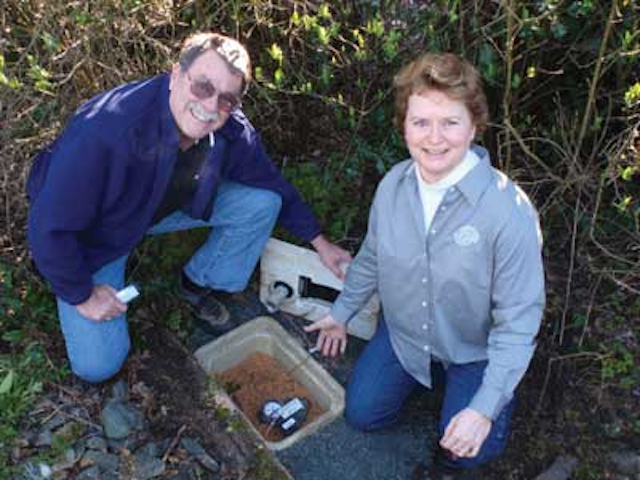 Northshore Utility District Commissioners Bruce Gardiner and Trudy Rolla examine the first Badger Meter Recordall meter installation that is part of the district's new AMR system.
According to Commissioner Bruce Gardiner, when the district decided to replace its partially-deployed system, it conducted a thorough evaluation of different solutions and ultimately chose the Badger Meter ORION® CE Mobile AMR system because of its dependability and ease of installation. And in just 16 months, the decision is paying off. Northshore completed deployment of its new AMR system in July 2012 and immediately realized a 900 percent improvement in reading time.
Effecting Change
When Al Nelson joined the utility as operations director in 2006, the district was about 15 percent deployed with its previous AMR system.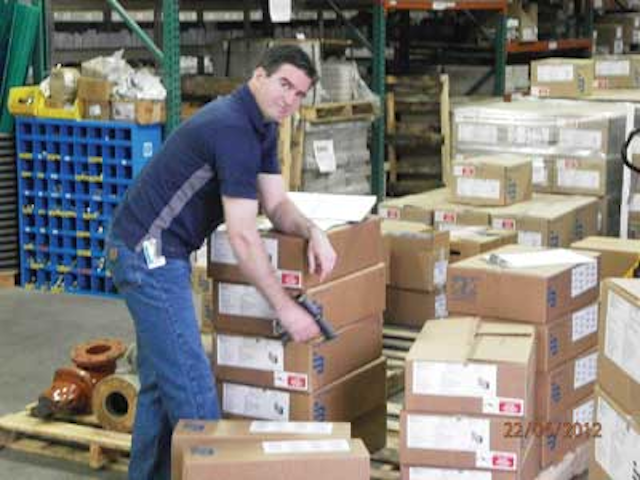 David McMorris, inventory controller, checks in new meters that are part of the 21,000 meter upgrade project at Northshore Utility District.
"We were having a lot of issues with the system. We experienced high equipment failure rates and received mismatched meters and registers," said Nelson. "In addition, product reliability was poor, and there were problems with the transmission frequency on some of the meters conflicting with a similar frequency."
"It was taking longer to read the AMR system than the manual system," added Nelson. "We really wanted to make the system work, but after months of trying to resolve the issues, we decided to move on."
Nelson said it took the district a couple of years to assess the options, select the best solution and plan the installation and deployment.
"Value and return on investment were really important factors in the board's selection process," he said. "In addition to meeting with manufacturers' representatives and local distributors, we spoke with and visited other special purpose districts and cities to learn from their experiences and determine whether AMI or AMR would be the best alternative."
Ultimately, the district opted for an AMR system. "The terrain is just hilly enough that it could create reading issues for an AMI system," explained Commissioner Gardiner. "And we prefer to use a drive-by system anyway because we want to keep an eye on the meters and the area around them for maintenance purposes as well as to maintain a customer service presence. It is also the best choice for us from a fiscal perspective."
The district prides itself on being an efficient operation, so a key objective of the upgrade was to improve reading time. In addition, they evaluated whether it would be prudent to handle installation themselves or to work with an outside contractor.
"We considered the option of contracting the water meter installation portion of the project," said Nelson. "But after interviewing an experienced contractor and analyzing the cost, we decided to handle installation ourselves."
Installation Process
Between March 9, 2011, and July 9, 2012, the district installed 21,000 new meters and transmitters. The components of the new system include the Badger Meter Recordall® meters equipped with Absolute Digital Encoder (ADE) registers and ORION AMR radio frequency transmitters; two Panasonic® Toughbook® laptops with the ORION Global Positioning System for reading; ReadCenter® Analytics data management and billing software; and four ORION Trimble® Ranger handheld computers for troubleshooting.
The project was slated for two years, but the team was able to complete it in just 16 months. Nelson attributed the success to teamwork, communication and the development of a 24-step process for installers to follow. He described the installation as a group effort that affected almost everyone at the district.
"It wasn't just operations. Our engineering, administration, fleet, IT group, and inventory controller got involved too," said Nelson. "We made it the mission of the entire organization so that everyone was vested."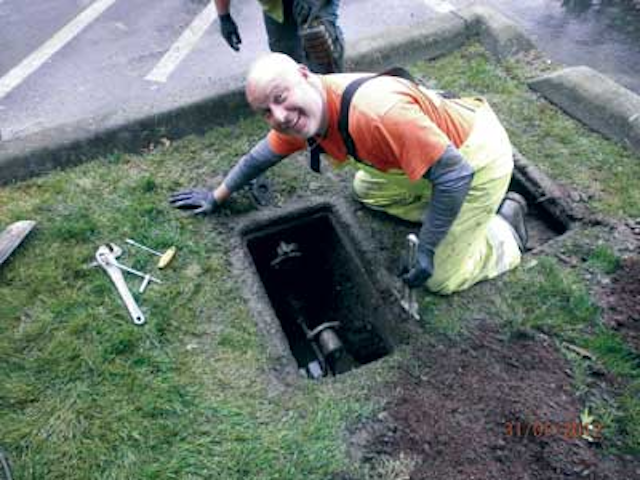 Northshore's Russ MacInnes, senior utility worker, changes out a meter.
Badger Meter provided the tools that facilitated an automated inventory process to help streamline the check-in and check-out procedures as well as the installation process. This included providing an electronic database with each meter shipment, along with providing barcode labels on the products that were used to ensure accuracy of the meter data.
"We had a very effective check-in procedure that helped alleviate a lot of the issues," said Nelson. "After a meter shipment came in, we would check in the meters and then prepare a custom work order that included the account, address and spaces for inventory stickers provided by Badger Meter," he explained. "The installer would just affix the corresponding sticker to the work order and then return the work orders at the end of each day. Our dispatcher would review them and scan the barcodes with a barcode reader, automatically updating the account record."
Because the district had a mix of different types of boxes and lids — some designed for AMR with a hole in the lid for the antenna and others without the hole — Nelson initially thought a fair amount of meter box work would be required.
"We didn't need to change out very many lids because we were able to mount many of them with the antenna under the lid," he explained. "And the profile of the Recordall meter fits our boxes really well, so we were able to change out the old meter without any of the height issues that we had periodically run into in the past," he added.
Significant Improvements
L-R: Al Nelson, operations director, Kelly Nesbitt, dispatcher, and Todd Payne, IT lead, were instrumental in integrating the ReadCenter Analytics software with the operations and billing systems at Northshore Utility District.
Northshore reads its meters in four routes comprising approximately 5,000 meters each. Prior to deploying the ORION system, reading time was 70 to 75 man-hours per route. Today, reading time requires only six to nine hours per route — and the routes are not even fully optimized yet. This increased efficiency enables staff to dedicate time to other important maintenance and customer service issues. Nelson said that because ROI is a constant focus, he planned ahead from a staffing standpoint, reducing the team through attrition and then running the department lean.
In addition to improving productivity, the system helps with leak and tamper detection. Before each reading cycle, the billing department runs a report that flags accounts with continuous usage. Then, the meter reader can follow up and check that meter to determine whether there may be a leak. If a leak is suspected, the customer is notified. There are also codes programmed into the system to indicate if a meter has been disconnected or is stuck.
The system's data profiling feature stores meter data for extended periods, enabling the utility to provide more detail for customers with high usage complaints.
"It's probably one of the most valuable features we've seen," said Nelson. "We've used it quite a bit. When a customer has an issue with a bill or their usage, we can go back out and pull the data profile, which even graphs their usage, to pinpoint the days and times of high use. So far, it has diffused every complaint."
While the desire to achieve quantifiable results was the key driver for the system upgrade, Northshore officials also appreciate some of the softer benefits of the new system, including 100 percent reading accuracy, improved reader safety and less wear and tear on vehicles.
"We are extremely pleased with the results of the new AMR solution," concluded Nelson. "We believe we received exceptional value and a very stable system."
About the Author: John Fillinger is marketing manager (Meter Reading Solutions) at Badger Meter and has more than 18 years of experience in the water utility industry. An expert in meter reading technologies, he speaks regularly about the benefits of AMR systems for utilities' overall system performance. Fillinger is an active member of the American Water Works Association (AWWA) and the Automatic Meter Reading Association (AMRA). He holds a bachelor's degree in marketing from the University of Wisconsin-Whitewater and a master's degree from Keller Graduate School of Management. He can be reached at jfillinger@badgermeter.com.
More WaterWorld Current Issue Articles
More WaterWorld Archives Issue Articles