AMR Project Reduces Costs, Increases Reading Accuracy
It's not always easy to know if the job you're doing is meeting approval from the boss.
Feb 1st, 2006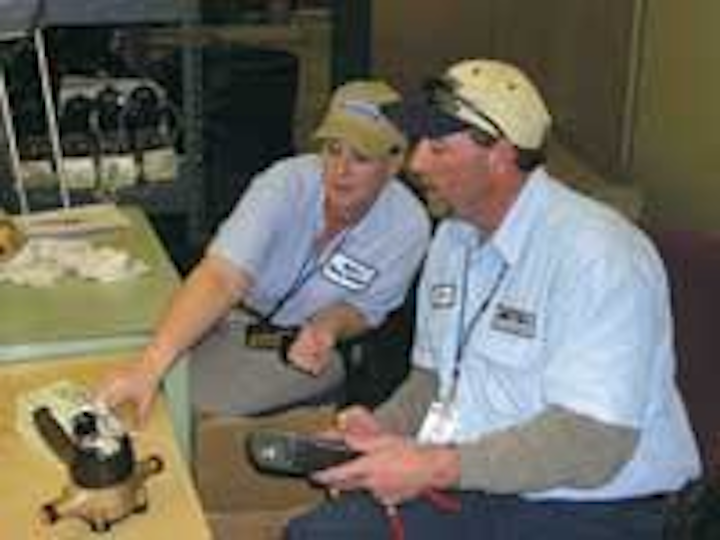 It's not always easy to know if the job you're doing is meeting approval from the boss. But you know you're on the right track when you're asked to accelerate your implementation plan when budgets are tight and competition for funding has increased. So it is at Metro Water Services (MWS) of Nashville, Tennessee.
MWS meets the demands of 170,000 customers and is tackling the challenge of expanding its AMR replacement program as much as possible. So far the project has helped reduce water meter reading costs to 61 cents from 71 cents (11 cents in areas read by Mobile Unit). Accuracy rates hover at 99.87 percent; no reads are estimated; tough rural routes that used to take 24 human days to read now takes just three, and a staff of 30 meter readers has been reduced to 21.
MWS is tasked with changing out 18,000 meters each year over its 422 miles of service area. Sensus Metering Systems is the primary vendor for the meters and reading equipment that support the work.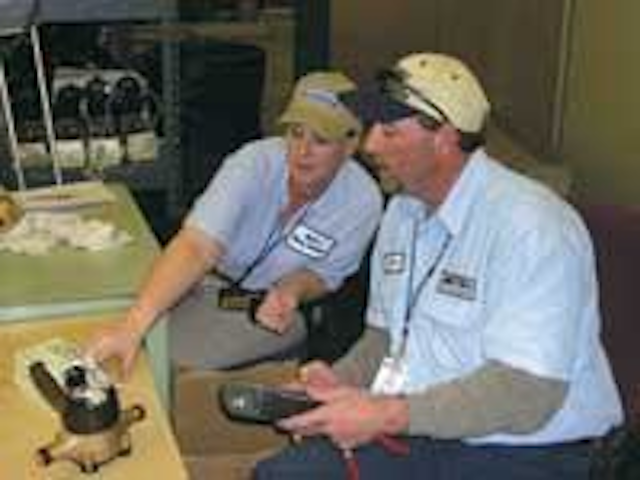 Metro Water support personnel preconfiguring Sensus SRII meters with RadioRead AMR technology to streamline the installation process.
Click here to enlarge image
The agency is installing Sensus SR II meters. The magnetic drive positive displacement meters use an oscillating piston to measure a wide range of flows for a variety of residential applications. The meter design includes a cast bronze main case, dual inlet ports and a streamlined flow pattern to provide measurement accuracy and dependable service.
The positive displacement, magnetic drive, sealed register meters also feature a tamper-proof design that prevents unauthorized removal of the internally locked register.
Sensus helps MWS keep the cost of equipment in check by offering a meter exchange and rebuilding program, which saves the cost of using brand new meters during changeouts. Special production considerations are also part of the plan. When MWS needed serial numbers to be placed on the inside of the meter lid to facilitate easier tracking, instead of their normal location on the outside of the unit, Sensus altered its production process to grant MWS' request.
"That little change increased MWS' productivity by cutting time in the field since numbers could be read faster," said Tom Spencer, local territory manager for Sensus.
Field Issues
MWS monitors more than 166,000 meters. In the hilly terrain of Nashville and its city limits, the near 150,000 residential meters are often tucked in wooded lots, behind structures, or nestled along winding dirt paths. Initially, readers tackled 473 manual read routes. Reading an area by hand would take weeks at a time. In bad weather, estimates would top 25 percent. To make matters worse, reading in the Nashville climate was really taxing and high staff turnover slowed the reading process.
By employing Sensus' RadioRead drive-by systems, the number of routes has dwindled to 350, and MWS officials believe the goal of 40-50 routes by the year 2010 can be attained. More than 54,000 meters are now AMR equipped - 46,000 of which are monitored by Mobile RadioRead.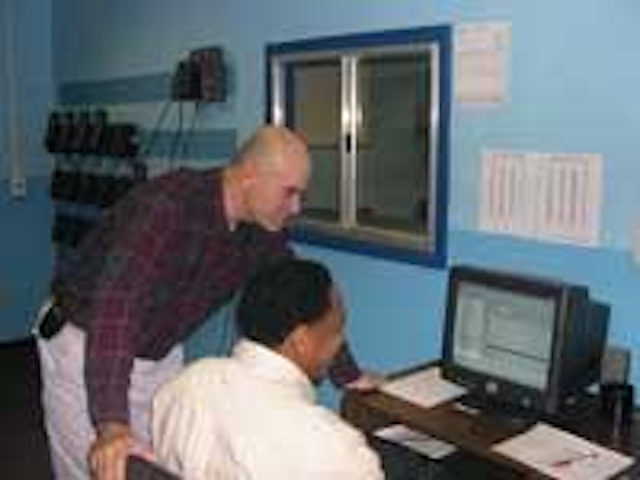 Charles Gregory, Assistant Manager Meter Reading, and Tony Sims, Application Technician, review daily meter reading data.
Click here to enlarge image
MWS gets about 350 work orders per day, above and beyond the 200 new daily meter installations needed to meet the goal of 18,000 new placements in a year. The success of the program is attributed to a partnership among MWS, Sensus, and Metro Meter Services (a contract installer).
Educational Process
Martha Segal is Assistant Director for Customer Services at MWS. She steers a comprehensive community education and outreach program that keeps employees, customers and surrounding municipal boards up to date with plans and activities of the water company. A commitment to communicating is directed to everyone impacted by the plan. When the need for the changeout became apparent, Segal and her staff set out to educate key utility and government personnel on the benefits of the Sensus meters and RadioRead program.
Installation contractor, Metro Meter Services, performing an SRII meter changeout.
Click here to enlarge image
Next, employees were exposed to equipment and meter reading demos at informational meetings so they could understand the vision of the plan. Staff buy-in was achieved. Finally, customers received information via letters and door hangers. As changeouts were to begin in a selected area, MWS hosted a community meeting to address concerns and explain the process. Local media covered the event and the project, which further disseminated information. Customer satisfaction was realized.
Nashville and MWS are now the undisputed industry leader in the AMR field for the country's southeast region. Gary Ragland (Assistant Manager Field Activities), Chuck Gregory (Assistant Manager Meter Reading), and Shannon Wray (Assistant Manager Billing) frequently give presentations to other large municipal water authorities to explain how the radio-based meter reading system has helped MWS cut administrative costs, increase billing revenue and achieve high customer satisfaction.