Replacing AMR Modules Proves Cheaper than New Batteries
Any water utility knows that the minute an AMR module is installed, the countdown on the battery's life begins. And while most water providers plan for battery change-out...
Nov 1st, 2004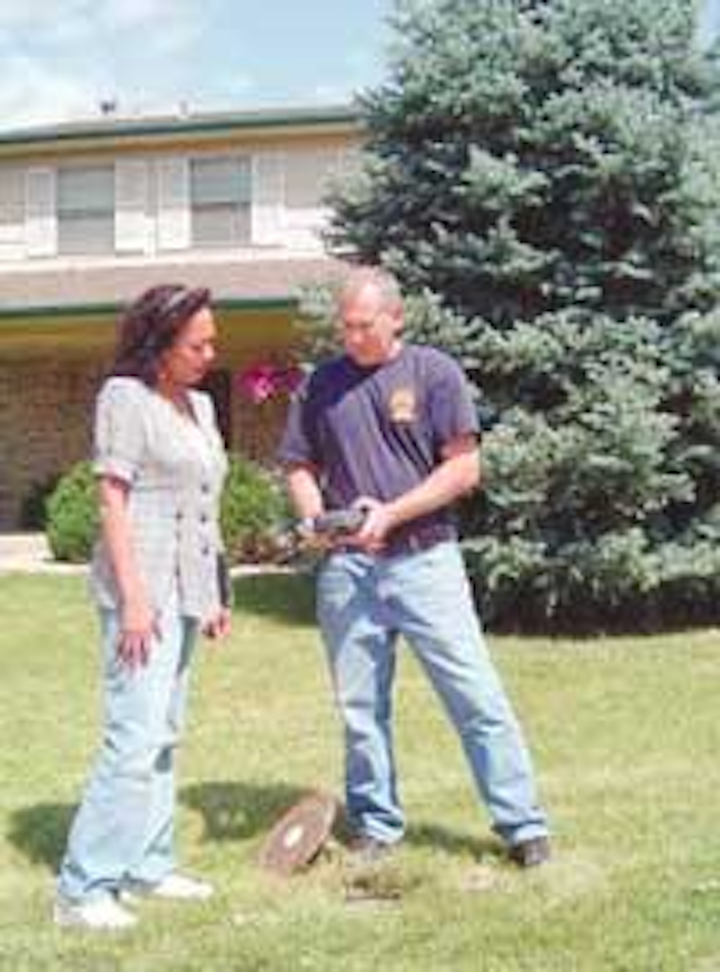 Any water utility knows that the minute an AMR module is installed, the countdown on the battery's life begins. And while most water providers plan for battery change-out in their AMR business cases, some now are finding that battery replacement isn't always their best AMR investment.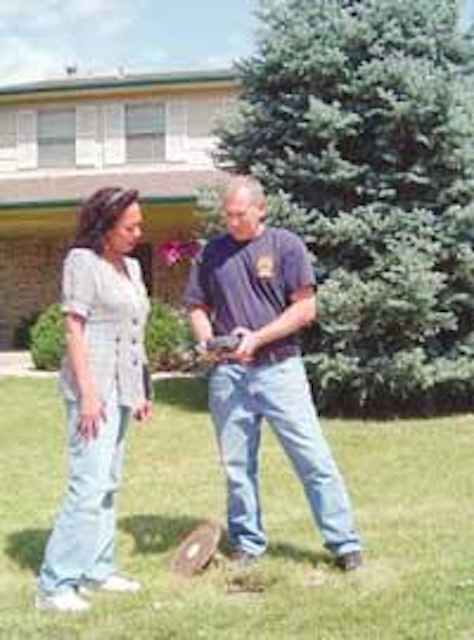 Maintenance Specialist Dave Jasper talks with customer Jamie Holmes.
Click here to enlarge image
Today, water suppliers in Aurora, CO, a community adjacent to Denver, are planning to purchase new AMR modules rather than replacing the batteries in AMR units they currently own. As one of the water industry's early AMR adopters, Aurora Utilities Department has had to break ground on the research necessary to evaluate battery change-out costs. But it wasn't just batteries the team at this utility wound up examining. The group also reviewed the latest AMR technologies to see if added functionality makes new AMR units the smartest buy for their utility.
Project Pioneers
When the Aurora Utilities Department first starting installing its Badger-Trace radio-read system in 1995, theirs was the largest AMR system for pit-set water meters west of the Mississippi. The city installed 70,000 units over a five-year span.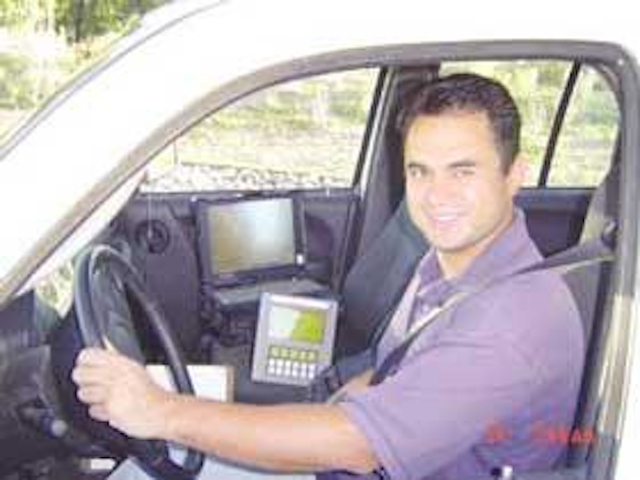 Meter Reader Tony Huerta prepares to drive his meter reading route in Aurora, CO. Photos Courtesy Senior Customer Service Supervisor Bob Morpis.
Click here to enlarge image
"Back when we bought the system, it was the only technology advanced enough to install in a pit setting," said Daniel Mikesell, Customer Service superintendent for the utility, who is quick to note that AMR brought his utility all the benefits it was hoping for. "It reduced manpower needs and cut re-reads."
"We've been very happy with the system we bought and used, but as we approached the 10-year battery life on our AMR modules, we realized that module costs have gone down while functionality is up," he said. "It was time to look more closely at whether to buy new batteries or replace the AMR units."
Comparing Costs
Aurora Utilities compared the costs associated with replacing batteries and buying new units. In the end, the cost was essentially the same. However, buying new modules had significant advantages, including enhanced features, a new warranty and longer battery life – 15 years compared to 10 for replacement batteries.
Aurora found the major cost factor of battery replacement was labor expense. Not only have labor costs risen over the past eight years, the labor involved in battery change-out was larger than originally anticipated.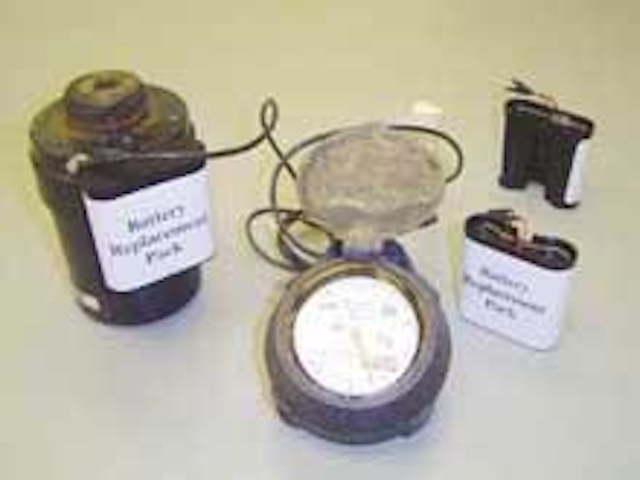 The Aurora Utilities Department opted to replace its automatic meter reading system instead of replacing the aging batteries in its existing units.
Click here to enlarge image
"You can't replace these batteries out in the field," Mikesell said. "As soon as you breach the seal on the AMR module, you introduce moisture into the electronic components, which leads to corrosion. Even ambient moisture degrades these units. You need to pull the modules, take them to a controlled environment, replace the battery, then return the unit to the field."
Testing the Technology
To assess both battery replacement and new equipment options, the meter pros at Aurora Utilities ran an eight-month beta test, during which they looked at two battery change-out options and eight AMR technologies. All technologies and factors were subjected to a rigorous three-part evaluation that took into account a cost-benefit analysis of each option and associated costs of deployment. For example, some technologies would have required new meter boxes to house them.
"For a long time, the city of Aurora was a low-bid buyer," Mikesell says. "Now we have about 10 different meter boxes in place, and not all technologies fit our meter pits."
Other units posed potential problems with oversized antennas that might require replacing meter boxes.
"If we picked a large antenna design and had to dig up 20,000 nicely landscaped yards to replace meter boxes, that's a customer service issue we'd like to avoid," Mikesell said.
Criteria used to evaluate the technologies included:
• Battery life warranties
• Reading and drive-by speed ranges
• Ease of installation, as well as installation labor time and costs
• Presence of digital encoders for read transmissions in sync with meter data
• Mapping capabilities that identify meter reads captured and routes to follow
• User-friendly software
• Leak detection through continuous water use alerts
• Data logging to access interval data with a monthly drive-by
"We submerged units in water, froze them in ice, changed reading ranges, checked references, timed installation and removals," Mikesell said.
Then the team did a pair-wise comparison of all technologies in which they ranked each option against the others by assigning numeric values to all the factors under consideration.
"What we found was that the functionality of the new meters vs. their costs made buying new units more feasible than replacing batteries," Mikesell said.
Aurora plans to stay with Badger meter reading technology.
"We're in 100 year drought here. One of the enhanced features is a water conservation meter that allows customers the ability to monitor their water usage within a tiered rate structure so they know if they are approaching a higher rate, and can conserve water use to avoid paying the higher rate," Mikesell said.
The decision to buy new meters has been made at the utilities department level and awaits Aurora City Council approval of the 2005 capital improvements budget.
In the meantime, the city of Aurora caught its battery replacement cycle at the right time to prevent widespread unit failures.
"With our units being nine years old, we're just beginning to see batteries going out," said Mikesell, who advises any utility to evaluate battery replacement long before the units are set to expire. "If you don't start early, your batteries will fail all at one time. Then you'll have to hire the manpower to get them replaced in a hurry."