AMR System Helps Reduce Cost, Streamline Meter Reading
Settled in the early 1800s, Auburn Hills, MI, has steadily grown to approximately 20,000 residents. That number swells to about 70,000 people during the workday...
May 1st, 2004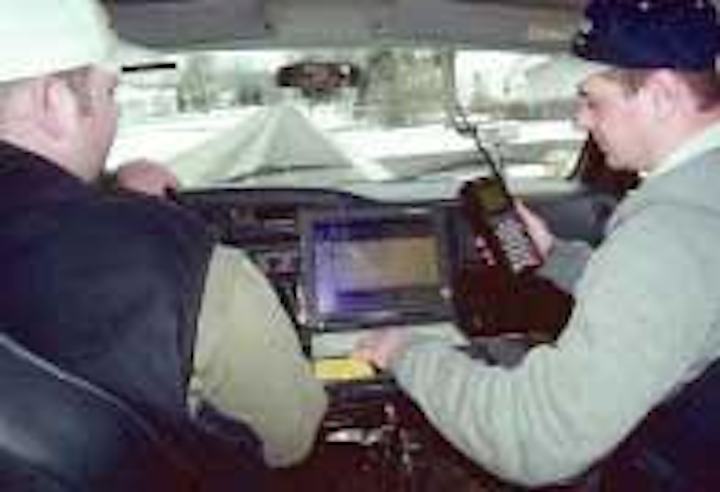 Settled in the early 1800s, Auburn Hills, MI, has steadily grown to approximately 20,000 residents. That number swells to about 70,000 people during the workday as many of the city's companies support automotive production in nearby Detroit. New growth and development is projected to turn Auburn Hills into one of the largest suburban cities in southeastern Michigan, making water consumption a vital issue to everyone in the area.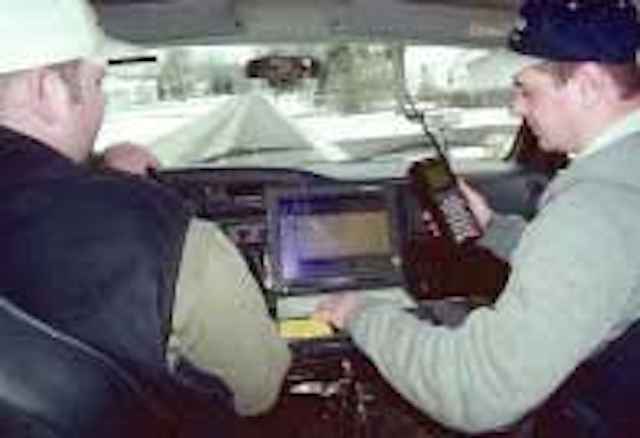 Tom Innes drives while Dave Harran uses the handheld unit. Both are Auburn Hills meter technicians.
Click here to enlarge image
The process of collecting data from water meters can be expensive and time-consuming. Traditionally, Auburn Hills spent about $100,800 per year to read local water meters.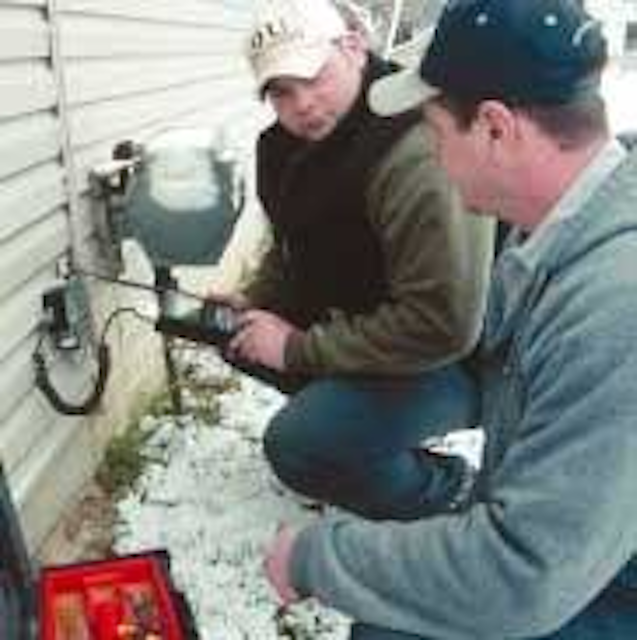 Auburn Hills meter techs Tom Innes and Dave Harran check out a new meter installation.
Click here to enlarge image
Hundreds of meters often went unread for an entire year due to access issues and insufficient manpower to ensure each properly functioned. This significantly impacted the cost of water and billing, which was subsidized by other ratepayers.
City officials realized that the right Automatic Meter Reading (AMR) system could eliminate their problems. The job of implementing an AMR system fell to Ron Melchert, Manager of Public Utilities for Auburn Hills.
Melchert's goal was to find a company that offered a system capable of helping his team achieve 100% of the water meter readings each month using less manpower. This would allow him to redirect valuable employees to other water and sewer maintenance tasks.
Another goal was to take advantage of usage profiling technology. Melchert wanted to be able to examine daily consumption, especially during peak hours, for future water system extensions, as well as provide customers information about unexpected usage due to leaks.
"My most formidable obstacle was finding a way to harness the many advantages of AMR without disrupting residents and businesses," Melchert said. "Closing a business for even one afternoon to replace water meters could have potentially cost hundreds of thousands of dollars in lost revenue. The goal was to find meter-reading technology that would minimize, even eliminate, downtime businesses would face when the system was being upgraded."
In the spring of 2000, Melchert opened bid proposals for a radio frequency meter reading system. The five vendors that responded to the RFP with sealed bids were asked to meet with a review committee comprised of two DPW Public Utilities employees and Melchert.
All of the vendors' equipment was similar in basic physical nature and operation. The AMR systems consisted of a handheld radio frequency receiving unit with a cradle to link it to a PC, vehicle-based mounted radio frequency receiving unit, route management software and the Meter Interface Unit (MIU).
Field Tests
The AMR vendors were asked to demonstrate how their equipment could capture water consumption data in a field test.
"The field exercise required each vendor to read meters placed around the DPW facility in areas representative of actual city meter locations," Melchert said. "Our selection team carefully scrutinized each site for its difficulty in allowing radio waves to penetrate or work around objects such as glass, steel and other building structures with several layers. This accurately tested the equipment's ability to capture reads."
Following the initial testing and inquiry, the Auburn Hills review committee selected a system from Datamatic, Ltd. An order for 4,100 Datamatic Firefly MIUs, plus mobile and handheld units was placed.
The company was chosen for two essential reasons.
"Datamatic's profiling feature allows the storage of water consumption history at each location for a preset number of days," Melchert said. "They were the only vendor to offer that important tool. Secondly, Datamatic's Firefly MIU could be attached to our existing Sensus encoded meters using two conductor wires. This eliminated the need to enter properties to replace the existing wires while cutting installation costs."
The simplified installation of the MIU was key to the city's plan. Even though the city had been installing meters using three conductor wires within new residential developments, too many existing meters and touch pad assemblies used a two-conductor wire assembly.
"Our Firefly MIU's are compatible with virtually any water, gas or electric meter, making it the first truly meter-ndependent AMR system in the industry," said Scott Durham, Vice-President, Sales and Marketing at Datamatic. "This meant that installation of the entire AMR system could be completed with minimal effort and disruption. Meter independence enables utilities to use existing meters and registers while maintaining the freedom to purchase any brand or model of meter without being constrained by a proprietary AMR system."
New Intelligence
Datamatic's MIU archives consumption data at user-definable intervals using a feature called ProfilePLUS™. When set to record hourly readings, each water MIU can hold over 74 days of hourly consumption readings. Data is extracted from the MIU using a Roadrunner handheld or field laptop computer for conversion and presentation in a graph, spreadsheet or another meaningful format.
Data of this kind was previously unavailable without costly flow monitors or network infrastructure.
"ProfilePLUS will help us identify leaks prior to a customer complaint, quickly resolve disputes and prevent meter theft or tampering," Melchert said. "This data is also helpful in designing future extensions of the city's water system and is an important tool for monitoring and enforcing conservation policies."
Return on Investment
The new meter reading system will allow the city to save money. With Datamatic's AMR system, the department only needs a single meter reader to cruise the streets of Auburn Hills and collect data. That single employee can now complete the task in about 18 days each year, at a cost of only $5,040 annually. Over a five-year period, the city expects to save approximately $478,800.
"The savings, however, extend far beyond those realized due to requiring fewer meter reading man-hours. Since the city will need to allocate just a single meter reader, remaining personnel, as well as the meter reader's remaining available time, can be devoted to preventive maintenance," Durham said.
Additional information about Datamatic AMR systems and products is available at www.datamatic.com.