Addressing the challenges of deploying water AMI
While much of the recent publicity around Advanced Metering Infrastructure (AMI) and Smart Metering revolves around electric utility projects, the consideration of water AMI continues to accelerate.
Jun 1st, 2012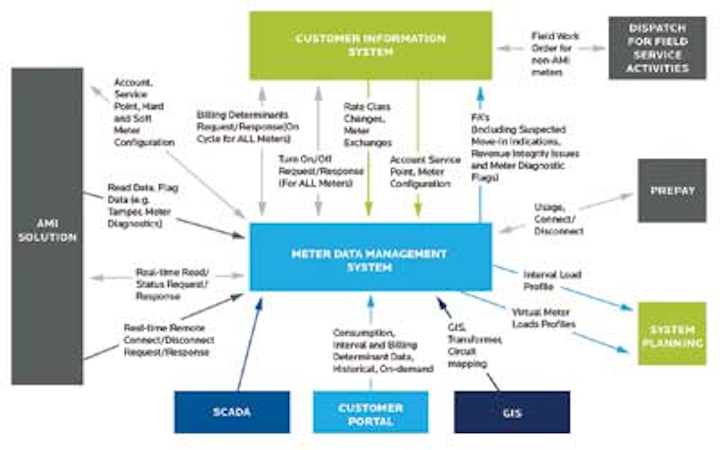 By Kevin Cornish
While much of the recent publicity around Advanced Metering Infrastructure (AMI) and Smart Metering revolves around electric utility projects, the consideration of water AMI continues to accelerate. The widespread availability of robust and reliable water AMI solutions from potential vendors provides water utilities with more options regarding which solution architecture and vendor technology best meets their needs. As these technologies mature and water utilities continue the move into AMI systems, utilities have appropriately shifted focus to implementation considerations. That is, how can utilities ensure successful projects and get the most benefit from the solutions they deploy?
AMI solutions — and the organizational impacts they impart — affect many parts of the water utility and its stakeholders. Successfully implementing an AMI project requires attention to a wide array of issues. Experience has shown that four key areas of focus are required to ensure successful and impactful AMI project execution:
1. Thorough understanding of the implications and requirements of the utility's existing and new information technology systems
2. Understanding the capabilities required to support this new communications network and data management system
3. Attention to organizational change management
4. Development of a customer engagement strategy
AMI: Not Just a Metering System
Utilities have traditionally used a combination of remote touch read or drive-by solutions to solve difficult meter reading situations. While having significantly different technology requirements, these older "automated" solutions share a common trait of providing only the minimum information required to support the billing function. The read data is collected via a hand-held or drive-by device, uploaded to a common system and provided via a periodic batch file transfer to the utility Customer Information System (CIS). These basic metering-system-to-CIS integrations are relatively simple and CIS systems themselves have basic data requirements and capabilities.
With AMI systems, however, the utility is no longer limited to periodic data collection; indeed the real value of an AMI solution is the ability to retrieve interval consumption data to support new rates, utility operations and customer engagement. Most existing IT and operational systems and the processes used to build them are not capable of supporting the new data flow, timing, and integration requirements of AMI.
Many older CIS systems cannot support the advanced rates that AMI enables and that many water utilities are examining. The AMI and Meter Data Management (MDM) solutions available today have superior meter read validation (such as max flow limits) or read estimation capabilities compared to many older CIS systems. To enable Customer Service Representatives (CSRs) to use the AMI data to respond to customer inquiries, it is necessary to provide the CSRs with direct access to the AMI data or enable the CIS system to access the AMI data.
One of the distinguishing features of AMI systems is the massive amount of data collected. Utilities have traditionally been challenged with developing solutions to manage all of this information. AMI systems themselves can store several years worth of data, however, the AMI system may not be the appropriate place for long-term data storage nor should users throughout the utility have direct access to the production AMI system. This requires the utility to consider data management solutions such as MDM, data warehousing, archiving, etc.
Utilities need to decide what level of online data access is required and by whom. If the utility is providing usage information to customers via a web portal, then the web portal must also have access to the AMI data. Figure 1 illustrates a basic integration reference architecture for a water AMI implementation. Solutions can become much more complex depending on the level of sophistication of the utility, the specific systems in place, and the overall corporate strategy on how the AMI data is to be leveraged.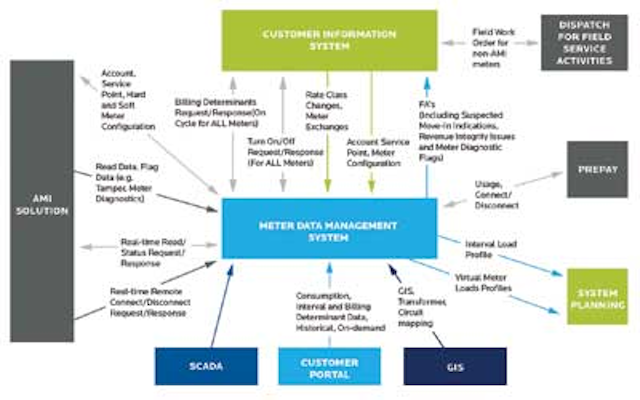 Figure 1. Sample integration schematic.
Commensurate with the need to carefully analyze the IT integration and system enhancements required to support AMI, consideration should be given to how the project implementation is staged. Rarely should utilities attempt to implement all system enhancements and integrations in a single business release (BR). Experience has shown that multiple business releases reduce project risk, provide for more manageable IT enhancement and integration, enable focus on the critical areas, and allow the utility to stagger organizational change.
The first business release (BR1) normally includes the core meter-to-cash business process and deployment readiness and involves the implementation of the core AMI solution, meter/communications module deployment, and CIS integration. BR 2 might include improved management of the AMI interval data, retirement of the older hand-held or drive-by systems, enhancements to the customer web portal and support for advanced rates. BR 3 would then expand the AMI data access and integration into other operational and planning systems.
Utility Transforms into Communications Company
The replacement of the earlier manual or automated reading technologies with an AMI system challenges most utilities' operational teams in that they now possess a real-time communication network that must be operated, managed and maintained. Figure 2 illustrates an end-to-end AMI solution. The local area network between individual meters and collection devices may leverage one or several wireless technologies. The backhaul from the collectors to the utility data center may also entail multiple solutions, with the management of these systems not being core competencies of the water utility.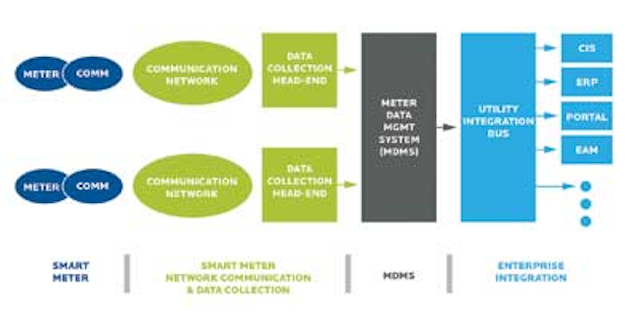 Figure 2. Water AMI overall solution.
Additional resources and field classifications may be necessary to support the AMI system. Traditional water meter reader or operator classifications may not include the skills or competencies necessary to troubleshoot and maintain the new communications devices or network elements.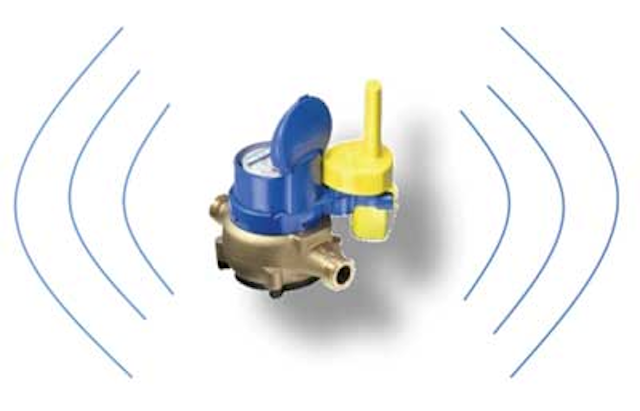 An integrated smart water communicating meter.
Some utilities may outsource the operations and management of the AMI networks. Several AMI vendors provide managed services or hosting solutions while third parties can be contracted to provide these services directly to utilities. This option makes sense for many smaller water utilities that do not possess the IT and telecommunications skills and competencies necessary to manage the AMI solution. Larger water utilities may wish to maintain control and responsibility for the AMI networks themselves as these networks are seen as core critical operational assets, especially when distribution leak detection or water SCADA elements are layered on top of the AMI network.
Organizational Change Management
Along with the potential need to establish new personnel classifications, establish new operational procedures and business processes, and train employees, utilities must decide which department or organization is best suited to be responsible for the AMI solution. Given its strategic value and realizing that it is more of an information system than a metering system, the Metering Department may not be the ideal keeper of the AMI solution. As this new data system is much broader than just billing meter reads, the focus of the AMI team must be broader than traditional metering groups. It must now include:
communication systems network management
distribution and customer leak information
tamper detection
customer usage data provision
engineering and operations use of the data
It can be debated whether the AMI Operations team belongs in Customer Service, Engineering, or Operations departments. Indeed, the right answer may hinge on the unique characteristics of individual utilities. The critical element is that there should be consideration of the proper organizational model to support the future AMI strategy and technology initiatives.
Customer Engagement
Equally important, the utility must consider the customer engagement strategy that best supports its overall AMI initiative. Lessons learned from electric utilities' customer engagement experiences coupled with the experience from many of the water AMI projects in North America provide valuable insight for water utilities considering an AMI initiative.
Water utilities should produce a customer communications plan to accompany their AMI program. They should expect to share with their customers the justification and value proposition that are prompting this technology investment. Customers expect utilities to employ technology to improve service, maintain reliability or quality, ensure adherence to regulations, and manage costs. Support for water conservation activities, environmental benefits, availability of water usage information and similar benefits are very meaningful to a segment of the water utility's customer base.
Summary
The implementation of AMI into a water utility environment is a complex initiative. It brings with it significant utility and customer benefits and transforms the utility into an information-enabled enterprise. With all this, it requires the utility to become competent in the information systems it deploys, the business processes it implements, and the personnel it employs to support these new technologies.
About the Author: Kevin Cornish is an Executive Consultant and the Smart Grid Consulting Practice Lead with Black & Veatch. He has more than 25 years of experience in the utility field, with particular expertise in Smart Metering and Smart Grid initiatives. Reach him at CornishK@BV.com.
More WaterWorld Current Issue Articles
More WaterWorld Archives Issue Articles