Get the Most Out of Fixed-Network AMI
Utilities often justify fixed-network advanced metering infrastructure (AMI) as a way to efficiently collect meter data, eliminate estimated readings, and improve billing.
Aug 1st, 2012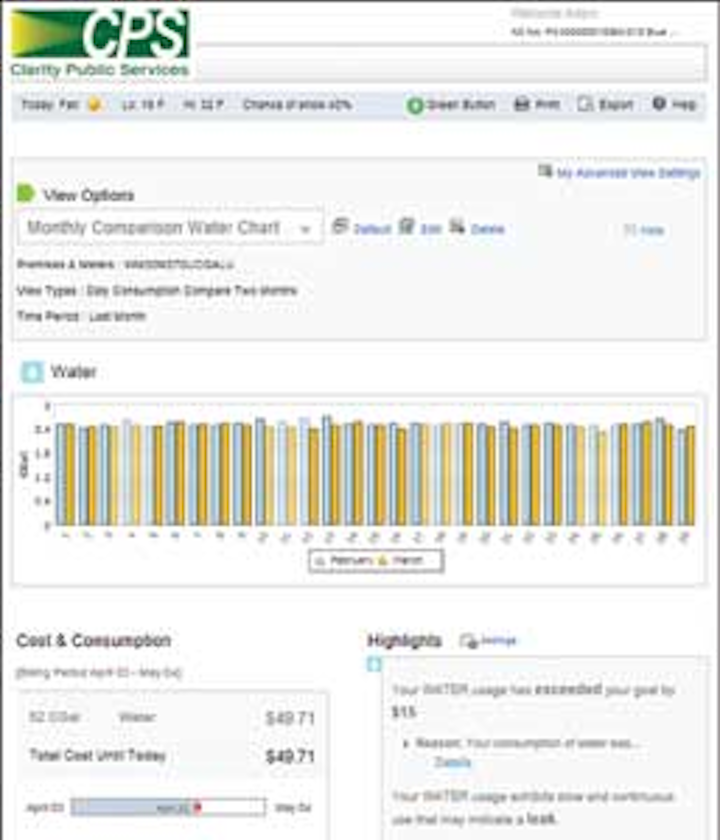 By Cynthia Daugherty, Product Manager, Water Software, and Dean Slejko, Product Manager, Water, at Aclara
Utilities often justify fixed-network advanced metering infrastructure (AMI) as a way to efficiently collect meter data, eliminate estimated readings, and improve billing. Typically, utilities also give their customer service representatives access to the usage data generated by the AMI system, making them more effective in responding to customer inquiries. Some utilities go a step further by evaluating usage data and proactively notifying customers of potential irregularities such as unusually high consumption or constant consumption.
Once AMI is in place, there are ways to make the investment go even further by extending the usefulness of the infrastructure and by effectively utilizing the AMI data. For example, utilities can mine the data they collect and present the usage information directly to consumers, engaging them in conservation efforts and resource management. They can also find ways to use the AMI system to perform other services such as leak detection.
Consumer Engagement
Utilities that implement fixed network AMI generate a lot of data. Instead of capturing one reading per month, they often collect a reading an hour. The millions of readings collected can help customers understand their water usage, and can generate an ongoing conversation between the utility and its customers.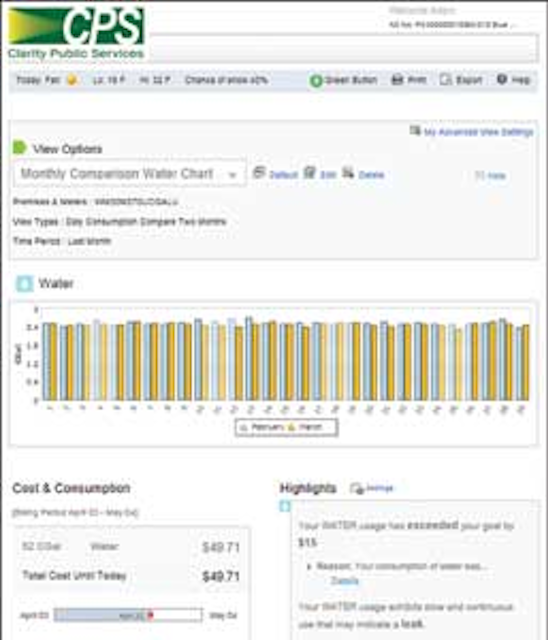 Aclara's Consumer Engagement solution for water utilities allows customers to see how they are using water and understand what they are spending as they use it. In addition, it allows customers to set goals and lets them know how they are progressing.
Showing customers how they use water can be a springboard for conservation efforts. When customers know how much water they are using and when, they become more aware of their behaviors and can take proactive steps to curb usage. Presenting near real-time usage also provides a valuable service by allowing customers to find leaks early, before they become expensive to fix or generate high bills.
Presenting usage data directly to consumers also can save the costs of responding to customer-service calls and high bills complaints. If customers can see exactly how they are using water, they tend to figure out ways to use it more efficiently. This observation was born out by research conducted by Bentley University and Aclara to determine how to best engage consumers.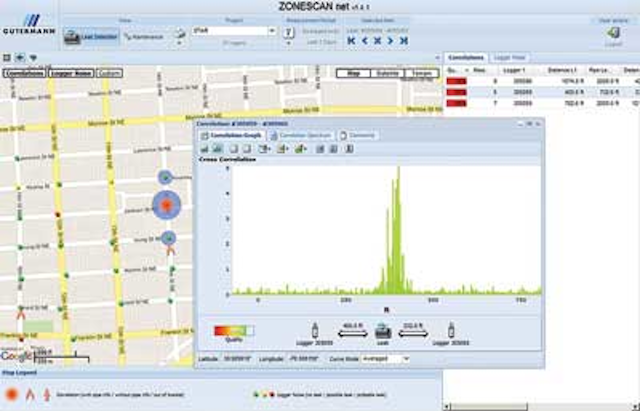 Once the utility collects data from STAR ZoneScan loggers, it analyzes it, doing cross correlations to pinpoint the location of potential leak. The leak illustrated above is 400 feet from one logger and 332.6 feet from another.
The research helped Aclara establish features in its consumer-engagement solution that help customers really understand and respond to usage data. For example, the software allows customers to set goals for usage and configure alerts that tell them how they are progressing on goals. It also offers ways for customers to overlay data with other information, like weather information, that may help them understand usage patterns. What's more, the solution allows the customer to drill down into even more detailed views of usage that can help them make decisions about behaviors.
Overall, the consumer-engagement solutions offered by Aclara inform and educate consumers, helping water utilities to engage their customers in real dialog that encourages beneficial usage patterns that lead to operational efficiencies.
Leak Detection
Vigilant monitoring of AMI data to identify continuous or unusual spikes in usage can help consumers identify the presence of leaks in and around their homes. AMI systems can also provide the backbone infrastructure to support solutions that identify underground leaks.
The STAR® ZoneScan leak detection system helps identify underground leaks before they break through the surface. Developed in conjunction with Swiss firm Gutermann International, the STAR ZoneScan deploys a solution on the fixed-network advanced metering infrastructure. It combines Gutermann acoustic loggers with specially designed Aclara meter transmitters.
The acoustic loggers are connected magnetically to adjacent valves along the water pipeline network and monitor water flowing through pipes, sending related data to the utility via the transmitters. Once the data collected from the loggers is at the utility, a cross-correlation is performed on it using Gutermann's web-based ZoneScan Net software. The correlation can identify to within a few feet the location of possible leaks.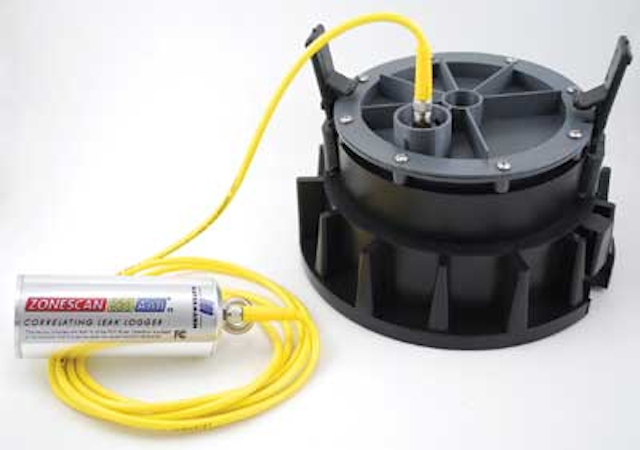 The STAR ZoneScan is comprised of an acoustic data logger connected to a meter transmitter. The transmitter is environmentally sealed and secured inside a composite valve-cover lid.
One water utility is using ZoneScan to help it deal with the problem of effectively finding leaks in its aging infrastructure, allowing it to repair them quickly and reduce its unaccounted-for-water statistics. At this utility, up to 20 percent of the water pumped its distribution system never makes it to customers' meters. This unaccounted for water can be attributed to a number of factors, but unidentified leaks represent a significant portion. In a pilot program with the utility, STAR ZoneScan successfully found one leak that was subsequently verified and repaired.
The most important advantage of STAR ZoneScan is that loggers automatically collect data, avoiding the time and expense of manual or drive-by data collection. In non-automatic systems loggers must be read at times when traffic is light because ambient noise can affect readings. This means that crews must be sent out in the middle of the night to collect readings, which can be expensive and inconvenient.
In addition, readings by the STAR ZoneScan system can be scheduled from the utility office. This reading can occur at any time and is kicked off by a signal sent from the utility over the fixed network.
Another benefit of the STAR ZoneScan solution is that it automatically performs cross-correlations among adjacent loggers. Graphical results showing probable leak locations can then be viewed from the utility office. This approach not only finds leaks more effectively, it allows the utility to more specifically pinpoint areas for crews to dig.
Using a system such as STAR ZoneScan can add value to an established STAR Network solution. Utilities without current fixed-network systems also can justify implementing STAR ZoneScan just to make a critical dent in the problem of unaccounted-for water, which averages about 15 percent per year for most water utilities.