Company Offers Water Industry Automated Metering Infrastructure System
Elster AMCO Water will launch a new solutions-based Automated Metering Infrastructure (AMI) system...
May 1st, 2007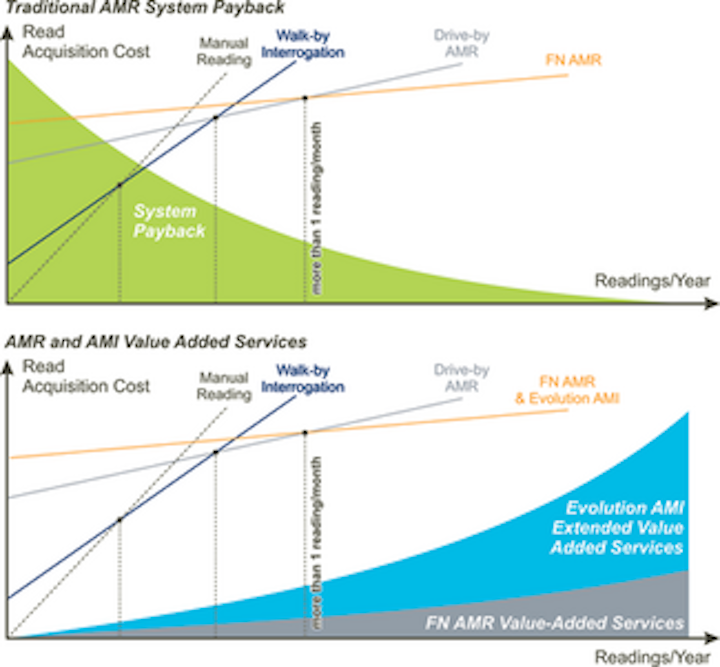 By Bruce Bharat, Product Marketing Manager - AMR/AMI, Elster AMCO Water Inc.
Elster AMCO Water will launch a new solutions-based Automated Metering Infrastructure (AMI) system, Evolution AMI, during the annual American Water Works Association exhibition, ACE '07, on June 24 in Toronto, Canada.
The new system provides the benefits of a mesh network, including self installation and self healing, extended radio coverage, non-mandatory line-of site operation, scalability, and the added benefits of long range capabilities for hard-to-reach environments. It will offer an operating life of 20 years, two-way communications directly to the Radio Transceiver Module (RTM), secure transmissions using FHSS in the ISM 900MHz band and several connectivity options to WANs for data backhaul and remote network monitoring.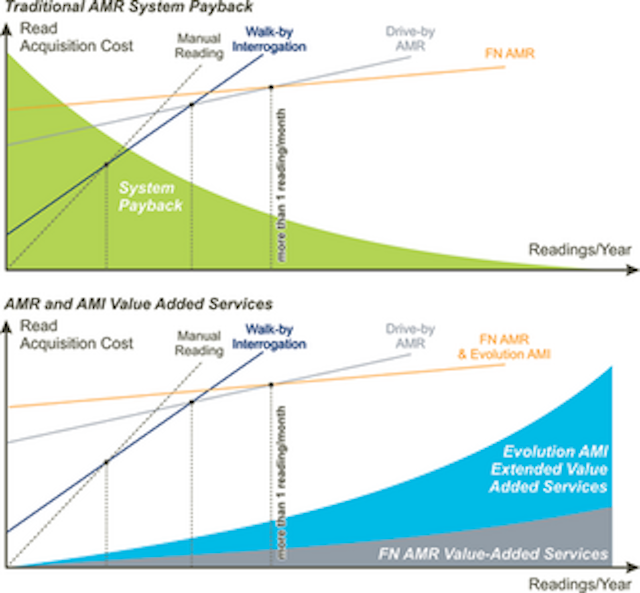 Click here to enlarge image
Automatic meter reading (AMR) systems in the water market have delivered on the promise of reduced overall meter reading costs and reduced estimated bills, resulting in increased and accelerated cash flows for the water utility. However, Automated Metering Infrastructure systems go beyond meter data collection. AMI also offers the ability to interact with the meter - and customer - in a variety of ways.
The AMI movement has seen its greatest activity in the electric power industry, driven by the need to monitor customer usage and efficiency. As supplies of clean, potable water are becoming increasingly scarce, the water industry has been stepping up its pace and engaging in a similar commitment to customer usage efficiency.
Elster's Evolution AMI is designed to go beyond the traditional benefits of AMR. It offers utilities the possibility of time-based rates, in-home consumption monitoring for end users, remote valve actuation, on-demand consumption readings, and immediate notification of leaks, tampering, or backflow.
The system represents true AMI in every technological aspect. A web-based network management application running on the water utility server handles two-way end-to-end communications throughout the entire network from a central location to each RTM. Two-way communication not only allows the utility to acquire 'on demand' readings, but also provides the medium to receive information about various events from the RTM as they occur, including residual or extreme leaks, tampering, low battery or backflow. This information is automatically transmitted back to the head end, and/or to an email address of the utility's choice.
To promote conservation, utilities can leverage the system's ability to generate usage data based on a particular time period, also known as time-based rates or Time of Use (TOU). Conservation efforts extend beyond the utility. End user's can now be mindful of their water consumption in real time. Evolution in-home user displays can deliver a real time picture of the user's consumption.
The system will also offer the water utility remote valve actuation, allowing the utility to shut off or decrease water pressure to a particular end user from the head end, resulting in cost savings in time and labor by not having to send personnel into the field to perform the operation.
The traditional view of AMR in the water metering industry has finally evolved to a truly intelligent technology that drives a comprehensive water utility system solution.
Elster AMCO Water is part of the Elster Group, a global multi-utility metering solutions company for water, electricity and gas metering. Evolution AMI is the first in a series of new systems the company is bringing into the water market. Elster Group is one of the world's leading manufacturers and suppliers of integrated metering solutions to the gas, electricity and water industries. The group has over 9,000 staff, operations in 38 countries and serves over 115 markets around the world.