DISTRIBUTECH EXHIBITOR PRODUCTS
Advantica has released SynerGEE® Water 4.2, providing significant advancements to enable users to generate...
Jan 1st, 2007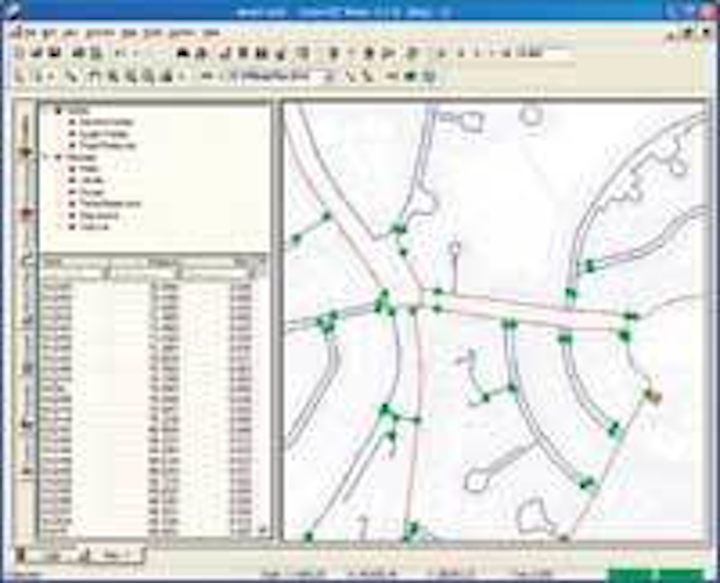 Simulation software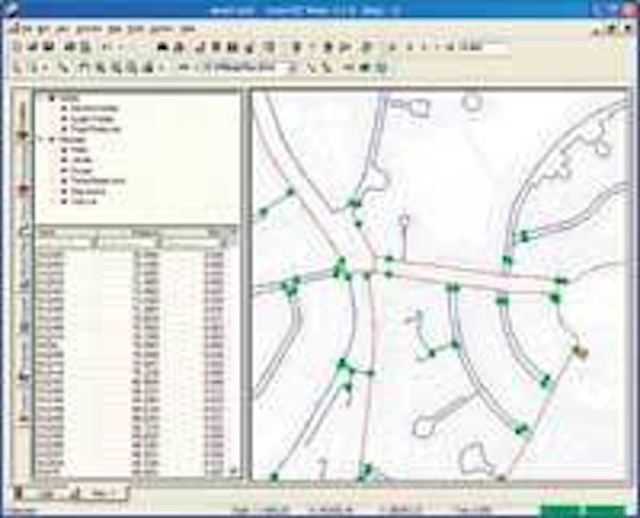 Click here to enlarge image
Advantica has released SynerGEE® Water 4.2, providing significant advancements to enable users to generate practical and accurate water distribution network simulation results. The new version features a new Calibration Module that improves model building and maintenance efficiency to reduce the time and cost required to calibrate a model. Users can now calibrate pipe friction, roughness, diameter and system demands for a user-defined group, area or entire model to perform sensitivity, calibration or leakage analysis.
Advantica Inc.
Mechanicsburg, PA
Tel: 717-724-1900
Web: www.advantica.biz
Modeling software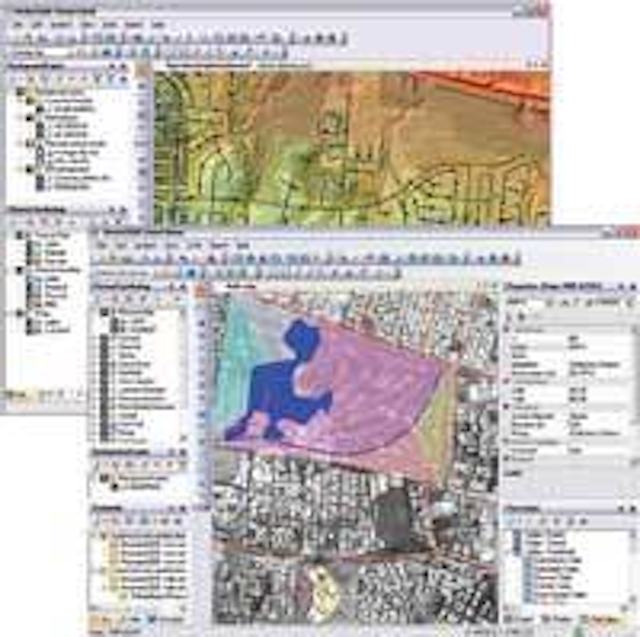 Click here to enlarge image
WaterGEMS and SewerGEMS are multi-platform (stand-alone, AutoCAD, ArcGIS and MicroStation) solutions for water distribution and sanitary and combined sewer modeling. The new ArcGIS-integrated systems leverage ESRI's Geodatabase architecture to guarantee a single dataset for modeling and GIS.
Bentley Systems
Exton, PA
Web: www.bentley.com/watergems
Customer information systems
CIS Week is a conference and exhibition designed to deliver in-depth educational opportunities for all water and wastewater utility professionals who manage customer care, information technology, billing and customer satisfaction. It will be held May 21-24 in Orlando, FL. Leaders from the utility industry will address strategic developments that are changing how they approach customer service challenges and their impact on customer data management and customer satisfaction.
CIS Week
Sherman, TX
Tel: 903-893-3214
Web: www.cisweek.org
GIS software
DeLorme will exhibit its new XMap 5.0 GIS Enterprise suite of products, which includes a wide range of advanced mapping, routing, navigation, GPS, and GIS file management features. A three-tiered solution, it delivers the appropriate measure of capabilities to users at different operational levels - GIS administrators, field technicians, and now, for the first time, top echelon enterprise GIS managers as well.
DeLorme
Yarmouth, ME
Tel: 800-293-2389
Web: www.xmap.com
Fixed network AMR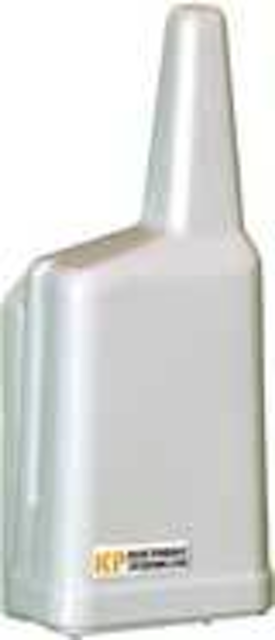 Click here to enlarge image
The Mega-Net - Fixed Network AMR system from KP Electronics is based on the company's expertise gained from 20 years in the wireless alarm transmission industry. It is designed to serve large geographic areas and eliminates the expenses related to walk-by or drive-by systems, or the need for expensive data collectors related with short-range Fixed Network AMR systems.
KP Electronics Inc.
North Wales, PA
Tel: 800-542-7460
Web: www.kpelectronics.com
Video surveillance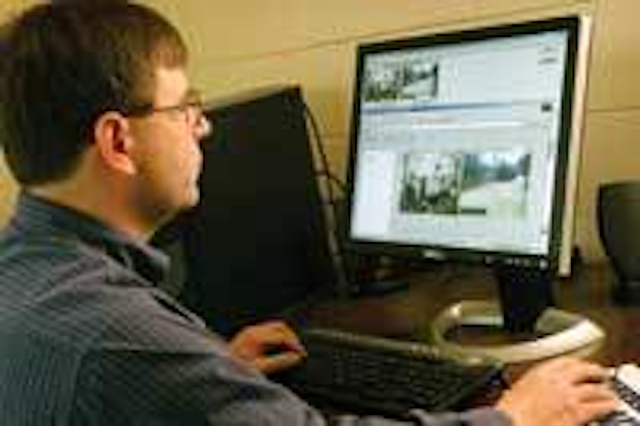 Click here to enlarge image
The Longwatch Video Surveillance System provides water utility operators with the visual information they need to monitor and manage remote facilities, like well fields, pumping stations, pipelines, and water towers. Operators receive automatic video alarm notification that can be used to verify if an intrusion warrants immediate action, no response, or is a false alarm.
Longwatch
Norwood, MA
Tel: 781-255-7400
Web: www.longwatch.com
Customer service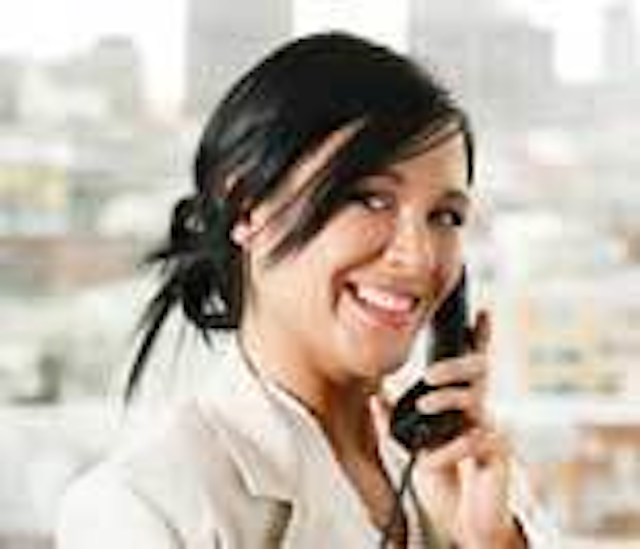 Click here to enlarge image
Telelink, Milsoft Utility Solutions' interactive voice response system, provides automated 24/7 customer service using the latest interactive voice response technology, including voice recognition. A comprehensive inbound call capability permits customers to inquire about accounts, pay their bill, receive information on policies and programs, and even start and stop service.
Milsoft Utility Solutions
Tel: 800-344-5647
Web: www.milsoft.com
Wireless modules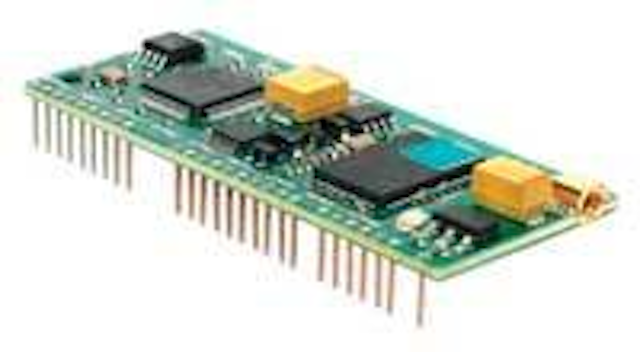 Click here to enlarge image
Multi-Tech® Systems, a telecommunications and data communications technology company, will be exhibiting its new 802.11b wireless networking embedded modules at DistribuTECH. The new Wi-Fi modules are for designers needing a means of adding Wi-Fi connectivity to their applications. The new SocketWireless Wi-Fi embedded modules, model MT800SWM and MT800SWM-I, are ready-to-integrate and space-efficient (1" x 2.5") devices that are 802.11b compliant, integrate a complete TCP/IP protocol stack, and include a selectable-speed serial interface.
Multi-Tech Systems Inc.
Tel: 800-328-9717
Web: www.multitech.com
Automatic meter reading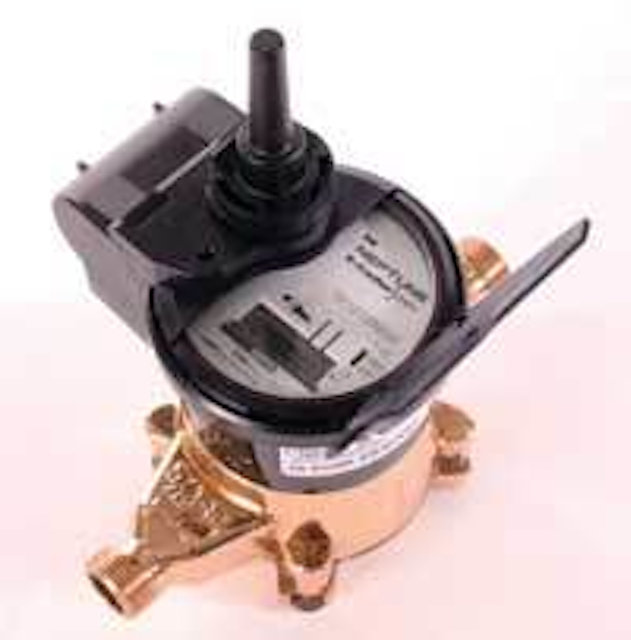 Click here to enlarge image
Neptune has combined the field-proven R900TM radio frequency meter interface unit (RF MIU) with its solid-state absolute E-CoderTM into one unique integrated package - the E-Coder) R900iTM, a significant addition to Neptune's ARB® Utility Management SystemsTM. As a truly wireless AMR device, it offers customers a single wireless automated meter reading solution that provides accurate readings, plus leak and backflow detection.
Neptune
Tallassee, AL
Tel: 334-283-7482
Dataloggers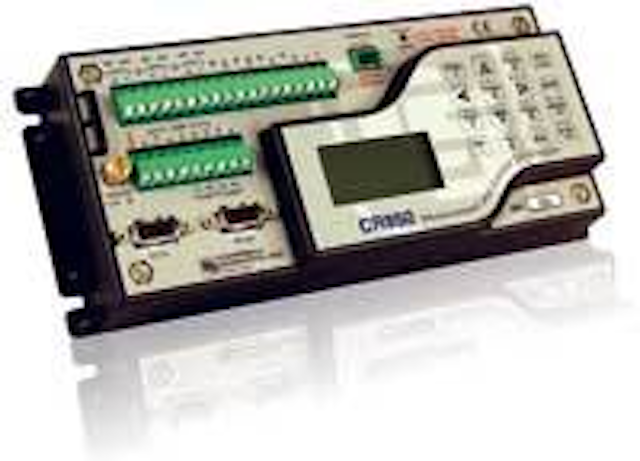 Click here to enlarge image
Campbell Scientific has released the CR850 (part of the CR800 series of dataloggers) that has an integrated keyboard display. The logger features 2 Mbytes of battery-backed SRAM and a battery-backed clock that ensure data, programs, and accurate time is maintained while it the logger is disconnected from the main power source. It also includes CS I/O and RS-232 serial ports, 16-bit microcontroller with 32-bit internal CPU architecture, three differential (six single-ended) analog inputs, five pulse counting channels, background system calibration and communication protocols.
Campbell Scientific Inc.
Logan, UT
Web: www.campbellsci.com
Pumping software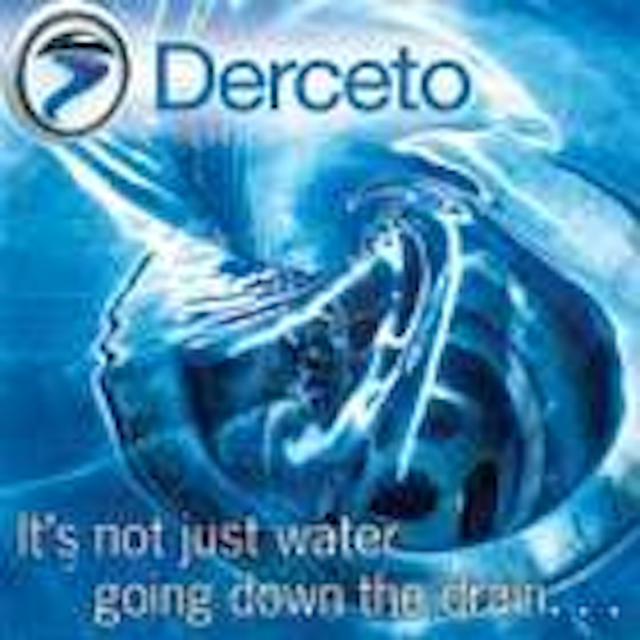 Click here to enlarge image
Derceto offers a software product that enables water utilities to control their energy costs through optimal pump scheduling. The software has produced savings of 15% or more in annual energy costs for clients from Maryland to California. Its pump schedules also use pumps more efficiently, delivering as much as 14% in energy reduction.
Derceto Inc.
San Francisco, CA
Tel: 800.509.5758
Web: www.derceto.com
Fixed network AMR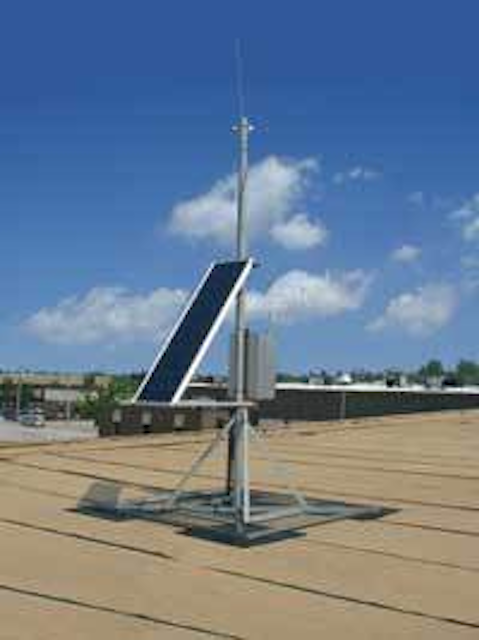 Click here to enlarge image
The Hexagram STAR Fixed Network AMR System provides fully automatic meter reading using licensed radio channels. It provides two or more daily readings from every meter within the system and can help facilitate proactive customer service. Customer Service staff can access meter readings for any given day and customer profiles exist for every meter within the system. The STAR system enables water conservation and provides leak detection notification.
Hexagram Inc.
Cleveland, OH
Tel: 800-969-1057
Web: www.hexagram.com
Meter boxes, lids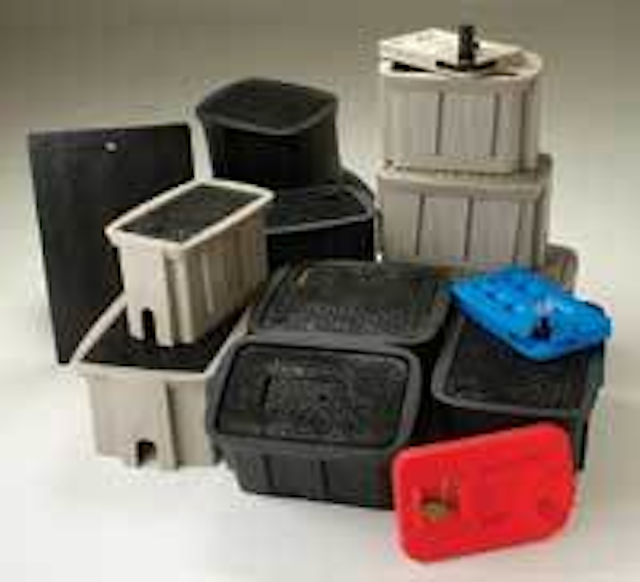 Click here to enlarge image
DFW Plastics offers rectangular, round, and oval meter boxes and lids designed to meet load requirements in traffic and non-traffic installations. The company's "E" plastic lids are designed with the latest AMR technology and fit plastic, cast iron or concrete boxes in retrofit installations as well as new construction. Its patented features allow AMR Transponders to be attached to the bottom of the lid to strengthen the signal for maximum reception.
DFW Plastics Inc.
Saginaw, TX
Tel: 817-439-3600
Web: www.dfwplasticsinc.com
Radios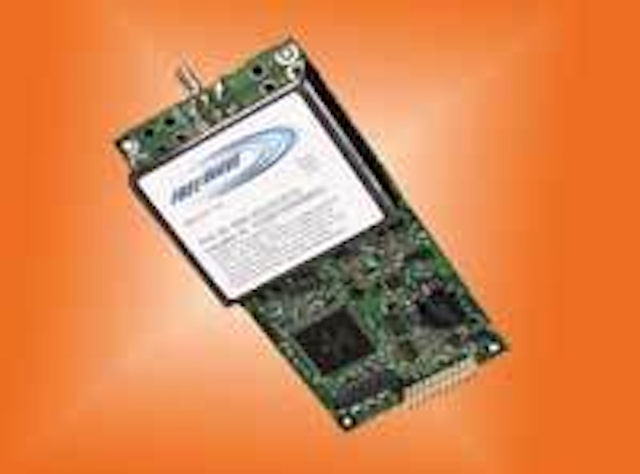 Click here to enlarge image
FreeWave's 1.4 GHz radio is designed for use in some of the most extreme RF environments, including Class 1 Division 2 areas, enabling error-free information transmission for a variety of applications. In the municipal water industry, the radios can be used in the design and building of control systems for many automation and information applications. In addition to its radios, FreeWave offers network design, path studies and pre-installation engineering services for data-flow under any condition in all environments.
FreeWave Technologies
Boulder, CO
Tel: 800-548-5616 Web: www.freewave.com Booth 835
SCADA system middleware

Click here to enlarge image
The OdysseyTM Solution from Aegis Technologies is designed to make both new and legacy SCADA/Control Systems smarter, faster and safer. A middleware solution, it sits between the control center and remote modems to optimize the entire control system. The system offers three unique feature sets. The OptiBitTM feature increases bandwidth through the application of self-optimizing compression technology without converting to TCP/IP. The PinPointerTM provides intelligent logging, forensic and diagnostic tools to troubleshoot from the control center. Operators can view the overall status of the communications network and "drill down" to view byte-by-byte communications activity on an individual line. SCADAsafeTM / Modem DefenderTM addresses major cyber vulnerabilities by creating an "electronic security perimeter" around a SCADA/Control System. Features include 2048-bit encryption, device/user authentication, device access protection (modems, port, TCP/IP), role-based permissions, and active monitoring.
Aegis Technologies Inc.
Phoenix, AZ
Tel: 602-443-5041
Web: www.aegistech.us
Wireless communication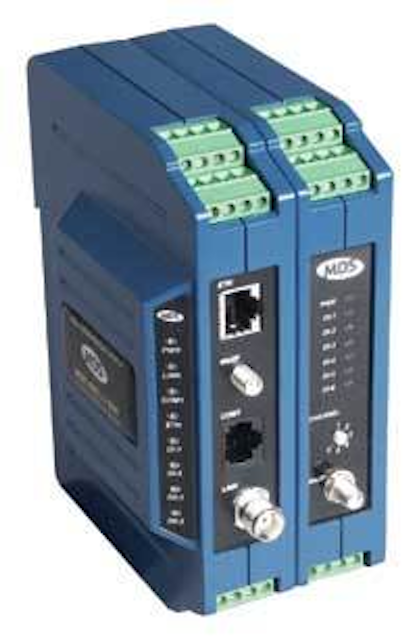 Click here to enlarge image
MDS has a new, integrated, scalable family of I/O and wireless communications products now available to municipal water agencies. Using a single wireless link, MDS NETioTM carries payload data from serial and IP devices along with analog and discrete signals. It also supports direct protocol addressability of connected I/O from a library of industrial protocols. Because additional protocol conversion devices are not needed, the result is a simplified network with fewer devices and wires, fewer points of failure, and lower installation and termination costs.
Microwave Data Systems
Rochester, NY Tel: 585-242-9600 Web: www.microwavedata.com
Communication modules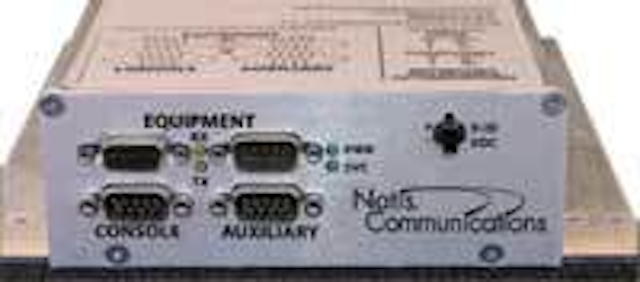 Click here to enlarge image
The Natis UCH ruggedized communication device enables water and wastewater companies to monitor, automate and control mission critical remote equipment. The UCH provides secure cellular, satellite, RF or wired connectivity to an RTU or other remote equipment. Its unique dual communication network capabilities enables fully redundant communication paths to ensure high availability. The interchangeable communications modules, supporting a wide variety of TCP/IP communications technologies, allows users to choose the most cost effective and reliable communication interface for each site. The device supports the highest levels of encryption including 3DES and AES with robust and flexible key management for added security. Configuration is web based and menu-driven.
Natis Communications
Gilroy, CA
Tel: 408-842-1151
Web: www.natiscommunications.com
SCADA encryption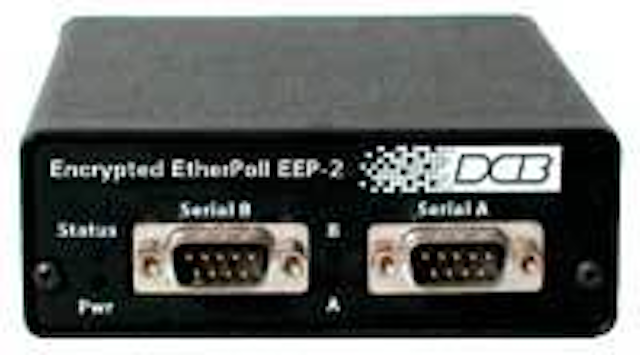 Click here to enlarge image
Data Comm for Business has added the Encrypted EtherPoll EEP-2 to the DCB family of encryption devices. The EEP-2 is an industrial temp rated (-40º to +75º C) SCADA communications 2-port serial server that allows multidrop devices to use Ethernet LANS. With AES-128 bit encryption, it's ideal for Intranet and the Internet. The device can operate with encryption enabled or encryption turned off. It works with Modbus, DNP3, and most point-to-point or multi-point 8 bit protocols. The serial port interface speeds are up to 230 Kbps. The EEP-2 maps data from a serial port to one or to as many as 32 remote IP addresses. This makes it easy to have redundant host sites that will always receive the same poll responses as the master host site.
DCB Inc.
Dewey, IL
Tel: 800.432.2638
Web: www.dcbnet.com