Advanced metering software provides end-to-end managed solutions for utilities
A Badger Meter end-to-end managed solution for utility management gives utilities greater control, more information and enhanced customer service.

Jan 29th, 2014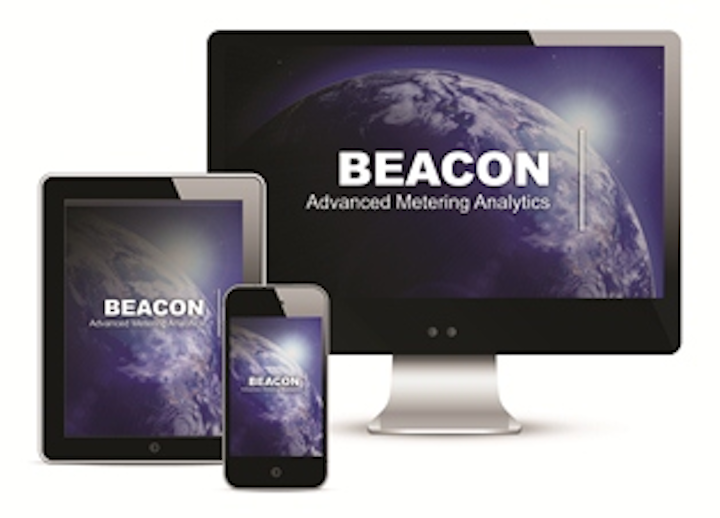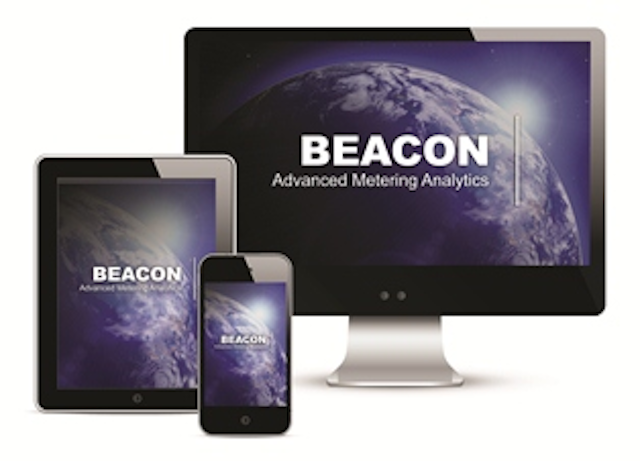 Badger Meter's hosted BEACON AMA software suite (Photo credit: Badger Meter)

MILWAUKEE, WI, Jan. 29, 2014 -- A new end-to-end managed solution for utility management designed to give utilities greater control, more information and enhanced customer service was recently released. Provided by Badger Meter, a global manufacturer of flow measurement and control solutions, the BEACON Advanced Metering Analytics (AMA) is a system that combines the AMA software suite with ORION® Advanced Metering Infrastructure (AMI) technology using fixed and cellular networks.
John Fillinger, director of utility marketing for Badger Meter, noted that facilities can minimize the need for costly infrastructure with ORION Cellular endpoints, along with fixed network endpoints, and can capitalize on ongoing system maintenance and software support. Further, utility managers can also better understand and monitor their water operations and improve customer service with the decision-making information provided by the BEACON AMA software suite. "BEACON AMA is a simple and innovative approach that enables two-way communication virtually anywhere and gives utilities the information and analytics they need without the time and expense of managing their own fixed network system," he added.


Badger Meter introduced BEACON AMA to DistribuTECH 2014 audiences during a press conference in San Antonio in January. Watch the video below to learn more.


Built around a robust software suite, BEACON AMA can easily import meter data and utilize the information to improve operations and processes for each specific utility's needs. The software suite includes a customizable dashboard, the ability to set unique alert conditions, a consumer engagement website and smartphone/tablet app so customers can view their water usage activity, a secure hosted platform, and integration into current utility business systems. Water utility managers can expect faster leak detection, easier revenue management, the ability to quantify the effects of their water conservation efforts, easier compliance reporting, and an enhanced customer service experience.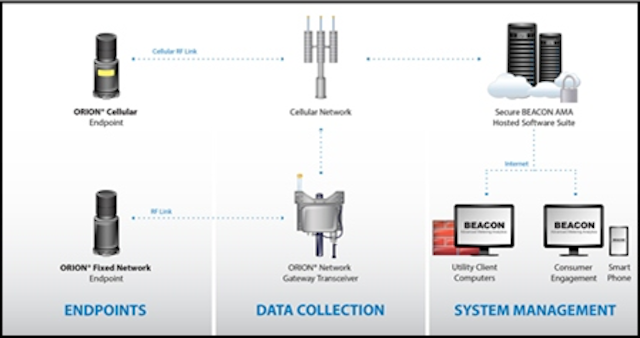 A graphic illustrating how Badger Meter's BEACON AMA works (Photo credit: Badger Meter)
BEACON AMA is built on the time-tested ORION system for interval data capture and two-way communication. By utilizing the traditional Badger Meter ORION (SE) Fixed Network endpoints and gateways, along with ORION Cellular endpoints, a fixed network can now be configured to minimize infrastructure requirements and meet the unique needs of individual utilities. These flexible options allow a utility to apply the BEACON AMA managed solution to all services or to immediately get started with more critical commercial or industrial customers.

BEACON AMA is available exclusively through a managed service designed to minimize costs for deploying and maintaining the system. This allows utilities to focus their resources on directly managing their water delivery systems. The system comes with the hosted BEACON AMA software suite with regular updates, fixed network and/or cellular endpoints and long-term support and maintenance -- all for an affordable one-time activation fee and a monthly per endpoint fee. The BEACON AMA managed upgrade program is designed to keep utilities in step with the latest technology advancements. Since there is no need for owned infrastructure, BEACON AMA pilot programs with ORION Cellular endpoints can be implemented quickly.

About Badger Meter

An innovator in flow measurement and control products, Badger Meter serves water utilities, municipalities and commercial and industrial customers worldwide. Measuring water, oil, chemicals, and other fluids, Badger Meter products are known for accuracy, long-lasting durability and for providing valuable and timely measurement data. For more information, visit www.badgermeter.com.
###