Big Value for Big Data in Water
The digital and machine learning transformation will immensely improve the way water/wastewater is collected, transported, treated and utilized.
May 2nd, 2019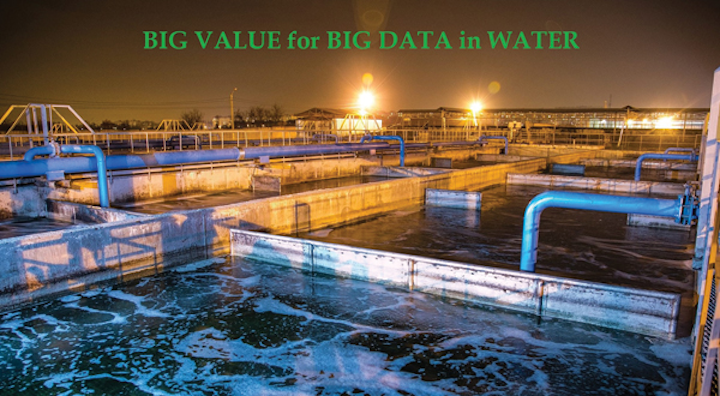 Leveraging Digital Technology and Data Science for Better Water and Wastewater Utility Operations
By Anil Gosine
The availability of new digital technologies and their wave of deployments over the past five years are demonstrating benefits within manufacturing, healthcare and hydrocarbon sectors, to the extent that the slow-to-adopt water/wastewater sector is paying attention, too, and increasingly becoming participants in innovative pilot projects.
With hardware, software and data analytics being seamlessly integrated to improve capital and operating efficiencies, the increasing accountability of water/wastewater sector owners will incentivize $40 billion in U.S. municipal spending over the next 10 years. Digital technologies are enabling industries across the globe to extract countless data and efficiencies from a legacy infrastructure to allow for enhanced decision making and better life cycle management. This digitization is providing water/wastewater utilities a better understanding of their facilities, linear asset dynamics and system behavior to operate more effectively through reducing loads and stresses.
Within the water sector, the benefits of big data and its field of data science applications are slowly being leveraged to create new value in information about elements of the business that manage existing assets for increased reliability, optimization, supply chains and customer relationships. Some of the big data solutions being offered allow integration of sensing, communications, SCADA, modeling, visualization and data science capabilities that have been developing over recent years. With the increase in pervasive computing devices, lower-cost sensors that collect and transmit data, new analytic tools and cost-effective data storage options, utilities can now capture more data in real time at a lower cost (and in some cases from previously inaccessible areas) to improve field and plant performance.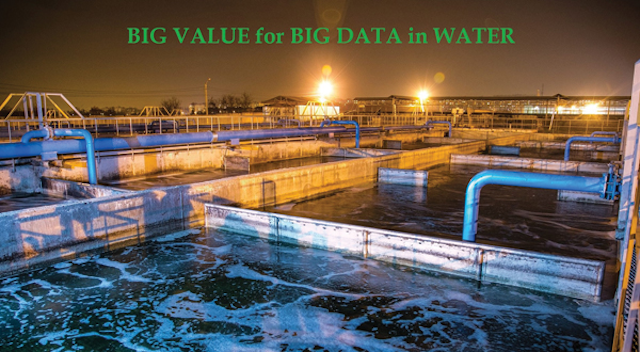 Within the water sector, the benefits of big data and its field of data science applications are being leveraged to create new business value.
Incentivizing Adoption
In an industry that is typically resistant to adopting new technology, a few key factors are driving and enabling the shift to information-based value creation:
• Realization of accurately predicting the future with data
• System and device functionality that is exponentially increasing
• Volumes of data spurring collaboration between operations, business, and technology
• Recognition of the value of data scientists
• Cautious and secure strategies toward the cloud and edge devices that address risk management
• Planning efforts to successfully manage the transition for recreating processes and system architectures
Providing Meaningful Information with Data Science
Effective management of a valuable resource such as water requires utility owners to accurately measure, collect and analyze certain parameters. The foundation of any big data architecture that leverages industrial control system (ICS) data is the historian and the infrastructure that complements it to feed real-time data into an analytics platform. One must not overlook the need for reliable sensor data infrastructure that is integrated into the equipment and systems that provide connectivity to fuel big data analytics. Big data is determined by networks and functional business units; as more and more sectors use these information-based resources, more data will be generated that can provide an advantage to an enterprise.
Just as Fieldbus and Ethernet digital technologies impacted the industrial sector, the ongoing digital revolution is changing business models, providing the ability to analyze and process large volumes of data through the networking of automation systems.
Big data and the intricate algorithms that are continuously being developed to translate structured and unstructured data sets into actionable intelligence are complex concepts that are necessary for deriving increased value from aging assets. As water industry professionals find success using digital technologies and analytics, there have certainly been challenges as they work to transform the roles and approaches of their employees, consultants and business processes. Those who are persistent and able to manage this transformation can ultimately achieve integration with people and processes, creating value for the organization, environment and community.
However, the last thing utilities need is another system to manage, secure and upgrade. Utilities must carefully evaluate the solutions being offered by the various vendors for technical feasibility, return on investment, and ability to be embedded into existing systems. Be aware — no one solution provider can deliver for all your processes or assets.
Implementing Data Science
Though the data available from a typical wastewater aeration pumping process is abundant, it is typically not being used to extract valuable information to predict performance of its assets. A data driven approach is needed in order to identify useful patterns and models using algorithms versed in statistics and computational intelligence. From vibrations and flow rate measurements to system pressure and energy consumption, information is often collected and analyzed as part of the daily routine. The interpretation of data and putting it to work to benefit the operation is the critical challenge.
A recent data science effort at a wastewater treatment facility aimed to significantly improve the equipment availability and efficiency of the pumping process with alignment to operating and maintenance practices. Far too often, vendors providing this type of solution do not align their recommended actions to the actual operating conditions of the specific utility or they provide generalities that the utility staff have to decipher. This project utilized historical and real-time data for outputting predictive analysis and insights that would allow process operators to establish parameters for operating equipment more effectively and efficiently and not rotate equipment through on a sequenced time table or after equipment malfunction.
Steps for Implementation
1. Evaluated a number of data science vendors within the industrial market that have existing implementations and selected one having experience with rotating equipment.
2. Negotiated with vendor to demonstrate its solution with plant-specific data sets for subset of pumps.
3. Held a workshop with stakeholders, including engineers and operators, on deliverables.
4. Reviewed existing control strategies, instrumentation and equipment that was fully functional.
5. Reviewed pump scheduling, pump curve, flow equipment operation, and maintenance records.
6. Utility provided historical data set to the data science vendor in order to align pump data to the pre-built models they had.
7. Established unidirectional data connection to provide near real-time ICS data to the cloud-based data science platform, where pre-built machines learning diagnostic and prognostic algorithms were tailored to assess and provide visualization of the health of the mechanical and rotating machinery based on data from several sources (e.g., pump manufacturer information, components of sub-systems [motor, levels, flows, pressures], functional states of operation, three-year historical information on alarms/trips/sensor data, and computerized maintenance management system records).
8. Conducted on-site training with the control room operators and engineers to identify the graphics that they could monitor to see the alerts, as well as how to navigate to the details on what conditions were leading to the possible trip condition.
Advanced diagnostics tests were configured to detect symptoms that could potentially lead to a failure. The diagnostics tests looked at patterns in data from various sensor readings and extracted fault signatures from historical data. This can be used for future predictions and to provide early warning signals to operators to intervene and prevent downtime or damage to equipment.
The data science platform also provides a visualization of aspects of pumping performance that helps create an accurate picture of expected reliability and performance. Because of the advanced prognostic models used, the effort is also expected to eliminate the need for further supply and installation of smart instrumentation, hardware and software typically needed for collecting additional data points to achieve the expected results.
A number of project benefits were realized by the customer:
• Ability to "predict ahead" pump trip by 2 hours with 75 percent accuracy.
• Ability to monitor the health of pump assets in the platform in near real time.
• Ability to take a pump out of service in a planned manner when alerted to a pending trip condition and put another pump in service. This allows maintenance of identified issues and allows the pump to be placed back in service or be available for operations in a much shorter time period than if the pump trip had occurred.
• Ability to identify sensor data relationships and correlations that lead to and precede a failure or unacceptable degradation in the asset.
• Ability to plan maintenance with "over the horizon" prognosis, supported by the data, to reliably predict outcome.
• Ability to predict failure, leading to reduced downtime and maintenance costs (for both scheduled and breakdown maintenance).
By using advanced diagnostics and prognostics software platforms for process industry assets, significant economic savings can be achieved. With a solution that focuses on predicting when a system or component will no longer perform its intended function, it's possible to identify the remaining useful life (RUL) of the asset, a key tenet of condition-based maintenance. It costs approximately 40 percent more to replace a failed asset than to address the problem prior to failure. Predictive intelligence on the health of the rotating equipment can reduce scheduled and unscheduled downtime, driving down maintenance costs and increasing safety and availability.
This digital and machine learning transformation will immensely improve the way water/wastewater is collected, transported, treated and utilized as opportunities to improve infrastructure capital, enhance public health, predict asset failures and improve water management are realized. Collaboration between large groups of stakeholders is required to make this successful and incentives must be provided to meet targets.
With the urgent need for smarter operations, utilities are still unclear on the benefits of analytics-based decision making. Vendors must demonstrate the value of data analytics and demystify the process of incorporating real-time analytics into utility operations. This sector relies on diagnostics for efficient operations, compliance, machine maintenance and worker productivity and safety. In order to have accurate data and the holistic understanding needed to take advantage of the benefits of this technology, there are many challenges that will need to be overcome, such as diverse, proprietary technologies, incompatible systems and protocols, and labor intensive compliance and maintenance.
Over the next 10 years, all utilities should be on their way to moving from time-based to condition-based maintenance, gaining the ability to estimate the effective age of their assets and forecast potential failures. With that, utilities will be able to identify and schedule improvements in life extension maintenance activities as well as strategically plan for asset replacement in their long-term planning. WW
About the Author: Anil Gosine is chair of the Strategic Efficiency Consortium — Security and Optimization Workgroup. He has over 19 years of construction management, operations and engineering experience within the industrial sector and has been involved in the water/wastewater industry for the last 11 years. Previously, he managed the department-wide ICS for the Detroit Water & Sewerage Department.
Circle No. 291 on Reader Service Card