Products & Services--Membranes
IMAS™ (Integrated Membrane Activated Sludge), available from Ashbrook Simon-Hartley, has met the compliance criteria set forth by the State of California for water recycling under the Title 22 standard.
Jun 1st, 2008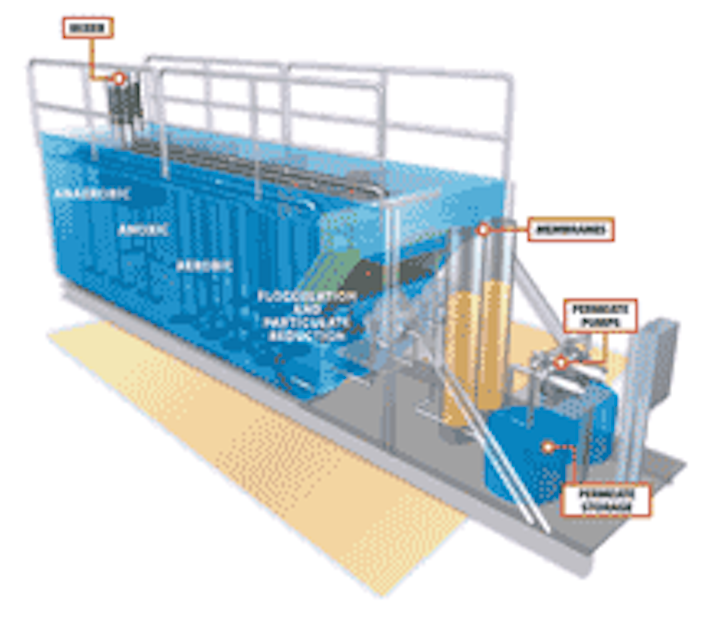 Membrane treatment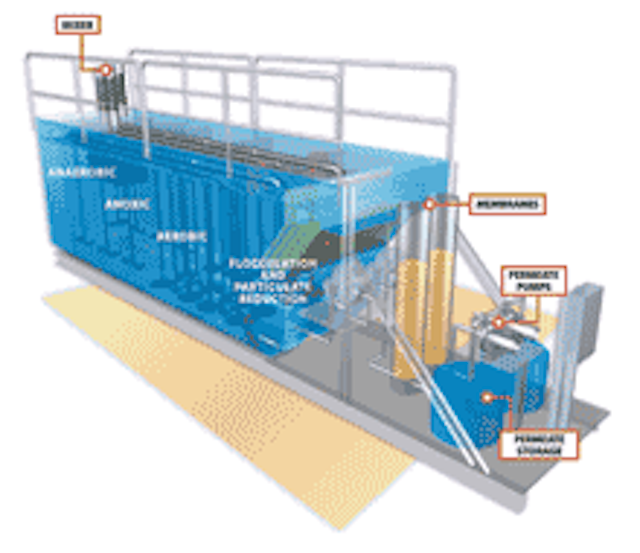 Click here to enlarge image
IMAS™ (Integrated Membrane Activated Sludge), available from Ashbrook Simon-Hartley, has met the compliance criteria set forth by the State of California for water recycling under the Title 22 standard. A recent study at the Eastern Municipal Water District's Perris facility confirmed the technology's ability to meet these strict water quality criteria. The technology provides membrane quality effluent, while minimizing capital and operating costs by individually optimizing the performance of the biological and membrane filtration unit processes.
Ashbrook Simon-Hartley
Houston, TX
Tel: 800-362-9041
Web: www.as-h.com
Membrane systems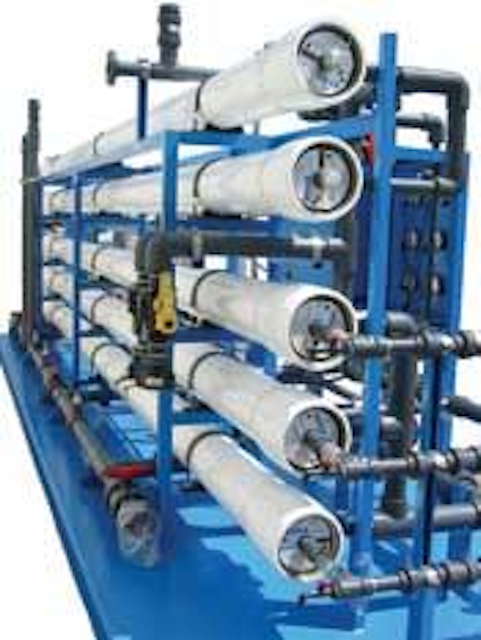 Click here to enlarge image
Filtronics' EM-Pure® Line of membrane systems are fully automated, self-contained purification systems suited for a wide variety of municipal and industrial water treatment and seawater desalination applications. The line features NSF certified membranes which are specifically designed to increase efficiency and reduce costs by providing high rejection at low pressure.
Filtronics
Tel: 714-630-5040 Web: www.filtronics.com
RO system software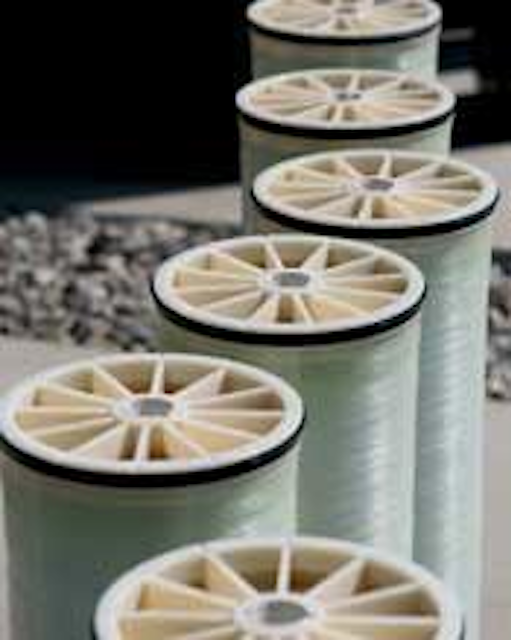 Click here to enlarge image
Toray Membrane has released new software, called TorayTrak, for the data collection, normalization and management of Reverse Osmosis (RO) membranes in plants of any size. The graphs and output of the software will provide operators with crucial information guiding their maintenance and operation plans and optimizing membrane performance. The software is available via a free download from http://www.toraywater.com.
Toray Membrane USA Inc.
Poway, CA
Tel: 858-218-1506
Submerged membrane modules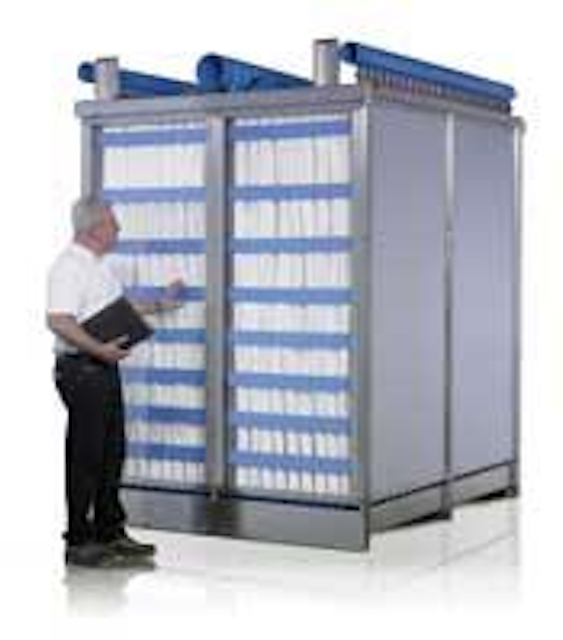 Click here to enlarge image
Koch Membrane Systems now offers the 1500 square meter Puron™ module for large-scale membrane bioreactor (MBR) applications. The improved submerged membrane module features greater packing density, lower energy costs for aeration, and simplified installation while providing even greater compatibility with other commercially available systems. For additional flexibility, the module enables users to retrofit the new technology into systems with comparably sized modules.
Koch Membrane Systems Inc.
Wilmington, MA
Tel: 888-677-5624
Web: www.kochmembrane.com
MBR operation services
Membrane Watch offers virtual operation services for Membrane Bioreactor systems. Using a secure web-based technology, the company can increase the productivity of operators and help optimize plant performance. Its certified operators are available to provide 24/7 system oversight, troubleshooting, alarm response, process control support, preventative maintenance reminders, and data management. The company's operators hold a Level IV wastewater certification and have extensive wastewater operating experience including both hollow fiber and flat plate membrane systems.
Membrane Watch, LLC
Camas, WA Tel: 866-768-42 Web: www.remotembr.com
Turbine pumps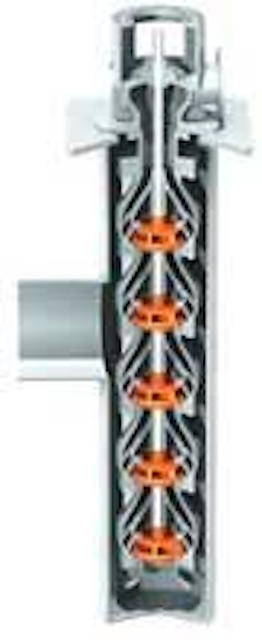 Click here to enlarge image
Fairbanks Morse Pump has developed a low-specific-speed turbine pump design geared specifically for the Reverse Osmosis market. Because of the high pressure requirements of the RO process, the turbine pumps are designed with heavier shafts and seals, and offer all-stainless-steel construction for the conversion of brackish water to clean, potable water.
Fairbanks Morse Pump
Kansas City, KS
Tel: 913-371-5000
Web: www.fmpump.com
UF membranes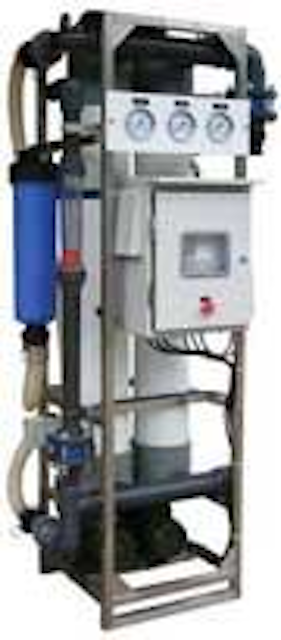 Click here to enlarge image
Miller-Leaman's Ultra-Pure UF Membrane System is designed to remove suspended particulate, bacteria, colloidal, and high molecular-weight contaminants from source water. Target applications include municipal, reuse water and wastewater. The company's Ultra-Pure system provides high quality effluent water, removing all total suspended solids (TSS). The system produces output water turbidity of less than 0.4 NTU.
Miller-Leaman Inc.
Daytona Beach, FL Tel: 800-881-0320 Web: www.millerleaman.com
RO pretreatment
In addition to the salt and dissolved ions that RO membrane systems remove, sea water can also contain algae, color, organics, soluble metals, dissolved solids and oil that can foul and damage the membranes. ITT Leopold® desalination pretreatment systems can remove these contaminants before they reach the RO membrane system. The company offers two desalination pretreatment system technologies—Leopold Clari-DAF® dissolved air flotation system and Leopold FilterWorx™ rapid gravity media filtration.
ITT Water & Wastewater, Leopold
Zelienople, PA
Tel: 724-452-6300
Screening equipment
Hydro-Dyne Engineering offers a full line of screening equipment ranging from 1 mm to 3" openings and 100 gpm to 100 mgd flows. The Hydro-Flo Screen (pictured) is specifically designed to protect sensitive equipment such as membranes while the Triden Screen is installed in a number of municipal and industrial processes. The company offers all stainless steel construction with your choice of perforated panels, wire mesh, or laced link openings on both screen designs. Other products include the Filter Stepper Screen, Washing Compactor, and Screw Conveyors.
UF membrane system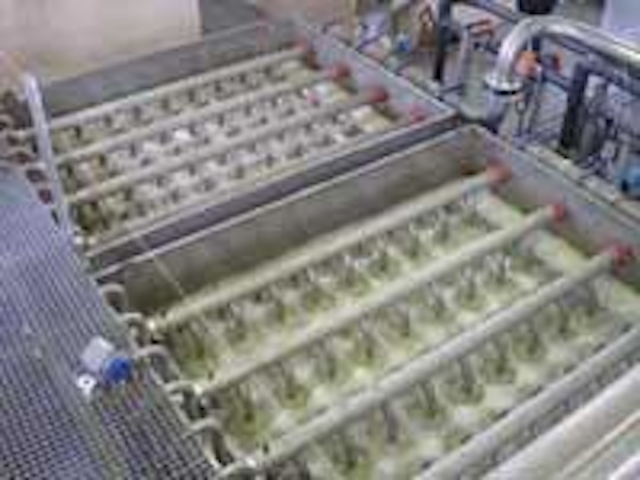 Click here to enlarge image
TriSep's SpiraSep™ submerged ultrafiltration process uses spiral wound membranes. Water is "pulled" through the membrane using a slight vacuum. Air "bubbles up" through the element feed channels, scrubbing the membrane surface clean. The rigid, durable structure of the system design eliminates mechanical integrity issues commonly associated with hollow fibers, preventing unwanted solids passage.
TriSep Corp.
Filtration systems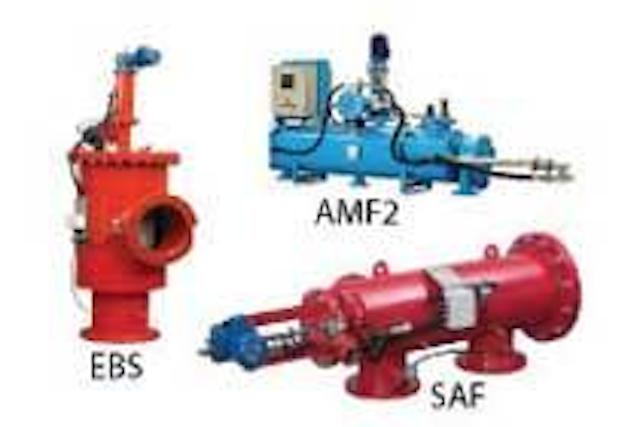 Click here to enlarge image
Amiad's vertical EBS filter series now offers in-line and on-line versions with more filtering surface area. These filters provide protection for membrane systems acting as a pre-filter to reduce dirt loads, increase recovery rates and lessen chemical consumption for membrane cleaning. In urban settings the company's compact SAF horizontal configuration is used as a point-of-entry pre-filter to point-of-use purification systems. In rural environments the SAF is used to compliment or replace media filtration systems for potable water, reducing energy demand and wastewater during flushing and cleaning processes.
Amiad Filtration Systems
Oxnard, CA
Tel: 800-969-4055
Web: www.amiadusa.com
Membrane treatment systems
Doosan Hydro Technology provides custom engineered water and wastewater treatment systems with its primary area of expertise in reverse osmosis and membrane treatment. The company has successfully completed countless municipal RO & NF projects in addition to its backlog of water reclamation, wastewater and industrial treatment systems. The company can provide turnkey or EPC services for seawater and brackish RO plants ranging in size from 1 to 50 mgd.
Doosan Hydro Technology
Tampa, FL Tel: 813-549-0182 Web: www.doosanhydro.com
Plate settlers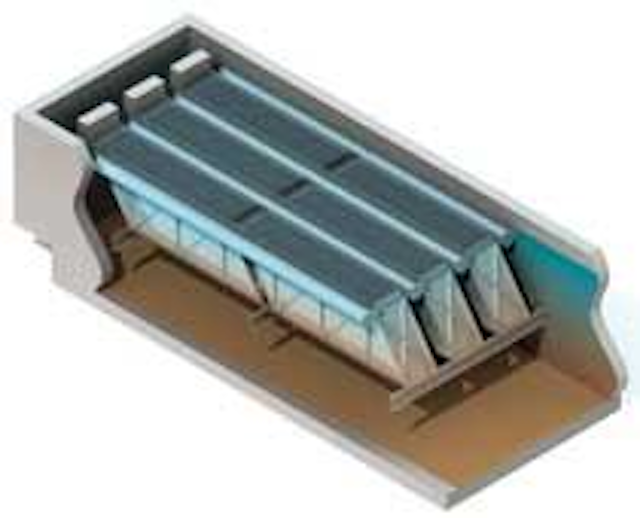 Click here to enlarge image
Brentwood Industries' AccuPac™ Plate Settler Systems are available with stainless steel or fiberglass structural frames, PVC plates and FRP troughs. Suitable for sedimentation tanks, pre-treatment for membrane plants, and backwash applications, the plate settler is an economical alternative to all-stainless steel units. The company also offers a line of IFR-6000 series tube settler modules. Available in USF approved potable grade PVC in standard sizes 24, 36 and 41 inch height, tube settlers increase the allowable application rates in sedimentation tanks by increasing settling capacity and the solids removal rate in the settling basins.
Brentwood Industries Inc.
Reading, PA
Tel: 610-236-1113
Web: www.brentwoodprocess.com
MBR system
The NEOSEP® immersed membrane bioreactor (MBR), available from N.A. Water Systems, treats high BOD/COD wastewater to a quality suitable for discharge, irrigation or reuse. The system is compact and easy to operate. The design eliminates the need for final clarification and tertiary filtration and results in a small footprint as compared to conventional systems.
N.A. Water Systems
Moon Township, PA Tel: 800-337-0777 Web: www.nawatersystems.com
Membrane water treatment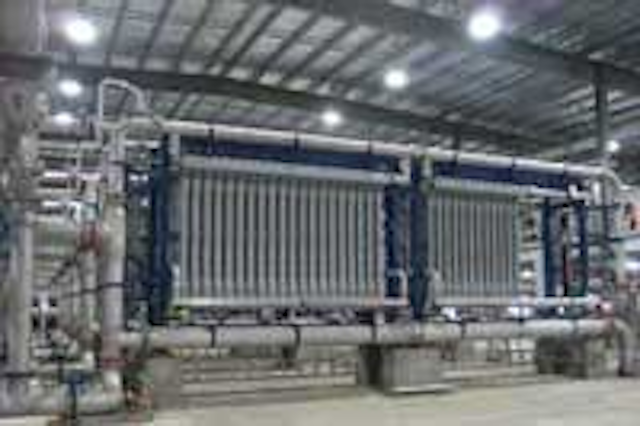 Click here to enlarge image
The Memcor CP system from Siemens Water Technologies is a pressurized membrane system that ensures microbial protection, achieving goals set by the Long Term 2 Enhanced Surface Water Treatment Rule. The filtration system is ideal for gravity-driven systems as well as treatment that requires coagulants, and is also well-suited for pre-treating reverse osmosis applications such as desalination and reuse. Its compact, modular design makes the system easy to install and start up, and it can be expanded to meet future capacity demands without increasing the footprint.
Siemens Water Technologies
Web: www.water.siemens.com
Ceramic membrane filtration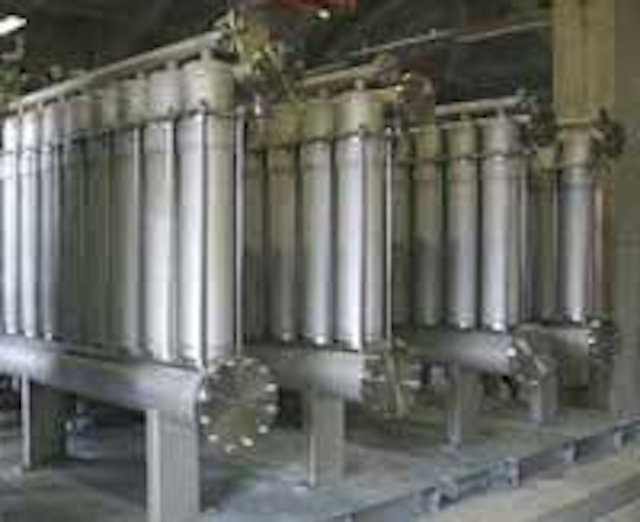 Click here to enlarge image
Kruger has begun supplying the NGK microfiltration ceramic membrane to the U.S. municipal market. With its robust design, the system is able to directly filter variable raw water, thereby eliminating the need for large pretreatment clarifiers. The membrane system offers high rate treatment (100 gfd) for difficult to treat surface waters, such as those having cold temperatures, significant organics, and turbidity fluctuations of up to several hundred NTU.
Kruger Inc.
Cary, NC
Tel: 919-653-4574
Web: www.kruger.com
MBR system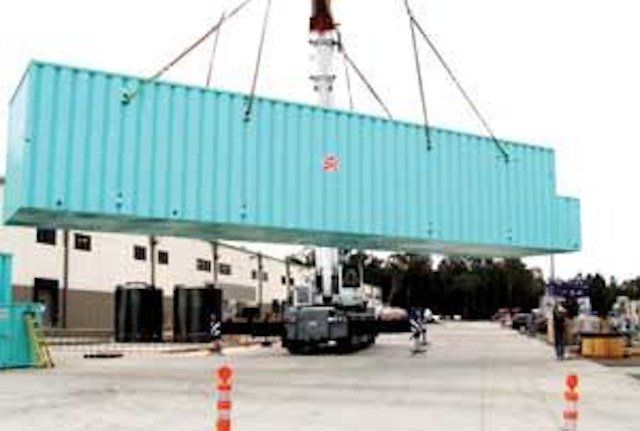 Click here to enlarge image
The Titan MBR™ marries the wastewater treatment engineering expertise of Smith & Loveless with Flat-Plate Membranes. Submerged in the aeration section of the Titan tank, the Flat-Plate Membrane maintains high permeability and flux rates even at peak-day rates. Because the system employs air scouring to prevent fouling, it does not require back-pulsing or the associated equipment and chemical costs typical of other systems.
Smith & Loveless
Lenexa, KS Tel: 913-888-5201 Web: www.smithandloveless.com
Ultrafiltration modules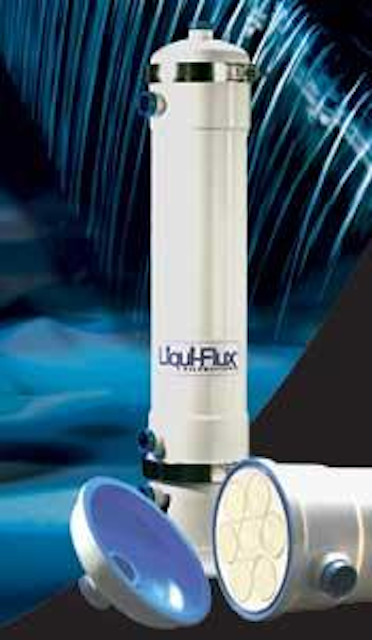 Click here to enlarge image
Liqui-Flux® Membrane Modules offered by Membrana use hydrophilic and hydrophobic microporous membranes to produce cross-flow and dead-end liquid microfiltration and ultrafiltration devices. The company's process water and industrial filtration products remove suspended solids, bacteria and viruses from various solutions. The UF modules used in water applications contain modified PES hollow fiber membrane to provide one of the highest surface areas of any capillary filter on the market today. Each membrane element contains 657 ft2 of membrane area.
Membrana Inc.
Charlotte, NC
Tel: 704-587-8406
Web: www.membrana.com
MBR system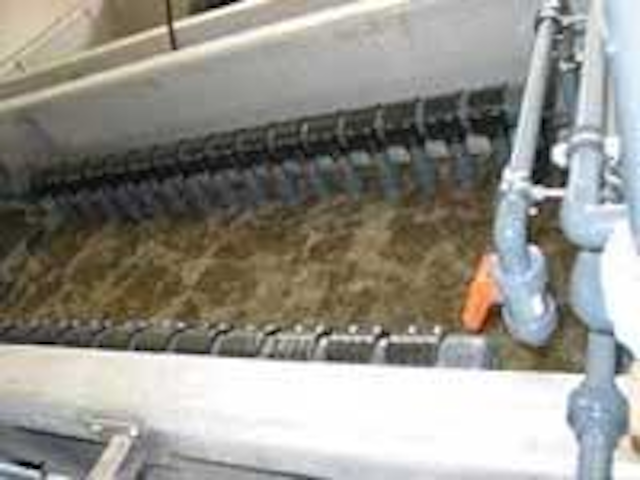 Click here to enlarge image
The Aqua-Aerobic® MBR process uses a time-managed, sequential aeration process to promote biological nutrient removal within a simplified unit process. The integration of Puron® submerged membranes, manufactured by Koch Membrane Systems, provides direct filtration of high-level MLSS. In comparison to conventional membrane bioreactor (MBR) technologies, the MBR process offers advantages by addressing equalization, nitrification and denitrification within a single reactor while minimizing power costs through reduced energy needed for mixing, pumping and aeration.
Aqua-Aerobic Systems Inc.
Rockford, IL
Tel: 815-654-2501
Web: www.aqua-aerobic.com