PRODUCTS & SERVICES DISINFECTION
Pacific Ozone Technology, a supplier of OEM air-cooled, corona discharge ozone generators and integrated ozone/oxygen systems, has announced that its Ozone SuperStore™ is open for business.
Nov 1st, 2005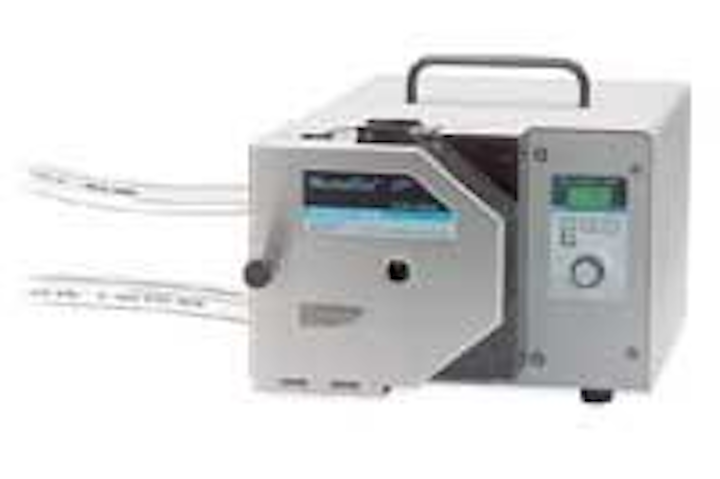 Ozone equipment
Pacific Ozone Technology, a supplier of OEM air-cooled, corona discharge ozone generators and integrated ozone/oxygen systems, has announced that its Ozone SuperStore™ is open for business. The store offers a complete line of components, fittings, and specialty products needed to design, outfit and maintain ozone contact or delivery systems. The company's ozone systems are powered by Ti-ceramic and titanium reactor cells that feature patented Floating Plate Technology™ (FPT). Its product line also includes ozone generators, integrated feed gas and ozone contacting systems, monitors and controls.
Pacific Ozone Technology Inc.
Benicia, CA
Tel: 707-747-9600
Web: www.pacificozone.com
Disinfection systems
Altivia offers water treatment systems including a broad range of chlorine dioxide generators. Systems range from simple manual to fully automatic state of the art chlorine dioxide generators such as the new Millennium III™ and Eka Purate® systems. The systems may be linked to plant process controls and are available in capacitates from 1-25,000 pounds per day.
Altivia Corp.
Houston, TX
Tel: 866-258-4842
Web: www.altivia.com
Metering pumps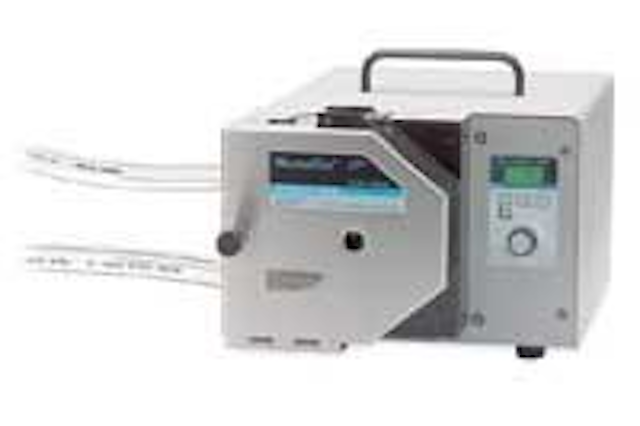 Click here to enlarge image
Cole-Parmer has introduced two new Masterflex® I/P® process drives, models 77410-10 and 77411-00. These brushless, digital peristaltic tubing pump systems are housed in a washdown, sealed, chemical-resistant housing rated for water treatment process environments. Systems are ideal for disinfectant metering applications, including sodium hypochlorite. The peristaltic pump design eliminates the vapor lock problems of some other pump designs.
Cole-Parmer Instrument Co.
Vernon Hills, IL
Tel: 800-323-4340
Web: www.coleparmer.com/949
Chemical injectors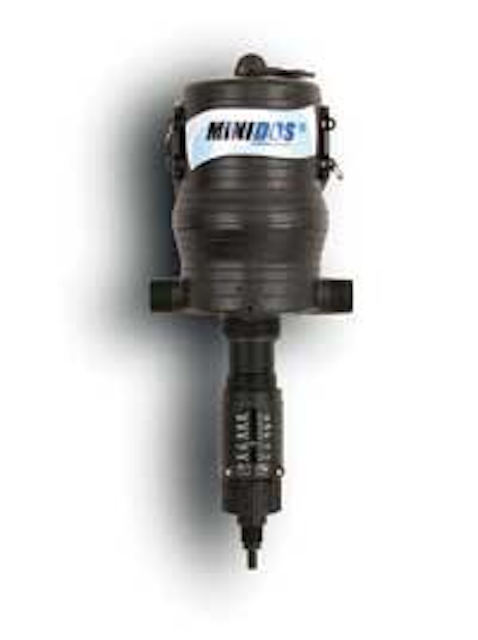 Click here to enlarge image
Dosmatic has released its new Professional line of non-electrical, water driven proportional injectors. The MiniDos™ Professional series offers higher operating pressures; higher flows with reduced pressure loss; improved mixing; and enhanced overall chemical compatibility. The new series retains the same motor and lower dosage assembly found in the company's other units.
Dosmatic U.S.A./International Inc.
Carrollton, TX
Tel: 800-344-6767
Chlorinators, ammoniators
Chemical Injection Technologies offers the Superior™ brand of chlorinators, ammoniators and sulfonators. The devices use fluorplastics and fiberglass-reinforced thermo-plastics to withstand corrosive effects of chlorine, as well as to withstand attack by sulfur dioxide in any form. All external bolts and nuts are titanium for corrosion resistance.
Chemical Injection Technologies Inc.
Fort Pierce, FL
Tel: 772-461-0666
Web: www.chlorinators.com
Chlorine cylinder scale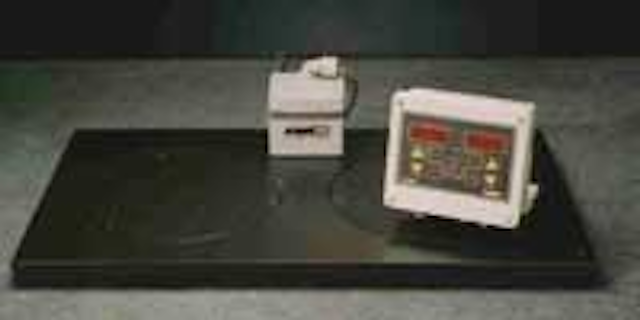 Click here to enlarge image
The DCS302 scale from Eagle Microsystems is a weighing system for two compressed gas cylinders providing an independent, accurate and readable weight indication for each weigh platform. The system incorporates features that eliminate most of the problems which plague similar scales. The solid PVC scale base is warranted for five years against chemical corrosion. The readout for the scale is the EI-2000 Dual Channel Digital Indicator/Transmitter providing two, dedicated, independent weight displays and two isolated 4-20 mA outputs.
Eagle Microsystems Inc.
Pottstown, PA
Tel: 800-780-8636
Web: www.eaglemicrosystems.com
Amperometric digital sensors
Hach Company has introduced the 9180sc series of Digital Sensors for free chlorine, ozone, and chlorine dioxide for disinfection monitoring and control. Each sensor is pre-assembled on a panel that includes flow cell, integral flow control, digital electronics, and built in temperature measurement. Sensor panels are ready for push-in plumbing connections and 'plug-and-play' connection to a digital, multi-sensor Hach sc100 or sc1000 Controller.
Hach Co.
Loveland, CO
Tel: 800-227-4224
Web: www.hach.com
Chlorinator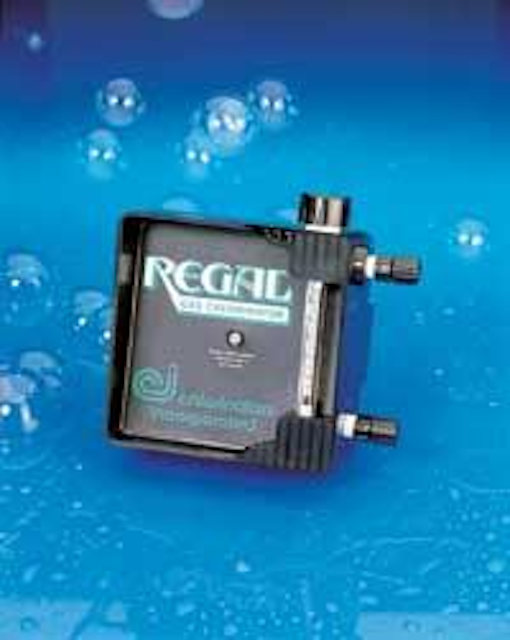 Click here to enlarge image
The Regal gas chlorinator, available from Chlorinators Inc., is used to disinfect and purify municipal drinking water and wastewater, industrial wastewater, and more. The chlorinator provides a consistent chlorine residual and its all-vacuum system virtually eliminates the possibility of gas leaks. The chlorinators are directly mounted with the strongest yoke in the industry.
Chlorinators Inc.
Stuart, FL
Tel: 772-288-4854
Web: www.regalchlorinators.com
On-site disinfection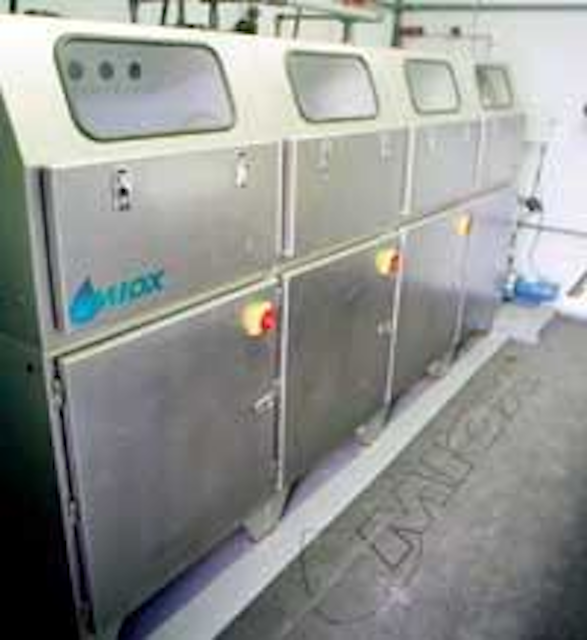 Click here to enlarge image
MIOX on-site hypochlorite and mixed-oxidant generators for water disinfection not only improve plant safety but also offer a number of solutions for other common water treatment goals, including disinfection by-product (DBP) reduction, biofilm removal, and a more durable chlorine residual. The company's equipment offers complete redundancy in a modular design, a self-calibrating brine pump to ensure consistent oxidant production, and a number of design features to protect both the operator and the equipment in the event of a malfunction.
MIOX Corporation
Albuquerque, NM
Tel: 505-343-0090
Web: www.miox.com
UV disinfection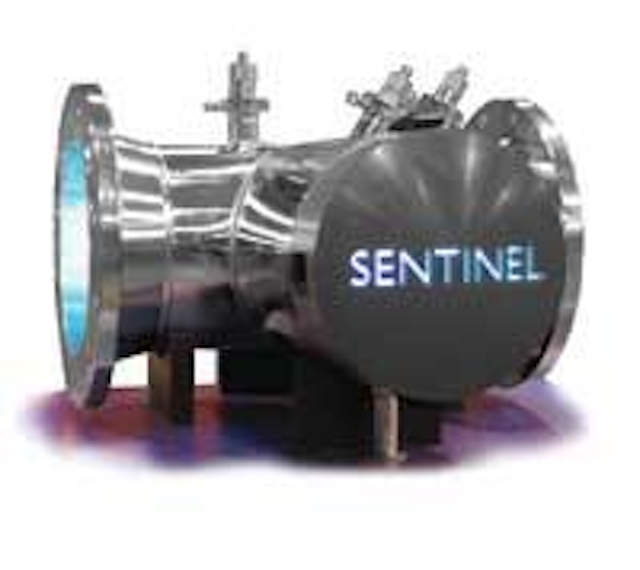 Click here to enlarge image
Calgon Carbon's UV Technologies Division offers disinfection technologies that use medium-pressure ultraviolet light to purify drinking water. The Sentinel® UV Disinfection System is designed to control Cryptosporidium, Giardia, and other waterborne, pathogenic bacteria and viruses. The medium-pressure UV technology achieves a greater than 3-log inactivation of cryptosporidium for pennies per 1,000 gallons of treated water.
Calgon Carbon Corp.
Pittsburgh, PA
Tel: 800-422-7266
Web: www.calgoncarbon.com/uv
Chlorine weighing scales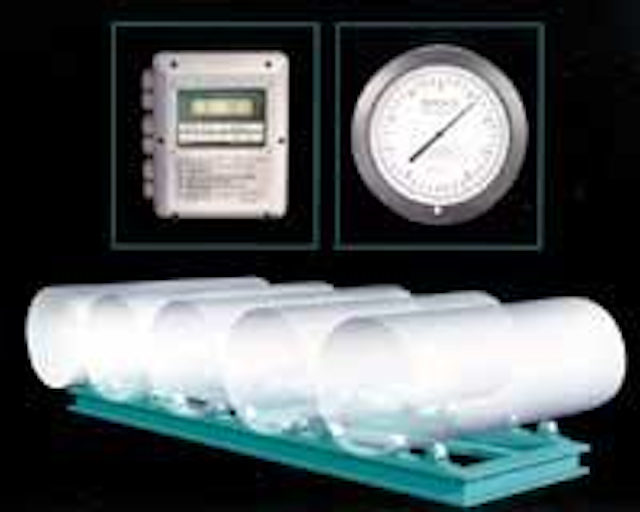 Click here to enlarge image
The Multiple Chlor-Scale® from Force Flow monitors up to six manifolded chlorine or SO2 ton containers from a single scale. The patented lever design allows a single load cell to be used while still providing accuracy. Heavy-duty roller trunnions cradle the containers and allow for easy positioning of valves. The electronic scale uses the Wizard 4000® digital system to provide extensive chemical inventory data while the hydraulic scale uses the Century® dial to provide durability in harsh environments.
Force Flow
Concord, CA
Tel: 800-893-6723
Web: www.forceflow.com
Residual chlorine monitor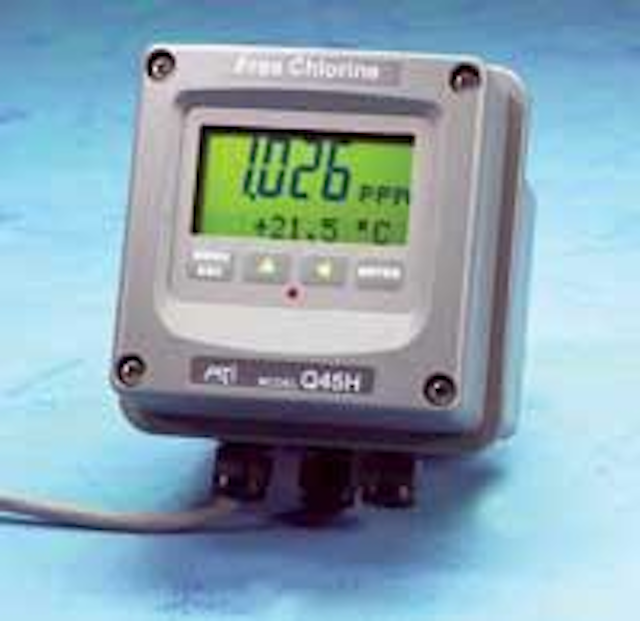 Click here to enlarge image
Analytical Technology has introduced a new monitoring system for residual chlorine in municipal water treatment systems. The basic sensing element used in the Q45H Residual Chlorine Monitor is a polarographic membrane sensor which measures chlorine directly. This type of measurement does not require the addition of chemical reagents, so there are no moving parts that need to be maintained. The process water simply flows past the sensor and directly to drain, with the flow rate and pressure across the sensor controlled by a constant head flow cell assembly.
Analytical Technology Inc.
Collegeville, PA
Tel: 610-917-0991
Web: www.AnalyticalTechnology.com
Tablet chlorination system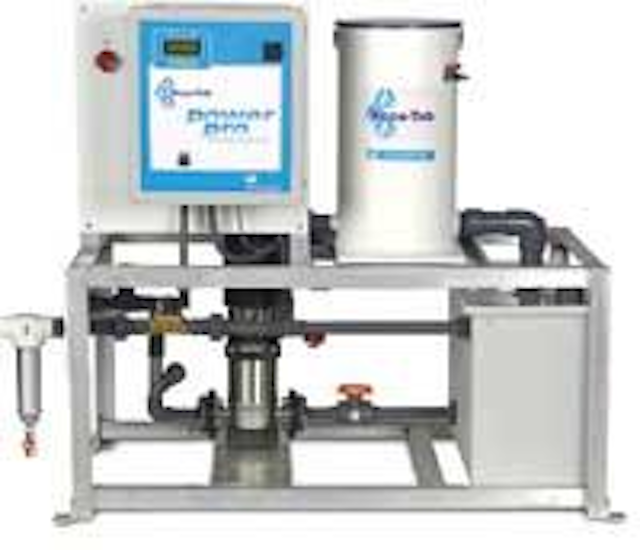 Click here to enlarge image
PowerPro® chlorination units by PPG Industries are designed specifically for use with Accu-Tab® System tablets and chlorinators. The system's patented chlorinators and 3" calcium hypochlorite tablets together allow for consistent and controllable chlorine dosages. Accu-Tab tablets are specifically formulated for controlled erosion.
PPG Industries Inc.
Monroeville, PA Tel: 800-245-2974 Web: www.ppgaccu-tab.com/ind
Emergency valve shut-off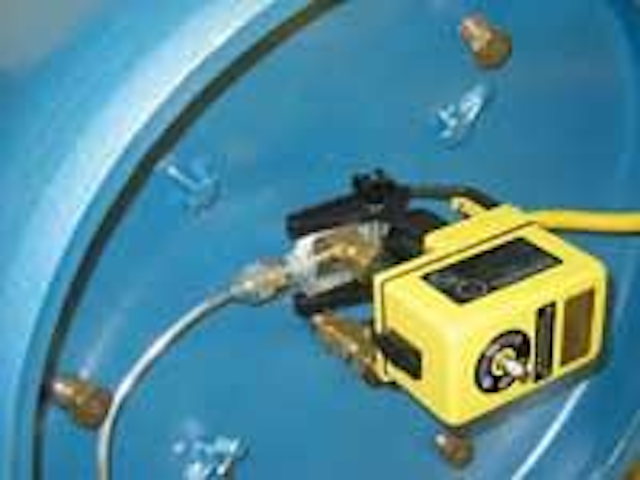 Click here to enlarge image
Eclipse Actuators close toxic gas valves on 150 lb. and ton cylinders in less than one second when activated by remote sensors. These electronic actuators are "close only devices" requiring an operator to visit the site to determine the cause of the problem. The operator can then correct the condition, check the facility, and then manually reset the valve before restarting the gas system.
Halogen Valve Systems
Irvine, CA
Tel: 877-476-4222
Web: www.halogenvalve.com
Sodium hypochlorite generation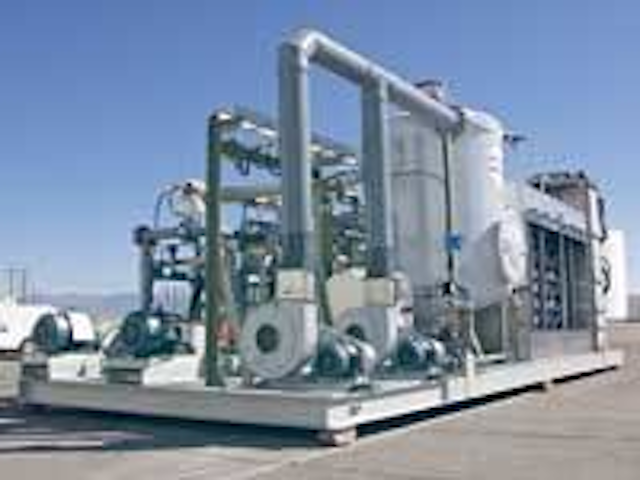 Click here to enlarge image
Pepcon Systems' ChlorMaster® line provides on-site sodium hypochlorite generation for water applications and odor control. Water and wastewater disinfection, potable water chlorination, marine organism control and odor control systems are available. A custom equipment manufacturer, the company can provide an electrochlorination system to meet specific project objectives.
Pepcon Systems
Cedar City, UT
Tel: 435-865-5045
Web: www.pepconsystems.com
Chlorine monitoring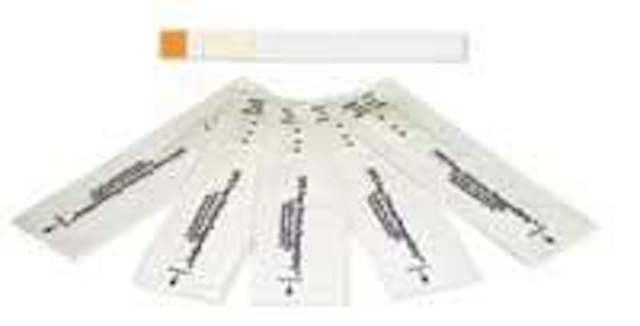 Click here to enlarge image
Industrial Test Systems' DPD-1 ReagentStrip for Free Chlorine offers users a new, more convenient delivery system for DPD. With the strip system there are no more tablets to crush, powders to spill, glass ampoule to break, or dispensers that release irritating dust. All required reagents are precisely measured and impregnated on a test strip pad. Simply dip the strip into a 10ml water sample for 20 seconds with back and forth motion, remove, discard the strip, and immediately read the chlorine meter.
Industrial Test Systems Inc.
Rock Hill, SC
Tel: 800-861-9712
Web: www.sensafe.com
Residual chlorine monitor
With a range of 0-6 mg/l (displayed to 10 mg/l) and based on proven Colorimetric DPD Chemistry, HF scientific's CLX OnLine Residual Chlorine Monitor has been designed for chemical or industrial processes that require continuous monitoring of residual Free or Total Chlorine levels.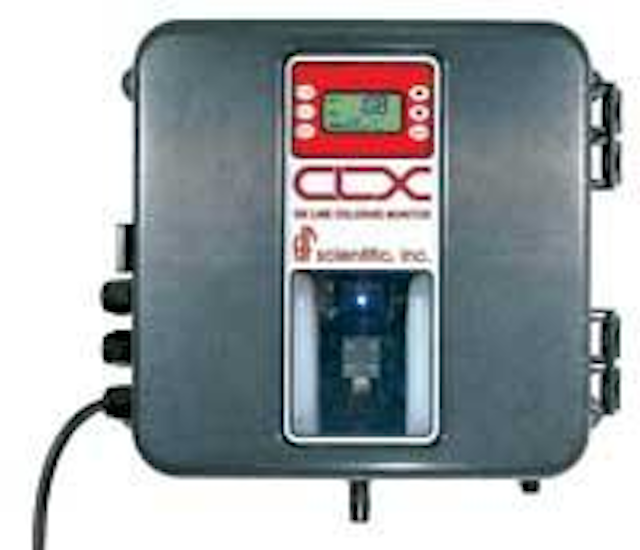 Click here to enlarge image
HF scientific Inc.
Fort Myers, FL
Tel: 239-337-2116
Web: www.hfscientific.com
Automated disinfection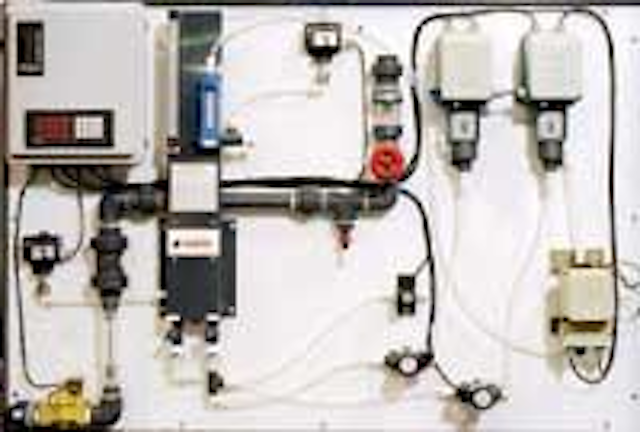 Click here to enlarge image
The newest generation of vacuum driven chlorine dioxide generators are available from Sabre Oxidation Technologies. The generators feature a patented Tuned Reaction Column and Integral Component Block Mounted design. The reaction column is designed to eliminate the build-up of material in the column that can lead to frequent flushing, disassembly and manual cleaning.
Sabre Oxidation Technologies Inc.
Odessa, TX
Tel: 432-368-4484
Web: www.sabretechnologies.com