PRODUCTS & SERVICES FILTRATION
Orival Filters are automatic, self-cleaning filters that do not require power. They have been extensively used in municipal applications using wastewater for pump seal protection, heat exchangers, air compressors, and irrigation.
Nov 1st, 2005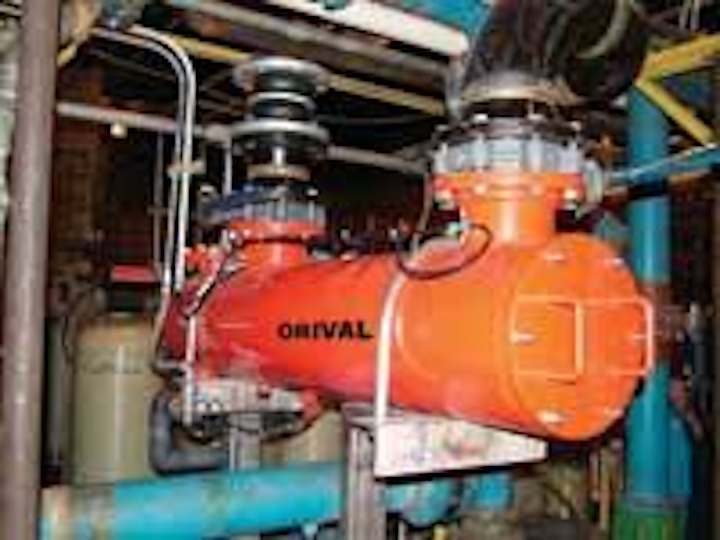 Self-Cleaning Filters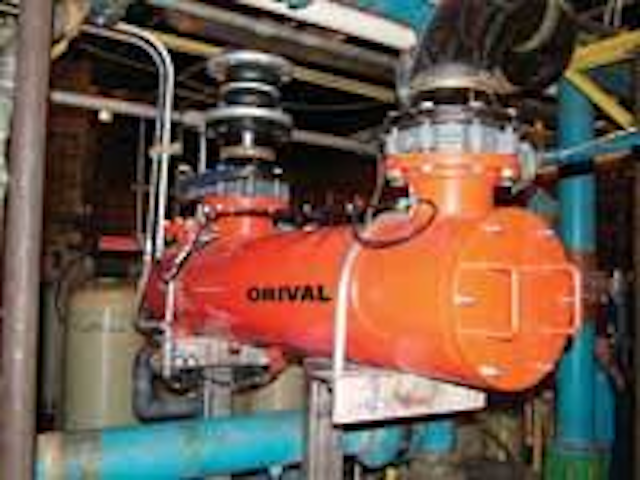 Click here to enlarge image
Orival Filters are automatic, self-cleaning filters that do not require power. They have been extensively used in municipal applications using wastewater for pump seal protection, heat exchangers, air compressors, and irrigation. they feature stqainless steel construction and are available in sizes from 1" - 24" and 10-12,000 GPM.
Orival
Englewood, NJ Tel: 800-567-9767 Web: www.rival.com
Odor control
BIOREM has launched Mytilus™, a new biological air treatment product to supplement its biofilter systems. The product is a combination bioscrubber/biotrickling filter ideal for high concentration, high airflow applications for removal of odorous compounds and hydrogen sulfide. Targeted applications include air emission control from specific areas in the collection and treatment of municipal sewage.
BIOREM Technologies Inc.
Guelph, Ontario Tel: 519-767-9100 Web: www.biorem.biz
Packaged membrane system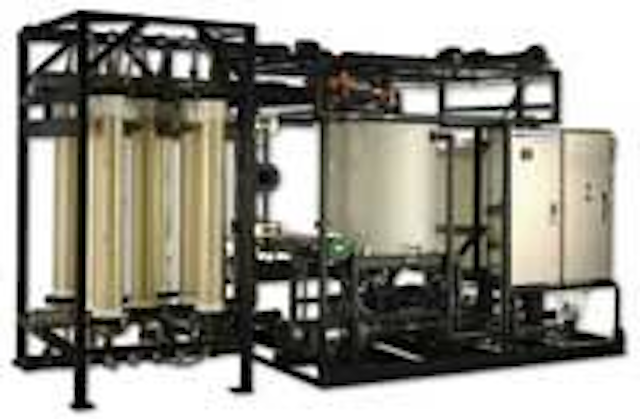 Click here to enlarge image
Koch Membrane Systems has expanded its Hollow Fiber series of packaged Ultrafiltration Systems. These pre-engineered systems provide a compact solution allowing small communities to quickly install potable water production capabilities to meet the requirements of the Safe Drinking Water Act (SDWA). The HF series of packaged UF systems are now available in five models, ranging in capacity from 10,000 to approximately 800,000 gallons per day.
Koch Membrane Systems Inc.
Wilmington, MA
Tel: 888-677-5624
Web: www.kochmembrane.com
Cloth media filter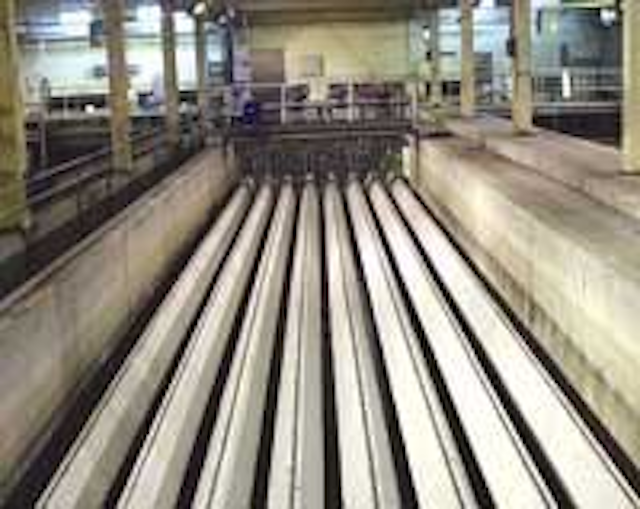 Click here to enlarge image
Aqua-Aerobic Systems has introduced the latest addition to its line of cloth media filter systems - the AquaDiamond®. The shape and design of this filter allows users to take advantage of the inherent characteristics of cloth media technology with the added benefit of treating three times the flow capacity of a traveling bridge filter with an equivalent footprint. This product uses PA-13 pile cloth as its filter media. The pile cloth is constructed of nylon fiber material which removes very fine particulate matter and requires less cleaning energy than other filtration media.
Aqua-Aerobic Systems Inc.
Rockford, IL
Tel: 815-654-2501
Web: www.aqua-aerobic.com
Filter press control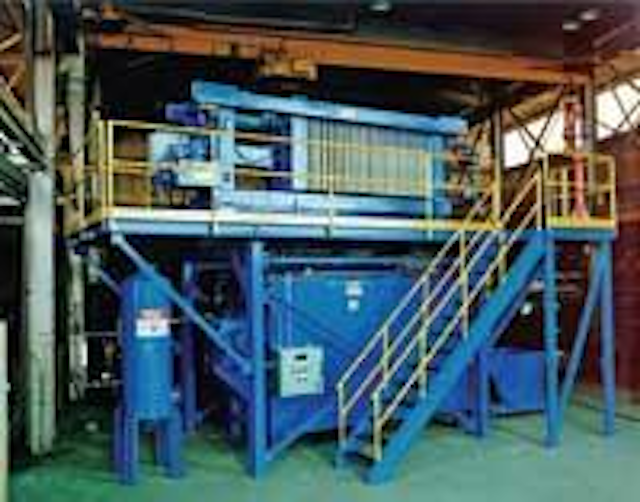 Click here to enlarge image
Ascension Industries has introduced a new Hydraulic Control Panel, manufactured to meet the NEMA 4X (IP66) rating, for its QP four-bar and EP side-bar filter presses. The new control system provides for convenient operation of the filter press and facilitates safe discharge of the cake. The new panel allows for control of the hydraulic pump, plate shifter, and hydraulic cylinder (RAM).
Ascension Industries Inc.
North Tonawanda, NY
Tel: 716-693-9381
Web: www.asmfab.com
Duplex bag filters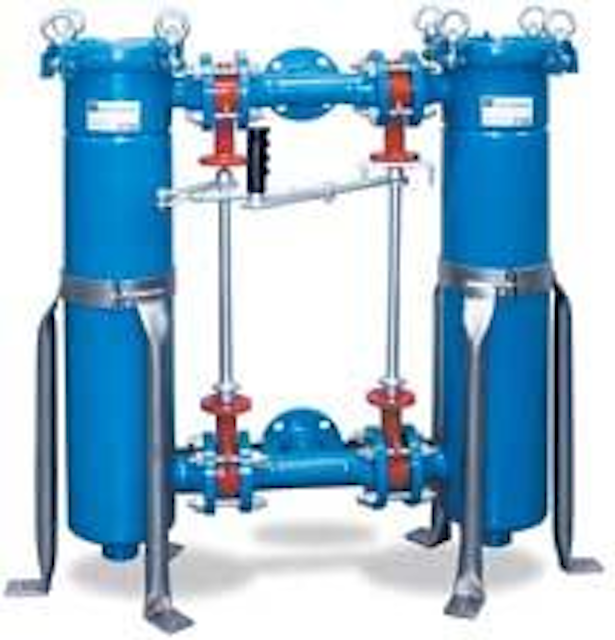 Click here to enlarge image
Hayward Filtration Duoline™ Bag Filters are designed for water and wastewater treatment filtration applications that cannot be shut down for filter bag change-out. The bag filters consist of two, double length size, single bag filter housings linked together with a special ball valve or butterfly valve flow switching system. When the bag in one filter housing requires changing, the flow can be diverted to the other housing by opening and closing the valves.
Hayward Filtration
Elizabeth, NJ
Tel: 908-787-100
Web: haywardfiltration.com
Greensand media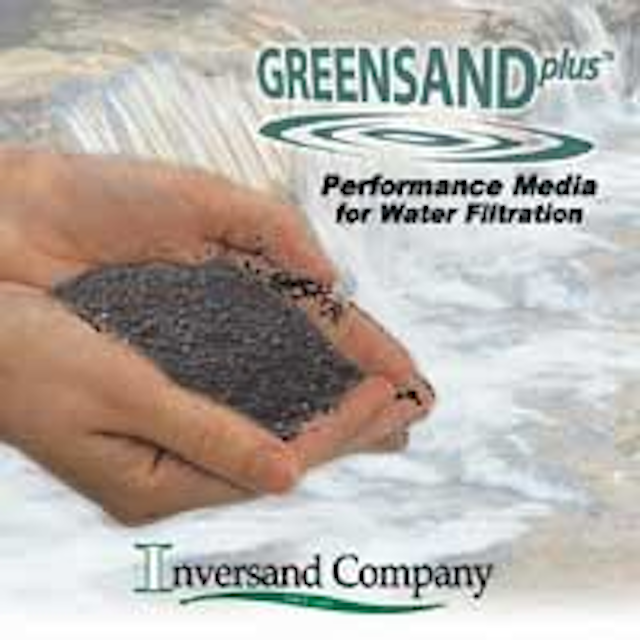 Click here to enlarge image
GreensandPlus from Inversand is an exact substitute for Manganese Greensand. It is resistant to attrition from high differential pressure and works well in water low in silica, dissolved solids and total hardness as well as in water over 70 degrees F without any degradation. The filtration process removes iron, manganese, arsenic, radium and hydrogen sulfide in municipal applications.
Inversand Co.
Clayton, NJ
Tel: 856-881-2345
Web: www.inversand.com
Membrane bioreactor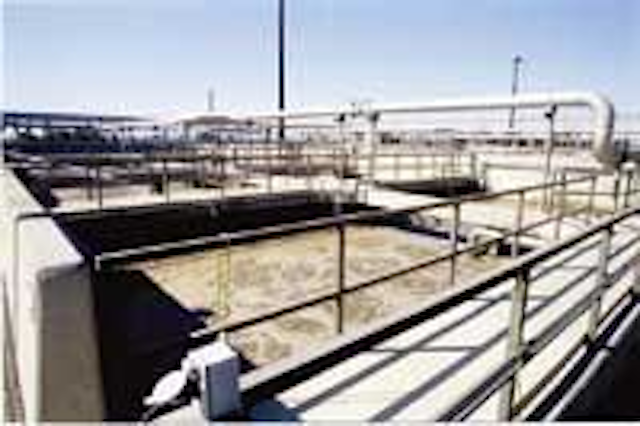 Click here to enlarge image
Parkson has announced a technological breakthrough in the design of its membrane bioreactor (MBR) system. The DynaLift™ MBR system features a membrane component that is located outside of the biological reactor, at the most convenient and accessible site nearby. These remote "airlift-assisted tubular membranes" make the system highly flexible. By separating the biological and membrane systems, each process can be independently optimized, allowing both systems to perform at peak.
Parkson Corp.
Fort Lauderdale, FL
Tel: 954-917-1870
Web: www.parkson.com
Stormwater treatment system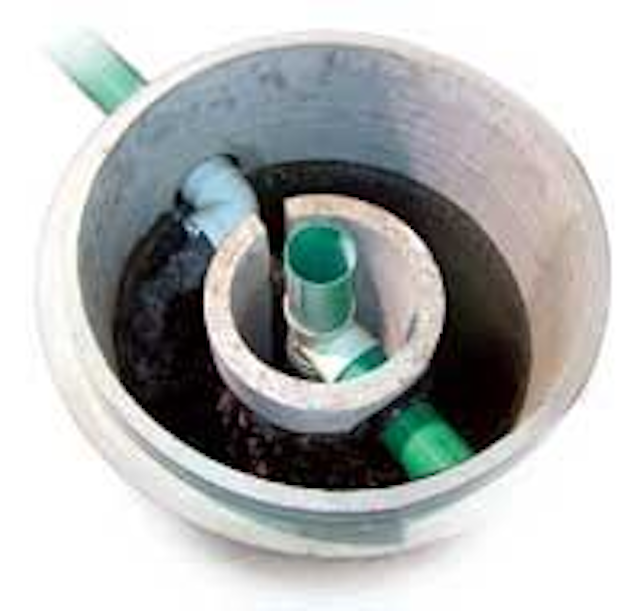 Click here to enlarge image
Royal Environmental's ecoStorm is designed to separate floating pollutants, debris and contaminated settling solids from stormwater drainage. Also designed for non-point source pollutant removal upstream of holding ponds, it can reduce pond pollutant levels and frequency of pond maintenance. The system is a cost-effective best management practice for meeting pollutant removal regulations in a variety of industrial, commercial and residential applications.
Royal Environmental Systems Inc.
Stacy, MN Tel: 800-817-3240 Web: www.royalenterprises.net
Membrane bioreactor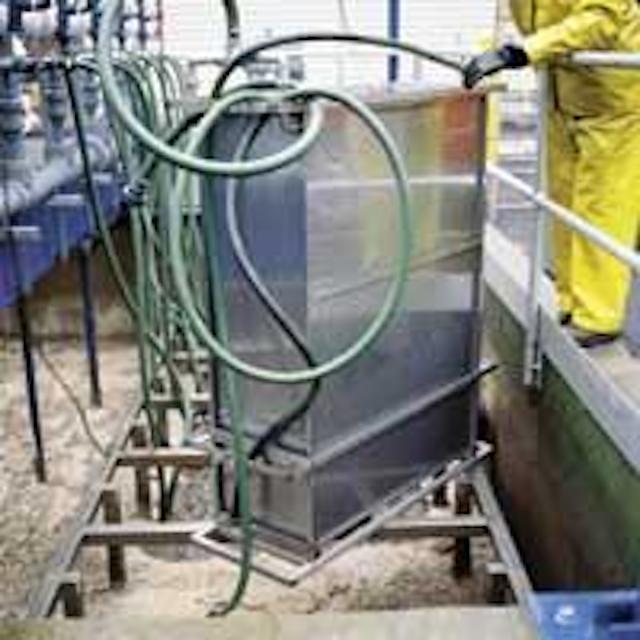 Click here to enlarge image
GE Infrastructure, Water & Process Technologies, offers its Membrane BioReactor (MBR) systems. The systems replace the sedimentation process used in conventional wastewater treatment by removing the suspended materials with a microfiltration (MF) membrane. The membranes are submerged in an aeration tank, with the water being drawn through the membranes under vacuum, leaving the suspended biomass material in the aeration tank.
GE Infrastructure, Water & Process Technologies
Trevose, PA Web: www.gewater.com
Desalination membranes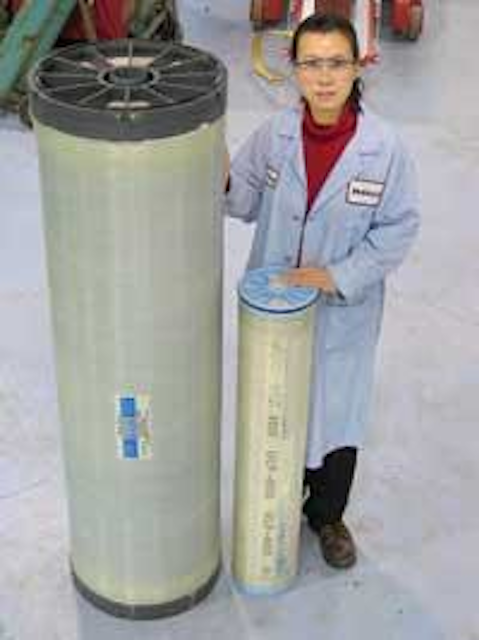 Click here to enlarge image
Koch Membrane Systems now offers the MegaMagnum® reverse osmosis (RO) elements and fiber reinforced plastic (FRP) pressure vessels for seawater desalination applications. The capacity of the 18" diameter and 61" long spiral elements, housed in FRP pressure vessels, improves the economics of medium and large-scale seawater desalination projects. The new 18" pressure vessel has been specifically designed for the high pressure requirements of seawater desalination.
Koch Membrane Systems Inc.
Wilmington, MA
Tel: 888-677-5624
Web: www.kochmembrane.com
Deep bed sand filter
Click here to enlarge image
The Strata-Sand filter from Ashbrook Simon-Hartley is designed to offer continuous, steady-state operation in a multigrade, deep bed, downflow design. This makes the sand filter ideal for both municipal and industrial applications, including tertiary filtration and potable water treatment. The filter is certified for wastewater re-use.
Ashbrook Simon-Hartley
Houston, TX Tel: 800-362-9041 Web: www.a-sh.com
DBP treatment
Click here to enlarge image
The Magnapak™ System from Orica Watercare is designed specifically for throughputs of 25 to 700 gpm. The preassembled, skid-mounted systems allow for quick installation at small water treatment plants. They provide a solution for meeting EPA disinfection by-product (DBP) standards by using the MIEX® ion exchange resin to remove dissolved organic carbon - a precursor to DBP formation - from raw water supplies.
Orica Watercare
Watkins, CO Tel: 877-414-6439 Web: www.miexresin.com
Air filter elements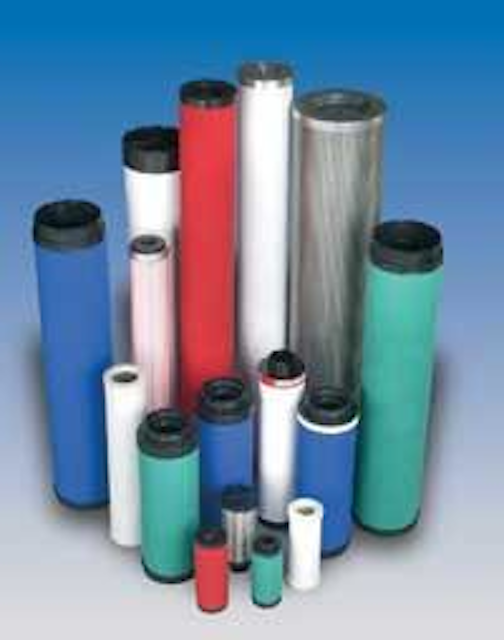 Click here to enlarge image
Kaeser's new line of replacement filter elements make it easier to maintain compressed air quality and system reliability while preventing costly pressure drop. With a broad range of types and sizes, the filter elements fit virtually any manufacturer's filter housing and do not require modifications or adapter kits.
Kaeser Compressors Inc.
Fredericksburg, VA Tel: 800-777-7873 Web: www.kaeser.com
Activated carbon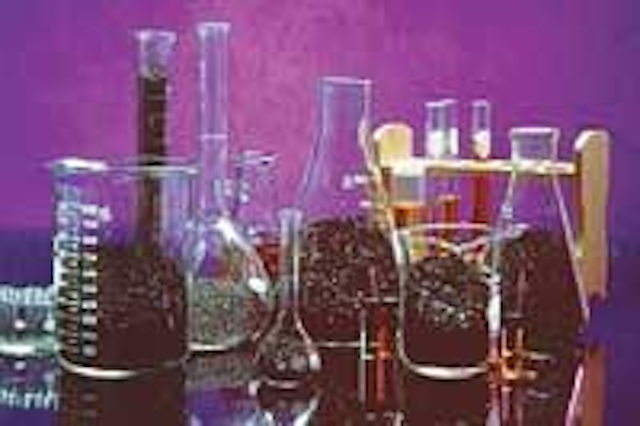 Click here to enlarge image
Calgon Carbon offers the Filtrasorb® series of granular activated carbons. In surface water gravity filters, the line of bituminous coal-based carbons can be substituted for anthracite coal to provide equal physical filtration characteristics while adding the benefit of the removal of numerous contaminants from drinking water, including TOC, taste & odor components, DOC and disinfection by-products. The carbons are available in numerous mesh sizes (8x16, 8x20, 8x30, and 12x40 are standard grades).
Calgon Carbon Corp.
Pittsburgh, PA
Tel: 800-422-7266
Web: www.calgoncarbon.com
Cartridge filter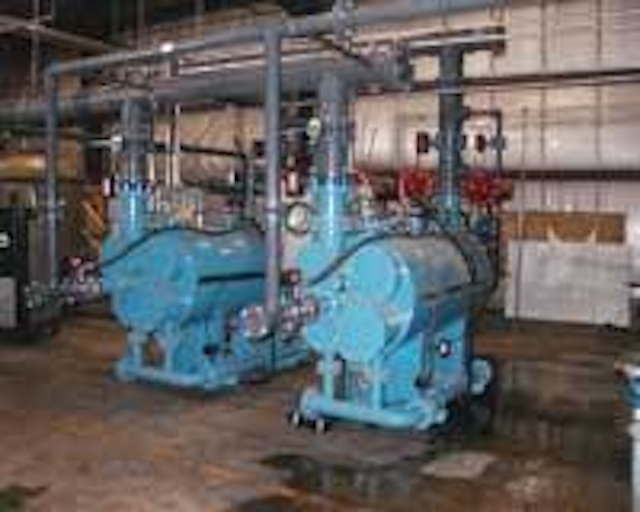 Click here to enlarge image
Amiad Filtration Systems recently unveiled its next generation thread technology. The new product is the MT-44, a 200 gpm, 3 micron, automatic, self-cleaning, string-wound cartridge filter. It was developed using the same thread, plastic material and overall dimensions of the previous cassette. However, this release is made of a stronger construction and a denser thread stacking, which has reduced the diameter of the pores and improved its filtration capabilities. The permanent cassettes, located inside the filter, are wound with many tight, multiple layers of high strength polyester threads serving as surface strainers and in-depth filters and accommodating operating pressure ranges from 3-150 psi.
Amiad Filtration Systems
Oxnard, CA
Tel: 800-969-4055
Web: www.amiadusa.com
Microfiltration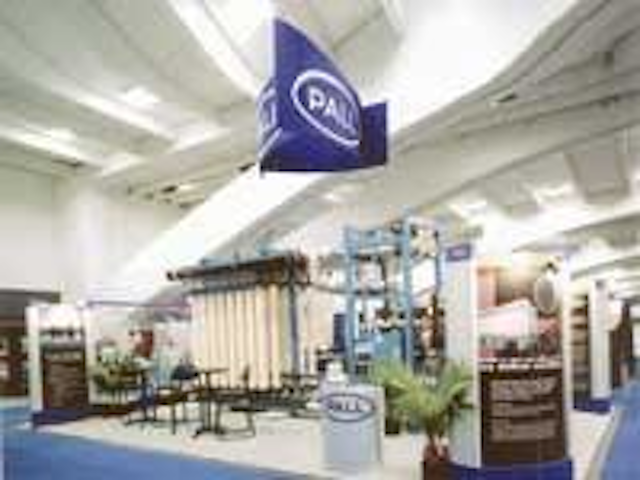 Click here to enlarge image
The Pall Aria™ microfiltration water treatment system uses filtration modules in a hollow fiber configuration. This fully automated, turnkey solution has been used to meet EPA standards in potable drinking water, wastewater, and water reuse applications. The system has been approved to reduce or remove turbidity, viruses, bacteria, cysts, oocysts, iron, manganese, arsenic and organics from surface and ground waters, secondary effluent and sea and brackish waters. The company's packaged treatment skids eliminate the need for large, chemical hungry systems typical of conventional water treatment methods.
Pall Corp. - Water Processing
East Hills, NY
Tel: 800-645-6532
Web: www.pall.com
Filtration media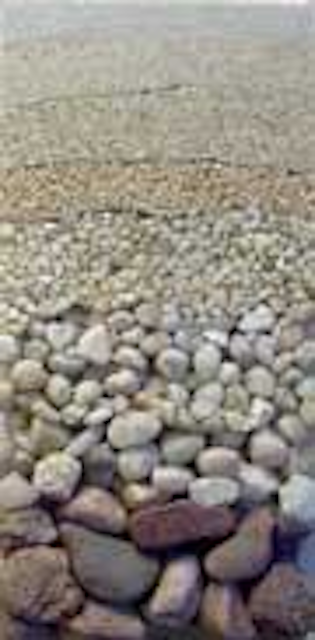 Click here to enlarge image
Fairmount Minerals offers filtration media through its subsidiaries, Best Sand in Chardon, OH, and Wedron Silica in Wedron, IL. All filtration media is washed, dried and screened to meet each customer's requirements. All products meet and/or exceed the AWWA B100-96 specifications and are NSF certified to Standard 61. A full range of sizes is offered, from 0.20 mm sand to 2.0" gravel. Anthracite and garnet media are also available.
Fairmount Minerals
Tel: 800-237-4986
Web: www.fairmountminerals.com
Automatic filters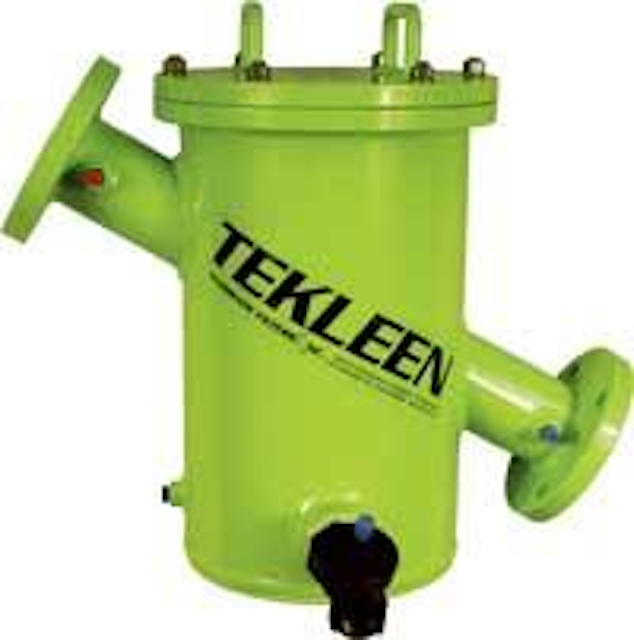 Click here to enlarge image
Tekleen® filters, available from Automatic Filters Inc., range from 1-24" in pipe size and are maintenance free. The filters feature a compact design, are fully automatic and self cleaning, and provide particle removal from 3,000μ to 5μ. Rinsing lasts only five seconds and uses less than two gallons of water without interrupting the main flow. They are constructed of 316L steel and are ideal for cooling towers, chillers, condensers, wastewater, spray nozzle protection and drinking water applications.
Automatic Filters Inc.
Los Angeles, CA
Tel: 800-336-1942
Web: www.tekleen.com
Biodenitrification system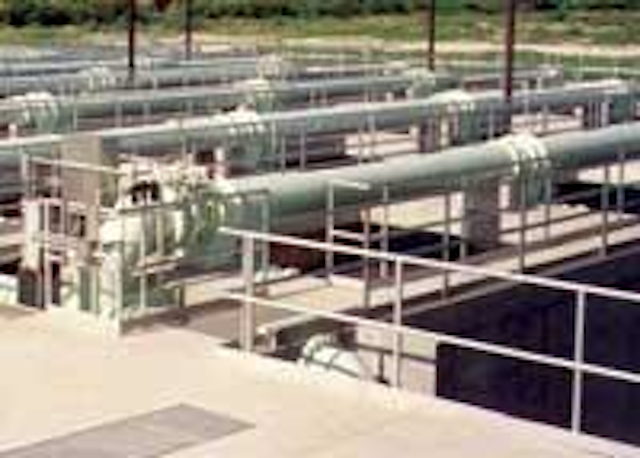 Click here to enlarge image
Severn Trent Services offers the Tetra® Denite® biodenitrification system, a single unit which is a combined bioreactor and effluent filter for use in any tertiary or advanced wastewater treatment plant. The system operates downflow to simultaneously remove Total Suspended Solids (TSS) and nitrate-nitrogen (NO3-N) and avoids the necessity for additional effluent polishing filters. Its features include automatic dosing of chemical with TetraPace™, ability to run in TSS only mode and Denite® mode simultaneously with TetraFlex™, seamless degassing of the cells with SpeedBump™ and the non-fouling T Block underdrain specifically designed for bioreactor service as well as a vigorous air/water backwash.
Severn Trent Services
Pittsburgh, PA
Tel: 800-364-1600
Web: www.severntrentservices.com
Membrane bioreactor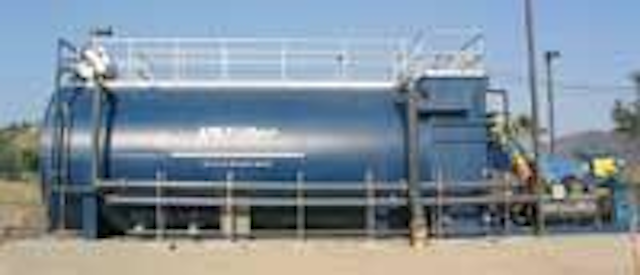 Click here to enlarge image
MemJet® Xpress Membrane Bioreactor (MBR), designed by USFilter Memcor Products, offers wastewater treatment in a small package. This self-contained high-rate biological treatment system is efficient and flexible, offering simple installation and start-up. The pre-engineered and factory-assembled treatment plant contains automated features to meet the demands of the most stringent environmental requirements. The system also provides influent prescreening and mixed liquor re-screening to reduce membrane maintenance and enhance membrane performance and life.
USFilter Memcor Products
Tel: 800-636-2674
Web: www.usfilter.com
Packaged water treatment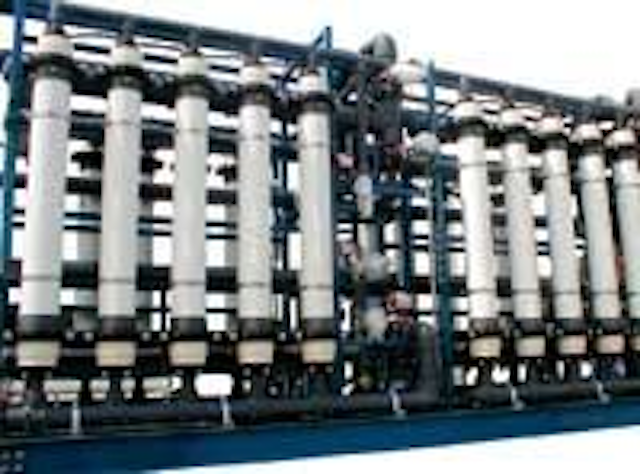 Click here to enlarge image
A new line of packaged water treatment plants from Aquious - PCI Membrane Systems employs ultrafiltration (UF) membrane modules to treat a wide range of feed waters and yield water quality that surpasses that of more conventional processes. The turnkey plants offer a filtration solution to suit a range of treatment applications. Aquious is the advanced liquid separation unit of ITT Industries.
Aquious - PCI Membrane Systems Inc.
Milford, OH
Tel: 513-575-3500
Web: www.aquious.itt.com
DE filters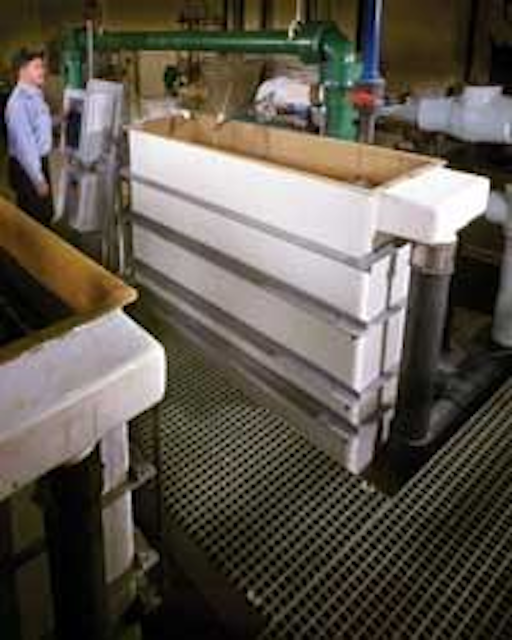 Click here to enlarge image
A full line of vacuum diatomaceous earth (DE) filters that use low-cost fiberglass tanks is available from Westfall Manufacturing. The filters are fabricated from polyester fiberglass throughout and are supplied in segments that can be easily installed into tight spaces. Featuring open tank construction and vertically mounted flat leafs with filtering surfaces on both sides, they operate on the vacuum principle and provide filtration down to 2 mm. Equipped with a single control panel and rotary cam switch, the filters are available in sizes to handle flow requirements from 30 to 1,290 gpm. No refinishing, protective liners, or painting is necessary and they are impervious to water treating chemicals. Applications range from swimming pools to wastewater treatment facilities.
Westfall Manufacturing Co.
Bristol, RI Tel: 888-928-3747 Web: www.westfallmfg.com