Utilities Field Testing Large Diameter RO Elements
Recently there has been interest and discussion regarding the use of large diameter spiral reverse osmosis elements.
Sep 1st, 2005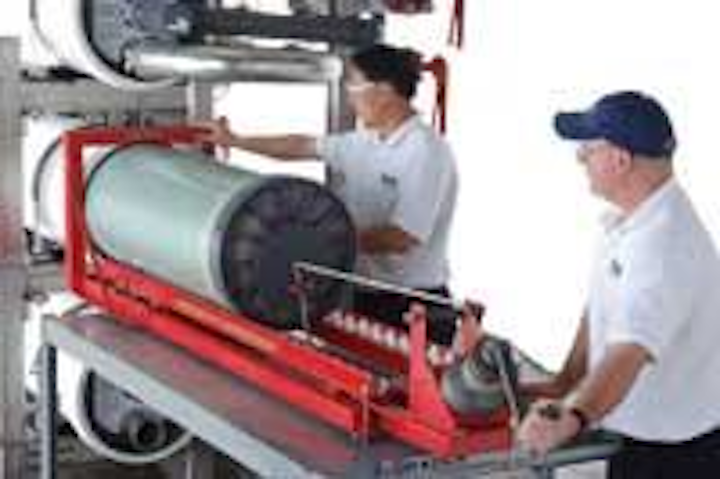 Recently there has been interest and discussion regarding the use of large diameter spiral reverse osmosis elements. The City of Scottsdale in Arizona, for example, has participated in successful field tests of large diameter elements for reuse of municipal wastewater. The owners are looking at large elements as a way to increase the production capacity within the existing building. Metropolitan Water District of Southern California (MWD) has conducted long-term studies that indicated the possible need to construct very large membrane facilities. One study looked at the design for a hypothetical plant of 185 mgd and projected that large diameter elements could produce a 14% reduction in total water cost.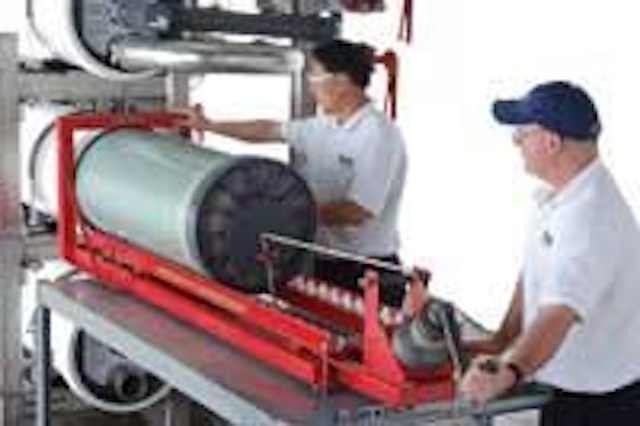 Click here to enlarge image
Koch Membrane Systems (KMS) recently introduced an 18 x 61 inch diameter element, the MegaMagnum® element. A typical 8 x 40 inch element has 400 sq. ft. of membrane area. In comparison, an 18 x 61 inch element has 2,800 sq. ft. of membrane area, and so produces seven times as much water as the 8 inch element. Up to five 18 x 61 inch elements can be installed in a single RO pressure vessel. A single 18 inch pressure vessel can produce five times as much water as a single 8 inch pressure vessel. This significantly reduces the number of pipe connections and the size of a typical RO pressure vessel rack.
The large diameter elements use spiral wound elements, but include changes necessary to adapt to a larger platform. The elements use polyamide Fluid Systems® TFC® RO and NF membranes that have been employed for many years in water and wastewater applications. Other materials of construction, such as the brine spacer, are identical to those used for spiral-wound 8 inch diameter elements.
Field Testing
Field testing has been performed at several municipalities. The pilot studies used large elements to compare performance to standard 8 inch elements. They have verified that the larger elements operate at the same flux and pressure and produce the same water quality at the same fouling rate as 8 inch elements. Given that the same type of membrane is used in both 8 inch and 18 inch elements, and that the leaf lengths, spacer types, and materials are the same for both, it is not surprising that very similar results are observed.
The City of Scottsdale Water Campus is the site of a 14 mgd water reuse plant where KMS TFC® HR membranes have been used since 1999. This site had participated in successful field tests of 17.25 inch diameter elements. In the fall of 2004, the earlier 17.25 pilot unit was retrofitted to accept 18 inch elements. The first 4000 hours of performance of the 18 inch element was compared to the historical performance of the 8 inch trains, while recognizing that the 18 inch element represented only the first element of the first bank in the array. This was a municipal wastewater feed and the specific productivity loss during the first 500 hours was very typical for this application. The relative performance is compared by operation time in hours. The data is not contemporaneous as the 8 inch data dates to the plant start-up in 1999. Also, the 8 inch data is an aggregate of the train. The data shows that both the 8 and 18 inch elements perform similarly.
As product development progressed, RO elements of various diameters were tested. In one study MWD compared an element of 16" diameter with a standard 8" diameter element. They found significant savings from the reduction in control block frames due to the use of large diameter elements. This was generated by reductions in train piping and support framing.
Both elements exhibited similar salt rejection, greater than 98.5%. However, the specific flux of the 16 inch diameter element was lower than the specific flux of the 8 inch diameter due to inefficiencies in the element design caused by a longer leaf length in the 16-inch element.
A preliminary analysis performed by MWD showed that reduction of RO system capital costs of approximately 24% could be achieved by using larger diameter elements. The next phase of this project piloted a 17.25 inch diameter element that used a design with the same leaf length as that used for the comparable 8 inch diameter elements and, as expected, they had similar efficiencies.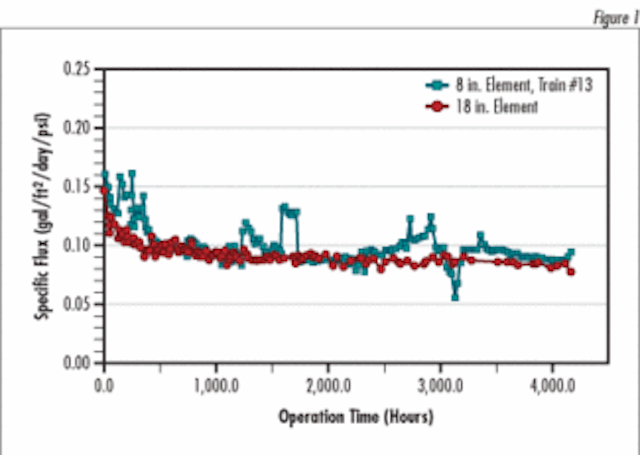 Click here to enlarge image
Based on results from the single element pilots, MWD has procured a demonstration unit consisting of a 2:1 array of five elements per vessel to treat approximately 0.5 mgd. This demonstration unit will be used to evaluate the performance of large elements as MWD looks forward to building very large RO systems in the future to meet their water demands.
Author's Note:
This article was prepared by Antonia von Gottberg and Rick Lesan of Koch Membrane Systems Inc.