PRODUCTS & SERVICES MEMBRANE TREATMENT
Jun 1st, 2005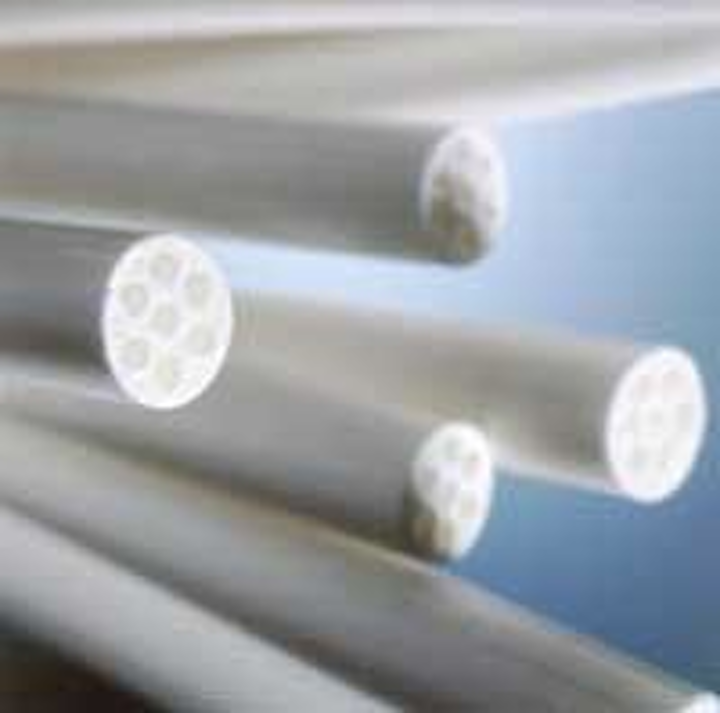 UF membrane filtration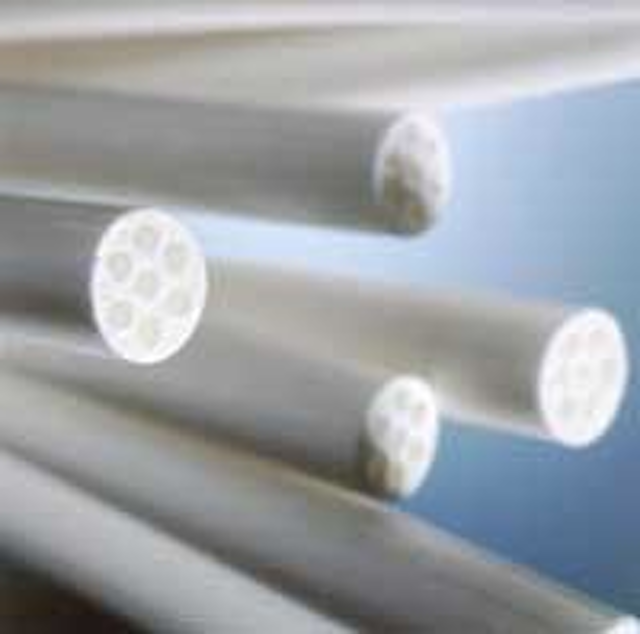 Click here to enlarge image
Severn Trent Services' UAT™ ultrafiltration membrane systems are available as skid-mounted or containerized systems. The hollow fiber membranes incorporated into every unit are NSF Standard 61 approved. These systems are effective for municipal and industrial water and wastewater treatment applications.
Severn Trent Services
Torrance, CA
Tel: 310-618-9700
Web: www.severntrentservices.com
Membrane monitoring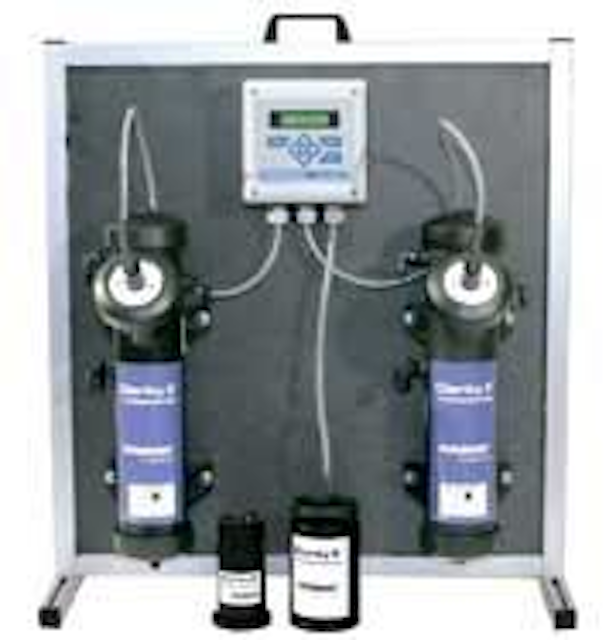 Click here to enlarge image
The Rosemount Analytical Clarity II On-line Turbidimeter by Emerson measures turbidity with an accuracy of 2% of reading or ±0.015 NTU for measurements below 1 NTU. The meter has low-level accuracy ensuring precise measurements for filter bed monitoring. This measurement ensures compliance with either EPA or ISO approved reporting requirements.
Emerson Process Management
Rosemount Analytical Liquid Division
Irvine, CA
Tel: 800-854-8257
Web: www.raihome.com/liquid
Membrane supplies
FilmTec Corporation, a subsidiary of The Dow Chemical Company, has launched a new website for purchasing system parts used with Filmtec™ elements online. The website, www.dow.com/liquidseps/contact/parts.htm, enables customers based in North America to purchase parts for all systems using the company's elements. Customers can purchase system parts for reverse osmosis (RO) and nanofiltration (NF) membranes, as well as iLEC™ interlocking endcaps, including brine seals, adaptors, couplers and tools.
FilmTec Corp.
Midland, MI
Tel: 800-447-4369
Water filter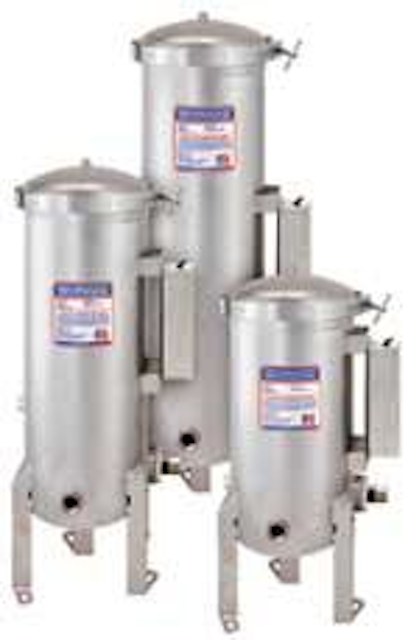 Click here to enlarge image
Harmsco Filtration Products has developed the Homeland Security Water Filter that uses a multi technology, flow-through barrier cartridge filter along with an ultraviolet disinfecting reactor in one convenient appliance to protect homes at the point of entry. This is an excellent product for municipal or utility companies to offer as a upgrade to the next level of water quality or as another alternative service to protect homes from aging infrastructures.
Harmsco Inc.
North Palm Beach, FL
Tel: 800-327-3248
Web: www.harmsco.com
MBR system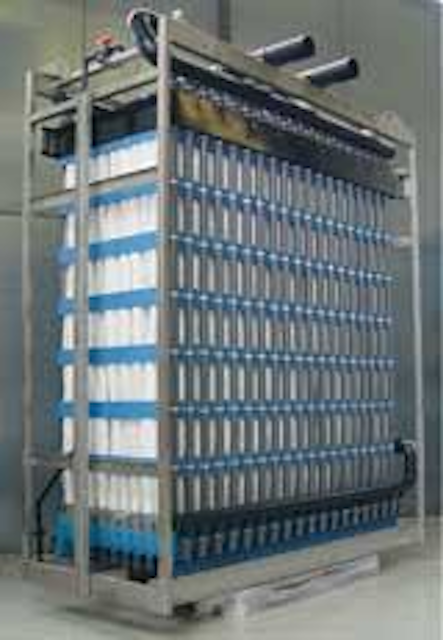 Click here to enlarge image
Sanitaire has launched a new membrane bioreactor (MBR) solution for municipal applications. The dual stage system uses the company's experience and expertise in diffused aeration and biological treatment, followed by a hollow-fiber immersed ultra-filtration membrane. This combination offers low operating costs with exceptional effluent quality in a compact footprint. Lower overall operating costs are achieved by optimizing the aeration and membrane systems individually which in turn reduces energy consumption and chemical usage.
Sanitaire, ITT Industries
Brown Deer, WI
Tel: 414-365-2200
Sampling filter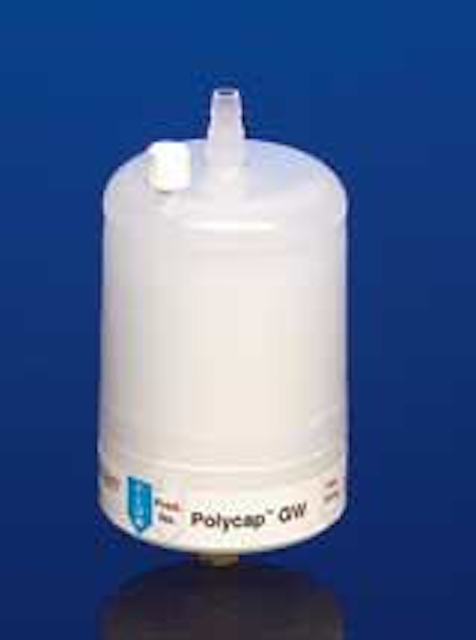 Click here to enlarge image
The Whatman Polycap GW high-capacity capsule is a choice for organizations that must meet strict environmental protocol standards. EPA and local departments for environmental protection protocols specify filtering ground water samples with a 0.45 µm filter when analyzing dissolved or suspended metals (EPA method 3005).
Whatman Inc.
Florham Park, NJ
Tel: 800-942-8626
Web: www.whatman.com/water
Packaged water treatment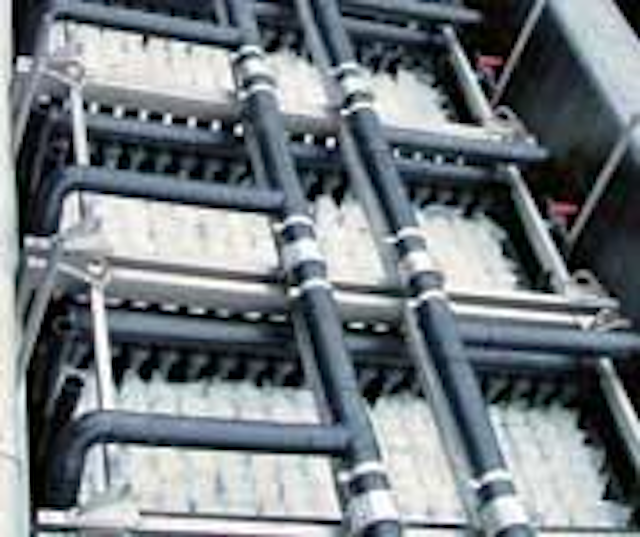 Click here to enlarge image
A new line of packaged water treatment plants from Aquious - PCI Membrane Systems employs ultrafiltration (UF) membrane modules to treat a wide range of feed waters and yield water quality that surpasses that of more conventional processes. The turnkey plants offer a filtration solution to suit a range of treatment applications.
Aquious - PCI Membrane Systems Inc.
Milford, OH
Tel: 513-575-3500
Web: www.aquious.itt.com
Membrane antiscalants
Koch Membrane Systems offers its Kochtreat® antiscalants, a line of membrane pretreatment products. Formulated to prevent scaling and inorganic fouling, the antiscalants are ideal for enhanced operation of reverse osmosis (RO) systems producing potable water or high purity industrial water. A preventative maintenance program with using the antiscalants reduces membrane cleaning requirements and improves system performance. Koch Membrane Systems developed the antiscalants to be compatible with thin film composite and cellulose acetate RO membranes.
Koch Membrane Systems Inc.
Wilmington, MA
Tel: 888-677-5624
Web: www.kochmembrane.com
Screening system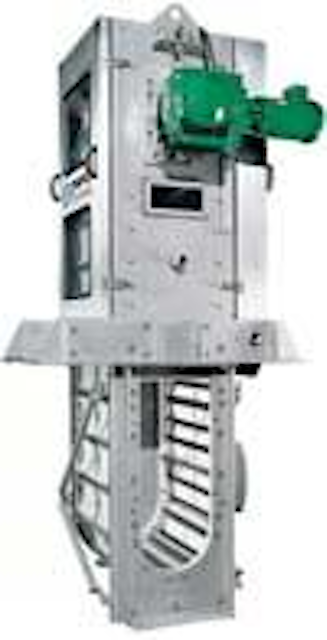 Click here to enlarge image
JWC Environmental's Bandscreen Monster™, part of the Monster Separation Systems™, screens wastewater to remove problem solids and provide protection for membrane bioreactor treatment plants (MBRs). The unique inside-out flow pattern captures solids on the inside loop of the screen to prevent the bypass of solids, and the rotating perforated panels with 2mm openings lift the unwanted solids out of the channel to prevent them from clogging sensitive MBR systems.
JWC Environmental
Costa Mesa, CA
Tel: 800-331-2277
Web: www.jwce.com
Ultrapure water treatment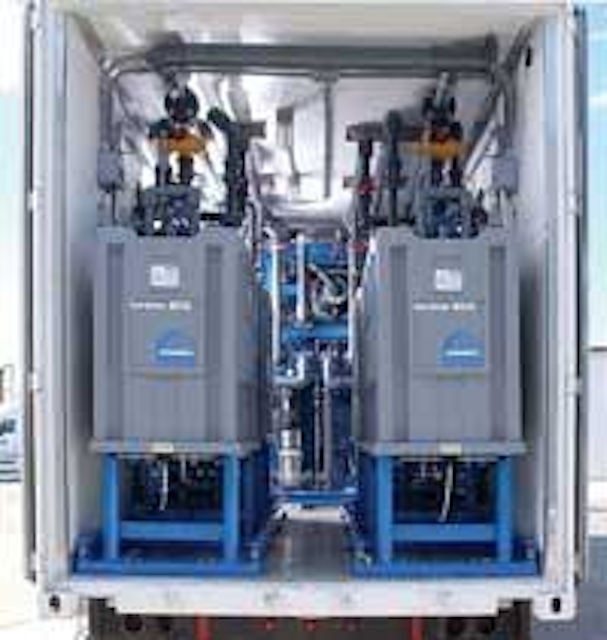 Click here to enlarge image
Ionics has introduced the DeltaFlow® 2.0 system for producing ultrapure water without the use of hazardous ion exchange regeneration chemicals. This system combines three membrane separation technologies, Reverse Osmosis (RO), GTM® membrane degasification unit and Electrodeionization (EDI), in a space-efficient design for continuous production of ultrapure water. The system offers significant improvements over the original DeltaFlow, which was introduced in 1997 and is currently operating in over 40 water plants worldwide.
Ionics Inc.
Watertown, MA
Tel: 617-673-4317
Web: www.ionics.com
Membrane water treatment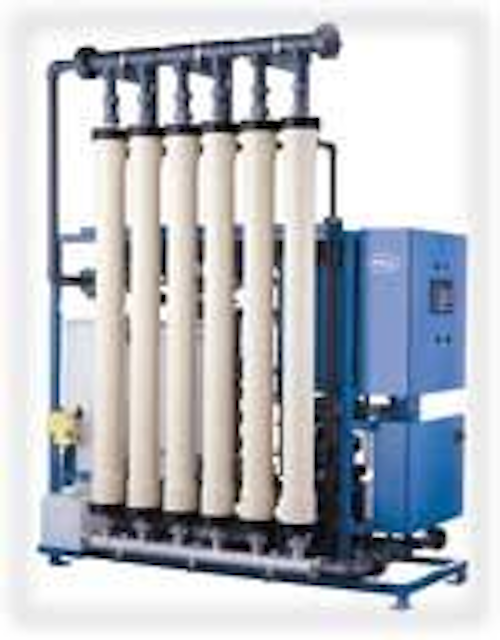 Click here to enlarge image
To meet or exceed EPA standards for safe drinking water, the Pall Aria™ water treatment system uses uniquely designed filtration modules in a hollow fiber configuration. The system has been used to reduce or remove turbidity, viruses, bacteria, cysts, oocysts, iron, manganese, arsenic and organics from surface and ground waters, secondary effluent and sea and brackish waters.
Pall Corp.
East Hills, NY
Tel: 888-873-7255
Web: www.pall.com/water
Modular treatment system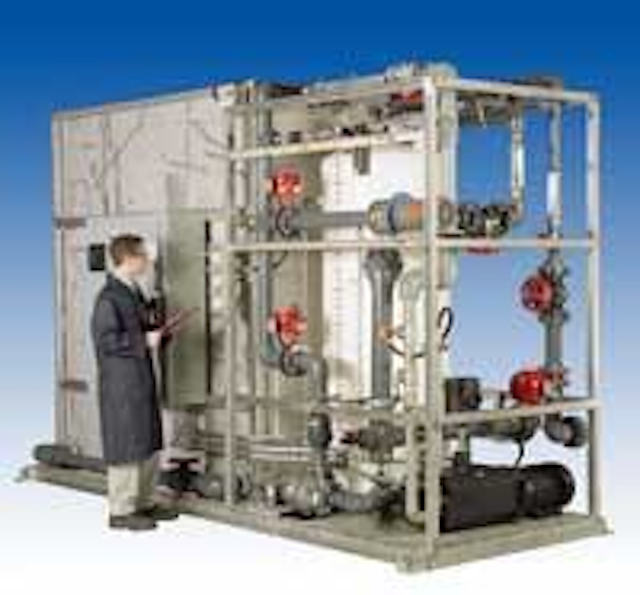 Click here to enlarge image
Zenon Z-Mod® MBR offers small communities a simple modular wastewater treatment system that can be set up in virtually any location. Pre-engineered and factory tested, the system combines reinforced hollow-fiber membrane technology with activated sludge processes to produce high quality effluent. Designed for rapid commissioning and reduced capital costs, a system can be delivered and set up in less than six months within a footprint that is significantly smaller than plants based on conventional technology.
Zenon Environmental Inc.
Oakville, Ontario
Tel: 905-465-3030
Web: www.zenon.com
MBR system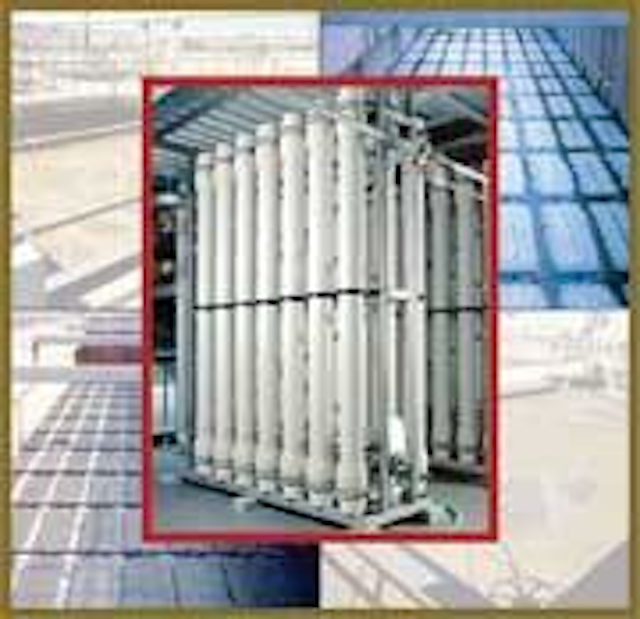 Click here to enlarge image
Parkson has introduced a new MBR design using energy efficient, airlift-assisted tubular membranes. The membrane component of the DynaLift™ MBR system is located outside the biological reactor and can be installed at the most convenient and accessible location at a plant site. No membranes are submerged in the biological mixed liquor.
Parkson Corp.
Fort Lauderdale, FL Tel: 954-917-1870 Web: www.parkson.com
Membrane filtration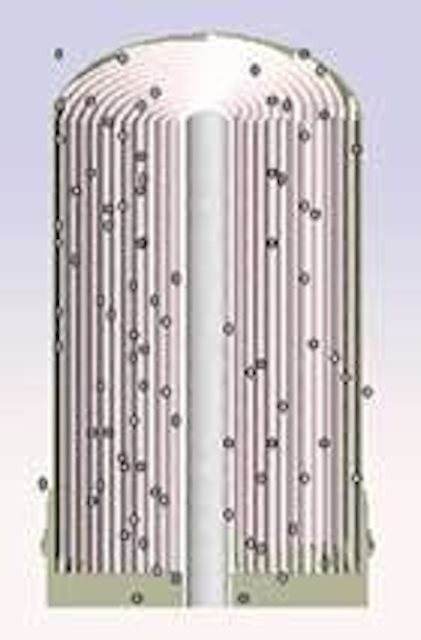 Click here to enlarge image
SpiraSep ultrafiltration technology, offered by Ashbrook Simon-Hartley, employs the advantages of spiral geometry - combined with a high-flow, low-pressure "sheet" membrane - to form a patented, backflushable, spiral-wound membrane. The ultrafiltration membrane is unique in its hydrophilic properties and its low resistance to fluid transfer.
Ashbrook Simon-Hartley
Houston, TX Tel: 800-362-9041
Web: www.ashbrookcorp.com
Membrane bioreactor
The USFilter Memcor® Membrane Bioreactor (MBR) Package Plant offers wastewater treatment in a small package. The skidded plant, a pre-engineered membrane wastewater treatment system, is designed for applications generating 25,000 to 100,000 gpd or less. The FastPac™ can be used for residential and commercial development projects, industrial applications, remote installations, emergency response wastewater treatment applications, and rapid infrastructure deployment.
USFilter Memcor Products
Towson, MD
Tel: 410-307-6540
Web: www.usfilter.com
Submersible microfiltration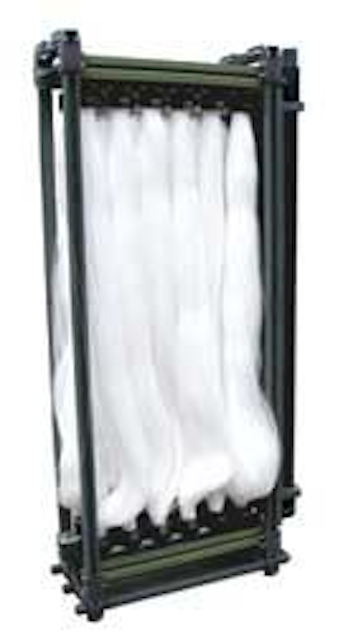 Click here to enlarge image
Hydranautics has introduced the new submersible HYDRAsub™ hollow-fiber membrane technology. The system's process technology reduces costs and provides effective particle removal with the flexibility to treat a wide variety of feedwater qualities. It reduces turbidity and provides greater than 4 log removal of a wide range of contaminants such as cryptosporidium, giardia and other bacteria. Each module offers over 250 m2 of membrane surface per 12-bundle module, with over 16,800 capillary fibers per bundle. Bundling allows for simple replacement should fibers be damaged during operation.
Hydranautics Inc.
Oceanside, CA
Tel: 760-901-2500
Web: www.membranes.com