Pump Control System Streamlines Operations
The town of Troy is like many other small towns in the USA, with its Public Works Department beings called upon for everything from water and sewer emergencies to picking up leaves in the fall.
Oct 1st, 2005

The town of Troy is like many other small towns in the USA, with its Public Works Department beings called upon for everything from water and sewer emergencies to picking up leaves in the fall. With the many demands on its resources, the department couldn't afford to waste time or money on inefficient wastewater management systems.
The town was using a bubbler system in eight of its 13 pump stations and floats in the other five stations. Both level control systems were problematic. Both systems kept getting clogged, collecting debris on floats that impeded operation and level sensing. Department staff continually had to visit stations, clean floats and even created a special cutting tool for the job.

Click here to enlarge image
Then, the level controls in one of the pump stations failed. Public Works Director Gray Walls wanted a solution for both the electronic problem and the debris problems in the wet well.
"When the station went bad, we replaced a relay and carried on… but then another station went bad as well. We needed a system that was reliable. I had heard about MultiTrode probes and pump controllers and figured this would be the opportunity to give them a trial," Walls said.
The department began by installing a MultiTrode MT2PC pump controller and a probe at the WWTP influent pump station. The objective was to compare the probe with the existing bubbler system and see which came out on top.
The MT2PC & MT3PC family can provide pump control for up to nine pumps, as well as level indication and pump status via an operator interface. The interface allows operators to operate pumps, reset alarms, implement pump alternation and set levels. The system operates with multi-sensored probes -- pressure, ultrasonic or any 4-20 mA device. It offers five different fault inputs for each pump, including direct input from pump seal and thermal faults.
Initially the department considered that they were comparing one level control system with another but found that the MT2PC controller had been pre-programmed for most contingencies the department normally dealt with.
The trial was a success and the decision was made to put probes and pump controllers into all pump stations. The department set up a timetable to change all 13 pump stations, plus two stations for a school. The project began in April 2002 and by October the changeover was complete.
The new system led to reduced maintenance time, fewer call outs, and made life easier for the department.
Complete SCADA system
While the department was evaluating the pump controllers and probes they realized that the capabilities of the MultiTrode system extended beyond level control. Because of EPA requirements, utilities have to continuously monitor conditions to prevent overflows. Also, planning effectively for the future requires collecting flow data and generating trending charts. This is most easily and effectively done with SCADA.
The department had an existing SCADA system that had evolved over many years. The PLC-based development had become increasingly complex and needed support from systems integrators. This was expensive and effectively transferred control from Public Works to the systems integrators.
"I got into programming PLCs myself because of the bad experience of development. The trouble with PLCs is that you have to know a lot and you have to be able to pay for integrators to fix things and upgrade your system. Most small municipals can't afford the time or money to do that," Walls said.
The department chose the MultiTrode Outpost SCADA system, which can operate without specialist integration, using pre-configured wizards to allow straightforward expansion with low or no integration costs. Outpost includes remote system monitoring and reporting, allows measuring of flow rates of pumps and provides trends and other reports to let the department look at the whole network.
The Outpost system works in tandem with field pump controllers and monitoring units that provide all the data needed to monitor and control pump stations. A new pump station can be added to the system by operations staff and running in minutes without the need for external integrators.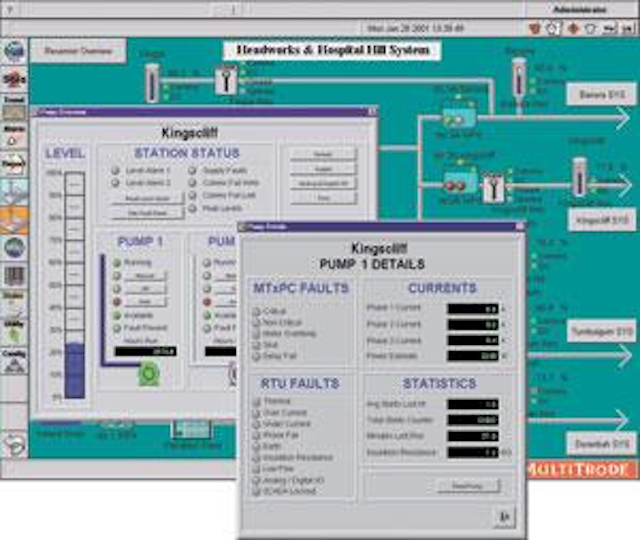 Typical overview and drill down screens in Outpost.
Click here to enlarge image
The Outpost system is built on a well-known open SCADA platform, with over 50,000 licenses operational worldwide. Because the system is open, if later requirements include other PLCs or RTUs, they can be integrated into the project using standard integration methods.
"We realized that we were dealing with a different mentality. MultiTrode offered a complete system. With the system developed so thoroughly we got the best of both worlds…the flexibility of the PLC with the functionality of the shrink wrapped system," Walls said. WW
For more information on the MultiTrode system, contact the company at 561-994-8090 or visit www.multitrode.com