PRODUCT SHOWCASE
Tarby® has launched a new line of replacement parts and pumps that are interchangeable with the seepex(r) BN series. This new general purpose industrial pump, the Titan C22 progressing cavity pump, is designed...
Jan 1st, 2005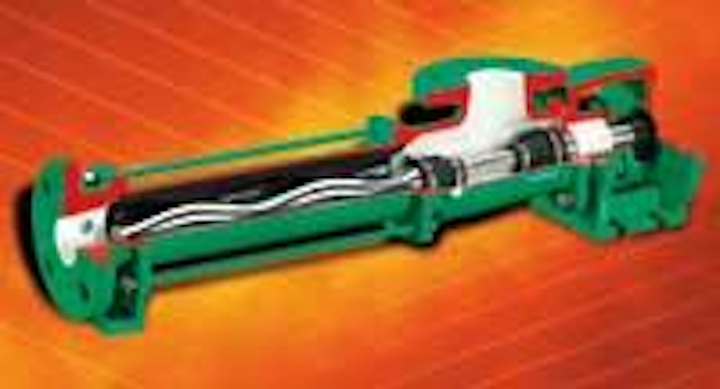 Pump parts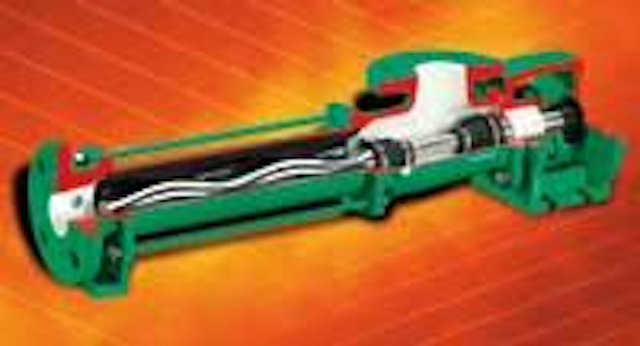 Click here to enlarge image
Tarby(r) has launched a new line of replacement parts and pumps that are interchangeable with the seepex(r) BN series. This new general purpose industrial pump, the Titan C22 progressing cavity pump, is designed as a drop-in replacement and all internal components are interchangeable. The company manufactures all components in the USA and maintains an extensive inventory of parts that are readily available for immediate shipment. The pumps can handle fluids from thin, flowable liquids to highly viscous materials and solids in suspension.
Tarby
Claremore, OK
Tel: 800-854-1879
Web: www.tarby.com
RO, nanofiltration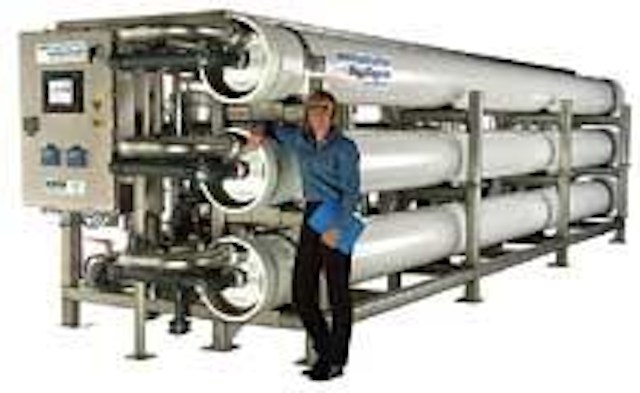 Click here to enlarge image
Koch Membrane Systems has introduced MegaMagnum(r) Systems, a line of packaged reverse osmosis and nanofiltration systems that reduces the floor space needed to lower the TDS of brackish water or to soften hard water in a water treatment plant. Available in sizes from 0.5 mgd to 2.0 mgd, these systems have one-fifth the number of pressure vessels used by conventional RO systems thanks to the 18-inch diameter elements. Despite the smaller system size, each is fully instrumented and comes standard with VFD controller, ASME rated FRP pressure vessels, PLC, HMI with data trending, and cartridge filter housings with on-line spare capacity.
Koch Membrane Systems, Inc.
Wilmington, MA
Tel: 978-694-7000
Web: www.kochmembrane.com
Flow survey logger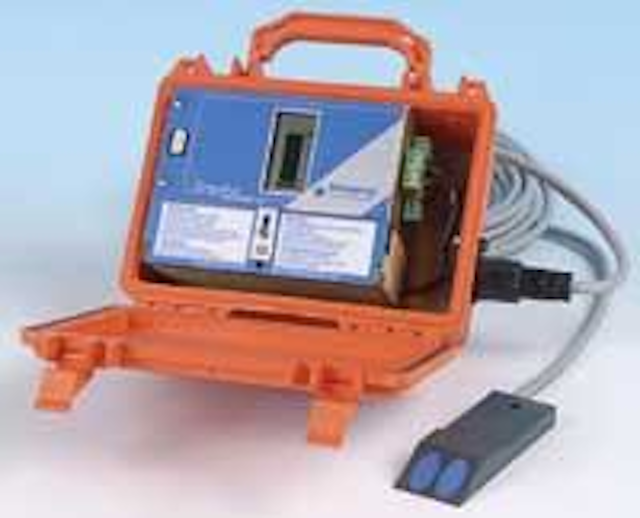 Click here to enlarge image
Greyline Instruments offers a new portable logger for area-velocity flow surveys in sewers, open pipes and channels. Stingray is designed for municipal stormwater, combined effluent, raw sewage, irrigation water and stream flow. It uses a submerged ultrasonic sensor to measure both velocity and level in the channel. No calibration is required. It operates up to four years powered by standard Alkaline D-cell batteries. Electronics are housed in a watertight IP67 enclosure and rated for operation from -4°to 140°F. Each unit includes the company's Logger software to retrieve and display logged data by RS232 or modem connection. The software calculates flow for round, rectangular, trapezoid and egg shaped channels plus flumes and weirs.
Greyline Instruments Inc.
Massena, NY
Tel: 888-473-9546
Web: www.greyline.com
Flowmeter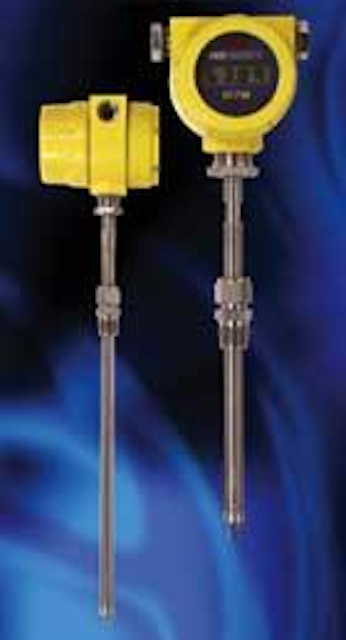 Click here to enlarge image
Designed with a thermal flow sensing element combined with an optimized feature set for wastewater treatment aeration applications, the new ST50 Flowmeter from Fluid Components International (FCI) measures air in line sizes from 2" to 12". It measures air flow from 1 to 125 SFPS. Accuracy is +2% of reading, +0.5% of full scale, with repeatability of +0.5% of reading. The meter is field configurable for flow range in standard mass flow or volumetric engineering units. It features dual analog outputs, 4-20 mA and 0-10 vDC, which are field assignable as flow rate or temperature, and a RS232C I/O port. A 0-1 kHz pulse output for totalizing flow is also available as an option. All configurations are user set in the field with any standard laptop or via a standard PDA with FCI's exclusive new wireless IR link option.
Fluid Components International
San Marcos, CA
Tel: 800-863-8703
Web: www.fluidcomponents.com
Flowmeter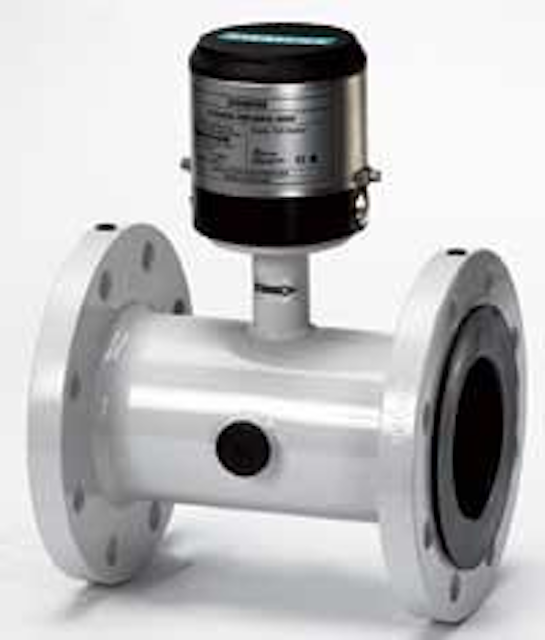 Click here to enlarge image
Siemens has introduced a new, maintenance-free, battery-operated magnetic flowmeter for irrigation applications including, measuring the water transport to farm outlets. Meters range is size for 2" to 12" in diameter. The Siemens Mag 8000 flowmeter offers a competitively priced alternative to propeller-style flowmeters. They feature higher accuracies up to 1% of actual flow. The meter can also be installed directly on the water well discharge, which results in lower installation costs without sacrificing accuracy. There are no propeller or bearings to replace, the meter is obstruction-free and has no moving parts.
Siemens Energy & Automation
Alpharetta, GA
Tel: 800-964-4114
Web: www.sea.siemens.com/ia
Split restraining gland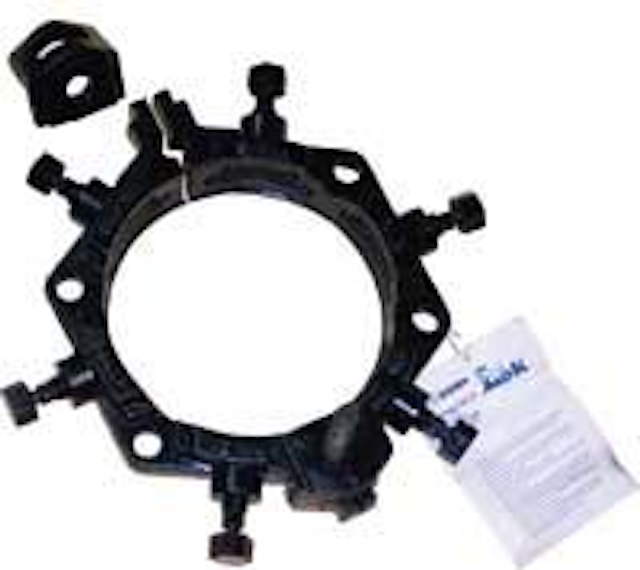 Click here to enlarge image
Sigma Corp. has released the newest addition to its pipe restraint products line. The newest addition to the One LOK family is the SSLDP, a split wedge-action restraining gland for use on existing ductile iron pipe and watermain fitting assemblies. As with its "ancestors", the SLD (DI pipe restraint) and the SLC( PVC pipe restraint), the SSLDP is manufactured with break-off top actuating bolts, and wedge inserts that are contoured to the specific size of the pipe. The split restraining glands are currently available for DI pipe sizes 4-12".
Sigma Corp.
Cream Ridge, NJ
Tel: 800-999-2550
Web: www.sigmaco.com
On-line nitrate sensors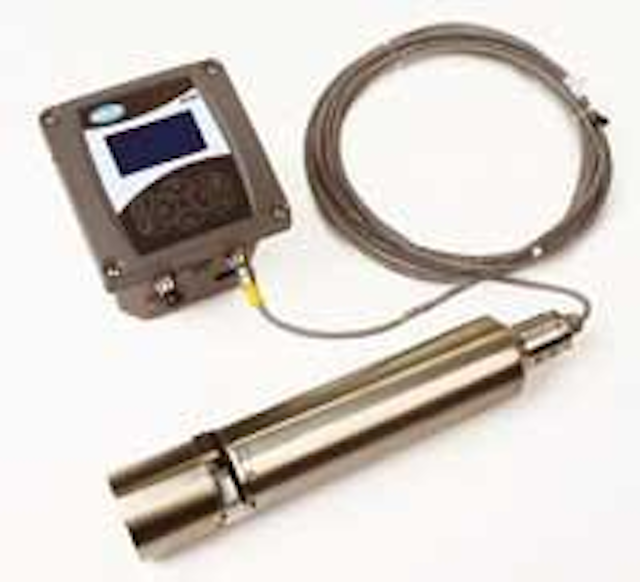 Click here to enlarge image
Hach has introduced Nitratax(tm) UV Nitrate Sensors specially designed to optimize on-line monitoring of nitrate levels in drinking water and wastewater applications. Each of the three sc sensors available applies advanced ultraviolet absorption technology, eliminating reagents and sample collection and conditioning. Together, sensors and controller create a flexible system that minimize costs, provide full data communication capability, and yield reliable measurement. The sc100(tm) Controller accepts any two sc sensors - or other Hach digital sensors for pH and ORP, suspended solids, conductivity, turbidity, membrane D.O., and LDO(r) - in 'mix or match' installation and 'plug and play' connection.
Hach Company
Loveland, CO
Tel: 800-227-4224
Web: www.hach.com
TV inspection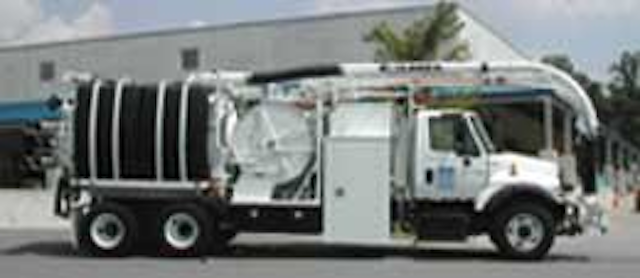 Click here to enlarge image
Super Products recently added the option of installing a TV inspection camera system directly on its Camel(r) sewer cleaning unit. This option allows the operator to safely inspect the sewer lines and clean them without having to haul two pieces of equipment to the worksite.
Super Products Corp.
New Berlin, WI
Tel: 800-837-9711
Web: www.superproductscorp.com