PRODUCTS & SERVICES—WASTEWATER TREATMENT
The Leopold elimi-NITE(tm) Denitrification System uses the advantages of deep bed, mono-media filters to remove nitrogen in wastewater effluent.
Jan 1st, 2005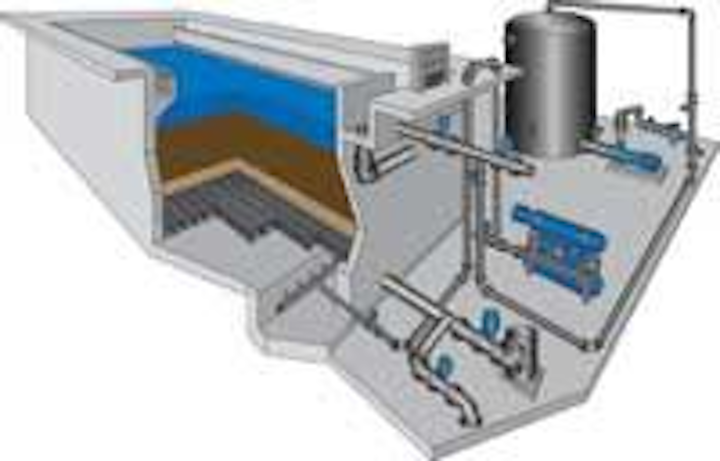 Denitrification system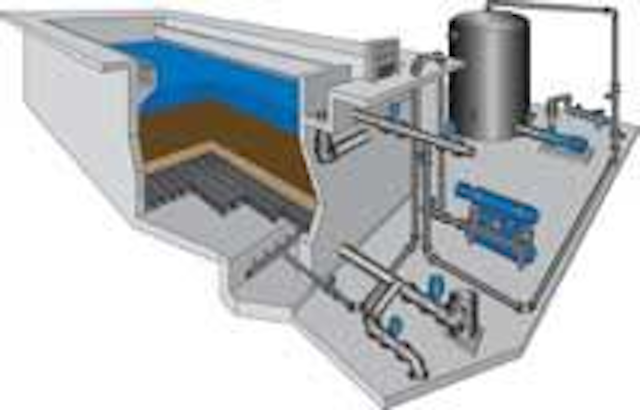 Click here to enlarge image
The Leopold elimi-NITE(tm) Denitrification System uses the advantages of deep bed, mono-media filters to remove nitrogen in wastewater effluent. In addition to nitrogen, the system can simultaneously remove suspended solids. The gravity, downflow, packed-bed denitrification system is an attached growth, microbiological process which removes nitrate-nitrogen achieving levels below 1 mg/liter.
F.B. Leopold Company Inc.
Zelienople, PA
Tel: 724-452-6300
Web: www.fbleopold.com
FOG reduction
Click here to enlarge image
Biostim offers new microbial products designed for removal of fat, oil and grease (FOG) waste deposits for municipalities in cooler northern climates. Designed specifically for lift stations and sewer lines, company researchers have isolated six bacterial strains to effectively metabolize waste in the 40°to 60° F temperature range. These naturally occurring bacteria were isolated from natural wastewater conditions and placed in a time-released BioPlug™
Biostim LLC.
San Antonio, TX
Tel: 800-338-8812
Web: www.biostim.com
DO sensor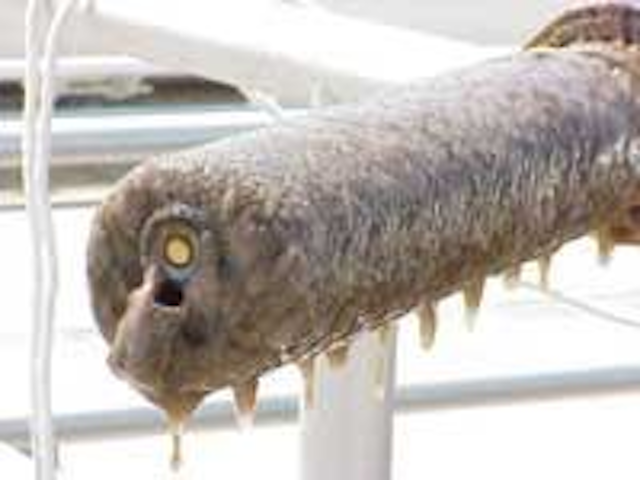 Click here to enlarge image
The dissolved oxygen sensor Model 499ADO, available from Emerson, is designed for the continuous determination of dissolved oxygen in water in the range 0 to 20 ppm. It features a membrane-covered amperometric sensor that can be installed in aeration basins and pipes. The sensor consists of a gas-permeable membrane stretched tightly over a gold cathode. A silver anode and an electrolyte solution complete the internal circuit.
Emerson Process Management
Rosemount Analytical Inc.
Irvine, CA
Tel: 800-854-8257
Web: www.raihome.com
Headworks screen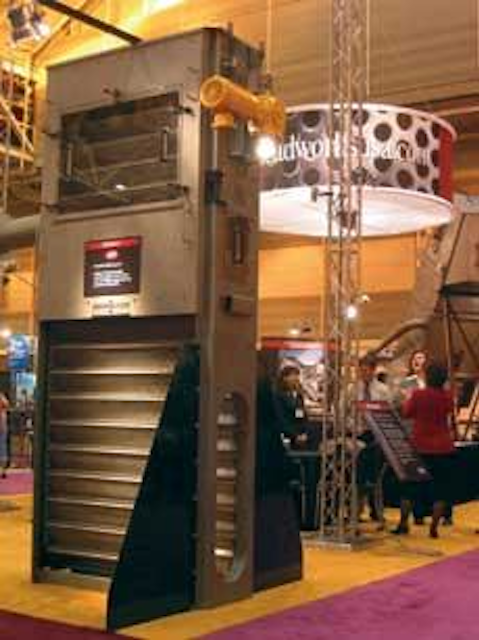 Click here to enlarge image
The Headworks Eliminator(tm) provides fine screening suitable for use in Membrane Bioreactor systems. The screening system installed upstream of the finer filtration systems and is designed to improve their performance. The stainless elements form a continuous band, which travels parallel within the channel. The water enters through the center of the screen, turns 90 degrees, passes through the stainless steel sieve elements, and exits through the sides of the unit. Screenings are captured by the elements and are carried up to the discharge point.
Headworks Inc.
Houston, TX
Tel: 713-647-6667
Web: www.headworksusa.com
Membrane bioreactor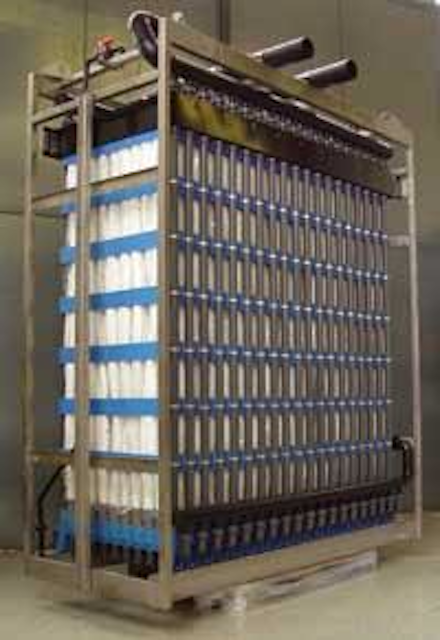 Click here to enlarge image
Sanitaire has launched a new membrane bioreactor (MBR) solution for municipal wastewater treatment applications. The dual stage system uses the company's expertise in diffused aeration and biological treatment, followed by a unique hollow-fiber immersed ultra-filtration membrane. This combination offers lower operating costs and a compact footprint. The membrane module design features a reinforced hollow fiber for long term mechanical strength. The membranes are immersed in a baffled arrangement with a free floating upper membrane section.
Sanitaire, an ITT Company
Brown Deer, WI
Tel: 414-365-2200
IFAS system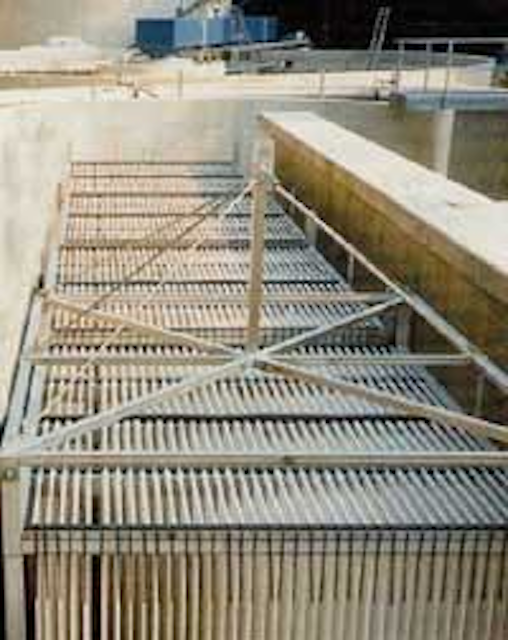 Click here to enlarge image
The Cleartec(r) System from EIMCO can provide an Integrated Fixed-Film Activated Sludge (IFAS) upgrade to current wastewater treatment systems. IFAS is a hybrid treatment approach that combines attached biological growth with suspended biological growth. The design uses fixed media modules of robust construction.
EIMCO Water Technologies
Salt Lake City, UT
Tel: 801-526-2400
Web: www.eimcowater.com
Odor control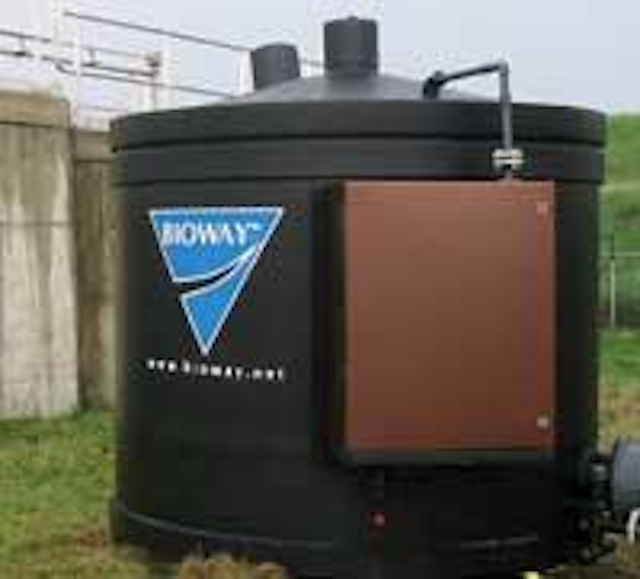 Click here to enlarge image
Bioway offers the Eliminodor(tm), an odor control system specifically developed as a technology upgrade to traditional carbon systems. The two stage design pairs the company's patented biological process with a swappable carbon filter integrated into a single unit. The design reduces the frequency of media changes and lowers maintenance for low airflow applications.
Bioway America, Inc.
Marlton, NJ
Tel: 856-988-9414
Web: www.bioway.net
Ammonia test strip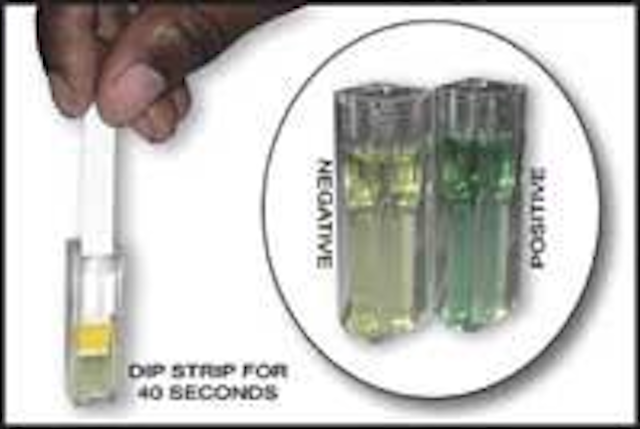 Click here to enlarge image
Industrial Test Systems has developed a new, safe ammonia test based on a modified Berthelot method. The test does not use toxic mercury salts or toxic phenol. This eliminates the potential hazards along with the inconveniences of handling dangerous chemicals and the foul odors that accompany them. The test readily has 0.1 mg/L sensitivity. A visual version currently allows detection at 0.2 - 3.0 mg/L as ammonia. Users simply dip one Ammonia ReagentStrip into a 2 ml water sample for 40 seconds with a gentle, steady up and down motion.
Industrial Test Systems, Inc.
Rock Hill, SC
Tel: 800-861-9712
Web: www.sensafe.com
Filter press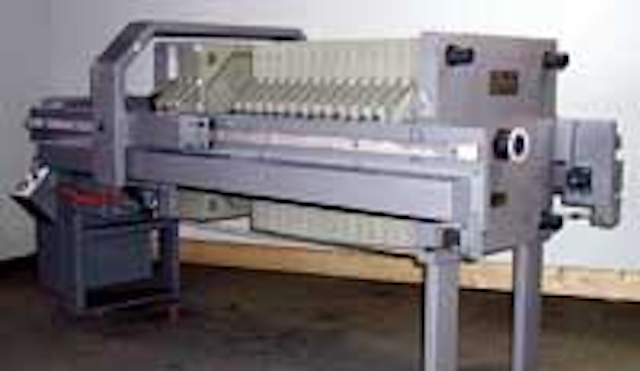 Click here to enlarge image
The new ErtelAlsop EA Series filter press incorporates all the features of the company's stainless steel presses, without the cost. EA Series presses include full thickness and height, tee-slotted, steel sidebars with stainless wear strips. Slide heads ride on full size roller and bearing assemblies. Skid shoes and pads are not used on any EA Series press. Its closure systems incorporate the very latest in hydraulics and control technology.
ErtelAlsop
Kingston, NY
Tel: 800-553-7835
Web: www.ertelalsop.com
Polymer control system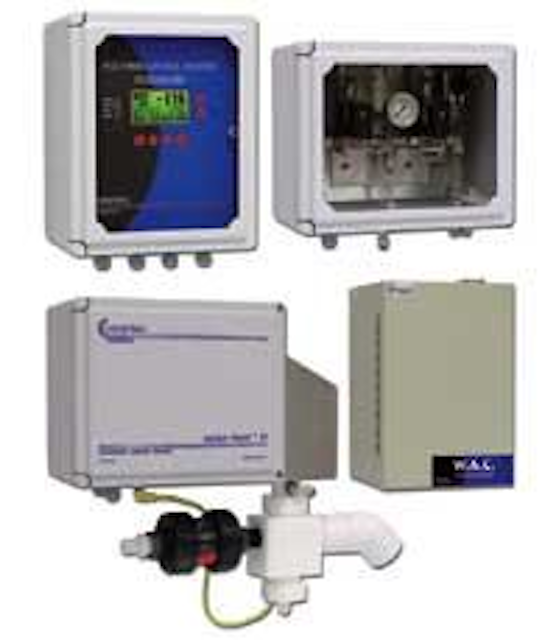 Click here to enlarge image
Chemtrac Systems' Polymer Control System model PCS5500 can help optimize polymer dosage on all types of clarifiers, and many dewatering machines such as centrifuges, belt filter presses, gravity belt thickeners, dissolved air flotation, and screw presses. Typical savings range from 20% - 40%. Additional savings are often realized due to increased reduction in cake dryness, resulting in lower disposal costs.
Chemtrac Systems, Inc.
Norcross, GA
Tel: 800-442-8722
Web: www.chemtrac.com
Gas chlorinator
Click here to enlarge image
The Regal gas chlorinator is used to disinfect and purify municipal drinking water and wastewater. It provides a consistent chlorine residual, eliminating a lot of guesswork. The chlorinators are safe and strong with a simple design. The all-vacuum system virtually eliminates the possibility of gas leaks. In addition, it has a resilient diaphragm and is made with corrosion-resistant materials.
Chlorinators Inc.
Stuart, FL
Tel: 772-288-4854
Web: www.regalchlorinators.com
Odor control
The Duall AroBIOS(tm) Bioscrubber System, a biological air pollution control technology, removes odors and gaseous contaminants such as ammonia, hydrogen sulfide, and other reduced sulfur compounds without the use of chemicals or incineration methods. It provides lower gas retention times, a low profile design and features non-degradeable AroPAC(tm) biomedia.
Duall Division
Owosso, MI
Tel: 989-725-8184
Web: www.dualldiv.com
Peristaltic pump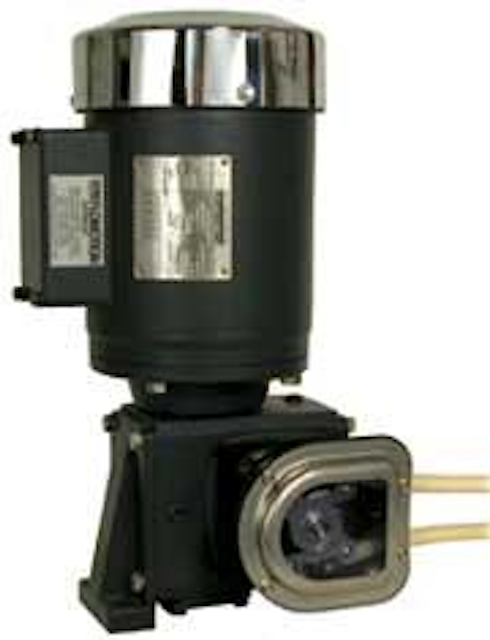 Click here to enlarge image
The Model 2001V Peristaltic Pump, available from Flomotion Systems, is designed for demanding metering, dispensing and sampling. The 2001V pump can run dry without damage and self-prime up to 25 ft. Spring-loaded rollers accept multiple tubing sizes and provide extended tubing life. In the event of tubing rupture, the completely sealed pumphead prevents fluid leakage and is capable of alerting operators and/or switching to a backup pump.
Flomotion Systems Inc.
Buffalo, NY
Tel: 800-909-3569
Web: www.flomotionsystems.com
Wastewater, sludge Grinder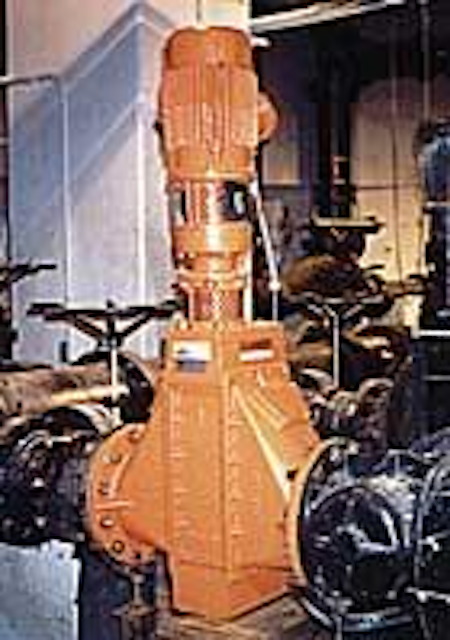 Click here to enlarge image
The Sewer Chewer(r) Severe-Duty Grinder from Yeomans Chicago is designed for solids conditioning and size reduction in the wastewater treatment process. The grinder's twin shaft arrangement and patented cutter design have low head-loss characteristics and tungsten carbide "high grit" seals are standard.
Yeomans Chicago Corp.
Aurora, IL
Tel: 630-236-5500
Web: www.yccpump.com
Wastewater treatment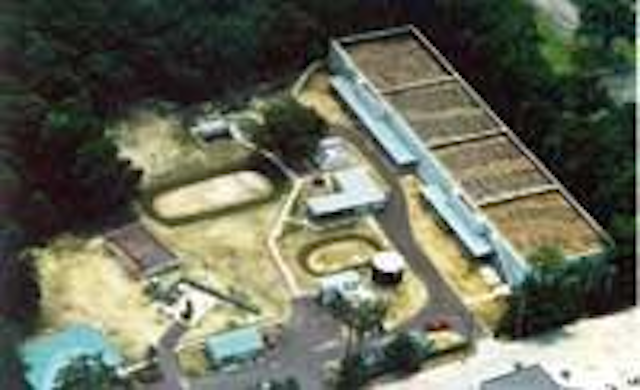 Click here to enlarge image
USFilter Jet Tech Products offers a variety of wastewater treatment systems using advanced biological nutrient removal processes. It's products and services include Sequencing Batch Reactors (SBR), Field-Erected SBR package plants, Jet Aeration/Jet Mixing equipment, and process design for municipal wastewater treatment applications.
USFilter Jet Tech Products
Edwardsville, KS
Tel: 913-422-7600
In-line disintegrator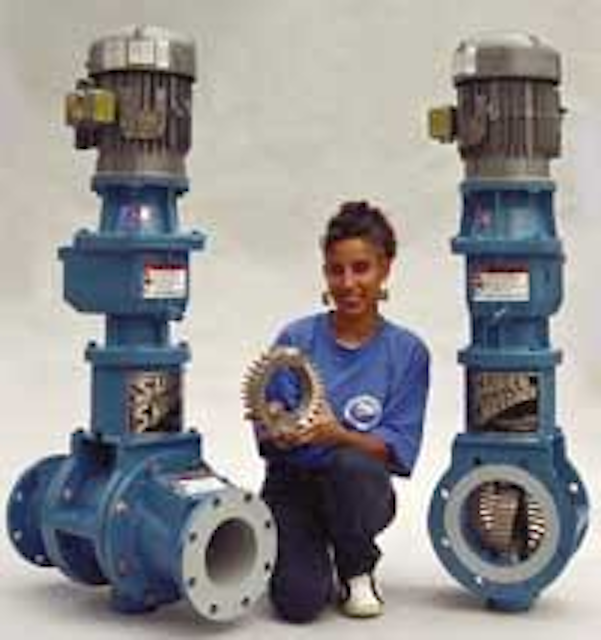 Click here to enlarge image
The Super Shredder(r) in-line disintegrator from Franklin Miller reduces tough solids in sludge and raw sewage lines. The unit combines grinding capabilities with streamlined features. The design provides a high level of open area to fluid flow making the shredder ideal for applications requiring a heavy duty size reduction processor that can handle high flows with minimal headloss.
Franklin Miller Inc.
Livingston, NJ
Tel: 973-535-9200
Web: www.franklinmiller.com
Wastewater screen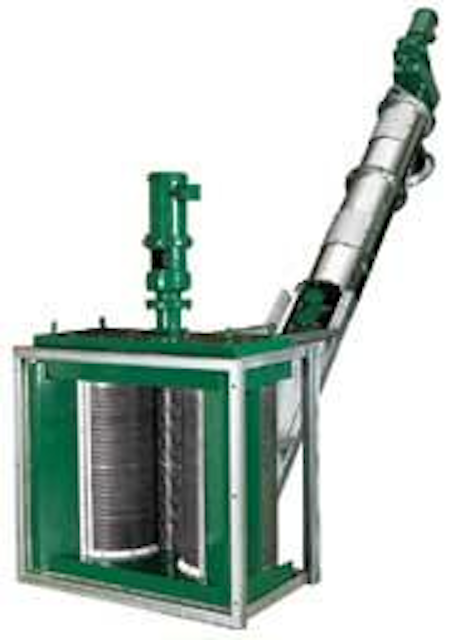 Click here to enlarge image
JWC Environmental has upgraded its Auger Monster(r) wastewater screen to include stainless steel perforated screening drums with 6 mm openings. The perforated drums allow the headworks system to rival step and fine screens in terms of capture performance, while performing additional screening functions in a compact footprint. Additional improvements include increased fan spray nozzles for more efficient washing and a compaction zone that squeezes more water out of discharged screenings.
JWC Environmental
Costa Mesa, CA
Tel: 800-331-2277
Web: www.JWCE.com
Dewatering system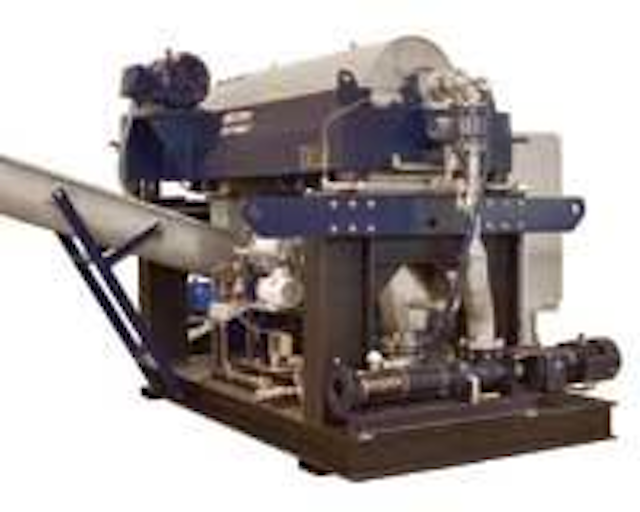 Click here to enlarge image
USFilter has introduced its new pre-assembled dewatering package - the Centrapac(tm) centrifuge dewatering system. To create the package, USFilter mounted its Centramax(tm) centrifuge on a skid with a scroll drive unit, feed pump, flowmeter, discharge screw conveyor, polymer system and a PLC control system. All piped and wired, from feed pump to cake transfer, the system is pre-engineered and ready to go, with minimal on-site installation requirements.
USFilter Dewatering Systems
Holland, MI
Tel: 800-245-3006
Web: www.usfilterdsg.com
Odor control media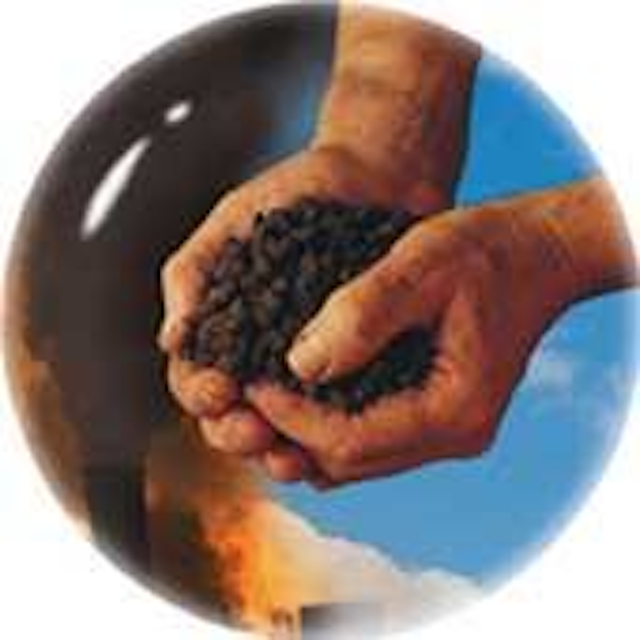 Click here to enlarge image
Biorem now offers an improved formula for its Biosorbens(tm) biofilter media. The new media, now warranted for up to 20 years, provides odor removal at residence times as low as 20 seconds. The single stage, homogeneous biofilter media is able to handle a wide range of odor-causing contaminants including H2S, mercaptans, DMS and DMDS.
Biorem
Guelph, ON Canada
Tel: 800-353-2087
Web: www.biorem.biz
UV disinfection
Aquionics, a maker of closed vessel, medium pressure UV technology, has designed the InLine+(tm) specifically for municipal wastewater disinfection and effluent re-use. The new system offers a significantly smaller footprint than competing UV systems. The improved hydraulics and new design result in a system that uses up to 90% fewer lamps, power supplies, and quartz sleeves. The compact footprint lowers both system capital and operating costs.
Aquionics Inc.
Erlanger, KY
Tel: 800-925-0440
Web: www.aquionics.com